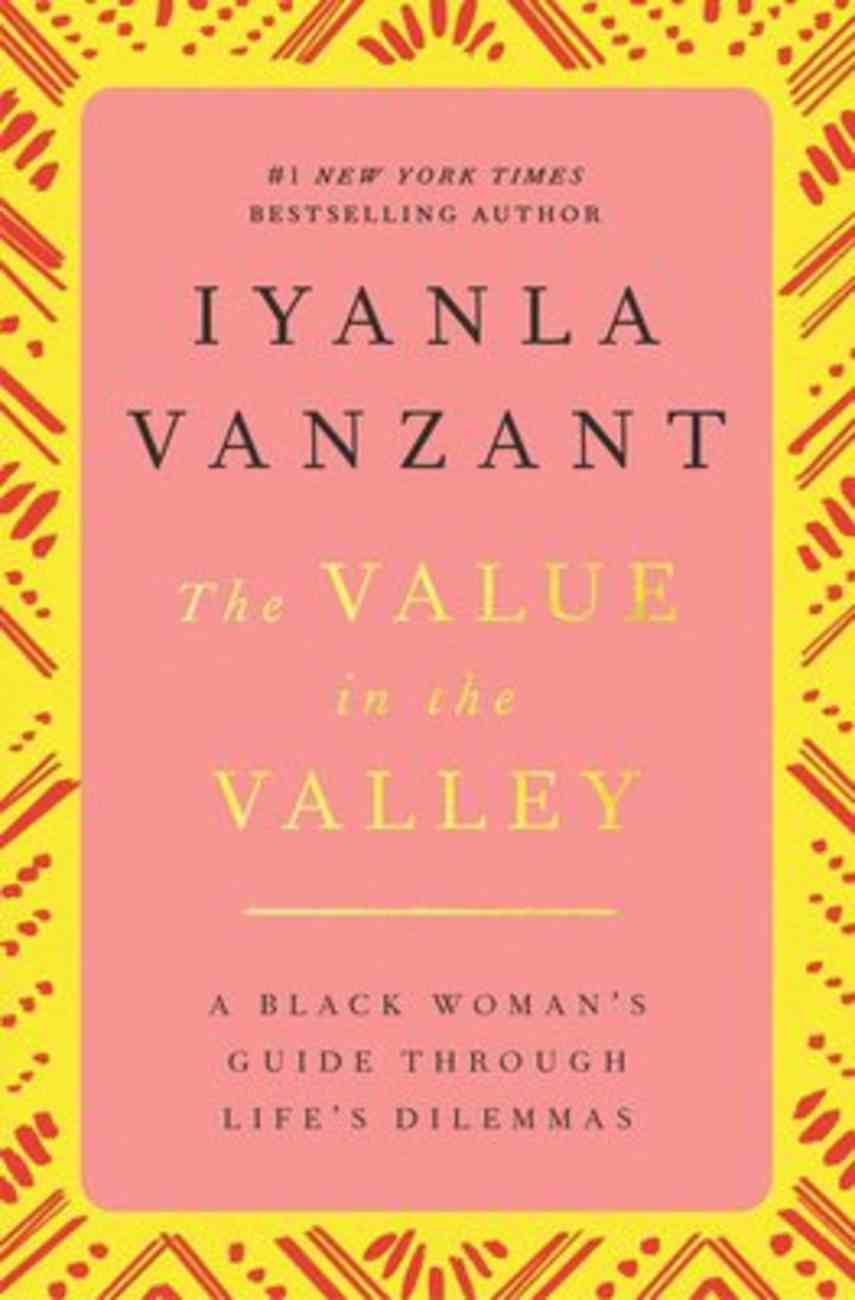 Value in the Valley: Black Womans Guide Thru Lifes Dilemmas
Vanzant breaks through the self-destructive belief that suffering or unhappiness is deserved, and guides readers through what many seem like insurmountable problems. Vanzant is also the author of Acts of Faith.
Out of Stock
Available to Order
---
Expected to ship in 7 to 8 weeks from Australia.
---
Free Shipping
for orders over $99.
Vanzant breaks through the self-destructive belief that suffering or unhappiness is deserved, and guides readers through what many seem like insurmountable problems. Vanzant is also the author of Acts of Faith.
-Publisher
Chapter 1 The Anatomy of the Valley It was notunusualfor the telephone to ring at eight-thirty in the morning. And it was only slightly unusual forherto be callinghimthere. Although she worked for him, it was evident by her tone of voice that this call was about something more than business. Two hours intotheirconversation,shewanted to speak toAnn.The moment the conversation began, Ann knew she was headed for a valley. She could not, however, figure out which one. By the timeall three of themwere on the telephone, it was clear: Ann was being cut up into tiny little pieces. Those pieces were being strewn across all the valleys at once. "There is value in the valley," is what Black women must remember when we find ourselves in those tight spots, dark places, uncomfortable situations, we think make our lives so miserable. Whether we accidentally fall into a valley or are shoved in headfirst, the question we must ask ourselves is, "What is the lesson here?" What is the lesson to be learned from those situations we do not like or want to be in? The first thing we must do is realize that difficulties in life are always educational. Art may be easier than history. Gym is usually more fun than math. There is, however, something valuable to be gained from every subject and situation we face if we want to graduate to a higher level of living. Of course, in every class, there is also the issue of passing or failing. Ann listened intently as the woman on the other end of the telephone recounted the sordid details of her two-year relationship with Ann's mate of one year. With her head in the Valley of Understanding and both feet in the Valley of Courage, Ann had a sinking feeling in the pit of her stomach that she was on the brink of failure. With a steady hand and unblinking eyes, holding the telephone away from her ear, she quietly demanded of him, "How could you do this to me?" Wrong move! It put her heart in the Valley of O.P.P. and her hands in the Valley of Comeuppance. As fear of failure welled up in her mind, promising to overtake her, Ann had to fight back the tears.Hewas lying across the bed with his head in his hands. Each time he looked up, it was as if he were seeing a ghost. A big Black ghost. A ghost with one hand on her hip and a frying pan in the other. Ann took a deep breath and braced herself to spend the rest of her days in the dunce corner. Those dark conditions and difficult situations are like valleys because we get there when we lose our footing. We fall down only to find ourselves alone in a physically, mentally, or emotionally uncomfortable place. Valleys look dark and feel dangerous because there never seems to be anyone around who can help you get up. A fall into a valley means you are in some kind of pain. Throbbing head, broken heart, fractured ego, you are trying to figure out what happened; how you got into this mess and how you can get out of it, fast. The pain intensifies as you remember the details of your plight. You imagine all of the possible, plausible, and horrible outcomes. Now you panic. Actually, you feel frantic as you mentally construct your ultimate and looming destruction. It is pure drama, and as Black women, we do it so well. When we are confronted by a situation we know we must face but would rather not, we shift into high-gear fear -- fear of failure, rejection, the unknown, and the ultimate fear, the fear of being wrong. No one wants to be wrong. For Black women, many of whom believe they have been overlooked, misrepresented, and objectified by major portions of the population, the fear of being wrong sends the brain into overload. Black women will go to any lengths to avoid being wrong. The fear of being wrong forces us to shut down. We shut our eyes, ears, and ultimately, our hearts. If the situation is critical, very important, or dear to us, we may be frightened enough to sh
-Publisher
Is it the job you hate but need in order to pay the rent? Is it that relationship that you gave your all to only to end up with a broken heart...again? Perhaps it's your children, a family member, or a life-long friend doing you in, dragging you down, pushing you to the brink. If you are an honorary member of the Black Woman's Suffering Society, you have probably been told that it's all your fault. Or that struggling and suffering is your lot in life. Iyanla Vanzant says, No Life is an Act of Faith and suffering is optional Those everyday challenges, obstacles, and dilemmas are what Iyanla calls "valleys." As bad as they may seem, there is a purpose or, as Iyanla says, "There is so much value in the valley." If you've ever been disappointed, betrayed, rejected, abandoned, or just plain old scared to let go, then you've been or may still be in a valley. Iyanla knows -- she's been there and on a bad day she's still there, but now she shares the way out with you.
-Publisher
PRODUCT DETAIL
Catalogue Code 

133198

Product Code 

0684824752

EAN 

9780684824758

Pages 

320

Department General Books
Category Women
Sub-Category General
Publisher Simon & Schuster
Publication Date 

Dec 1996

Dimensions 

208 x 139 x 25

mm

Weight 

0.314

kg
Best-selling author Iyanla Vanzant was born in Brooklyn, New York. She graduated from the Medgar Evers College of the City University of New York in 1978 and earned a law degree from the City University of New York law school at Queens College in 1988. She was a criminal defense lawyer in Philadelphia for three years. Vanzant is one of the top motivational speakers in the country, her public appearances and books intended to inspire and help women, especially African Americans.