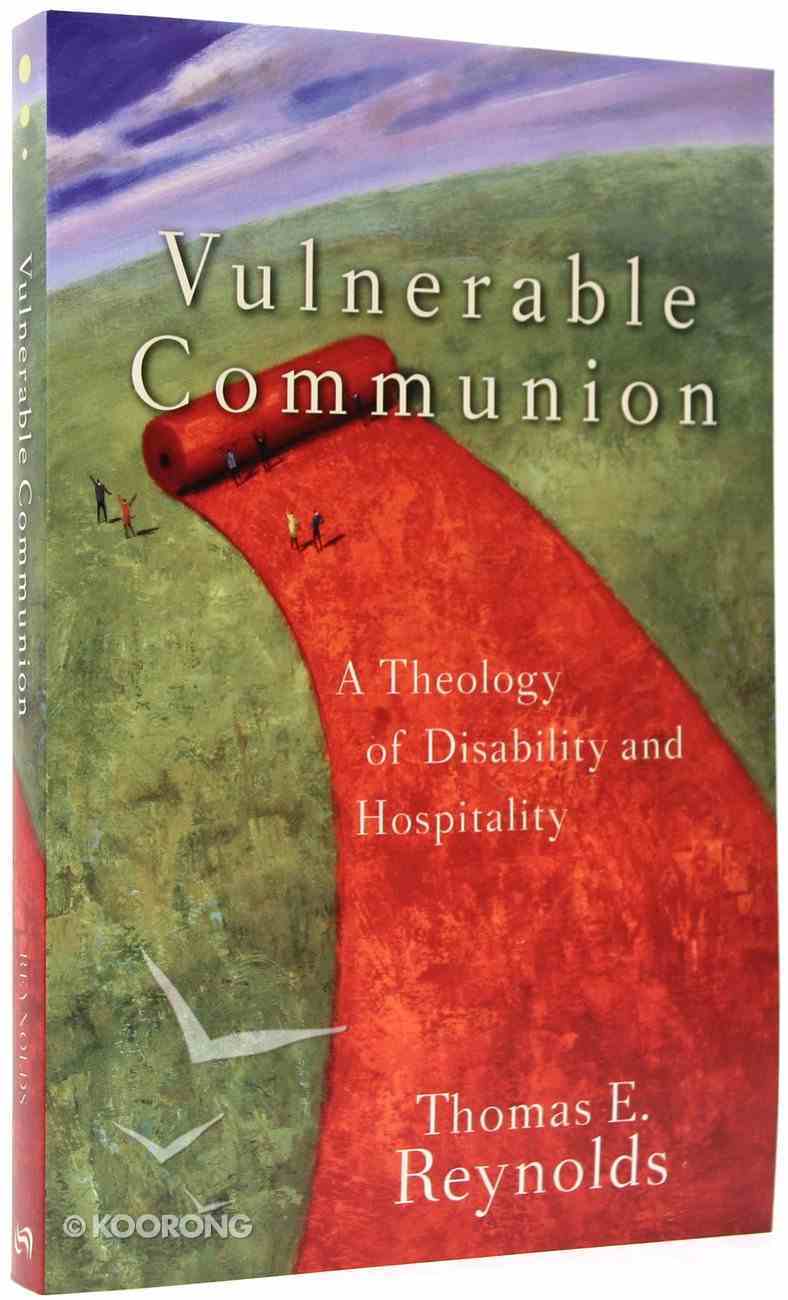 As parents of a son with disabilities, Thomas E. Reynolds and his wife know what it??'s like to be misunderstood by a church community. In Vulnerable Communion, Reynolds draws upon that personal experience and a diverse body of literature to...
Out of Stock
Available to Order
---
Expected to ship in 5 to 6 weeks from Australia.
---
Free Shipping
for orders over $99.
As parents of a son with disabilities, Thomas E. Reynolds and his wife know what it??'s like to be misunderstood by a church community. In Vulnerable Communion, Reynolds draws upon that personal experience and a diverse body of literature to empower churches and individuals to foster deeper hospitality toward persons with disabilities. Reynolds argues that the Christian story is one of strength coming from weakness, of wholeness emerging from brokenness, and of power in vulnerability. He offers valuable biblical, theological, and pastoral tools to understand and welcome those with disabilities. Vulnerable Communion will be a useful resource for any student, theologian, church leader, or lay person seeking to discover the power of God revealed through weakness.
-Publisher
"Vulnerable Communion is subversive theology in the tradition of the prophets speaking from the margins of society. It calls the church to confront and dismantle the (world''s) ''cult of normalcy,'' within which the church has uncritically worshipped. It also calls for a theology of disability that not merely insists on caring for people with disabilities but that allows the experience of disability to interrogate its theology of power. The result is a long-awaited and much-needed theological revisioning of the traditional doctrines of God, Christ, creation, redemption, and church so that the true power of the gospel is released from the underside of history once again."--Amos Yong, book review editor, Journal of Religion, Disability and Health; associate research professor of theology, Regent University School of Divinity"Disability is a gift that forces us to rethink what we thought was settled. The worship of a crucified savior in a similar manner forces us to rethink what we thought was settled. It is to Reynolds''s great credit, therefore, that he helps us see how disability and the gospel are inseparably linked just to the extent that they both force us to recognize our vulnerability. It will be a shame if this book is read only by those concerned about disability, because Reynolds''s reflections are crucial for any work in constructive theology."--Stanley Hauerwas, Duke Divinity School"A remarkable book that reveals in a compelling way that being truly human and Christian is not just accepting people with disabilities but accepting our own vulnerability by entering with them into a relationship of mutuality where each one gives and each one receives. Their place is not at the margins of society and of the church, but at the center, urging and calling us all to open up to the fundamental truth of our being; they can then become our healers. This book is essential reading for all Christians who desire to enter more fully into the vision of our loving God for our world and to become men and women of peace."--Jean Vanier, founder of L''Arche"Tom Reynolds has written a theologically profound and deeply moving exploration of what happens to core Christian understandings of God, of Christ, of community, and of embodiment when these are understood in light of disability. His work makes an important and bracing contribution to disability studies. It makes an equally important contribution to theology, making available an awareness of how our vulnerability opens us to each other and to the great compassion of the divine. It would be hard to come away from this beautiful book unchanged."--Wendy Farley, Emory University"What we call disability is part of our fragile life and also of life''s mystery in God. To understand disabled people and our own vulnerability and to understand the vulnerable and compassionate God condition each other. This astonishing book serves both sides and is an insightful contribution to an all-embracing theology of life."--Jurgen Moltmann, University of Tubingen"This is an important work for theologians, ethicists, clergy, and seminary students as they reconsider assumptions about human and divine power and privilege. In placing persons with disabilities at the center of the theological conversation about God''s power, Reynolds negates the ''cult of normalcy,'' offers a theology of vulnerability, and encourages the church to reclaim its role in providing hospitality to those on the margins of society."--Kathy Black, Claremont School of Theology, and author of A Healing Homiletic: Preaching and Persons with Disabilities"For years, I have thought that the key theological and pastoral issue in ministries with people with disabilities is not disability per se, but vulnerability. Tom Reynolds has taken that premise from his own experience as a father and his own training as a theologian and crafted a theology based on a foundation of vulnerability that does two things simultaneously: it deconstructs and reframes a soci
-Publisher
PRODUCT DETAIL
Catalogue Code 

268663

Product Code 

9781587431777

ISBN 

1587431777

EAN 

9781587431777

Pages 

256

Department Academic
Category Theology
Sub-Category General
Publisher Baker Book House
Publication Date 

Apr 2008

Sales Rank 

80435

Dimensions 

228 x 152 x 111

mm

Weight 

0.421

kg
Thomas E. Reynolds (PhD, Vanderbilt University) is associate professor of theology at Emmanuel College in the Toronto School of Theology, University of Toronto. He lives in North York, Ontario. He is author of The Broken Whole: Philosophical Steps Toward a Theology of Global Solidarity (SUNY Press, 2006) and Vulnerable Communion: A Theology of Disability and Hospitality (Brazos Press).
Introduction<br>notes<br>1. Theology And Disability--perils And Promises<br>i. A Disabling Theology Or A Theology Of Disability?<br>- Defining Disability Beyond The Medical Model<br>- Understanding Disability Christianly: Is Disability A Tragedy To Be Undone?<br>ii. Beyond Theodicy?<br>iii. Toward A Hermeneutic Of Disability<br>iv. Dismantling Alienating Notions Of Disability: Developing A Typology<br>- Avoiding The Theological Denigration Of Disability<br>- Avoiding The Theological Trivialization Of Disability<br>conclusion: Toward A Wider Horizon For Theological Thinking About Disability<br>notes <br>2. Communal Boundaries: Dwelling Together And The Cult Of Normalcy<br>i. The Human Need For Welcome<br>- Fundamental Trust--a Desire For &quot;home&quot; <br>- Home As Dwelling Together<br>ii. Social Boundaries: Ability And Dis-ability<br>- Community And Identity--frameworks Of The Good<br>iii. Recognition, Value, And The Good: Into The Sway Of The Cult Of Normalcy<br>- Economies Of Exchange<br>- Body Capital--measuring Exchange Value<br>- The Cult Of Normalcy<br>iv. Outside The Good<br>- Stigma--the Spoiled Body<br>- Taboo--prohibiting The Abnormal<br>conclusion: Against &quot;normalization&quot;?<br>notes<br>3. Able Bodies? The Illusion Of Control And Denial Of Vulnerability<br>i. Theoretical Roots Of The Modern Notion Of Personhood<br>ii. Problems With Equality, Freedom, Independence, And Reason<br>- Ironic Equality--like &quot;us&quot; <br>- Ironic Self-sufficiency And Freedom--dis-abling Ability?<br>- Ironic Rationality--routing The Irrational (reason-unable?) <br>iii. Managing The Body: The Productive Imperative<br>- Wealth Accumulation<br>- Efficiency--a Competitive Edge On Time<br>- Novelty--the Tyranny Of The New<br>- The Person As Consumer--empowered To Purchase<br>- Beautiful, Youthful, And Able Bodies<br>conclusion: Spiritual Self-interest? <br>notes<br>4. Recovering Disability: Love And The Strange Power Of &quot;weakness&quot;<br>i. Vulnerability: Reassessing Wholeness And Disability<br>- Dependence: Rethinking &quot;normal&quot;<br>- The Difficult Strength Of Vulnerability--neediness And The Reality Of Suffering<br>ii. Encountering Disability, Suffering The Other<br>- Creative Openings: An Autobiographical Excursus On Love<br>- Against Pity And Charity?<br>- Getting Closer--loving Chris<br>iii. Relational Wholeness: Love's Interdependence<br>- The Strange Power Of Weakness: Enabling Love<br>- Love--to Welcome The Presence Of The Other<br>iv. The Moral Fabric Of Love: Availability<br>- Respect: Giving Way For The Other<br>- Fidelity--faithfulness To The Other<br>- Compassion--sympathy With The Other, For Its Wellbeing<br>conclusion: Empowering Community<br>notes<br>5. Love Divine: God, Creation, And Vulnerability<br>i. Love And Conversion To God<br>- Gratitude: Existence As Gift<br>- Hope: Relation Beyond Tragedy<br>- The Sense Of God--an Extraordinary Possibility In Vulnerable Ordinariness<br>ii. Creation's God--a Theological Matrix<br>- God's Transcendence And The Redemptive Encounter<br>- Naming God's Redemptive Presence<br>iii. God's Creative Power: Toward A Theology Of Creation<br>- In The Beginning, God<br>- Creation &quot;called&quot; Into Being<br>- Creation From &quot;nothing&quot; <br>- Continuing Creation And Providence<br>- Creation A Free Act Of God<br>- Creation As Gift, Loved Into Being<br>iv. Relation And Vulnerability In God And Creation<br>- Creation's Difference, God's Giving<br>- Creation And The Tragic<br>- Divine Vulnerability And Tragedy<br>conclusion: Theology Of Creation In A Key Of Gratitude And Hope<br>notes<br>6. Worthy Of Love? Humanity, Disability, And Redemption In Christ<br>i. Reconsidering The Imago Dei<br>- Imago Dei As Imitatio Dei<br>- Imago Dei As Creativity--human Being As A Co-creative Agent Of God<br>- Imago Dei As Relationality--human Being As Embodied Along With Others<br>- Imago Dei As Availability--human Being As Freedom For Love<br>- The Imago Dei And Disability<br>ii. Sin's Tragedy And The Possibility Of Redemption<br>- Sin--creative Freedom For Love Gone Awry<br>- Sin, Idolatry, And The Possibility Of Redemption<br>iii. Reconsidering Redemption In Jesus Christ<br>- Jesus As The Icon Of A Vulnerable God: Redemptive Revelation<br>- Jesus: The Fully Human Person<br>- Jesus As God's Solidarity With Humanity: Incarnation, Cross, And Resurrection<br>conclusion: Reversing Disability<br>notes<br>7. Being Together: Love, Church, And Hospitality<br>i. To Love As Christ Loves: Loving Chris As Christ Loves And Loving Christ As Chris Loves<br>ii. The Strange Kingdom Of God: Restoring The Imago Dei In Right Relationships<br> A. The Creative Power Of Inclusion--welcoming (in) The Kingdom<br> B. Healing Power--welcome, Transformation, And Wholeness<br> C. Cross As Inclusive Solidarity--the Power Of Inability<br> D. Disability And The Imitation Of Christ<br>iii. The Strange Household Of God: Church As The Ongoing Presence Of Christ<br> A. Church As The Household Of God--a New Covenant<br> B. Church As The Body Of Christ<br> C. Church As Anticipation: The Not-yet Kingdom Of God<br>iv. Hospitality: Welcoming (in) The Spirit<br> A. Hospitality: Inspirited Openness To The Other<br> B. Hospitality And Disability<br>conclusion: Kindling Hope For The Church As A Communion Of Strangers<br>notes