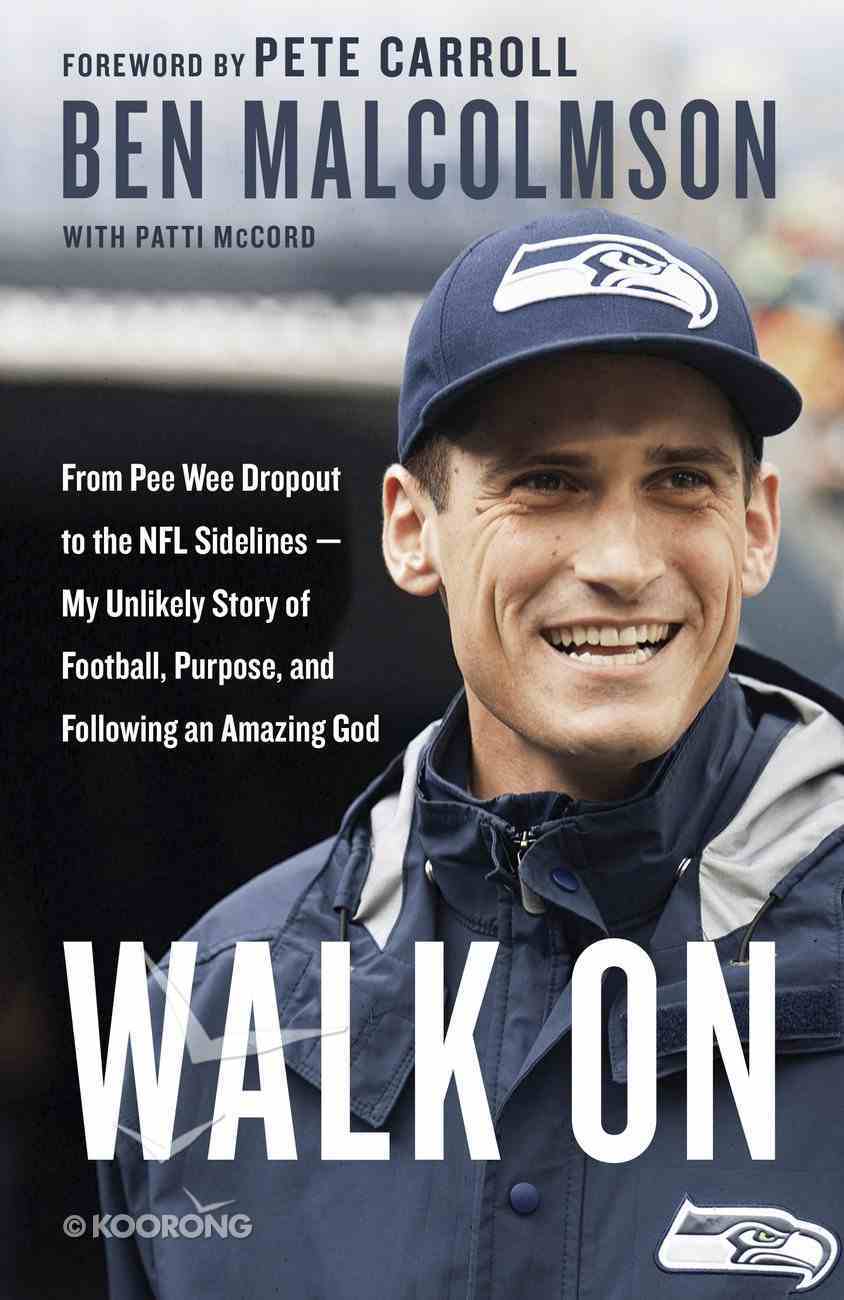 Walk on: From Pee Wee Dropout to the Nfl Sideline - My Unlikely Story of Football, Purpose and Following An Amazing God
: In this true, compelling account of perseverance and hope from Seahawks Coach Pete Carroll's assistant, a young journalist walks on to a top-ranked USC football team and, guided by his faith, shares God's love, launching him on an unexpected...
Out of Stock
Available to Order
---
Expected to ship in 4 to 5 weeks from Australia.
---
Free Shipping
for orders over $99.
:In this true, compelling account of perseverance and hope from Seahawks Coach Pete Carroll's assistant, a young journalist walks on to a top-ranked USC football team and, guided by his faith, shares God's love, launching him on an unexpected journey with an amazing outcome.

Had anyone told Ben Malcolmson that he'd someday be a wide receiver on the national champion USC football team--after not playing football since an unfortunate fifth-grade Pop Warner experience--he would have called them crazy. As a reporter for The Daily Trojan, in the spirit of George Plimpton, he participated in walk-on tryouts for the team and was dumbfounded to find himself listed on the roster. His position on the team never amounted to much in a game-time contribution, but Ben felt strongly that his faith was inextricably linked to his purpose. He felt called to anonymously place Bibles in each USC teammate locker on Christmas Eve--to resounding indifference and rejection from his friends. It wasn't until three years later, when his role at USC had led to a role with Coach Pete Carroll at the Seahawks organization, that an old friend connected with Ben and told him that one of the Bibles had captivated the heart of a teammate in the three days before his death.
With a humble spirit dedicated to consistent acts of discipleship, Ben Malcolmson is an authentic voice for the power of simple obedience and trust, for what can happen when a believer allows God to work in a life. Walk On is the result of God using his faithful people to work in the lives of others.
-Publisher
PRODUCT DETAIL
Catalogue Code 

508997

Product Code 

9780735291270

ISBN 

0735291276

EAN 

9780735291270

Pages 

224

Department General Books
Category Biography
Sub-Category General
Publisher Multnomah Publishers
Publication Date 

Jul 2018

Dimensions 

202 x 132 x 14

mm

Weight 

0.181

kg
BEN MALCOLMSON is the Director of External Relations and Assistant to the Head Coach for the Seattle Seahawks. He has a degree in Print Journalism from USC and is an active, connected Trojan alum. Malcolmson has authored over 200 articles including his creative article, "Day in the Life of Pete Carroll," which was linked to by the LA Times. He has contributed to a range of media outlets including the Associated Press, USA Today, and Sports Illustrated.
PATTI MCCORD owns a consulting company that helps small businesses with their marketing needs. An accomplished writer and editor, she writes extensively on a variety of topics, including health and fitness and business management. She lives in San Diego, California.

:1

Rude Awakening

Had I known the day ahead was going to change the course of my life, I probably would have been more eager to get out of bed that morning.

But for a college student at the University of Southern California, especially a second-semester senior, waking up at 7:30 a.m. felt painful. On that Thursday in March, I made the sacrifice of getting up so early to celebrate my friend Tim's birthday at Denny's across the street from campus. The air was thick with the smell of freshly brewed coffee and hot grease, the universal Denny's smell that sticks to your clothes for the rest of the day.

With USC's spring break just a day away, students were all looking forward to a week off that we would spend on the slopes of Colorado, lounging on a crowded beach in Mexico's Cabo San Lucas, or at home to take advantage of Mom's laundry service. I was going on a road trip with twelve of my buddies to Crested Butte, Colorado, to spend five days skiing without a textbook in sight.

While eating my go-to $3.99 Grand Slam, I drifted off in a daydream of knee-deep powder. I was roused back to reality just in time to join a pitiful, off-key rendition of "Happy Birthday" and watch Tim blow out the blue and white striped candle stuck lopsided in his pancake.

Half an hour later, I hopped on my bike and rode the half mile back to the fraternity house, considering my options for the next couple hours. Since I didn't have class until eleven, I had some time to pull together my notes and maybe even complete the article I was writing for USC's newspaper, the Daily Trojan, about the walk-on football tryouts that had taken place on Tuesday.

As a journalism major and student reporter who had covered the team for the past three years, I wanted a unique first-person angle for the story, so I had secretly participated in the tryouts. I was still so sore that the motions of raising my leg over my bike and pedaling made my quads burn intensely. I thought how dumb it was to have gone through all that just for an article and still be paying for it two days later.

No story was worth that much wear and tear on my body, and I made a mental note not to make that mistake again, even if it was for the article of a lifetime.

At the time, USC was on an unparalleled trajectory in college football history. Two months earlier, the Trojans had come within nineteen seconds of beating the undefeated Texas Longhorns in the Rose Bowl in Pasadena, California, which would have earned an unprecedented third consecutive national title. But even with the gut-wrenching loss, USC had established itself as the premier program of the decade and perhaps even earned a place among the all-time great dynasties in college football history. In the previous four seasons, the Trojans had won thirty-four straight games, two national championships, four Pacific-10 Conference titles, and three Heisman Trophies. Their fans routinely packed the ninety-two-thousand-seat Los Angeles Memorial Coliseum as coach Pete Carroll spearheaded an unmatched run—all while making USC football fun and becoming the envy of many college football programs in the country.

Unfortunately at that early hour, I didn't have sufficient brain cells awake enough to work on my article. So as the pancakes hit rock bottom, I decided to hustle home and hop right back in my bed, bury my head in my pillow, and sleep for another hour and a half.

After crawling up the wooden ladder onto the top bunk, I collapsed onto my bargain basement IKEA mattress and began drifting in and out of consciousness. I nodded off around 9:30, but at exactly 9:44 a.m., my blissful sleep came to an abrupt end.

Jolted awake by my annoying ringtone—the sound of an old rotary phone—I flipped my phone open while trying to focus on the caller ID. "Lana" was the name on the display. Lana, Lana, Lana. Who is Lana, and why in the world is she calling me in the middle of the night?

My half-asleep brain struggled to place her until I finally remembered. Lana had crossed my path a bunch over the years, but she had never called me before. I mumbled a groggy "What's up?" and her voice, way too cheery for that time in the morning, said, "Ben! Did you try out for the football team?"

Now I was really confused. I hadn't told anyone that I was doing the undercover tryouts story except for a few friends and the head coach. I figured that one of my friends had told her, and I was a bit embarrassed. I rolled onto my side, propped my head in the palm of my hand, and sheepishly replied, "Yeah, who told you?"

"Well, you made it!" she said enthusiastically.

As if an errant bolt of lightning had just struck me, I was jolted wide awake. "What are you talking about?"

Without missing a beat, she said, "Your name is on the list," emphasizing each word. Suddenly I remembered a passing comment one of my fraternity brothers made the night of the tryouts. He asked me what I would do if I actually did make the team. I had dismissed the notion and hadn't given it another thought, until now.

I weighed a whopping one hundred sixty-five pounds and I hadn't played football since I was ten years old, making this scenario utterly ridiculous—or more like impossible. This had to be someone's idea of a prank, and I wasn't particularly amused. I snapped my phone shut without bothering to say goodbye and slid off my bunk onto the floor with a million thoughts running through my head. I knew there had to be some mistake. There was no way it could be real. I bounced around the room for a few seconds like a pinball, trying to figure out what to do next.
I knew the coaches were going to post a list of the guys who made the team that morning, and I had already planned to get over to the football building to interview a couple of the lucky ones for my story. But that call added a fresh sense of urgency, so I snatched my keys off the desk, grabbed my reporter's notebook and pen, and shoved them into my pocket. I looked like a slob, with a severe case of bed head and still wearing the same wrinkled gray T-shirt and black athletic shorts I had slept in. I put on my brown Rainbow sandals, flung the door open, and bounded down the stairs two at a time.

I passed one of my fraternity brothers in the hallway. "Whoa, Ben, what's wrong?" I must have looked distraught, but I didn't even answer. Eyes focused straight ahead, I just kept moving as fast as my stiff, achy, post-tryouts legs would go.

I leaped down the steps into the courtyard, raced to the bike rack, and fumbled with the lock on my bike. My hands were trembling, and I could not get the key into the lock. When it finally clicked into place, I turned the key, ripped the lock off, and yanked my bike out of the rack. I slammed open the back gate, vaulted onto my bike, and tore out into the alley.

It was now 9:48 a.m., precisely four minutes since I had received the phone call. The bike path was jam-packed with students scurrying to their ten o'clock classes. I stood up on the pedals, cranking like I was in the final stage of the Tour de France, and searched for the fastest route through the crowd. My black cruiser bicycle had been my main mode of transportation since I started college almost four years earlier, and we had traveled countless miles together, although none more potentially life changing than this one. My mind was racing as fast as my feet were pedaling.

One thing I knew for sure: there was no way a scrawny, six-foot, 165-pound newspaper reporter, who hadn't played organized football since one horrific youth football experience in the fifth grade, had actually landed a spot on the nation's top-ranked college football team.

This was beyond any sense of reality. Heck, this was beyond any dream.

There was just no way this could be true.

Walk On: Expect the Unexpected

Looking at life with an expectant perspective, through a lens of excitement and anticipation of God's goodness, can fill every day with wonder. Getting that phone call from Lana took me completely by surprise. You just never know what God has planned for you; it may be something completely unexpected, far more amazing than you could ever hope or dream. Will you join me in embracing the adventure God promises when we live by faith?

Now all glory to God, who is able, through his mighty power at work within us, to accomplish infinitely more than we might ask or think.
—Ephesians 3:20

 
2

Are You In?

I knew the only logical explanation was that someone was playing a practical joke on me. But who? Was it one of my buddies or Coach Carroll himself, who had a reputation for being a world-class prankster?

Within the last couple of years, Coach had pulled some whoppers on his team. One involved a mystery guest who arrived at practice in a golf cart wearing a number 85 jersey, then sprinted to the huddle and was instructed to "go long" as a wide receiver. After catching a near-perfect pass, he fell into the end zone amidst Coach's frantic screams of "Don't touch him! Don't touch him!" In a matter of seconds, Will Ferrell jumped to his feet after making his first and only touchdown as a Trojan.

Another of his renowned pranks involved All-American tailback LenDale White. After a staged argument with Coach Carroll, White pretended to get angry, hurled his helmet to the turf while screaming "I quit!" and fumed out of practice. His theatrical quitting of the team was only the beginning of a jaw-dropping stunt that none of the team and staff will ever forget.

As I thought back on those pranks, I became completely convinced that Coach Carroll or one of my buddies had somehow enlisted Lana as a co-conspirator. The bike path ended, and I could see the football building, Heritage Hall, just a hundred yards away. I rode my bike full speed into the bike rack, nearly catapulting myself over the handlebars as it thudded to a stop. In four years I had never left my bike unlocked for one simple reason: I knew it would not be there when I returned. But that day I just left it and bolted up the ten concrete steps to Heritage Hall, a stately red-brick building with gigantic arched windows.

Upon reaching the top of the steps, I slowed down, not wanting to draw attention to myself. There, just to the left of the center of the building, was a white piece of paper taped to the glass door. In moments, I was standing there reading: "The following walk-on athletes will join the USC football program this spring."

I slowly drew my finger down the names, which were listed in alphabetical order. When I got to M, I froze. Right there, sandwiched between Kevin Livermore and Will Mullen, was my name, Ben Malcolmson. I continued, deliberately drawing my finger down to the bottom of the list and then returning to the top, over and over again.

I felt sure my eyes were playing tricks on me. Each time I passed my name, I was certain it would have disappeared. But it was still there, in black and white, every single time. Standing in front of that list on shaky legs, I bent my knees, dropped my head into my hands, closed my eyes, and just kept whispering over and over, "Oh my gosh, oh my gosh, oh my gosh."

I was a student newspaper reporter, for heaven's sake, who thought it would be funny to write an article on the walk-ons from a self-deprecating first-person perspective, chronicling the efforts of the seventy-five hopeful prospects while belittling my own lack of talent. The chances of me actually becoming a bona-fide member of the USC football team were just about as likely as Sports Illustrated signing me as a swimsuit model.

In an attempt to calm myself, I turned around with my back to the list and was immediately blinded by the intense morning sun. I squeezed my eyes shut again and told myself, Ben, relax and stop panting like a madman. I glanced down and checked my phone. It was 9:58 a.m. To think I had been peacefully asleep just fifteen minutes earlier.

Coach Carroll was the only possible person who could have pulled off this masquerade so flawlessly. I thought back to all the times I had laughed out loud at the poor suckers who were the brunt of Coach's pranks, and I realized I was just about to become one of them. I expected the ESPN cameras to roll out at any moment, while brightly colored confetti dropped from the ceiling and Will Ferrell jumped out from the shadows and burst into laughter, saying, "Dude, you've been punked!" And I would freeze, stare blankly into the bright lights, and look like the biggest fool on the planet.

I was a little ticked off being the butt of this joke, so I decided to get the experience over with as soon as possible in order to salvage the rest of my day. I jerked the door to Heritage Hall open and sprinted up the stairs two at a time to the second floor. I had been there just once before to write my "Day in the Life of Pete Carroll" story eighteen months earlier. During the fifteen hours I shadowed Coach Carroll, I experienced firsthand his larger-than-life persona and watched his executive assistant, Christie Uribe, guard him as if she had been trained by the Secret Service. The football offices at USC were considered hallowed ground, and nobody was dumb enough to barge in without an appointment.

Since I was typically a quiet, behind-the-scenes guy, I had to be much braver than I actually felt at that moment. And it was a good thing I didn't really have time to think about what I was doing, because if I had, I surely would have turned around and run down the stairs even faster than I had run up.

Upon entering the football office, I was immediately greeted by Coach Carroll's executive assistant. "Congratulations Ben! We're so excited for you!" she said. "Let me see if Coach is available to talk with you now."

Oh great, she's in on the prank too, I thought but politely responded, "Thank you. This is crazy!" I was sure she could hear my heart pounding.