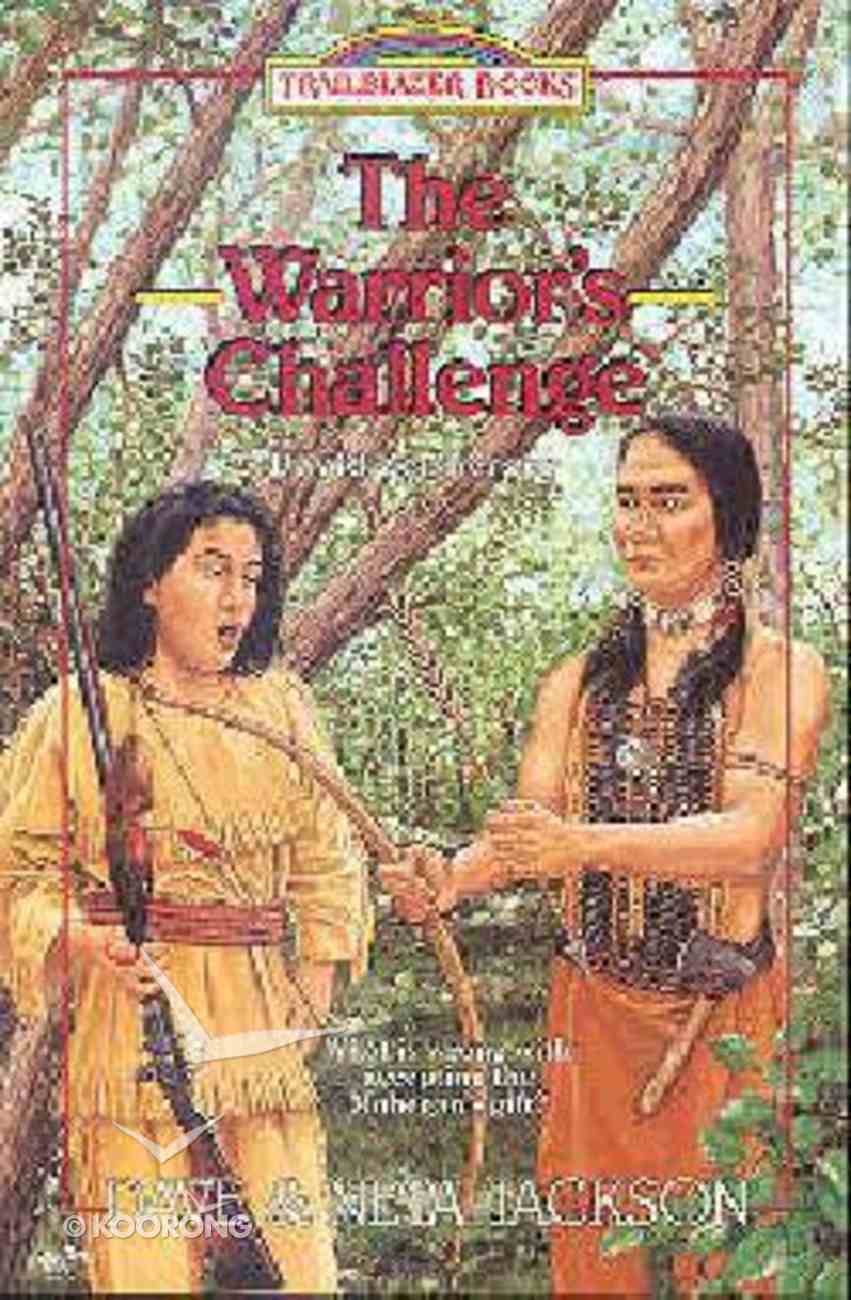 Warriors Challenge (#20 in Trailblazer Series)
1. Bound For The Promised Land2. Basket-Rider3. Crybaby4. A Struggle In The Night5. The Hunt6. Sunday Thieves7. Opeechee8. Bold Heart9. Broken Trust10. The Raspberry Patch11. Crossing The River12. Crossing The Other River13. Epilogue138 Pages
---
Free Shipping
for orders over $99.
1. Bound For The Promised Land2. Basket-Rider3. Crybaby4. A Struggle In The Night5. The Hunt6. Sunday Thieves7. Opeechee8. Bold Heart9. Broken Trust10. The Raspberry Patch11. Crossing The River12. Crossing The Other River13. Epilogue138 Pages
-Publisher
Thrilling adventure stories introducing young readers (ages 8-12) to Christian heroes of the past. When white settlers force a group of Moravian Indians to abandon their thriving Pennsylvania town in 1772, thirteen-year-old Joseph Shabosh and his crippled friend David Heckstein leave with them. As unalike as the two boys are, both long for their lives to be different: Joseph dreams of a warrior's life of adventure, and David of being less of a burden to his mother. But the peaceful Moravians are not alone as they make their way west. Shadowy figures are spotted slipping among the trees along the trail-Mohegan warriors! A meeting with a proud, strong warrior during a hut leaves Joseph more than ever that he wants to be a warrior, but young David is sure no good can come of spending time with the sly Mohegan. Should Joseph believe the warrior he has befriended against his father's will, or trust in the words of David and the Moravian missionary who leads them? The two friends are about to face the biggest obstacles of their lives!
-Publisher
A Trailblazer Book for middle-grade readers. David and Joseph struggle with the hardships of trail life when their tribe is forced to move west. Can they trust the Moravian missionary who leads them?
-Publisher
Dave Jackson is coauthor, with his wife, Neta, of the award-winning Trailblazer Books and the Hero Tales series, as well as No Random Act, the story behind the 1999 murder of Coach Ricky Byrdsong. Dave holds a degree in journalism from Judson College and has a prolific writing career, including books on racial reconciliation and ministry to kids in gangs. Dave and Neta are members of Chicago Tabernacle, a multiracial congregation and daughter church of the Brooklyn Tabernacle. They live in Evanston, Illinois.
As a husband/wife writing team, Neta and Dave Jackson are the authors or co-authors of about 100 books. In addition to writing several books about Christian community, the Jacksons have co-authored numerous books with expert resource people on a variety of topics from racial reconciliation to medical ethics to ministry to kids in gangs. But over the years the Jacksons have especially enjoyed writing for children and young people. This includes their award-winning Trailblazer series, historical fiction about great Christian heroes and heroines for young people ages 8-12, and the four-volume Hero Tales: A Family Treasury of True Stories from the Lives of Great Christians Great Christians.- Publisher.
Bestsellers in Confident Readers (Age 8-12)