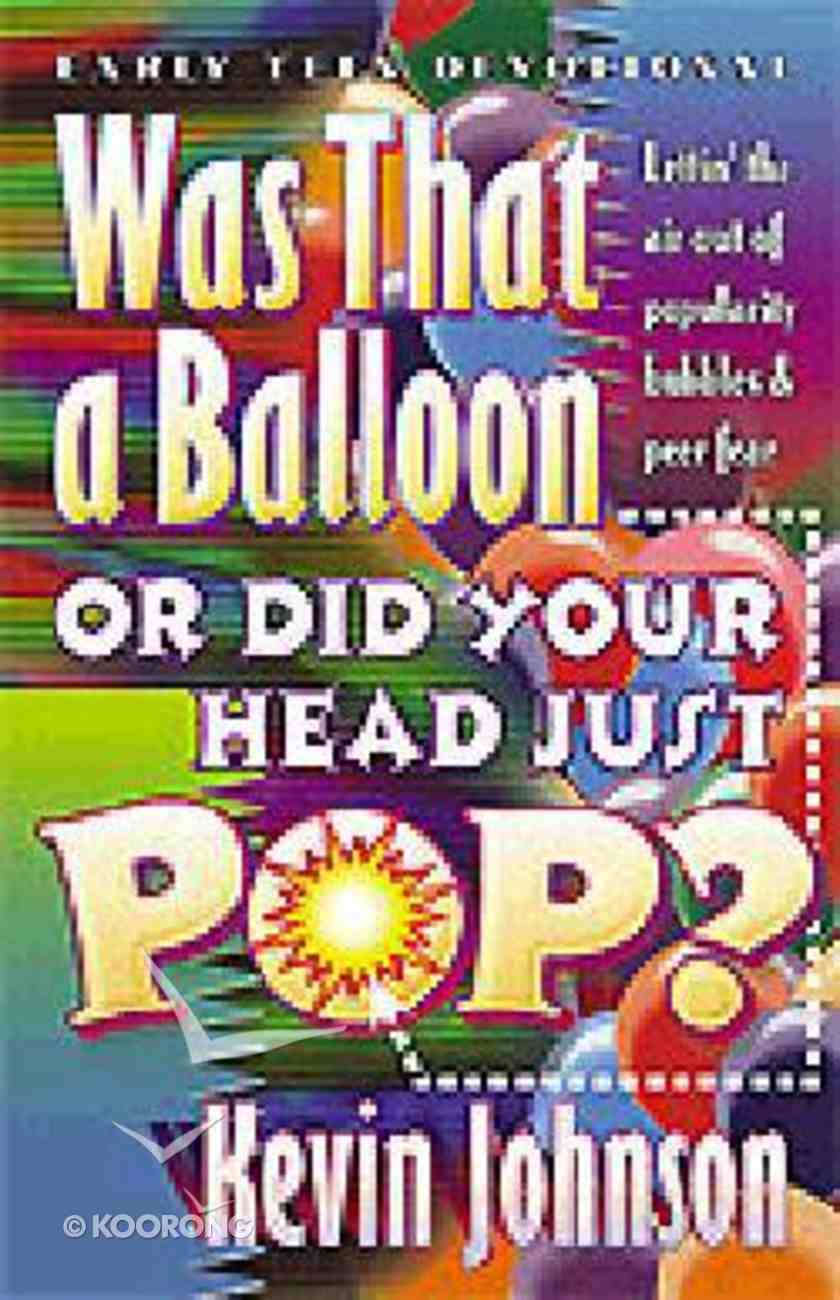 Was That a Balloon Or Did Your Head Just Pop?
Anxiously-awaited and highly-anticipated, the newest early teen devotional from Kevin Johnson bursts the bubbles of popularity and will give you the low-down on becoming a friend worth having. Ideal for use in your youth group, bible studies, or individual devotions,...
---
Free Shipping
for orders over $99.
Anxiously-awaited and highly-anticipated, the newest early teen devotional from Kevin Johnson bursts the bubbles of popularity and will give you the low-down on becoming a friend worth having. Ideal for use in your youth group, bible studies, or individual devotions, this is a collection of forty-five short readings which will help you confront the powerful force of wanting to fit in, be popular, and rule school. ^^Quick-witted and filled with jokes, each reading includes a catchy opening, a Bible passage to think about, a leading question to answer, and a life-changing explanation and application of Scripture. Chapters include:^Pass the Oxygen, Please - Helps you get out of the stuffy cave of loneliness. ^Rip Your Buns Off - Consoling words when the world seems to beat you up. ^He's a Human Hockey Puck - A challenge to use your unique, God-given gifts. ^Doing the `Tudes - A look at the Beatitudes and the message they have for us today.^^The tools which Was That a Balloon or Did Your Head Just Pop? provides help you build the courage and understanding to follow the commands of God rather than caving to the demands of those around you. By getting past the putdowns and finding real popularity with God you'll learn to grow into a terrific friend and know what to look for in your own buds.^
-Publisher
A collection of forty-one devotional readings which encourage the reader to break free from peer pressure and let God enter one's life.
-Publisher
An early teen devotional that lets the air out of popularity myths and helps kids break free of peer fear. Examines how to grab hold of God and good friends in a witty collection of forty-five devotional readings.
-Publisher
Kevin Johnson is the bestselling author of more than twenty books for youth, including Can I Be a Christian Without Being Weird?; Catch the Wave and the Early Teen Discipleship series. A full-time author and speaker, he served as senior editor for adult nonfiction at Bethany House Publishers and pastored a group of more than 400 sixth through ninth graders at Elmbrook Church in metro Milwaukee. He now pastors Emmaus Road Church in metro Minneapolis,