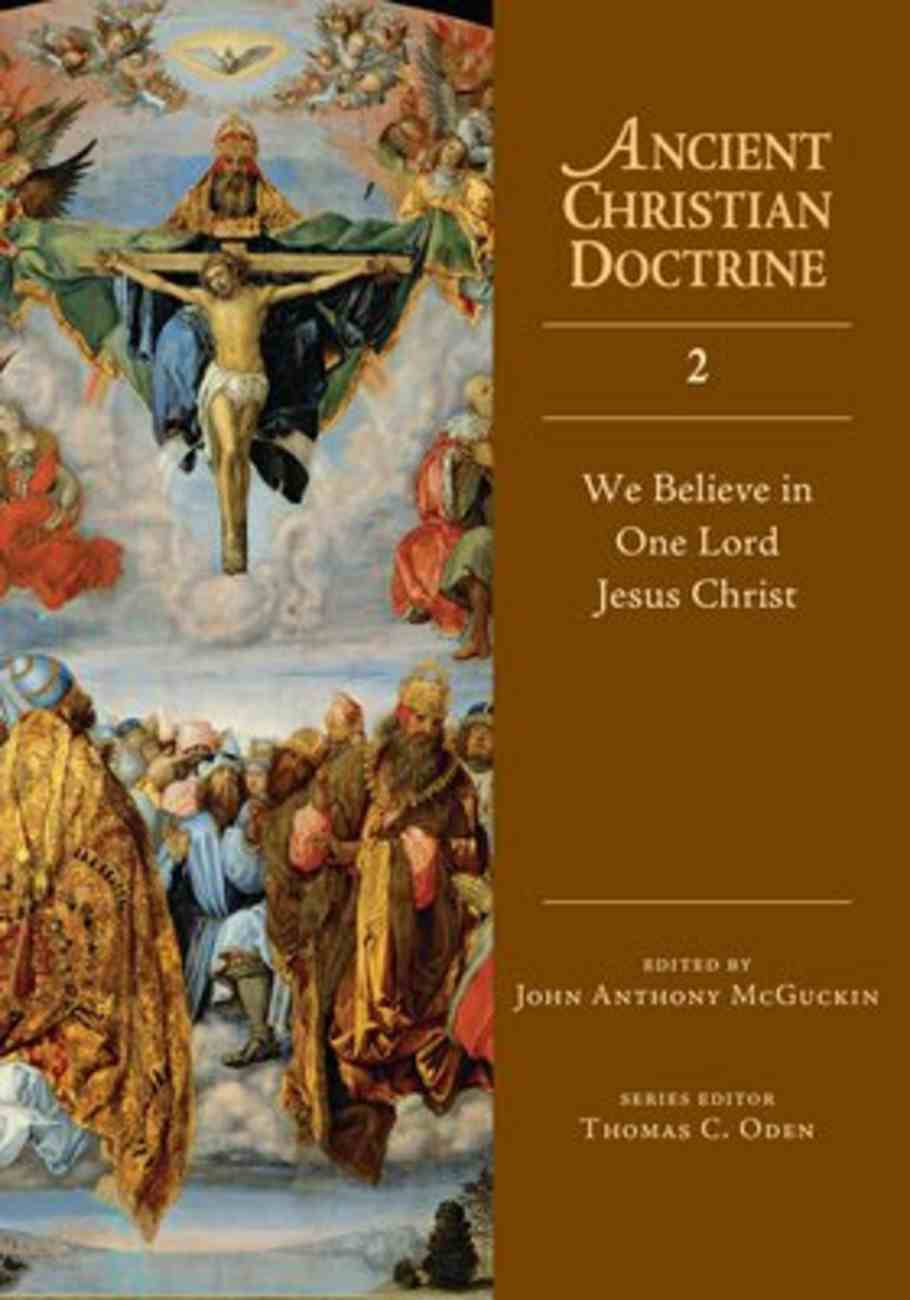 We Believe in One Lord Jesus Christ (#02 in Ancient Christian Doctrine Series)
"Who do you say that I am?" This question that Jesus asked of his disciples, so central to his mission, became equally central to the fledgling church. How would it respond to the Gnostics who answered by saying Jesus was...
Out of Stock
Available to Order
---
Expected to ship in 4 to 5 weeks from Australia.
---
Free Shipping
for orders over $99.
"Who do you say that I am?" This question that Jesus asked of his disciples, so central to his mission, became equally central to the fledgling church. How would it respond to the Gnostics who answered by saying Jesus was less than fully human? How would it respond to the Arians who contended he was less than fully God? It was these challenges that ultimately provoked the Council of Nicaea in A.D. 325.
^^In this volume covering the first half of the article in the Nicene Creed on God the Son, John Anthony McGuckin shows how it countered these two errant poles by equally stressing Jesus' authentic humanity (that is, his fleshliness and real embodiment in space and time) and his spiritual glory or full divinity.


^^One cottage industry among some historical theologians, he notes, has been to live in a fever of conspiracy theory where orthodox oppressors dealt heavy-handedly with poor heretics. Or the picture is painted of ancient grassroots inclusivists being suppressed by establishment elites. The reality was far from such romantic notions. It was in fact the reverse.


^^The church who denounced these errors did so in the name of a greater inclusivity based on common sense and common education. The debate was conducted generations before Christian bishops could ever call on the assistance of secular power to enforce their views. Establishing the creeds was not a reactionary movement of censorship but rather one concerned with the deepest aspects of quality control.


^^Ultimately, what was and is at stake is not fussy dogmatism but the central gospel message of God's stooping "down in mercy to enter the life of his creatures and share their sorrows with them. He has lifted up the weak and the broken to himself, and he healed their pain by abolishing their alienation."


-Publisher
John Anthony McGuckin (Ph.D., University of Durham), formerly reader in patristic and Byzantine theology at the University of Leeds in England, is currently Ane Marie and Bent Emil Nielsen Professor in Late Antique and Byzantine Christian History at Union Theological Seminary and professor of Byzantine Christian studies at Columbia University in New York City.
A Fellow of both the Royal Society of Arts and the Royal Historial Society, he has written over twenty works of historical theology, including St. Cyril of Alexandria: The Christological Controversy; St. Gregory of Nazianzus: An Intellecutual Biography; Standing in God's Holy Fire: The Byzantine Tradition; At the Lighting of the Lamps: Hymns of the Ancient Church and The Westminster Handbook to Patristic Theology


Most recently he has edited We Believe in One Lord Jesus Christ (Volume 2, Ancient Christian Doctrine) an accessible early Christian commentary on the Nicene Creed and the church's understanding of the doctrine of Christ


Thomas C. Oden (Ph.D., Yale University) recently retired as Henry Anson Buttz Professor of Theology at The Theological School of Drew University in Madison, New Jersey. He is general editor of the Ancient Christian Commentary on Scripture; Ancient Christian Texts and Ancient Christian Doctrine Set and author of numerous theological works, including a three-volume systematic theology
A Guide To Using The Commentaries In The Ancient Chistian Doctrine Series
Abbreviations
Introduction
<em>we Believe In One Lord
Jesus Christ
The Only Son Of God
Eternally Begotten Of The Father
God From God
Light From Light
True God From True God
Begotten Not Made
Of One Being With The Father
Through Him All Things Were Made
For Us
And For Our Salvation
He Came Down
From Heaven
By The Power Of The Holy Spirit
He Became Incarnate
From The Virgin Mary
And Was Made Man</em>
Conclusion
Outline Of Contents
List Of Ancient Authors And Texts Cited
Author/writings Index
Scripture Index