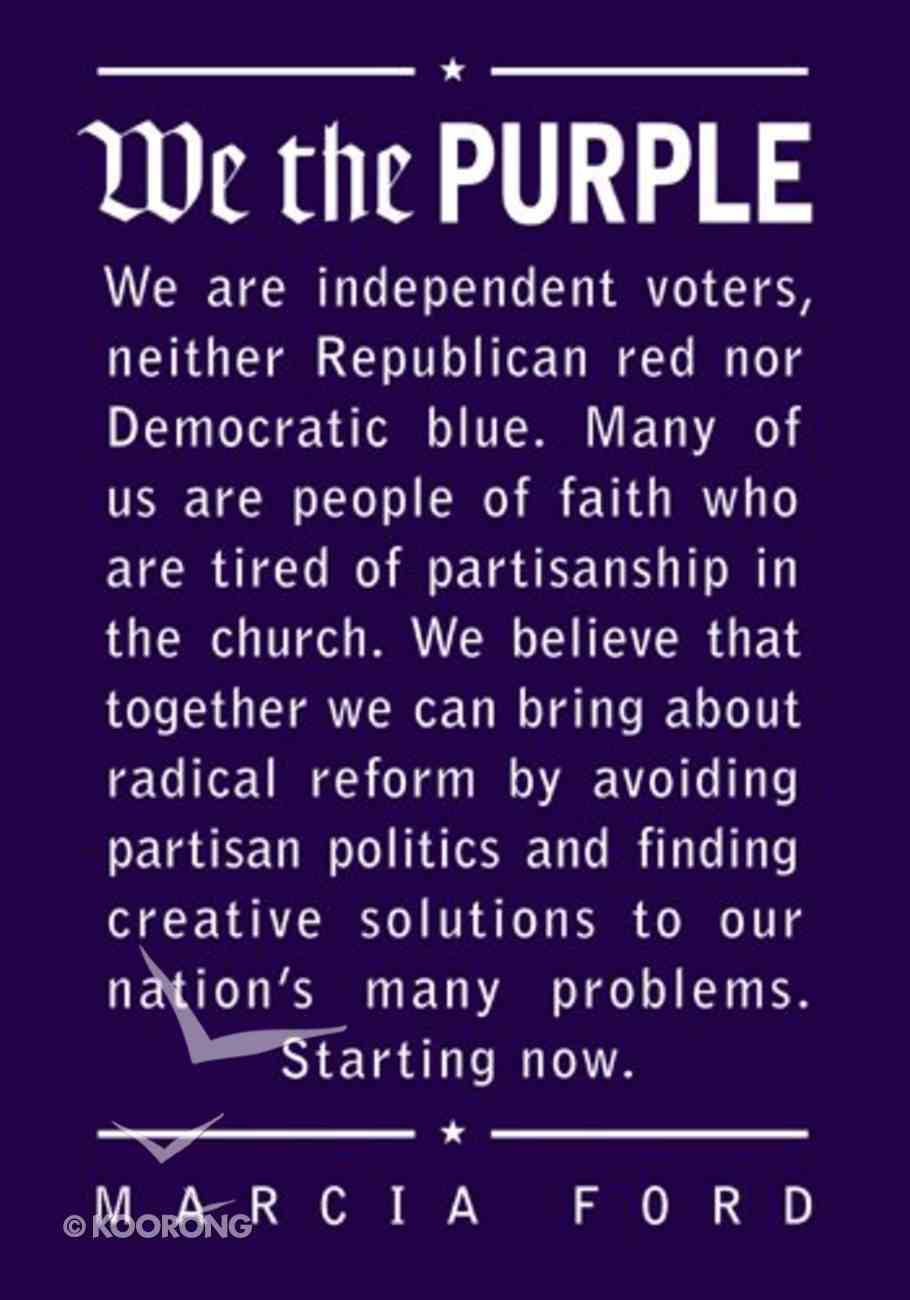 We the Purple educates and motivates the reader to have their "vote" and political action informed by their faith. We the Purple speaks to the voter who is not mindlessly aligned with one political party or another, but who analyses...
Unavailable. Out of Print. Only available while stock lasts.
Out of Print
---
Free Shipping
for orders over $99.
We the Purple educates and motivates the reader to have their "vote" and political action informed by their faith. We the Purple speaks to the voter who is not mindlessly aligned with one political party or another, but who analyses each issue through a Christian worldview lens. Issues and faith determine how these people vote. The media has labelled this to be the independent voter's election, and this book is here just in time!

Endorsements

Finally, encouragement to think for ourselves! This well-written and well-researched book is not only a breath of fresh air; it portends the winds of change to individualized politics.
-—Dr. Joel C. Hunter, senior pastor of Northland—A Church Distributed and author of Right Wing, Wrong Bird: Why the Tactics of the Religious Right Won't Fly with Most Conservative Christians

What a refreshing book! Marcia Ford has almost convinced me to give up my partisan political positions and join her. This book will make you think.
-—Steve Brown, author, professor at Reformed Theological Seminary in Orlando, and president of the media ministry Key Life Network, Inc.

Marcia Ford lays bare the stubborn myth that in a nation divided by party allegiance, independent voters are aimless, apathetic, and irrelevant when it comes to the great issues of the day.
-—Jeffery L. Sheler, contributing editor, U.S. News & World Report, and author of Believers: A Journey into Evangelical America.

Marcia Ford employs sass, spirituality, and statistics to expose the failings of our current two-party system that blocks independent voters from having a viable voice in the political arena.
-—Becky Garrison, author of Red and Blue God, Black and Blue Church
-Publisher.


"I am every partisan politician's worst nightmare-a registered independent," says journalist Marcia Ford. "Wildly unpredictable in my voting habits over the last three decades, I have cast ballots for Democrats, Republicans, independents and assorted loose cannons."
In We the Purple,Ford describes and interprets her fellow "Purple" voters-independents who are neither Republican red nor Democratic blue. Through dozens of interviews with independent voters and candidates, politicians, political observers and activists of many stripes, she explains how these citizens eschew partisan politics, guided instead by their core values, their faith, and their experience.


Purple voters won't settle for the one or two issues identified for them by politicians, lobbyists, or religious leaders. It's a slippery voting bloc for politicians and pundits to get a handle on-they have no allegiance to party and no partisan ideology to uphold. If officeholders they help elect don't do something to fix what needs fixing, independents have no reason to ever vote for them again.


Many Christians, like Ford, are independent voters, and she examines how faith influences their unaffiliated political stance. Many Christian independents feel disenfranchised and unwelcome at churchesif they are not in agreement with the prevailing political views. "As paradoxical as the image may seem, if Christians remained morally centered, their votes could swing all along the political spectrum. And that include the votes of prominent Christian leaders," Ford says. "If religion is to play a prophetic role in the culture and in the political process, then people of faith need the freedom to speak prophetic words openly, without fear of repercussion or losing face," Ford says.


Marcia Ford is a seasoned journalist, editor, and author. She was a reporter and editor at the Asbury Park Press in New Jersey, editor of Christian Retailingmagazine, and associate editor at Charismaand Ministries Today.In addition to editing nearly one hundred books, she is the author of twenty books, including Finding Hope, Traditions of the Ancients, The Sacred Art of Forgiveness, Memoir of a Misfit,and with Scott Marshall, Restless Pilgrim: The Spiritual Journey of Bob Dylan.She lives with her family in Colorado


-Publisher
Marcia Ford is a former religion editor for The Ashbury Park Press, associate editor of Charisma magazine, and editor of Christian Retailing. But she describes herself as mostly, I'm a book author, with 18 traditionally published books. I'm also a ghostwriter, though of course I can't talk specifically about those books; let's just say that I've ghostwritten or contributed to 12 additional books. I'm also a book editor, book reviewer, writing instructor, writing mentor, and journalist. I'm married with two adult daughters, and I have a special interest in postmodern spirituality.
Bestsellers in Christian Worldview