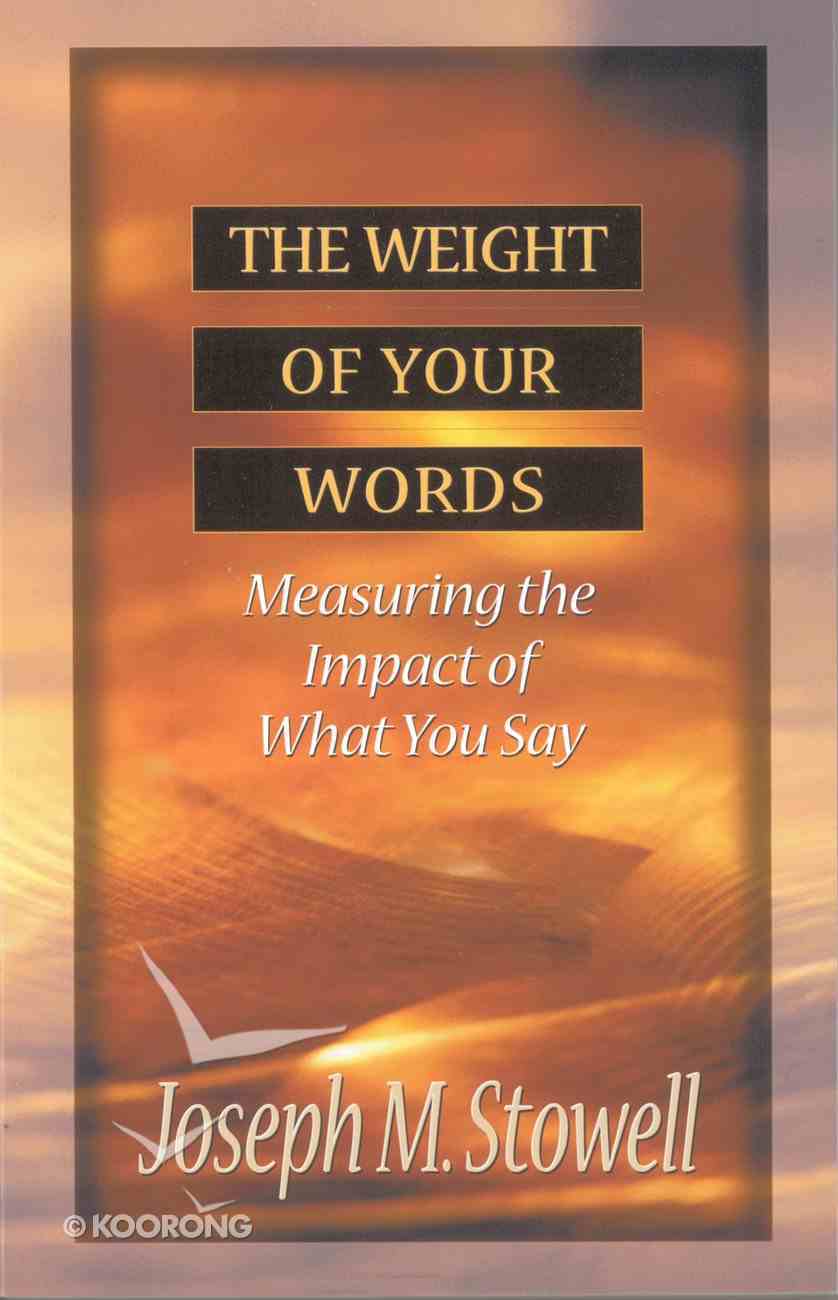 Sticks and stones will break my bones, but names will never hurt me? This lie has been taught to children for years. We claim it strengthens them. Allows them to let the harsh words of other children roll off their...
Available for immediate download.
---
Read using our free app on your tablet or mobile!
---
Free Shipping
for orders over $99.

Sticks and stones will break my bones, but names will never hurt me? This lie has been taught to children for years. We claim it strengthens them. Allows them to let the harsh words of other children roll off their backs. But the truth is that words have power. Power to encourage. Power to heal. But also power to intimidate, power to scourge, and power to wound.How are you using the power of words? What we say has both spiritual and physical implications. Revelation 21:8 tells us that liars have their place in the Lake of Fire. And we all have seen the devastation wreaked by rumors on innocent reputations. Yet with the same intensity, kind words can soothe a broken spirit and restore shattered relationships. Your words also say a lot about you. Jesus said, 'For out of the overflow of the heart the mouth speaks' (Matthew 12:34). If our hearts are not in tune with God, neither will be our words. In The Weight of Your Words, Joseph Stowell shares the truth about the tongue straight from the Bible, God's Word to His people. He challenges us to not allow our mouths to be controlled by our anger or our circumstances, but rather, to be controlled by the Holy Spirit and His work in our lives. Take inventory of your words and your heart attitude with Joseph Stowell in The Weight of Your Words.

^University in Grand Rapids, Michigan. He is a graduate of Cedarville University ^and Dallas Theological Seminary and was honored with a doctor of divinity degree ^from The Master's College in 1987. From 1987 to 2005, Joe served as the president ^of Chicago's Moody Bible Institute, joining the staff of the suburban Chicago Harvest ^Bible Chapel in 2005. An internationally recognized conference speaker, Joe has ^written numerous books including the award winning The Trouble with Jesus, Strength ^for the Journey, and The Weight of Your Words. Joe and his wife, Martie, ^are the parents of three adult children and have ten grandchildren. They currently ^live in Ada, Michigan.
Joseph Stowell shares the truth about the tongue straight from the Bible. ^He challenges us to not allow our mouths to be controlled by our anger or our circumstances, ^but rather, to be controlled by the Holy Spirit and His work in our lives.

TABLE OF CONTENTS

1. A WORD'S WORTH - The "Problem" Tongue Exposed

2. ^TO TELL THE TRUTH - Beguilement, Deceit, Lying, and False Witness

3. MALICIOUSLY ^SPEAKING - Gossip and Slander-Catastrophic Cousins

4. THE EGO IN OUR MOUTHS ^- Boasting, Flattery, and Exaggeration

5. CROSS WORDS - Murmuring and Contentious ^Words

6. EXPLETIVES DELETED - Using God's Name in Vain and Sensuous Speech

7. ^HEART TALK - Your Tongue Reflects Your Spirit

8. SPEAKING OUT FOR NUMBER ^ONE - Push Your Pride Aside

9. DEFUSING ANGER - Douse the Fire in Your Tongue

10. ^PATIENCE APPLIED - Good Words for Bad Deeds

11. THE TRUST-LOVE LIFE - Conquer ^Fear with Love

12. APPLES OF GOLD - A Commitment to Positive SPEECH

Sticks and stones will break my bones, but names will never hurt me? This ^lie has been taught to children for years. We claim it strengthens them. Allows ^them to let the harsh words of other children roll off their backs. But the truth ^is that words have power. Power to encourage. Power to heal. But also power to intimidate, ^power to scourge, and power to wound.How are you using the power of words? What ^we say has both spiritual and physical implications. Revelation 21:8 tells us that ^liars have their place in the Lake of Fire. And we all have seen the devastation ^wreaked by rumors on innocent reputations. Yet with the same intensity, kind words ^can soothe a broken spirit and restore shattered relationships. Your words also ^say a lot about you. Jesus said, 'For out of the overflow of the heart the mouth ^speaks' (Matthew 12:34). If our hearts are not in tune with God, neither will be ^our words. In The Weight of Your Words, Joseph Stowell shares the truth ^about the tongue straight from the Bible, God's Word to His people. He challenges ^us to not allow our mouths to be controlled by our anger or our circumstances, but ^rather, to be controlled by the Holy Spirit and His work in our lives. Take inventory ^of your words and your heart attitude with Joseph Stowell in The Weight of Your ^Words.


-Publisher
Joe Stowell serves as the 11th President of Cornerstone University in Grand Rapids, Michigan. Comprised of approximately 2500 undergraduate and graduate students, Cornerstone is a Christ - centered university with a passion for global influence through the transforming power of the gospel. The University is committed to creating an environment where students thrive both spiritually and intellectually as they prepare themselves to influence our world as followers of Jesus.
An internationally recognized conference speaker, Joe has also written numerous books including The Trouble with Jesus; Simply Jesus and You; The Upside of Down; and Eternity. Joe also serves with RBC Ministries, partnering in media productions, writing, and outreach to pastors. His Strength for the Journey web ministry, www.getmorestrength.org, features daily devotionals, weekly messages and commentary, downloadable Bible study curriculum, and an audio library of his most requested messages.


Joe serves on the Board of the Billy Graham Evangelistic Association and Wheaton College, and has a distinguished career in higher education and church leadership. From 1987–2005, he served as the president of Moody Bible Institute, and as teaching pastor at the 10,000–member Harvest Bible Chapel in suburban Chicago


Bestsellers in Christian Living