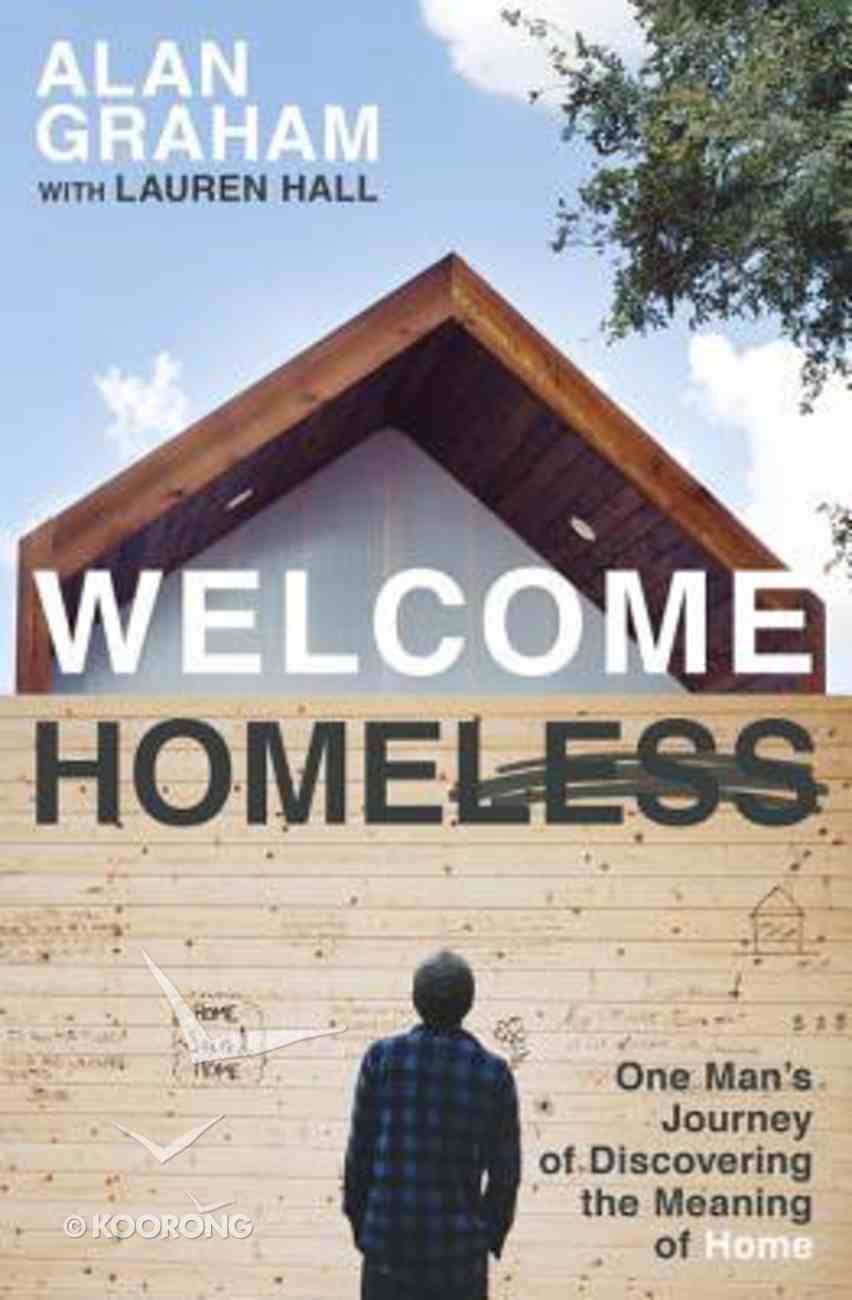 : Homeless. No other word better describes our modern-day suffering. It reveals one of our deepest and most painful conditions-not having a sense of belonging. However, Alan Graham, founder of Mobile Loaves & Fishes and Community First! Village, is...
---
Expected to ship within 4 hours from Australia.
---
Free Shipping
for orders over $99.
:
Homeless.


No other word better describes our modern-day suffering. It reveals one of our deepest and most painful conditions-not having a sense of belonging. However, Alan Graham, founder of Mobile Loaves & Fishes and Community First! Village, is improving the quality of life for a large quantity of people through sharing his personal story of becoming more human through humanizing others. Graham believes the more we can give people dignity, the power of choice, and genuine community, the better we'll be able to offer solutions that will have impact on the world at large. And while his missionary work is focused on giving a home to the physically homeless, he also wants to transform the lives of every living person by shifting the paradigm in understanding what it means to be "home." In Welcome Homeless, Graham delves deep into what it means to be connected to God, the earth, and each other. In doing so, he shows us the home we've all longed for but never had.


Welcome Homeless is about becoming fully human by being fully present. It is about finally connecting with the disconnected and finding our identity through knowing the true identity of others. Graham wants to engrain the human story in you so deeply that you start being who you were made to be-that you start finally being like the image from which you were made and start empathizing instead of sympathizing with the people around you. Similar to how we can become 100 percent fully human by mimicking the ultimate image, we can shape a better world by mimicking the picture of the new heaven and the new earth-a picture that has reality at the heart of it but is beyond our imagination. Alan Graham also shares his personal story, the stories of the homeless, and the stories of those whose worldviews have been shifted by the homeless. Because of his raw, humorous, and honest voice, he achieves a rare and profound universality. Houses become homes once they embody the stories of the people who have made these spaces into places of significance, meaning, and memory. Home is fundamentally a place of connection and of relationships that are life-giving and foundational. Graham invites you to make everyone feel truly at home by finally inviting those living on the fringes of society into your heart.


This is why Welcome Homeless is about doing, not saying. It is about taking the ultimate and forward-thinking vision of a new heaven and new earth and literally breaking the soil so that new earth can exist here today. It is about realizing that homelessness is not fundamentally a consequence of moral and spiritual inadequacies; but rather it is often the logical and economical outcome for a large part of our population.


So, what does your vision of humanity and love look like? Whatever the vision, it should look like community. People should feel more alive after they meet you. When your consciousness changes from one of self-absorption to a consciousness aware of its human desire for connection, compassion, kindness, and beauty, you will start seeing things differently-and others will start seeing you made anew as well because the absolute greatest self-help occurs when you help others


-Publisher
Alan Graham is the president, CEO, and founder of Mobile Loaves & Fishes, a social profit enterprise that delivers meals and provides homes to homeless people on the streets of Austin, San Antonio, New Orleans, Nashville, Minneapolis, Providence, and New Bedford.nbsp;Alan was born in Houston in 1955. He grew up in Alvin, Texas and attended the College of Mainland and later the University of Texas. In 1978 he left UT to begin a career in real estate. He was a partner in many of Central Texas' most successful real estate development projects. In the mid-1990s, Alan co-founded the Lynxs Group, which built the air cargo facility at Austin's new airport in 1997, and went on to build similar facilities at airports around the country.nbsp;Alan left the Lynxs Group in 1997 and managed Austin's cargo port as the new airport was opening. At the same time, Alan had the seed of the idea for Mobile Loaves & Fishes. He and the other founders started by making sack lunches and serving them from the back of a green minivan. His focus now is the development and building of the Community First! Village, a 27-acre master-planned community that provides affordable, sustainable housing and a supportive community for the disabled and chronically homeless in Austin.nbsp; Visit: http://mlf.orgnbsp;
Lauren Hall works for 826 National, a network of nonprofits that assist young people with their expository and creative writing skills. Lauren has coordinated publishing projects and creative writing camps for San Francisco youth through her work at 826, and serves on the Board of Directors for the Bay Area Girls Rock Camp.
Bestsellers in Christian Living