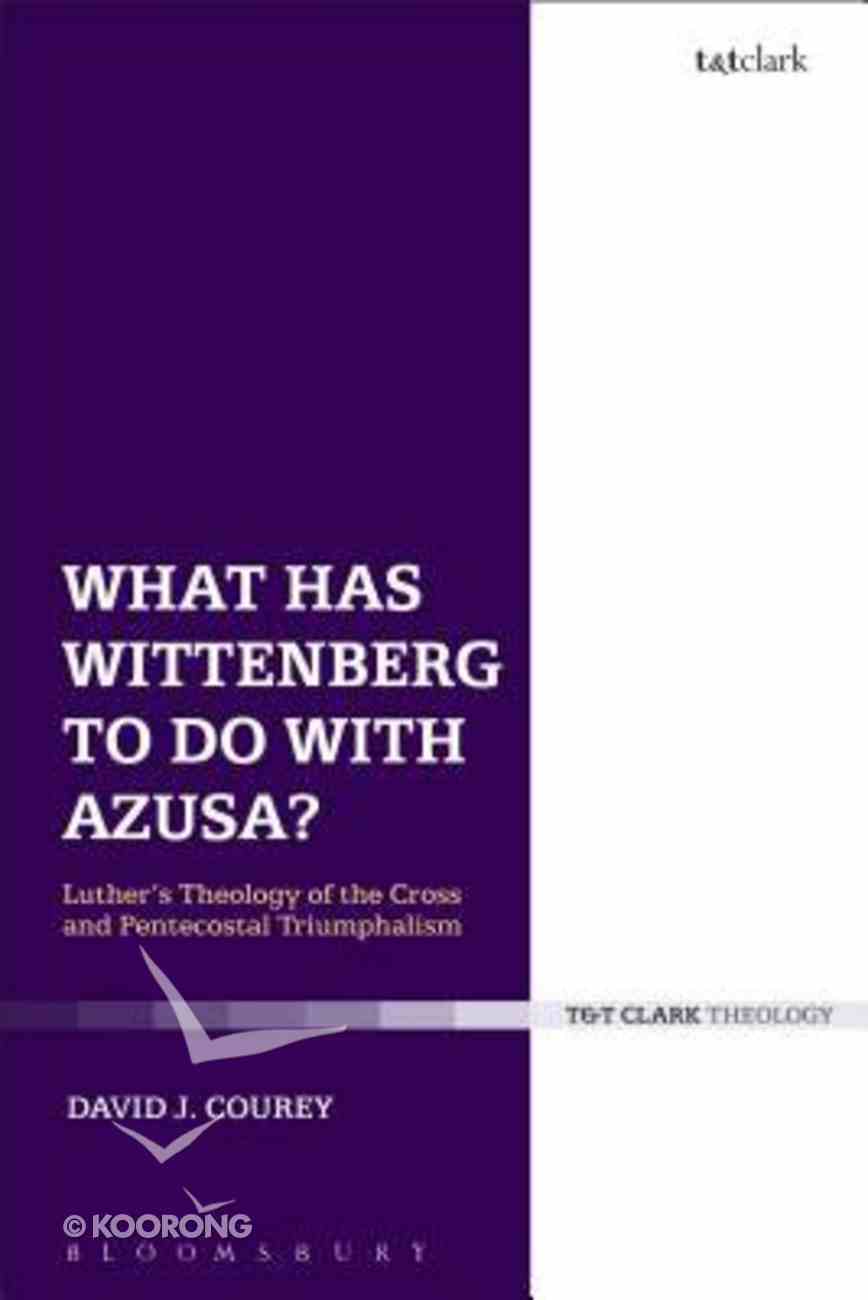 What Has Wittenberg to Do With Azusa?: Luther's Theology of the Cross and Pentecostal Triumphalism
:Global Pentecostalism is a twenty-first century phenomenon. Yet in North America, where the movement was born, it has stalled. Courey uncovers the cause of this plateau in the triumphalism that is characteristic of both North American Protestantism and Pentecostalism. Through...
Out of Stock
Available to Order
---
Expected to ship in 7 to 8 weeks from Australia.
---
Free Shipping
for orders over $99.
:Global Pentecostalism is a twenty-first century phenomenon. Yet in North America, where the movement was born, it has stalled. Courey uncovers the cause of this plateau in the triumphalism that is characteristic of both North American Protestantism and Pentecostalism. Through the identification of parallels between Martin Luther and contemporary Pentecostals, Courey detects in Luther's Theology of the Cross a potent remedy for this tension. Utilising this insight, Courey reflects on other faith traditions, and provides a counterpoint to the triumphalism that inhibits the development of Pentecostalism in North America and around the world. This work comprises of three parts. The first is historical, charting the antecedents and development of Pentecostal triumphalism. The second is an experiment in historical theology, seeking basic resonances between Luther and early Pentecostals, and examining the Theology of the Cross as a means of probing Pentecostalism. The final section is an effort in constructive theology, applying the theologia crucis to some of the central aspects of Pentecostalism.
-Publisher
:introduction: Evaluating North American Pentecostalismpart I: Probing The Pentecostal Problem: The Sources And Development Of Pentecostal Triumphalism1. "'tis Is A Glorious Church": Antecedents Of Pentecostal Movement2. "living On The Hallelujah Side": The Emergence And Development Of Pentecostal Triumphalismpart Ii: Luther And The Theology Of The Cross: Synthesizing A Resource For Pentecostal Theology3. "the Spirit And The Gifts Are Ours": Luther's Theology As Resource For Pentecostalism4. "where I First Saw The Light": Luther's Theology Of The Cross As Pentecostal Resourcepart Iii: A Pentecostal Theology Of The Cross: Listening To Luther With Pentecostal Ears5. "victory In Jesus": A Pentecostal Theology Of The Cross6. "he Lives Within My Heart": Pentecostal Triumphalism And The Theology Of The Crossconclusionbibliographyindex