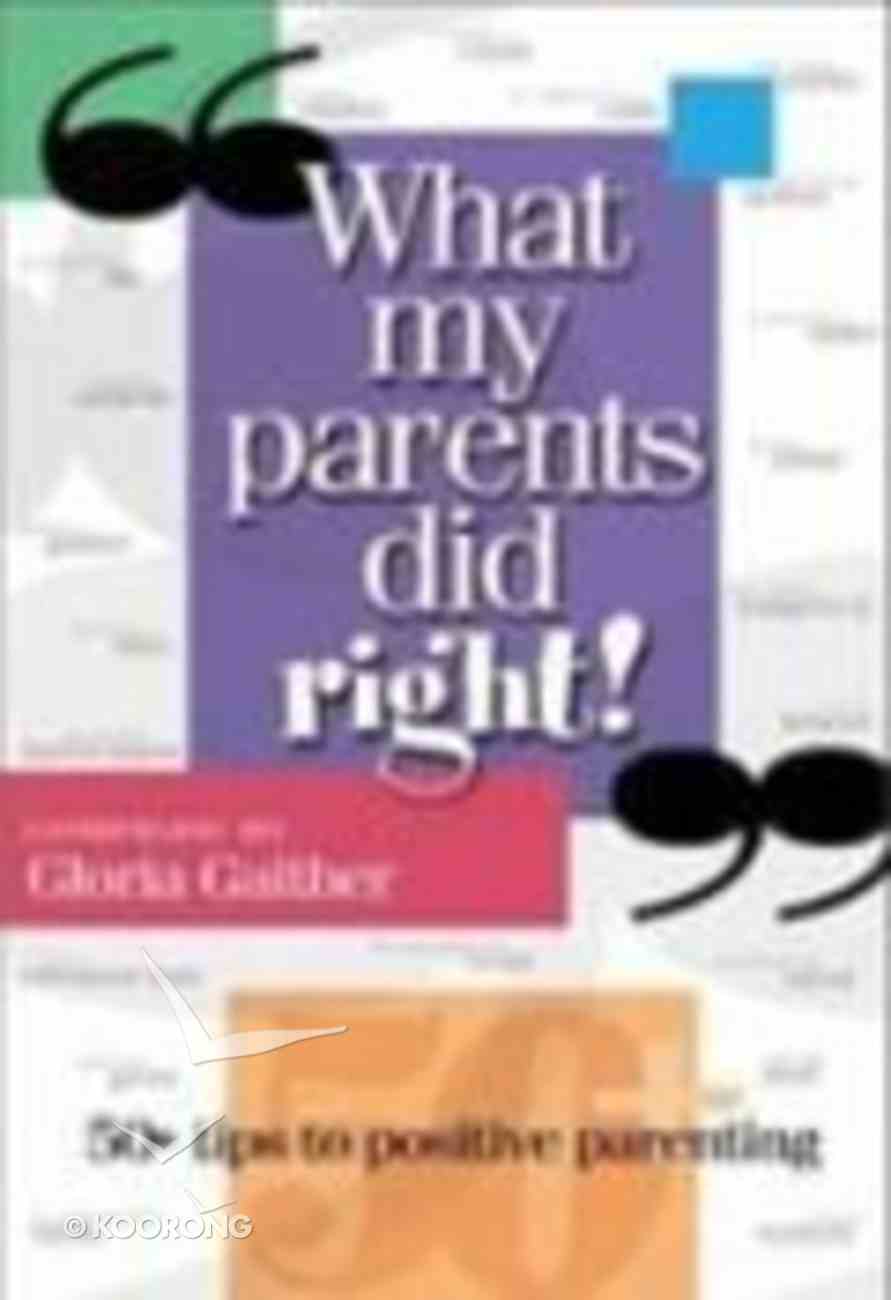 What My Parents Did Right!
The message of this powerful book is that you don't have to be a perfect person to be a great parent. In it you will find fascinating stories written by people like John MacArthur, Jr., Kay Arthur, Joni Eareckson Tada,...
Out of Stock
Available to Order
---
Expected to ship in 6 to 7 weeks from Australia.
---
Free Shipping
for orders over $99.
The message of this powerful book is that you don't have to be a perfect person to be a great parent. In it you will find fascinating stories written by people like John MacArthur, Jr., Kay Arthur, Joni Eareckson Tada, Janette Oke, Gary Smalley, Frank Peretti, and many more. From them you'll learn more than fifty tips to positive parenting -- tips you can incorporate in your own family today -- principles that will help ensure that you, too, do something right! ^
-Publisher
Contents Introduction Chapter One: Gloria Gaither - Guide by your example―not just your words. Chapter Two:Kay Arthur - Give lots of physical affection. Chapter Three:Robert Benson - Bestow an appreciation for the wonder of words. Chapter Four:William K. Brehm - Allow simple pleasure to create a sense of security in your home. Chapter Five:Jill Briscoe - Teach your child to be accountable―to you and to God. Chapter Six:Karen Burton Mains - Share your passions. Chapter Seven:Bart Campolo - Be yourself and play to your strenths. Chapter Eight:Tony Campolo - Believe in your child. Chapter Nine:S. Truett Cathy - Honor Sunday―the Lord's Day―as a family. Chapter Ten:Chuck W. Colson - Teach the importance of telling the truth. Chapter Eleven:Larry Crabb - Teach commitment in relationships by your example. Chapter Twelve:John R. Dellenback - Encourage your child to value family relationships. Chapter Thirteen:Richard DeVos - Don't accept "I can't" when it means "I won't try." Chapter Fourteen:Dez Dickerson - Make the Lord your parenting role model. Chapter Fifteen:Danae Dobson - Assure your child of her value when no one else will.


-Publisher
Contents Introduction Chapter One: Gloria Gaither - Guide by your examplenot just your words. Chapter Two:Kay Arthur - Give lots of physical affection. Chapter Three:Robert Benson - Bestow an appreciation for the wonder ofwords. Chapter Four:William K. Brehm - Allow simple pleasure to create a sense ofsecurity in your home. Chapter Five:Jill Briscoe - Teach your child to be accountableto you and toGod. Chapter Six:Karen Burton Mains - Share your passions. Chapter Seven:Bart Campolo - Be yourself and play to your strenths. Chapter Eight:Tony Campolo- Believe in your child. Chapter Nine:S. TruettCathy - Honor Sundaythe Lord's Dayas a family. Chapter Ten:Chuck W. Colson- Teach the importance of telling the truth. Chapter Eleven:Larry Crabb- Teach commitment in relationships by your example. Chapter Twelve:John R. Dellenback- Encourage your child to value family relationships. Chapter Thirteen:Richard DeVos- Don't accept "I can't" when it means "I won't try." Chapter Fourteen:DezDickerson - Make the Lord your parenting role model. Chapter Fifteen:DanaeDobson - Assure your child of her value when no one else will.


-Publisher