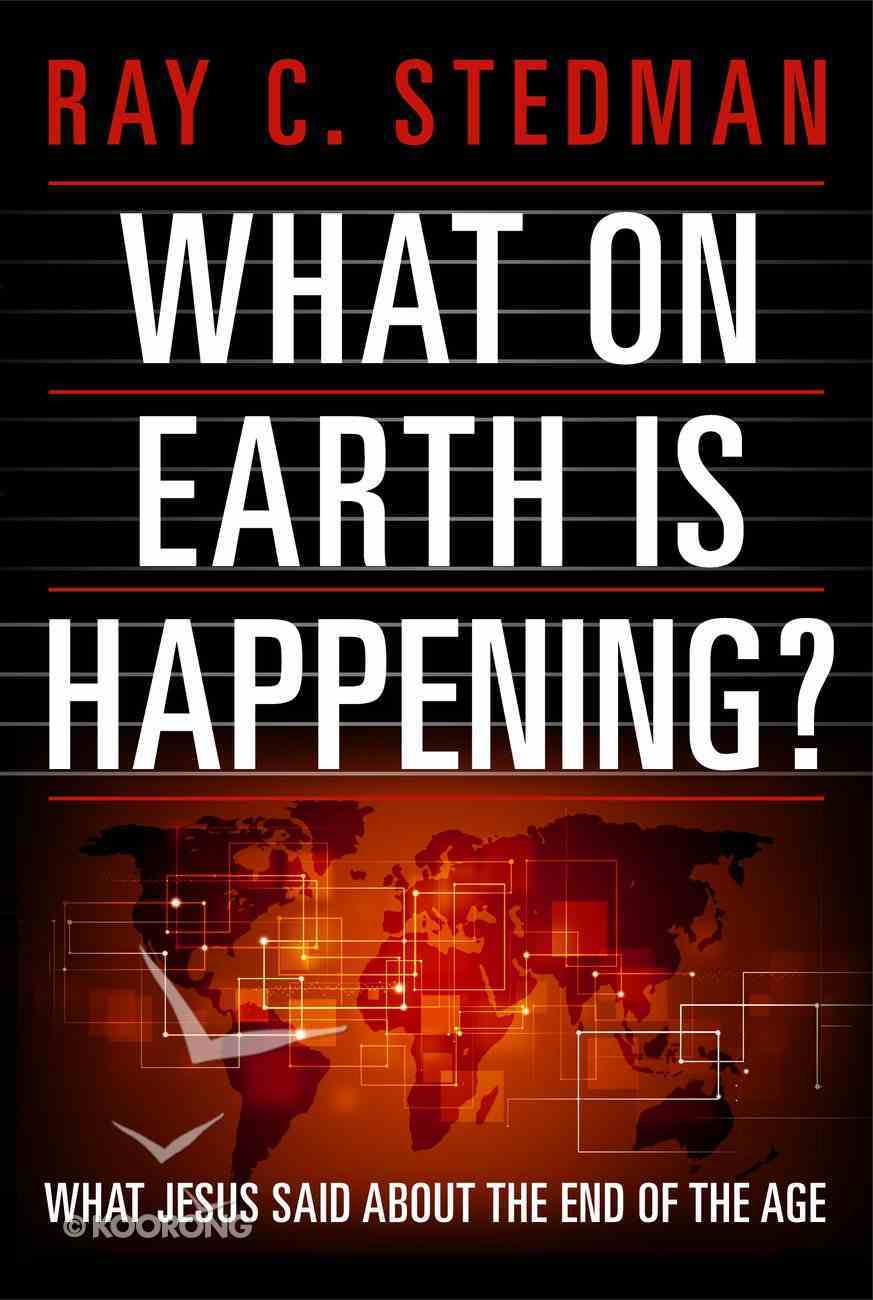 What on Earth is Happening?: What Jesus Said About the End of the Age
: Are you curious about the end times? It's a topic that generates lots of speculation, but to best understand the subject, we need to turn to Scripture. Ray Stedman explores the prophetic words of Jesus from Matthew 24 and...
In Stock (1 left)
Out of Print. Limited Availability
---
Expected to ship within 7 hours from Australia.
---
Free Shipping
for orders over $99.
:
Are you curious about the end times? It's a topic that generates lots of speculation, but to best understand the subject, we need to turn to Scripture. Ray Stedman explores the prophetic words of Jesus from Matthew 24 and 25 and explains them in everyday language in What On Earth Is Happening? Considering Jesus's words verse by verse and letting Scripture interpret Scripture, Stedman makes this difficult subject more understandable.

-Publisher
:<div>1. The Long Look Ahead&amp;mdash;<i>matthew 24:1&amp;ndash;3</i> &amp;#160;&amp;#160;&amp;#160;&amp;#160;&amp;#160;&amp;#160;&amp;#160;&amp;#160;&amp;#160;&amp;#160;<br> 2. The Age Of Deception&amp;mdash;<i>matthew 24:4&amp;ndash;14</i> &amp;#160;&amp;#160;&amp;#160;&amp;#160;&amp;#160;&amp;#160;&amp;#160;&amp;#160;<br> 3. The Worship Of Man&amp;mdash;<i>matthew 24:15&amp;ndash;22</i> &amp;#160;&amp;#160;&amp;#160;&amp;#160;&amp;#160;&amp;#160;&amp;#160;&amp;#160;<br> 4. When All Restraint Is Removed&amp;mdash;<i>matthew 24:21&amp;ndash;22; 36&amp;ndash;42</i> &amp;#160;&amp;#160;&amp;#160;&amp;#160;&amp;#160;<br> 5. God&amp;rsquo;s Plan For Israel&amp;mdash;<i>matthew 24:16&amp;ndash;20</i> &amp;#160;&amp;#160;&amp;#160;&amp;#160;&amp;#160;&amp;#160;&amp;#160;&amp;#160;<br> 6. Russia, Religion, And Ruin&amp;mdash;<i>matthew 7:21&amp;ndash;23; Revelation 17:1&amp;ndash;6</i> &amp;#160;&amp;#160;&amp;#160;&amp;#160;&amp;#160;&amp;#160;&amp;#160;&amp;#160;&amp;#160;&amp;#160;&amp;#160;<br> 7. The Secret Presence&amp;mdash;<i>matthew 24:23&amp;ndash;28</i> &amp;#160;&amp;#160;&amp;#160;&amp;#160;&amp;#160;&amp;#160;&amp;#160;&amp;#160;<br> 8. The Power And The Glory&amp;mdash;<i>matthew 24:29&amp;ndash;31</i><br> 9. A Thief In The Night&amp;mdash;<i>matthew 24:32&amp;ndash;44</i> &amp;#160;&amp;#160;&amp;#160;&amp;#160;&amp;#160;&amp;#160;&amp;#160;&amp;#160;&amp;#160;&amp;#160;<br> 10. Faithful And Unfaithful Servants&amp;mdash;<i>matthew 24:45&amp;ndash;51</i><br> 11. The Wise And The Foolish&amp;mdash;<i>matthew 25:1&amp;ndash;13</i> &amp;#160;&amp;#160;&amp;#160;&amp;#160;&amp;#160;&amp;#160;&amp;#160;&amp;#160;&amp;#160;&amp;#160;&amp;#160;&amp;#160;&amp;#160;&amp;#160;<br> 12. Living Dangerously&amp;mdash;<i>matthew 25:14&amp;ndash;30</i> &amp;#160;&amp;#160;&amp;#160;&amp;#160;&amp;#160;&amp;#160;&amp;#160;&amp;#160;<br> 13. The Stunning Surprise&amp;mdash;<i>matthew 25:31&amp;ndash;46</i></div>
Bestsellers in Spirit-filled Living