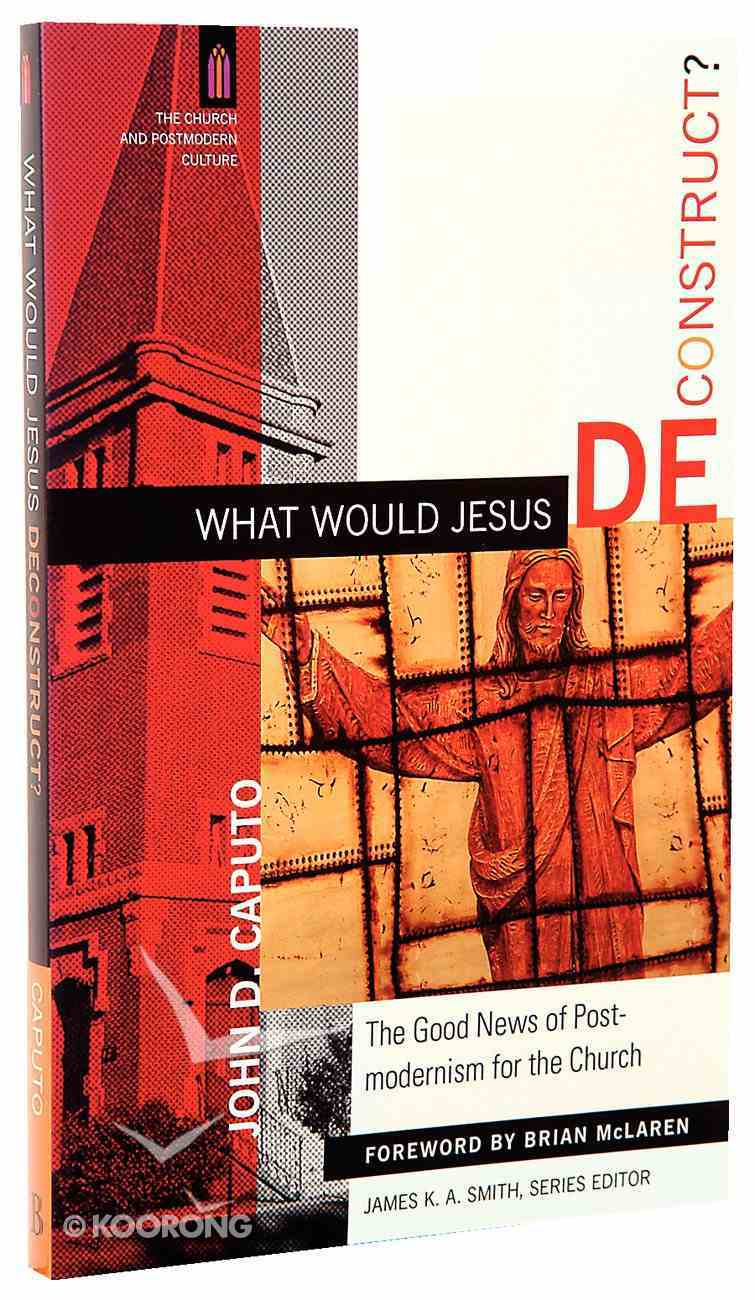 What Would Jesus Deconstruct? (Church & Modern Culture Series)
One of the components of postmodernism is the idea of deconstruction, founded by the French philosopher Jacques Derrida. Many in the church who are wrestling with ministry in a postmodern era would view deconstruction as a negative aspect of the...
Out of Stock
Available to Order
---
Expected to ship in 5 to 6 weeks from Australia.
---
Free Shipping
for orders over $99.
One of the components of postmodernism is the idea of deconstruction, founded by the French philosopher Jacques Derrida. Many in the church who are wrestling with ministry in a postmodern era would view deconstruction as a negative aspect of the postmodern movement. But John Caputo, one of the leading philosophers of religion in America and a leading voice on religion and postmodernism, sees it differently. In this lively and provocative analysis, he argues that in his own way Jesus himself was a deconstructionist and that applying deconstruction to the church can be a positive move toward renewal.

Deconstruction is not destruction but rather a breaking down of the object in question so as to open it up to its own future and make it more loyal to itself. This is because in deconstructing, the undeconstructible is revealed, in this case, the eternal truth of God revealed in the gospel. In this book, Caputo describes why today's church is in need of deconstruction, deconstructs what he sees as some of the church's idols, and points toward implications for the life and ministry of the church. Caputo's lucid writing makes difficult concepts accessible, resulting in an appropriate text for undergraduate or graduate classes in philosophy, theology, and postmodern ministry. What Would Jesus Deconstruct? includes a foreword by Brian D. McLaren and is the second book in the Church and Postmodern Culture series.
-Publisher.


This provocative addition to The Church and Postmodern Culture series offers a lively rereading of Charles Sheldon??'s In His Steps as a constructive way forward. John D. Caputo introduces the notion of why the church needs deconstruction, positively defines deconstruction??'s role in renewal, deconstructs idols of the church, and imagines the future of the church in addressing the practical implications of this for the church??'s life through liturgy, worship, preaching, and teaching. Students of philosophy, theology, religion, and ministry, as well as others interested in engaging postmodernism and the emerging church phenomenon, will welcome this provocative, non-technical work.
-Publisher
"Caputo brilliantly manages to bring thought to life and life to thought. He wears his learning and scholarship so lightly that one has the impression of returning to a flesh-and-blood world where Jesus deconstructs and reconstructs our lives. Challenging, compassionate, witty, and wise, this book is compulsory reading for anyone concerned about the future of Christianity."--Richard Kearney, Charles Seelig Professor in Philosophy, Boston College"Let this book settle the debate once and for all: postmodern philosophy does not preclude true Christian faith. In fact, taken rightly, postmodernism leads not to nihilistic relativism but to a robust faith in the Savior, who himself was bent on deconstruction. Caputo is a sheep in wolf's clothing."--Tony Jones, national coordinator of Emergent Village, author of The New Christians: Dispatches from the Emergent Frontier"This is a marvelous little book. It enables readers to understand deconstruction as the hermeneutics of the kingdom of God and provides a glimpse of what this concept might look like in the hands of Jesus as applied to the church. This will be difficult therapy, and many of us will be inclined to resist. However, let us remember that while discipline is painful in the moment, it produces a harvest of peace and righteousness in the long run. May the church learn from the wisdom found in these pages."--John R. Franke, professor of theology, Biblical SeminaryPraise for the series:"The proposed series is not just a good idea; it is actually essential. If mission, liturgy, and pastoral care are to be effective today, then churches need a better understanding of so-called postmodern culture as something to be reckoned with and sometimes resisted. Increasingly, there is an educated interest in religion, but there is also a need to be well-informed about postmodern thought and its very complex relation both to postmodern culture (to which it is often actually hostile) and to religion. Again the need is for a critical appreciation--not dismissal and not empty adulation. This new series aims to provide this in an accessible manner. I am convinced that the main ideas of postmodernism are actually not as 'difficult' as people suppose and that a clear and simple presentation of them actually assists wider cultural discussion. An additional purpose of the series is to introduce to a wider audience theologies that are already trying critically to assimilate the postmodern turn. Since some of these, for example Radical Orthodoxy, are intensely focused on the importance of 'church,' it is crucial that this occur. Although it is already happening, it needs to crystallize. This new series may be just the thing to bring it about."--John Milbank, University of Nottingham
-Publisher
PRODUCT DETAIL
Catalogue Code 

263764

Product Code 

9780801031366

ISBN 

0801031362

EAN 

9780801031366

Pages 

160

Department Academic
Category Church
Sub-Category Church Life/issues
Publisher Baker Book House
Publication Date 

Nov 2007

Sales Rank 

59308

Dimensions 

215 x 139 x 12

mm

Weight 

0.233

kg
John D. Caputo (PhD., Bryn Mawr College) is Thomas J. Watson Professor of Religion and Humanities and professor of philosophy at Syracuse University. He is the author of numerous books, including The Weakness of God (winner of the 2007 AAR Award for Excellence in Constructive-Reflective Study of Religion), On Religion, The Prayers and Tears of Jacques Derrida, What Would Jesus Deconstruct?; Demythologizing Heidegger and Deconstruction in a Nutshell: A Conversation with Jacques Derrida. Caputo has been honored in Dublin and Toronto, where conferences have been organized around his work.
Brian D. McLaren (MA, University of Maryland) is founding pastor of Cedar Ridge Community Church, an innovative, nondenominational church in the Baltimore-Washington region. He's also a senior fellow with emergent village(www.emergentvillage.org), a growing generative friendship of missional Christian leaders.
He is the author of three best selling books on Emergent beliefs written in the form of fiction The Last Word and the Word after That; A New Kind of Christian: A Tale of Two Friends on a Spiritual Journey and The Story We Find Ourselves In: Further Adventures of a New Kind of Christian.


Two books on Finding Faith, A Search for what is Real and A Search for What makes Sense


Three books on Emergent evangelism and culture, More Ready than you Realise; The Church on the other side: Doing ministry in the Postmodern matrix, and A Is for Abductive: The Language of the Emerging Church


Three books on Kingdom beliefs, A Generous Orthodoxy, The Secret Message of Jesus, and Everything must change: Jesus, Global Crisis and a Revolution of Hope. and a book on Emergent Spirituality Finding Our Way Again: The Return of the Ancient Practices .


1. In His Steps-a Postmodern Edition<br>2. Spiritual Journeys, Postmodern Paths<br>3. A Prayer For The Impossible: A Catechumen's Guide To Deconstruction<br>4. Jesus, The Theo-poetics Of The Kingdom, And Praxis<br>5. What Would Jesus Deconstruct? Or, Whatever Happened To The Sermon On The Mount?<br>6. The Working Church: Notes On The Future