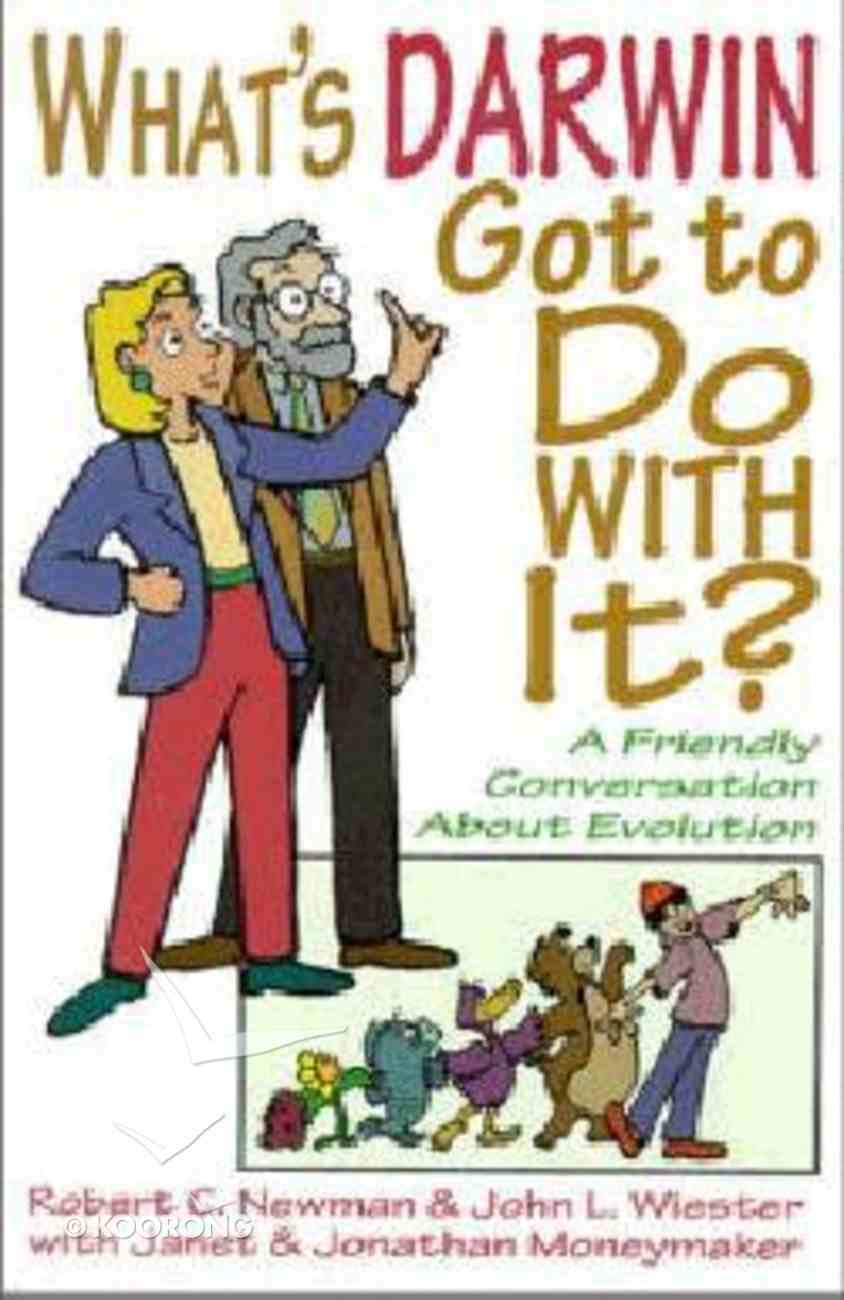 What's Darwin Got to Do With It?
Enjoy a friendly conversation between two professors on evolution and what science can explain about life in this entertaining cartoon book. Find out what logic's got to do with it. See if the changing beak sizes of Galapogos Island finches...
---
Free Shipping
for orders over $99.
Enjoy a friendly conversation between two professors on evolution and what science can explain about life in this entertaining cartoon book. Find out what logic's got to do with it. See if the changing beak sizes of Galapogos Island finches prove Darwinism. And enjoy the exciting adventures of those Darwinian superstars Mutaman and Selecta. There's more to it all than you ever thought! The whimsical format of this book presents evolutionary issues in a way that's sure to engage your mind and your smile.
-Publisher
What's Darwin got to do with it?When it comes to evolution, quite a bit! But many people don't understand Darwin, creationism and intelligent design. Here's a book that makes sense of it all!A group of scholars, teachers, writers and illustrators have teamed up to create an easy-to-read introduction and critique to this important issue. You'll enjoy the lively and funny conversation that unfolds between two professors and they explore what science can explain about life. You'll find out what logic has to do with it. You'll see whether the changing beak sizes of Galapagos Islands finches prove Darwinism. And you'll enjoy the adventures of Darwinian superstars "Mutaman" and "Selecta."There's more to it all than you ever thought. But this witty and wise book makes it easier to understand than ever before!
-Publisher
PRODUCT DETAIL
Catalogue Code 

140638

Product Code 

0830822496

EAN 

9780830822492

Pages 

146

Department Academic
Category Science
Sub-Category General
Publisher Intervarsity Press Usa
Publication Date 

Feb 2000

Dimensions 

209 x 139 x 12

mm

Weight 

0.204

kg
Moneymaker is a cartoonist and illustrator. He and his wife,Moneymaker is a cartoonist and illustrator. He and his wife, Janet, operate Readable, Ink, a writing services company in Janet, operate Readable, Ink, a writing services company in Seattle, Washington. He is also a fellow of the Discovery I Seattle, Washington. He is also a fellow of the Discovery Institute's Center for the Renewal of Science and Culture. nstitute's Center for the Renewal of Science and Culture. C
Wiester is an instructor in biology at Westmont College in SWiester is an instructor in biology at Westmont College in Santa Barbara, California. He has also written The Genesis Coanta Barbara, California. He has also written The Genesis Connection. nnection. C
Moneymaker is a cartoonist and illustrator. He and his wife,Moneymaker is a cartoonist and illustrator. He and his wife, Janet, operate Readable, Ink, a writing services company in Janet, operate Readable, Ink, a writing services company in Seattle, Washington. He is also a fellow of the Discovery I Seattle, Washington. He is also a fellow of the Discovery Institute's Center for the Renewal of Science and Culture. nstitute's Center for the Renewal of Science and Culture. C
Preface
Introduction: Darwinism Vs. Intelligent Design
Terms
Thinking About The Story
Planning Session
Those Marvelous Animal Breeders
Thinking About The Story
Application
The Moths Who Changed Their Colors
Thinking About The Story
The Dynamic Duo
Little Jumps, Big Jumps
The Clue Of The Similar Shanks
Thinking About The Story
Is The Panda's Thumb A Dumb Design?
The Case Of The Missing Fossils
Thinking About The Story
The Bilogical Big Bang
The Cambrian Explosion
Inference To The Best Explanation
The Case Of The Usual Suspects
Background Information
Resources