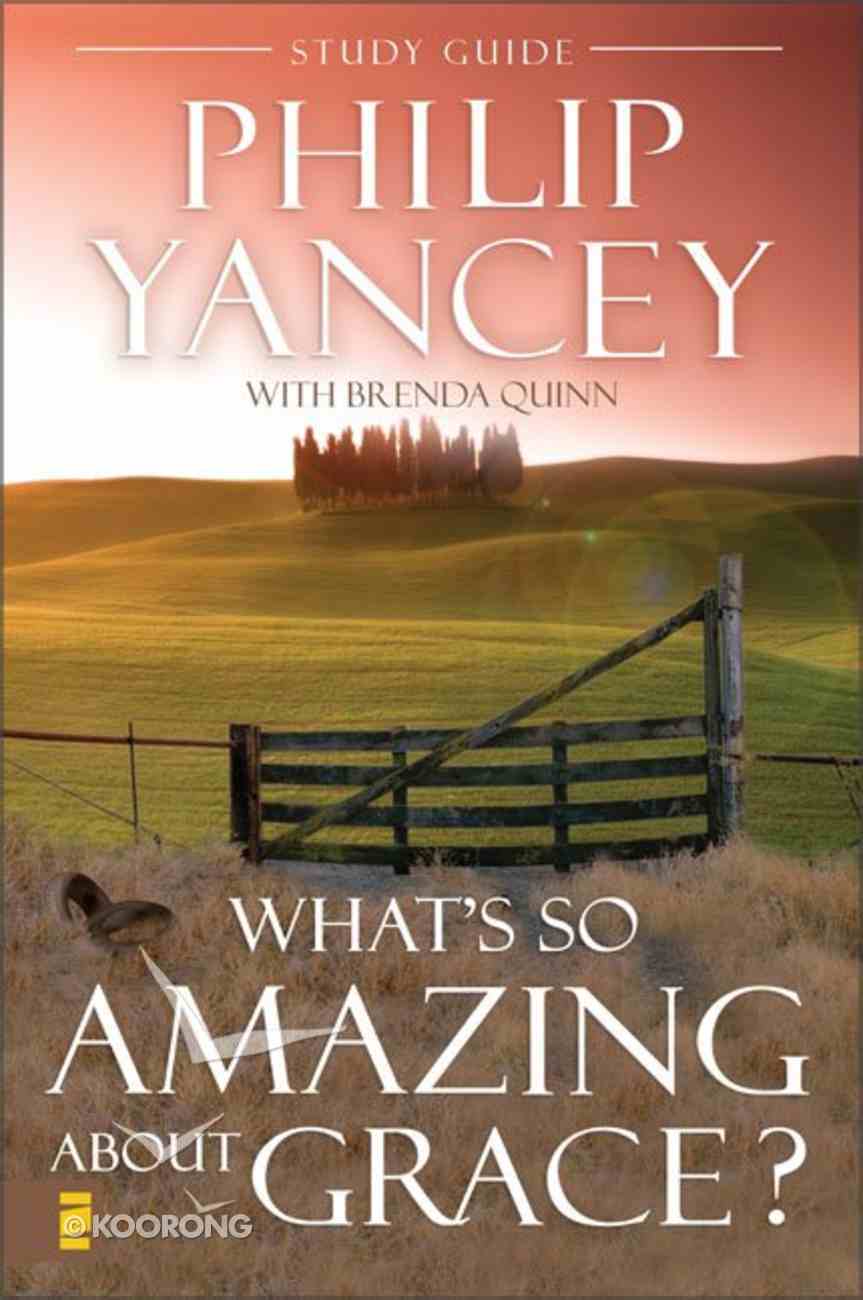 What's So Amazing About Grace (Study Guide)
In 14 sessions, this study guide will help you to interact deeply with Yancey's most personal and provocative book yet. Prepare to grapple with grace and 'un-grace' on a personal level. You'll consider how you can contend graciously with today's...
---
Expected to ship tomorrow from Australia.
---
Free Shipping
for orders over $99.
In 14 sessions, this study guide will help you to interact deeply with Yancey's most personal and provocative book yet. Prepare to grapple with grace and 'un-grace' on a personal level. You'll consider how you can contend graciously with today's tough moral issues, and discover how you can become Christ's answer to a world that desperately needs to know God's amazing grace. 144 pages, from Zondervan.
We speak of grace often. But do we understand it? More important, do we truly believe in it . . . and do our lives proclaim it as powerfully as our words? In What's So Amazing About Grace?, award-winning author Philip Yancey explores grace at street level. If grace is God's love for the undeserving, he asks, then what does it look like in action? And if Christians are its sole dispensers, then how are we doing at lavishing grace on a cruel and pain-filled world? In fourteen sessions, this study guide will help you to interact deeply with Yancey's most personal and provocative book yet. If you're willing to leave your comfort zone to embrace a more vigorous, passionate Christianity -- read on. And prepare to grapple with grace and "un-grace" on a personal level. You'll consider how you can contend graciously with today's tough moral issues. And you'll discover how you can become Christ's answer to a world that desperately wants to know, What's So Amazing About Grace?
-Publisher
1. The Last Best Word 2. What Grace Is And Isn't 3. Grace In The Bible 4. Forgiveness: An Unnatural Act 5. Why Forgive? 6. Getting Even 7. The Arsenal Of Grace 8. Oddballs, Jesus, And Me 9. Loopholes 10. Grace Avoidance 11. Morality, Politics, And Grace 12. Serpent Wisdom 13. Patches Of Green 14. Gravity And Grace 160 Pages
-Publisher
PRODUCT DETAIL
Catalogue Code 

120618

Product Code 

0310219043

EAN 

9780310219040

UPC 

025986219048

Pages 

160

Department General Books
Category Christian Living
Sub-Category General
Publisher Zondervan
Publication Date 

Mar 1998

Sales Rank 

29955

Dimensions 

203 x 139 x 9

mm

Weight 

0.127

kg
Growing up in a strict, fundamentalist church in the southern USA, a young Philip Yancey tended to view God as 'a scowling Supercop, searching for anyone who might be having a good time in order to squash them.' Yancey jokes today about being 'in recovery' from a toxic church. 'Of course, there were good qualities too. If a neighbour's house burned down, the congregation would rally around and show charity if, that is, the house belonged to a white person. I grew up confused by the contradictions. We heard about love and grace, but I didn't experience much. And we were taught that God answers prayers, miraculously, but my father died of polio just after my first birthday, despite many prayers for his healing.'

For Yancey, reading offered a window to a different world. So, he devoured books that opened his mind, challenged his upbringing, and went against what he had been taught. A sense of betrayal engulfed him. 'I felt I had been lied to. For instance, what I learned from a book like To Kill a Mockingbird or Black Like Me contradicted the racism I encountered in church. I went through a period of reacting against everything I was taught and even discarding my faith. I began my journey back mainly by encountering a world very different than I had been taught, an expansive world of beauty and goodness. Along the way I realized that God had been misrepresented to me. Cautiously, warily, I returned, circling around the faith to see if it might be true.'

Ever since Yancey has explored the most basic questions and deepest mysteries of the Christian faith, taking millions of readers with him. Early on he crafted best-selling books such as Disappointment with God and Where is God When it Hurts? while also editing The Student Bible. He co-authored three books with the renowned surgeon Dr. Paul Brand. 'No one has influenced me more' he says. 'We had quite a trade: I gave words to his faith, and in the process he gave faith to my words.' More recently, he has felt the freedom to explore central issues of the Christian faith, penning award-winning titles such as The Jesus I Never Knew, What's So Amazing About Grace? and Prayer: Does It Make Any Difference? His books have garnered 13 Gold Medallion Awards from Christian publishers and booksellers. He currently has more than 15 million books in print, published in 35 languages worldwide.

Yancey worked as a journalist in Chicago for some twenty years, editing the youth magazine Campus Life while also writing for a wide variety of magazines including Reader's Digest, Saturday Evening Post, National Wildlife, and Christianity Today. In the process he interviewed diverse people enriched by their personal faith, such as President Jimmy Carter, Habitat for Humanity founder Millard Fuller, and Dame Cicely Saunders, founder of the modern hospice movement. In 1992 he and his wife Janet, a social worker and hospice chaplain, moved to the foothills of Colorado. His writing took a more personal, introspective turn even as his activities turned outward. 'Writing is such an introspective act that I found myself looking for ways to connect with the planet bodily. My interests include skiing, climbing mountains, mountain-biking, golf, international travel, jogging, nature, theology (in small doses), politics, literature, and classical music.'

'I write books for myself,' he says. 'I'm a pilgrim, recovering from a bad church upbringing, searching for a faith that makes its followers larger and not smaller. I feel overwhelming gratitude that I can make a living writing about the questions that most interest me. My books are a process of exploration and investigation of things I wonder about and worry about.' Yancey writes with an eye for detail, irony, and honest skepticism.

So, just how does a man who's been through all Yancey has, draw close to the God he once feared? He spends about an hour each morning reading spiritually nourishing books, meditating, and praying. This morning time, he says, helps him 'align' himself with God for the day. 'I tend to go back to the Bible as a model, because I don't know a more honest book,' Yancey explains. 'I can't think of any argument against God that isn't already included in the Bible. To those who struggle with my books, I reply, 'Then maybe you shouldn't be reading them. Yet some people do need the kinds of books I write. They've been burned by the church or they're upset about certain aspects of Christianity. I understand that feeling of disappointment, even betrayal. I feel called to speak to those living in the borderlands of faith.' He lives with his wife in Colorado.
Using This Study Guide
Week One: The Last Best Word
Week Two: What Grace Is And Isn't
Week Three: Grace In The Bible
Week Four: Forgiveness: An Unnatural Act
Week Five: Why Forgive?
Week Six: Getting Even
Week Seven: The Arsenal Of Grace
Week Eight: Oddballs, Jesus, And Me
Week Nine: Loopholes
Week Ten: Grace Avoidance
Week Eleven: Morality, Politics, And Grace
Week Twelve: Serpent Wisdom
Week Thirteen: Patches Of Green
Week Fourteen: Gravity And Grace
Note
Using This Study Guide Little did I know what I was getting into when I began writing a book on the word grace. I chose the topic out of my concern that some of us in the U.S. church have lost our way and that we stand in danger of losing our most important contribution to the world. As I began my research, I came to see that grace underlies the gospel. Far from being some abstract theological doctrine, grace affects us in very practical ways: in family feuds, marital spats, even international crises. I truly believe that the future of the church depends on how we master the art of 'dispensing grace.' Other groups--- the Nation of Islam or the Pharisees, for example---excel at morality. Jesus taught us one great distinctive, that of grace, which has its own slow but steady power to change the world. Thousands of people have bought and used the study guide for my last book, The Jesus I Never Knew, and we have produced this study guide partly in response to their encouragement. What's So Amazing About Grace? takes the principles I learned from Jesus and applies them in real-life, contemporary situations. Grace is not just about what happened two thousand years ago. It affects how we treat illegal aliens and former enemies, as well as outspoken pro-choice activists or other groups we might disagree with. It concerns what happens today, between you and your father or your unjust employer or the cranky neighbor down the street. You can use this study guide either alone or in a group. If you use it individually, you should find that the questions build a bridge between my exploration of grace and your own. You may want to buy a blank notebook or personal journal (many bookstores sell these) in which to record your responses. Use this guide not as you would a textbook, feeling obligated to consider every question and fill in every blank, but rather as a series of suggestions. Linger over questions that arouse something inside you. Skip questions that don't seem to speak to your heart, and ignore those activities we've included that are designed for a group. You may find that adding just one person to your study---a spouse or a close friend, perhaps---makes it much more meaningful. I have filled this book with stories because I believe that is the best way to comprehend grace. I hope they become springboards for your own stories, and that's why I encourage you to use this guide in a small group if possible. A small group is an ideal place to share stories of grace and ungrace. At its core, grace is a relationship word. The experts I most respect on group interactions and soul-searching questions are the folks who produce the Serendipity House products, including The Serendipity Bible. For several decades they have been leading small groups and training other leaders, and I am thrilled again to have one of their former employees, Brenda Quinn, working with me on this study guide. Just as she did with the study guide for The Jesus I Never Knew, Brenda has taken my personal spiritual journey and adapted it into a form that others can use for their own journeys. Advice for Small Groups Ideally, a small group should not exceed twelve or at most fifteen members. Anything larger than that, and you'll likely find yourself reverting to a teacher-student structure in which the group leader dominates the discussion. Often, as you'll see, we encourage you to break into even smaller groups of four to six. Sometimes the best sharing takes place in these smaller groups, which some people find less intimidating. We recommend choosing a leader in advance of each week's meeting (it need not be the same leader every week). This study guide recommends certain group activities, and each session includes far more content than most groups can cover in a single session. A good leader can scout these questions and activities in advance, deciding which seem most pertinent to the needs of your group. The more willing the leader is to open up and share from his or her life, the more willing the group members will be, so if you are the leader, take the role seriously. Think and pray about the group throughout the week before each meeting. The study guide works best, of course, if everyone in the group has read the book we're studying, What's So Amazing About Grace? We follow its content chapter by chapter, sometimes combining two or three successive chapters in a session. Yet we also realize that in a busy world some people, no matter how well-intentioned, do not get around to reading material in advance. Others read it so far in advance that by the time the meeting rolls around, they can barely remember the content. For this reason we begin each session with a highly condensed summary of the chapter or chapters to be discussed. Some groups may choose to read this summary aloud to set the tone for the discussion to follow. Using Music and Movies About Grace As I said earlier, my book is filled with stories because I believe that is the best way to understand grace. For similar reasons we've included music in this study guide. Like stories, music has a powerful way of reaching the heart. Music penetrates and moves us in a way discussion alone cannot do. We have included a few music options at the end of each session and encourage you to incorporate music into your prayer time at the end of each meeting. You'll find that the suggested music is quite diverse from week to week, ranging from classical to contemporary Christian to gospel to country. You may choose to locate the recordings we've suggested, or you may prefer to use the hymns or praise songs we give as alternatives. You may also know of other appropriate music to use. This time can be one more way of letting God speak to individuals and to your group.
Bestsellers in Christian Living