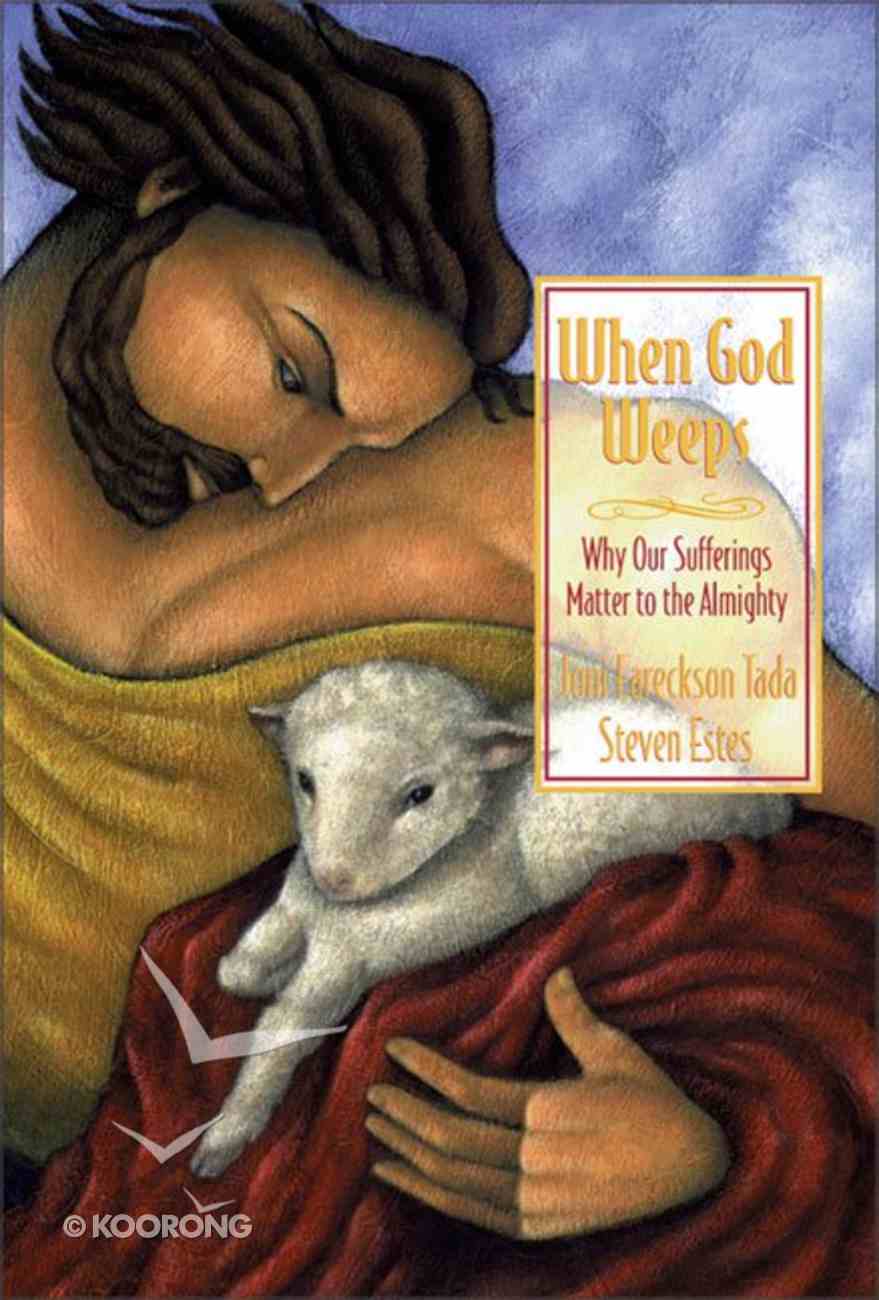 Who is God? Can he be trusted?Why does he do what he does?What are his purposesin the face of seemingly senseless suffering?
---
Free Shipping
for orders over $99.
Who is God? Can he be trusted?Why does he do what he does?What are his purposesin the face of seemingly senseless suffering?
It's easy to trust God when things are going our way and the world makes sense. But when suffering strikes--especially seemingly senseless suffering--we are filled with doubt and stunned by events spiraling beyond our control. In the midst of suffering, we often question the very foundation of our faith--our belief in the God who says he loves us. Since our trust and obedience rest on God's character, the questions that life's tragedies force us to face are difficult, even frightening. Who is God? Can he really be trusted? What are his purposes in the face of suffering? If he can stop suffering, why doesn't he? Joni Eareckson Tada, a woman who has lived in a wheelchair for more than thirty years, and Steve Estes, a pastor and one of Joni's closest friends, explore the answers. When God Weeps is not so much a book about suffering as it is about God. It tackles tough questions about heaven and hell, horrors and hardships, and why God allows suffering in this life. Through a panoramic ov
-Publisher
1. I'm Hurting Bad 2. Ecstasy Spilling Over 3. The Suffering God 4. Does He Really Expect Me To Suffer? 5. All Trials Great And Small 6. Heaven's Dirty Laundry? 7. A Few Reasons Why 8. The Best Answer We Have 9. Making Sense Of Suffering 10. Cry Of The Soul 11. Gaining Contentment 12. Suffering Gone Malignant 13. Suffering Gone 256 Pages
-Publisher
Before You BeginI first met Joni in the summer of 1969 in a church parking lot. Several hundred other teenagers and I had just exploded from the building. The youth meeting was over, and everyone was scattering, engines starting, radios cranked up - laughter and good-hearted tomfoolery everywhere.A white station wagon had pulled up to the side steps. Somehow, with my friend Diana holding the keys, it avoided looking like a middle-aged person''s wheels. Diana had the world''s most carbonated personality. She stood by the front passenger door, next to an empty wheelchair she had pulled from the back seat to unfold. She wanted me to meet the paralyzed friend she had told me about. From my angle up on the steps, I couldn''t see the face of the tall girl in the seat. I could see the braces on her wrists."Steve, I want you to meet Joni.""Hi, Joni."The face in the front seat bent down to peer out. Stylishly short blonde hair. Freckle-faced and cute. Ski-slope nose. A bright but bittersweet smile - sweet because, if you know Joni, that''s just her. Bitter because she looked as if that chair had taken something precious out of her."Hi, Steve! Good to meet you." Enthusiastic but tentative."You two have a lot to talk about," Diana effervesced. We agreed it would be fun to get together.A week later I walked into the stone-and-timber home that I''ll always think of as a vestibule into heaven. Antlers over every fireplace, Indian rugs scattered about. Candles, candles. Simon and Garfunkel on the turntable, laughter in every room, and the bubbling friendliness of the parents and sisters from whom Joni had stolen that winning smile.But once we were alone, it wasn''t ten minutes before the question came."So, Diana says you''re big into the Bible. Tell me, do you think God had anything to do with my breaking my neck?" She casually brushed a wisp of hair from her forehead with the back of her wrist, but those eyes were anything but casual.Here is the crux of the book you''re about to read.I am a sixteen-year-old nobody, a paper boy, sitting across from perhaps the most popular girl of her huge high-school class from two years earlier. The crowd she ran with I saw only from across the gymnasium. Now look at her. I tap my foot to James Taylor in the background; she just bobs her head. I eat my own lunch; someone has to feed her. I''ll be walking out that screen door in about thirty minutes; she''ll stay sitting in that chair till the Grim Reaper comes. And she wants to know if I think God put her there? Who am I to open my mouth?I know what the Bible says about her question. A dozen passages come to mind from years of church and a Christian dad who taught his kids well. But I''ve never test-driven those truths on such a difficult course. Nothing worse than a D in algebra or puppy-love-gone-sour has ever happened to me. But I think, If the Bible can''t work in this girl''s life - it never was for real.I clear my throat and jump off the cliff."God put you in that chair, Joni. I don''t know why, but if you''ll trust him instead of fighting him, you''ll find out why - if not in this life, then in the next. He let you break your neck because he loves you."Oh, it sounded trite to me - but apparently not to her. We looked at a few verses, and I went home. From that day on I had to study hard just to keep one step ahead of the girl; she always had her nose in that Bible.This book is about God weeping over human heartache, his entering our anguish himself, and the love that drives him to let us suffer. It''s about experiencing the friendship of God along difficult paths we didn''t even know he walked. Much of it is written from Joni''s perspective because her life is a remarkable laboratory that proves God knows what he''s talking about.But your life is the important laboratory to put God''s Word to the test as you read. Do God''s thoughts about suffering sound trite to you?Steve EstesMarch 31, 1997Where do the years fly?I can still see Steve Estes, humped over his Bible by the
-Publisher
Joni Eareckson Tada has known the grace of God for 30 years after being paralysed from the neck down in a diving accident. Joni is president of JAF Ministries, an organization that accelerates Christian ministry among people with disabilities. She is also host of 'Joni and Friends', a daily radio program in the USA operating out of the International Disability Centre and a sought after conference speaker.


She is the author of more than 30 books, including the bestsellers Diamonds in the Dust, Heaven, and More Precious Than Silver.


In 2003 she was given the Gold Medallion Award for her book When God Weeps and in 2004 for co-authoring Hymns for a Kid's Heart, Volume 1. Her award winning and best-selling autobiography, Joni, was adapted as a full-length feature film. Tada also serves in an advisory capacity to many Institutes concerned with disability, writing and evangelism worldwide. She has been given many awards and holds several honourary doctorates. Joni and her husband, Ken, live in Southern California.


Contents Special Thanks To... Before You Begin One: I'm Hurting Bad Section One: Who Is This God? Two: Ecstasy Spilling Over Three: The Suffering God Four: Does He Really Expect Me To Suffer? Five: All Trials Great And Small Six: Heaven's Dirty Laundry? Section Two: What Is He Up To? Seven: A Few Reasons Why Eight: The Best Answer We Have Nine: Making Sense Of Suffering Section Three: How Can I Hang On? Ten: Cry Of The Soul Eleven: Gaining Contentment Twelve: Suffering Gone Malignant Thirteen:suffering Gone Epilogue: Before You Put This Book Down Section Four: Appendices Appendix A : Scripture On God's Hand In Our Suffering Appendix B : Scripture On God's Purpose In Our Suffering Appendix C : Can God Experience Grief? Notes
Bestsellers in Grief, Comfort & Consolation