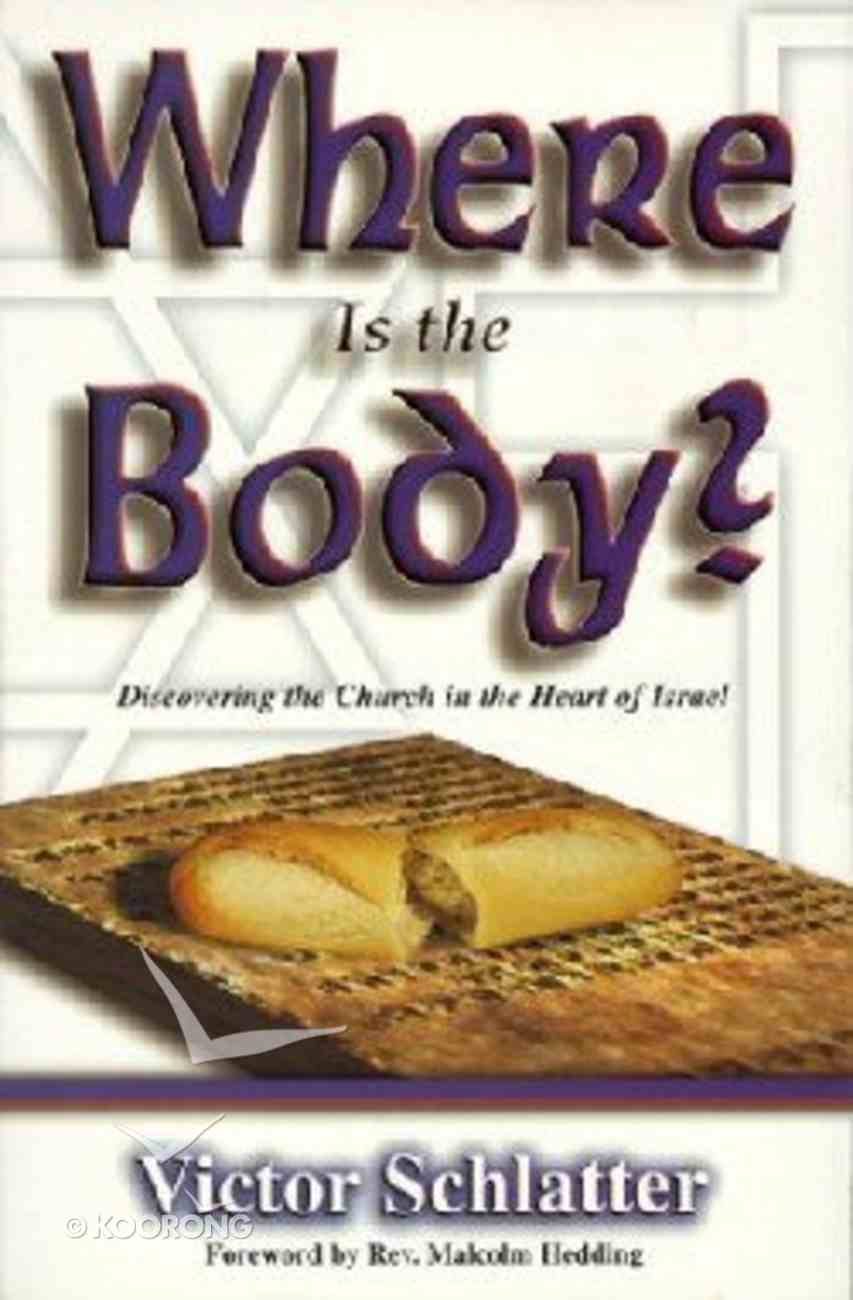 Where is the Body? is a truly biblical, yet all the while tongue-in-cheek, expose of a narrow divide between two unfortunate heresies that denigrate the Jews from Emperor Constantine's era onward. A classic quip suggests that the Church "unwittingly sat...
---
Free Shipping
for orders over $99.
Where is the Body? is a truly biblical, yet all the while tongue-in-cheek, expose of a narrow divide between two unfortunate heresies that denigrate the Jews from Emperor Constantine's era onward. A classic quip suggests that the Church "unwittingly sat down on the good Emperor's pet porcupine and we're still pulling out the quills!" Anti-Semitism seems to be the last call for reformation in the Church today. By popular demand the book has been translated into Finnish, Russian, Dutch and French.

- Author


Reviews:Here is an intriguing expose on the relationship between Israel and the Christian Church. Pulling no punches with the alleged anti-Semitic, end-times theologians of our time, Victor Schlatter draws on his experiences as a third-world Bible translator to present some fascinating insights into the biblical perspective on who belongs where in the body of Christ. With some surprising conclusions about, for example, who the '144,000' are, this well-read commentator is sure to give your brain a wake-up nudge as you contemplate your stance on end-times "-ology". This is a must-read, biblically based alternative viewpoint with more than a little credibility.'
- NOW Magazine, (formerly The Evangel) April 2000, page 42; Melbourne, Australia

"Author Victor Schlatter has accomplished a very commendable endeavor by writing on the subject of Israel, the Jewish people, and the Church in this book. He clearly makes his case that the Jew and the non-Jewish Christian is 'of one family growing together... of two olive trees grafted into one, waiting for their Lord to appear.' His insight into the meaning of the 'mystery' mentioned by St. Paul in his letters to the Romans and the Ephesians, clarifies the 'secret' of how the believing Jew and Gentile come to be part of the Kingdom of God. The Body has two parts or two identical halves - what an honor to be part of one of those halves! Our appreciation to Mr. Schlatter for working through this theological and historical issue, especially as it relates to the modern Jewish State of Israel."
- George Giacumakis, Ph.D., Professor of History, Director of Mission Viejo Campus, California State University, Fullerton; Chairman of the Board, International Christian Embassy, Jerusalem.

- Author

Author information:
Victor Schlatter spent years as a nuclear scientist before choosing to study linguistics and translate the Bible. He has planted more than 100 churches in the South Pacific Islands serving 10,000 believers. Pastor Schlatter travels annually to Jerusalem, lectures worldwide, and has authored several books including Showdown of the Gods and Where Is the Body?.
192 Pages
-Publisher
As a born-again Christian, you have a glorious heritage in Abraham, Isaac, and Jacob. The Bible constantly teaches concerning the power of the Jew and Gentile family of God. Victor Schlatter, a passionate church planter and Bible translator in the Australasia area, will open your eyes to the scriptural reality that there always has been and always will be one family of Abraham. He shows how the Church will not be ready as the Bride of Christ until all Jewish components of the covenant promises are fulfilled. Only then will all things close at the end of the ages as the Bible decrees
-Publisher
Victor Schlatter spent 7 years as a nuclear scientist before hearing to a Higher call to upgrade his career to Linguistic Analysis and Bible translation. In a South Pacific Stone Age scenario, he translated the Waola Scriptures now in their 6th printing. He found that there is no such thing as a 'primitive' language, since Stone Age Waola has over 100 endings on every verb! His translation has since generated over 130 tribal congregations with some 15,000 believers across Papua New Guinea.

The Schlatters then reached out in a Pacific-wide ministry tying Isaiah's oft repeated 'Islands of the Sea' to a long-prophesied Israel reborn. Having made annual trips to Jerusalem since 1988, he has maintained in-depth research on the ever-escalating, never-ending Middle East countdown, especially as it reflects biblical prophecy. He is founder and Director of South Pacific Island Ministries, represents the International Christian Embassy Jerusalem to the South Pacific Islands and lectures globally.

He was awarded the Queen's Papua New Guinea Independence Medal in 1975 for recognised service to the Southern Highlands, and was selected for Who's Who in Queensland, Australia in 2007. He is author of Where Is the Body? (translated into Russian, Finnish and Dutch); Showdown of the Gods; Who Told You that You Were Naked?; Nineveh: A Parody of the Present - Biblical Clues to the Rise and Fall of America; and Genetically Modified Prophecies; Whatever Happened to all the Sand and Stars God promised to Abraham?

He and his wife, Elsie, reside in Australia.
Bestsellers in Spirit-filled Living