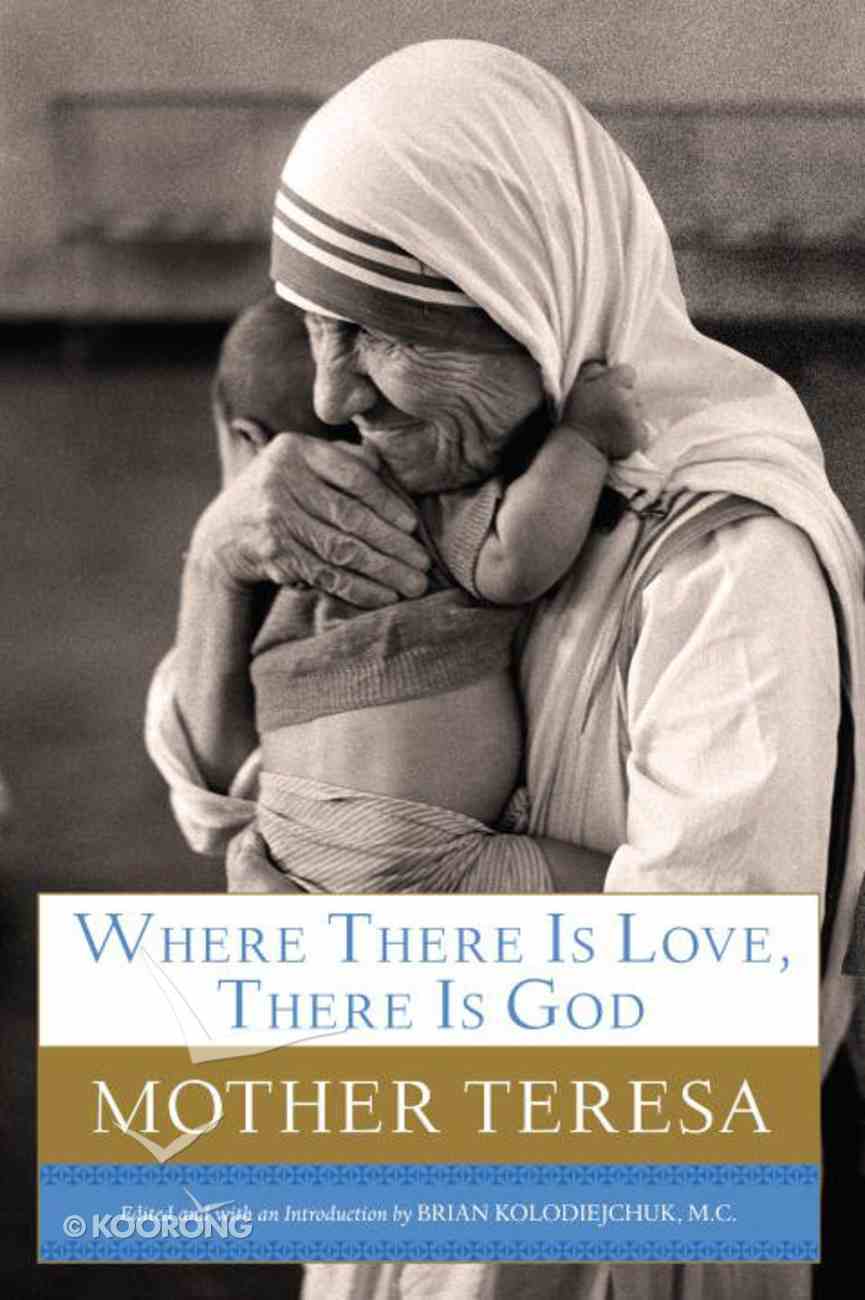 Where There is Love, There is God
Mother Teresa's relationship with God and her commitment to those she served--the poorest of the poor--is here powerfully explored in her own words. Taken largely from her private lessons to her sisters, published here for the first time, " Where...
---
Expected to ship tomorrow from Australia.
---
Free Shipping
for orders over $99.
Mother Teresa's relationship with God and her commitment to those she served--the poorest of the poor--is here powerfully explored in her own words. Taken largely from her private lessons to her sisters, published here for the first time, " Where There is Love, There is God "unveils her extraordinary faith in and surrender to God's will. This book is in some way a sequel to "Mother Teresa: Come Be My Light," in which her own very private spiritual struggles were explained. Sent to alleviate the sufferings of the poor, she assumed their struggles and pain in the depths of her heart. This led to particularly intense anguish which she lived through with heroic courage and fidelity over several decades. As important as this aspect of her life is, that remarkable testimony of her life and her words intensifies the need and desire to know more of her thought. There is much she can teach us as we face our daily struggles or sufferings, which can at times be unusually severe. "Where There is Love, There is God, "though not an exhaustive anthology of Mother Teresa's teaching, nonetheless shows what she believed and taught about important issues that confront all people. Due to her constant interaction with people of diverse backgrounds, no life situation was foreign to her and in this book her role is primarily one of teacher and guide.
"Love" is perhaps the word that best summarizes Mother Teresa's life and message. The title reflects what she proclaimed during her entire life: God is alive, present, and "still loves the world through you and through me." Mother Teresa sought to be an extension of God's heart and hands in the world of today. She was called to be a missionary of charity, a carrier of God's love to each person she met, especially those most in need. Yet she did not think that this was a vocation uniquely hers; each person is in some way called to be a carrier of God's love. Through the practical and timely advice she offers, Mother Teresa sets us on the path to closer union with God and greater love for our brothers and sisters.
MOTHER TERESA (1910-1997) was born in Skopje (present-day Macedonia), and joined the Sisters of Loreto in Dublin in 1928. She left the Loreto order in 1948 to begin the Missionaries of Charity in Calcutta. Her service to the poorest of the poor became her life's work. She was awarded the Nobel Peace Prize in 1979 and was beatified in 2003. Editor of Mother Teresa: Come Be My Light, FATHER BRIAN KOLODIEJCHUK, M.C., Ph.D., was associated with Mother Teresa for twenty years and is now director of the Mother Teresa Center, which has offices in California, Mexico, India, and Italy.

"What you are doing I cannot do, what I'm doing you cannot do, but together we are doing something beautiful for God, and this is the greatness of God's love for us--To give us the opportunity to become holy through the works of love that we do because holiness is not the luxury of the few. It is a very simple duty for you, for me, you in your position, in your work and I and others, each one of us in the work, in the life that we have given our word of honor to God....You must put your love for God in a living action."
-Mother Teresa, From "Where There is Love, There is God"
-Publisher
PRODUCT DETAIL
Catalogue Code 

396034

Product Code 

9780385531788

ISBN 

0385531788

EAN 

9780385531788

Pages 

384

Department General Books
Category Christian Living
Sub-Category General
Publisher Image
Publication Date 

Aug 2010

Sales Rank 

21223

Dimensions 

217 x 146 x 27

mm

Weight 

0.532

kg
Born in Skopje in 1910, MOTHER TERESA joined the Sisters of Loreto in Dublin in 1928 and was sent to India, where she began her novitiate. She taught at St. Mary's High School in Calcutta from 1931 to 1948, until leaving the Loreto order to begin the Missionaries of Charity. Through her sisters, brothers, and priests, her service of the poorest of the poor spread all around the world. She won many awards, including the 1979 Nobel Peace Prize. After her death in 1997, the process for her sainthood was quickly begun and she was beatified in 2003.ýFR. BRIAN KOLODIEJCHUK, M.C., Ph.D., was born i

:God Is Love
In reply to the question "What or who is God?" Mother Teresa on one occasion said, "God is love and He loves you and we are precious to Him. He called us by our name. We belong to Him. He has created us in His image for greater things. God is love, God is joy, God is light, God is truth."
This statement encapsulates her belief in God and her experience of Him: God exists and is the Source of all that exists; His very being is love; He has created us in his likeness with spiritual powers of intellect and free will, with the ability to know and to love; He is a Father who loves each of us uniquely, personally, and He ardently desires our happiness. No hardship or suffering, her own or that of her poor, could undermine Mother Teresa's conviction that God IS love, that all He does or permits is ultimately for some greater good and, therefore, an expression of His immense and unconditional love. St. Augustine wrote at the beginning of his Confessions:
 
"You have made us for yourself, O Lord, and our hearts are restless until they rest in you."
 
It was Mother Teresa's conviction that all people "deep down in their heart, believe in God." There is a longing for God in each of us and though it may not be recognized or consciously expressed as such, the search for joy, for peace, for happiness and above all for love, is a manifestation of this longing. Though the desire, or "hunger" for God, as Mother Teresa expressed it, is implanted in every human heart, entering into a relationship with Him depends largely on our cooperation with His grace. The freedom to cooperate or not is yet another expression of the love and respect that God has for each of His human creatures. He does not force Himself on anyone; He leaves it to our choice. Yet, the response befitting a creature before its Creator, who is infinite love and wisdom ought to be one of love and trust, praise and adoration, recognition and thanksgiving. Loved so greatly by God, each person is called to share that love; as Mother Teresa often affirmed: "We have been created for greater things, to love and to be loved." To love as God loves, meeting daily with Him through prayer is essential. Without it love dies. Mother Teresa stressed its importance by saying, "What blood is to the body, prayer is to the soul." But to enter into prayer, silence is necessary, for "in the silence of the heart God speaks." Her aphorism expressing these truths has become well known:
 
The fruit of silence is prayer;
the fruit of prayer is faith;
the fruit of faith is love;
the fruit of love is service,
the fruit of service is peace.
 
This simple yet profound saying places silence as the point of departure for practical love, peace, and service. As Mother Teresa asserted: "Silence is at the root of our union with God and with one another." Silence and recollection are the indispensable conditions for prayer. An atmosphere of exterior silence is certainly very helpful, but Mother Teresa, who spent most of her life in large, overcrowded cities, learned to be interiorly silent and recollected in the midst of much noise and activity. She shows us that to practice silence one need not flee from the world and live as a hermit. What is necessary is to learn to quiet the mind and heart to dispose ourselves for prayer.
Prayer permeated Mother Teresa's day: she started, ended, and filled each day with prayer. Her first words upon rising were addressed to God, and throughout the day she spontaneously spoke to Him of her love and gratitude, her plans, hopes, and desires. As soon as some need or difficulty presented itself, however small and insignificant, she turned to God, making her requests with the trust and the expectation of a child dependent on its father. In addition to daily Holy Mass and the morning and evening Liturgy of the Hours (containing psalms, Scripture reading, and intercessions), traditional prayers such as the Rosary, the Stations of the Cross, litanies, and novenas, kept her in continual union with God.
An important time of prayer for Mother Teresa was her daily half-hour meditation on the Sacred Scriptures. Formed in the traditional Ignatian method of meditating on the Word of God, principally the Gospels, Mother Teresa was led to intimate conversation and communion with God. Through this prayerful reading, the Word of God took root within her, inflaming her love, influencing her words, and directing her actions. She also nourished her soul each day with an additional half-hour given over to the reading of the lives and writings of the saints or other ascetical works. To help foster recollection throughout the day, Mother Teresa was in the practice of praying "aspirations"—short prayers that raise one 's mind and heart to God in the midst of daily activities. These repetitions were a great aid to keeping herself in God's presence. Through these means, she grew in deep knowledge and love of God and was able to respond to Him and to her brothers and sisters in love. Since "love is of God" [1 Jn 4:7], human love is to be a reflection of and a sharing in divine love, which is entirely selfless and seeks only the good of the other.
True love is selfgiving, self-sacrificing, a "dying to self " in order to love and serve others, and this was the love that Mother Teresa exemplified. In a culture where "love" is overly identified with feelings rather than an act of the will, with pleasure rather than sacrifice, Mother Teresa's life and teaching, modeled on that of Christ's, exemplifies the Christian ideal of love.
In an interview Mother Teresa was once asked, "Can you sum up what love really is?" She promptly replied: "Love is giving. God loved the world so much that He gave His Son. Jesus loved the world so much, loved you, loved me so much that He gave His life. And He wants us to love as He loved. And so now we have also to give until it hurts. True love is a giving and giving until it hurts."
 
Who Is God?
God is. (2)
God is love. (3)
God is everywhere. (4)
God is the Author of life. (5)
God is a loving Father. (6)
God is a merciful Father. (7)
God is all powerful and He can take care of us. (8)
God is love and God loves you and loves me. (9)
God is joy. (10)
God is purity Himself.
God is with us. (11)
God is in love with us.
God is in your heart. (12)
God is faithful. (13)
God is love, God is joy, God is light, (14)
God is truth. (15)
God is thoughtful.
God is so good to us.

__________________________

2 Cf. Ex 3:14.
3 1 Jn 4:8, 4:16.
4 Cf. Ps 139:7-10.
5 Cf. Jn 1:1-4; Acts 3:15.
6 Cf. Mt 6:25-32.
7 Cf. Tob 13:4-6; Eph 2:4.
8 Cf. Wis 11:21; Mt 6:26.
9 Cf. Jn 16:27; 1 Jn 4:16.
10 Cf. Neh 8:10; Jn 17:13.
11 Cf. Mt 1:23.
12 Cf. Rom 10:8.
13 Cf. Dt 7:9; 32:4; 1 Cor 1:9.
14 Jn 8:12; 1 Jn 1:5.
15 Cf. Jn 14:6.
 
God is so generous.
God is so preoccupied with you.
God is a faithful lover.
God is a jealous lover.
God is so wonderful.

When God created us, He created us out of love. There is no other explanation because God is love. And He has created us to love and to be loved. If we could remember that all the time, there would be no wars, no violence, no hatred in the world. So beautiful. So simple.
 
There Must Be a God, Somewhere!
The other day a voluntary worker with long hair . . . was talking to me and he kept on saying, "I don't believe in God." So I said to him, "Supposing, just now, as you were talking, you got a heart attack . . . can you stop it?" He got such a surprise that he didn't say that phrase any more. He was beginning to realize that, in the end, no matter how much we talk, we can't change the time of our death. A few days later I heard that, after a lot of thought, he was beginning to make the reservation that there must be a God, somewhere!
 
Where There Is Love, There Is God
 One man told me: "I am an atheist," but he spoke so beautifully about love. Mother told him: "You cannot be an atheist if you speak so beautifully about love. Where there is love, there is God. God is love."
 
Love, Not in Words
First, God proved to us that He loved us. God loved the world so much that He gave His son Jesus.18 And Jesus loved you, He loved me and He gave Himself on the Cross for us.19 He was not afraid to love us and He loved us until the end.20 He gave up everything that was beautiful and was really like us, a human being. He was like us in everything except sin.  But He loved us tenderly. And to make sure that we understand His love, that we don't forget that He loved us, He makes Himself the hungry one, the naked one, the homeless one. And He says, "Whatever you do to the least of my brethren, you do it to Me." and explains to us what to do and how to do it. Before He taught the people, He had pity on the multitude, and He fed them. He made a miracle. He blessed the bread, and He fed five thousand people. It's because He loved the people. He had pity on them. He saw the hunger in their faces and He fed them. And only then He taught them. And so it is so wonderful to think that you and I, we can love God. But how, where? Where is God?
We believe He is everywhere. We believe that He has made you, and made me, not just to be a number in the world, but He has made us with a purpose. There is a reason for our being here. . . . And that reason is to love. You have been made to love and to be loved. That's why it is so wrong not to love. And that's the most beautiful thing that the human being has or can give: Love. Not in words. Because we are human beings [and] we want to see, we want to touch. That's why the poor people give us much more than we give to them—because they give us an opportunity to love God in them. When I give a piece of bread to a hungry child, I believe what Jesus said, "You give it to Me." And I give it to that child.
 
God's Loving Care
A few weeks ago, I had the very extraordinary experience of this tenderness of God for the little one. A man came to our house with a prescription from a doctor. He said the child was dying, his only child was dying in the slums of Calcutta and that medicine could not be got in India anywhere. It had to be brought from England. As we were talking, a man came with a basket of medicines. He had gone round to the families and gathered half-used medicines for our poor people—we have these mobile clinics all over the slums of Calcutta and all over the place, and they go round to the families and gather half-used medicines and bring them to us, and we give them to the poor people—and there he came, and right on the top of that basket was that medicine.
I just couldn't believe because if it was inside, I would not have seen it. If he had come before or after, I would not have connected. I just stood in front of that basket and kept looking at the bottle and in my mind I was saying, "Millions and millions and millions of children in the world—how could God be concerned with that little child in the slums of Calcutta. To send that medicine, to send that man just at that time, to put that medicine right on the top and to send the full amount that the doctor had prescribed." See how precious that little one was to God Himself. How concerned He was for that little one.
 
He Is Our Father
The tenderness of God's love—no one can love as God. He has made us in His image. He made us. He is our Father.
 
Father and Child
"The Father loves me, He wants me, He needs me." That kind of attitude is our trust, our joy, our conviction. Anything may come: impatience, failures, joy, but say to yourself, "The Father loves me." God has created the whole world, but He is our Father. In prayer, create that conviction from the inside: Father and child.
 
No One Spoils Us as Much as God
There is great talk going on all over the world that Mother Teresa is spoiling the people by giving them things free. In Bangalore, once at a seminar, in the name of the whole group, one nun got up and said to me, "Mother Teresa, you are spoiling the poor people by giving them things free. They are losing their human dignity. You should take at least ten naya paisa  for what you give them, then they will feel more their human dignity." When everyone was quiet, I said calmly, "No one is spoiling as much as God Himself. See the wonderful gifts He has given us freely. All of you here have no glasses, yet you all can see. Say, if God were to take money for your sight, what would happen? We are spending so much money for Shishu Bhavan25 to buy oxygen for saving life, yet continually we are breathing and living on oxygen and we do not pay anything for it. What would happen if God were to say, 'You work four hours and you will get sunshine for two hours.' How many of us would then survive?" Then I also told them: "There are many congregations who spoil the rich, then it is good to have one congregation in the name of the poor, to spoil the poor." There was profound silence; nobody said a word after that.
God's Care One day right in the beginning, we had no rice for dinner and then a lady came and brought rice. She said she was coming back from the office "and something in me told me to go to Mother Teresa and bring her rice." And so she brought rice. I said: "Please excuse me, I will measure first and then I will tell you." It was exactly the amount we cooked for dinner, no less, no more, not even half a cup. I told that lady what had happened and she began to cry. She was a Hindu, and she said, "To think that God used me, spoke in my heart. In the whole world, there are millions and millions of people, there are millions of people only in India, and God's concern for Mother Teresa." His tender love—you must experience that . . . even when it is hard, when there is suffering, when there is humiliation.
 
Silence
If we talk always we cannot pray. Jesus is not present within me. We must keep silence. When a person really keeps silence, she is a holy sister.
 
God Speaks in Silence
In the silence of the heart God speaks and this is the time that He will speak to you. To be able to listen you have to be like a little child. Try to have extra devotion to the Little Flower.26 She understood the Gospel very well. She realized that she had to become a little child. Read her life—you will find nothing really special or extraordinary, but what is striking is that fidelity in small things with great love; that fidelity to silence.
 
Listening to the Voice of God
Listening is the beginning of prayer, and what we listen to is the voice of God, God that cannot deceive or be deceived. Then if we keep silence, silence cannot be corrected; if we speak, if we answer back, we make mistakes.
In the silence of the heart God speaks; let God fill us, then only we speak. Often we say uncharitable words. They come from us, from our heart, not from God speaking through us, because we are not listening to God.
If you want to know how much you love Jesus there is no need to ask anybody to tell you; you are old enough. In the sincerity of your heart you will know [it] yourself, if you practice silence. . . . Try to be alone. Try to keep that really deep silence to get rid of bitterness or hatred.
 
Full of Silence
I think it is very important: that union with God. You must be full of silence, for in the silence of the heart God speaks. An empty heart God fills. Even Almighty God will not fill a heart that is full—full of pride, bitterness, jealousy—we must give these things up. As long as we are holding these things, God cannot fill it. Silence of the heart, not only of the mouth—that too is necessary—but more, that silence of the mind, silence of the eyes, silence of the touch. Then you can hear Him everywhere: in the closing of the door, in the person who needs you, in the birds that sing, in the flowers, the animals—that silence which is wonder and praise. Why? Because God is everywhere and you can see and hear Him. That crow is praising God—I can hear its sound well— that stupid crow; we can see Him and hear Him in that crow and pray, but we cannot see and hear Him if our heart is not clean.
 
Alone with Jesus
I want you to spend your time being alone with Jesus. What does it mean to be alone with Jesus? It doesn't mean to sit alone with your own thoughts. No, but even in the midst of the work and of people, you know His presence. It means that you know that He is close to you, that He loves you, that you are precious to Him, that He is in love with you. He has called you and you belong to Him. If you know that, you will be all right anywhere; you will be able to face any failure, any humiliation, any suffering, if you realize Jesus' personal love for you and yours for Him. Nothing and nobody!27 Otherwise you will be so preoccupied with unimportant things that slowly you will be a broken sister. . . . It is not worth it to leave father and mother and house if we are not all for Jesus.
 
The Need for Silence
The silence of the heart—if we don't have that silence, we may say many prayers but it won't come from our heart. [We] need that inner silence, the purity . . . undivided love for Christ before we can give to the sisters. . . . People in the world also keep that silence often. We can acquire that silence only through purity of heart and sacrifice.
 
Forgiveness Precedes Silence
And there can be no real silence in my heart if there is something I don't forgive, if there is something that I don't forget. I am busy with that one—so I cannot hear. . . . How can I hear what God is saying if something is there in my heart?
 
A Sign of Oneness with God
We must pray, we must really bring Our Lady into our life fully because she was the one who taught us how to find Jesus. And how did she find Jesus? By just being the handmaid of the Lord. She was surprised when she was called "full of grace." She didn't understand, but she understood beautifully when she said, "I am the handmaid of the Lord," and she remained like that. She could have gone round [talking], but she did not even tell St. Joseph. Poor St. Joseph did not know till the end. She couldn't say anything—the handmaid, that silence. Because God speaks in the silence of our hearts. And Our Lady knew that silence and because she knew that silence, she was able to love from the fullness of her heart, and this is what the young people want to see—that silence. Silence is a sign of our oneness with Christ, of our surrender to Him, of our being His totally, and for vocations to grow, we have to teach them that silence. Because . . . we need that silence to learn to pray . . . the young people want to learn to pray. Not in noise but they want to pray in the silence of their hearts, to teach them to hear that voice, to hear God in their hearts. And so they want to see what is our silence. They have to learn this silence from seeing us, from being with us and as we know, silence cannot be corrected also. It is so beautiful. I am seeing these young people during our adoration—we have adoration every day for one hour. I've seen these people, these young sisters, these young "come and sees" completely, really one with Jesus . . . because their hearts have understood "you are precious to Me, you are Mine."
 
Do We Make Time?
Today God continues to call—you and me—but do we listen? "I have chosen you—you have not chosen Me." Have we heard His Voice in the silence of our hearts? Do we make time to "be still and know that I am God"?
For God cannot be heard in the midst of noise and the clamors of the world. Do we make time for prayer in our day? Do we love Him enough to want to listen to His call to let go of everything and follow Him in the freedom of poverty, with undivided love in chastity, through total surrender in obedience? From the Cross, Jesus cries out, "I thirst." His thirst was for souls—even as He hung there—dying, alone, despised. Who will bring those souls to Him to satiate that thirst of the infinite God dying of love? Can you and I continue to stand by, a mere spectator? Or pass by and do nothing?

I shall keep the silence of the heart with greater care so that in the silence of my heart I hear His words of comfort and from the fullness of my heart I comfort Jesus in the distressing disguise of the poor.

Our Lady pondered His words in her heart . . . We too like Her must learn that silence which will enable us to ponder His words in our hearts and so grow in love. We cannot love nor serve unless we learn to ponder in our hearts. Knowledge of Christ and Him in His poor will lead us to personal love. This love only can become our light and joy in cheerful service of each other.
 
Business Card
The fruit of silence is prayer.
The fruit of prayer is faith.
The fruit of faith is love.
The fruit of love is service.
The fruit of service is peace.
This is very good "business"! And it makes the people think. Some of them hold it in their hands and read it over and over again. Sometimes, they ask me to explain it. But you see, everything begins with prayer that is born in the silence of our hearts. Among yourselves, and with the Sisters and Brothers, you can share your own experience of your need to pray, and how you found prayer, and what the fruit of prayer has been in your own lives. If you are hungry to hear the voice of God, you will hear. To hear, you have to cut out all other things.
 
Prayer
What is prayer? For me, prayer is that oneness with God.
 
A Clean Heart Sees God
We need to pray—for prayer gives a clean heart and a clean heart can see God in each person. If we see God in others, naturally, we will love one another as God loves each one of us. Love begets peace. Works of love are works of peace.
 
Our Foundation
If our life is without prayer, it is like a house without a foundation. The other day I saw a ten storey building, beautiful, completely finished, but they had to break it down because the foundation was only for a one storey building, and they were forced to break it down—and the whole thing was completely painted and everything—but they had to break it down. Our life of prayer . . . let it be the foundation, the beginning. But then that life of complete surrender and loving trust, these are stories to help us climb closer, closer. And as we come, first thing: that pure heart, and that real union, that complete attachment to Christ. If that is not there, it is like building a ten storey building on a foundation made for only a one storey—and what happens? It breaks.
 
Be a Soul of Prayer
A Missionary of Charity has to be a soul of prayer. If we don't learn to pray in the Novitiate, all our life we will be like handicapped people. So, do this, listen to God speaking in your heart, keep silence of the tongue, of the eyes of the feet (not making noise).
 
The Prayer Is to Be United to God
To pray we need a pure heart. Prayer is to be united to God. Why was Mary chosen? Because her heart was clean and prayer will always give us a clean heart. Often during the day, feel the need to pray—when you are washing, studying, that union with Jesus. The more you pray, the more you will love to pray.
 
Prayer Is Oneness
Prayer cannot be switched on and switched off. Prayer is oneness. Fullness of attention is not possible, but fullness of intention. For whom? That act of love, it is a small thing.
 
Learning Through Prayer
There is no time for not learning. How do we learn? Through prayer. We talk to God, listening then speaking, this is prayer. If we have not listened, we have nothing to talk about. So we must take the trouble to listen. For this we need silence of the mind, silence of the heart, silence of the eyes, silence of the hands. . . .
It is wonderful to learn to pray, for prayer always gives us a clean heart. Unless your heart is clean you cannot speak to God. A clean heart will see God33 and if we see God we can obey. St. Ignatius, such a big man, said, "The sound of the bell is the voice of God." He could see God saying, "Come." And he obeyed for he could see the Will of God. Who was the one who best obeyed? Our Lady! She said, "I don't understand, but I obey."
 
Pray the Prayers
It is not enough to say the prayers, you have to pray the prayers; pray with your heart and mind. Pay attention to whom you are speaking, pay great attention to whomever you are speaking—to Jesus, to Our Lady, to God, to the guardian angel, or to the saints—because they are listening to you. You can speak to any saint. They are waiting, "What is she going to say?" Immediately you get the answer if prayer is really prayer and comes from the heart and then miracles happen. And then you are surprised for what happens—"It is a miracle!"
What is important is not to say the prayers but to pray the prayers. You pray from the heart, mind, soul—from the bottom of our hearts. Saying prayers, you are just uttering words but not in your heart. Prayer is from your heart to the heart of Jesus. If it is [to] Mary, from your heart to the heart of Mary; or to your guardian angel, it must be from the heart to the heart.
 
The Holy Spirit
Read something very simple on prayer . . . not a big theological explanation of prayer, but just something very simple—maybe how Mary prayed, how St. Joseph prayed, how your guardian angel prays. We all have a guardian angel and he is praying for us at all times—interceding for us. Ask your guardian angel to teach you to pray. Above all, ask the Holy Spirit to pray in you. Ask the Spirit to come in you to pray. . . . Learn to pray, love to pray, and pray often. Feel the need to pray and to want to pray.
 
Full of Prayer
Be full of prayer. It is a beautiful gift. Pray for our poor to make use of their poverty to grow in holiness—so pray with them and for them and pray always for yourself that you may grow in that holiness for which Our Lord has created you. It is now necessary to make it our own so that we really, really love prayer, so that we spread His love, His compassion, His presence wherever we go. Silence is a time to talk with Jesus. The more silent we are the closer to Jesus we become and the more we are like Jesus, the more holy we become. So deepen your union with Him by your prayer life. So let us pray and ask Our Lady to pray so that we become holy. If we know how to pray, how to talk to Jesus, we are sure to become holy.
 
Where Are You Going?
Often, often, often we talk much about prayer; many books have been written on prayer. St. Ignatius [says, at the beginning] of prayer—[ask yourself] where are you going? Before whom are you going? Sometimes, rushing, rushing. He was the master of prayer. He has not written much about prayer—but the small things: stop for a second before taking holy water, grace before meals—all these are small things, yet some sisters have big ideas on prayer, yet these small deliberate things help silence of the heart and mind. A very big theologian, when he came to our house, saw the holy water and said, "This must be a fervent community because holy water is there." Same thing when we hear the bell in the morning and the first word we utter in the morning, the first person we address in the morning. The Hindus, they put that tikka3—they put it for beauty but it has a tremendous meaning, "God centered."
 
Meditation
Meditation is talking to Jesus. It is not just thinking, otherwise it is just like a philosopher, only thinking. You must make that Word of God your own. It is a deep intimate conversation with Jesus. You must hear Him and He must hear you.
 
Your Treasure
You may be praying and heart and mind may be very far away—and you may not be praying at all. Where does your mind and heart go to? Where your treasure is, there is your heart. As soon as you get up in the morning, do your mind and your heart go first to Jesus? This is prayer—that you turn your mind and heart to God. In your times of difficulties, in sorrows, in sufferings, in temptations, and in all things, where did your mind and heart turn to first of all?
 
Oneness with the Word
This is what a Brother of the Word has to be—a complete oneness with the Word of God. And that Word of God that you receive in prayer, in adoration, in contemplation, in that aloneness with God, that same Word you have to give to others. A real thing—let God become flesh during the day, during your meditation, during Holy Communion, during contemplation, during adoration, during silent work, and then that Word in you, you give to others. That's why it is necessary that the Word lives in you, that you understand the Word, that you love the Word, that you live the Word. You won't be able to give that Word unless you have it there. And to be able to have it, a continual and undivided love is necessary.
 
No Complications
Where can I learn to pray? Jesus taught us to pray, "Pray like this: Our Father . . . Thy will be done . . . Forgive us as we forgive." It is so simple yet so beautiful. It comes throughout the day in every day of our lives. If we pray the "Our Father" and live it, we will be holy.
Everything is there: God, myself, my neighbor. If I forgive, then I can be holy and I can pray. . . . All this comes from a humble heart and if we have this we will know how to love God, to love self and my neighbor. You see in this a simple love for Jesus. There are no complications and yet we complicate our lives so much, by so many additions. Just one thing counts: to be humble, to pray. The more you pray the better you pray. How do you pray? You should go to God like a little child.
A child has no difficulty in expressing his little mind in simple words, but they express so much. Jesus said to Nicodemus, "Become as a little child."37 If we pray, the Gospel we will allow Christ to grow in us.
 
When We Can't Pray
And when time comes and we can't pray it is very simple: if Jesus is in my heart let Him pray, let me allow Him to pray in me, to talk to his Father in the silence of my heart. If I cannot speak, He will speak; if I cannot pray, He will pray. That's why often we should say, "Jesus in my heart, I believe in Your faithful love for me." And often we should be in that unity with Him and allow Him, and when we have nothing to give—let us give Him that nothingness. When we cannot pray— let us give that inability to Him. . . . Let Him pray in us to the Father. Let us ask Him to pray in us, for no one knows the Father better than He. No one can pray better than Jesus. And if my heart is pure, if in my heart is Jesus, if my heart is a tabernacle of the living God to sanctify in grace: Jesus and I are one. He prays in me, He thinks in me, He works with me and through me, He uses my tongue to speak, He uses my brain to think, He uses my hand to touch Him in the broken body. And for us there is the precious gift of Holy Communion every day. That contact with Christ is our prayer. That love for Christ, that joy in his presence, that surrender to His love is our prayer. For prayer is nothing but love, complete surrender, complete oneness, exact.
 
What Jesus Taught Us
The most important thing is to learn to pray. Very strange: Jesus did not enter into long discussions—high flown language, but He said: "When you pray, pray like this: Our Father . . ."—that intimate oneness with the Father. He was so intimately united with Him that He wanted to be like Him. Again and again that beautiful simple word: Father. "My Father"—even little children can say it. We are creating all kinds of difficulties in our prayer. Let us go back to what Jesus has taught us—simple and intimate prayer—"Our Father." Avoid anything that will take you away from this, so that in your teaching, in your life, you can hear Him in all that He says, and do the will of the Father. For this we need a clean heart.
 
The Fruit of Prayer
The fruit of prayer is a deepening of faith, and the fruit of faith is love; and the fruit of love is service, in whatever form, even in our  family. Love begins at home. And how does it begin? By praying together; for the family that prays together, stays together. And if you stay together, you will love God as He loves you. You will love one another as He loves you. What a wonderful thought, that God loves me, and that I can love you, and you can love me, as He loves us. What a wonderful gift of God!
 
Pray for Faith
Let us remember that Jesus always praised the faith of people39— therefore, often during the day we will pray: "Jesus in my heart increase my faith, strengthen my faith. Let me live this faith through living, humble obedience."
 
Love Begins with God
 
Love to be true has to begin with God in prayer. If we pray, we will be able to serve  and therefore today let us all promise that we will give our hands to serve the poor. That we will give our hearts to love them for they too have been created for greater things, they are the great people—the poor.
 
"It Is Good for Us to Be Here"
Are you really in love with Him, with that intimate love for Him, that personal attachment, like St. Peter? "It is good for us to be here." Is it good for you to be with Him?
 
Your Hand in His Hand
Put your hand in the hand of Jesus—walk along with Him all the way. We try to hold something else—we are human beings; that's why people
need to hold, that's why we hold the hand of Jesus.
 
Do We Know That Love?
[Jesus] didn't complain of big sinners, He didn't complain of the people who do bad things. He complained of people like you and me, Christians, who should be known by that love for one another.  The Christians, you and I, the tabernacle of the Living God—you and I who receive Him maybe daily in Holy Communion. And He has very clearly said, "My own, My own." You and I are His own. Do we know that love? Have we experienced the joy of loving Christ? Have we experience of loving others as Christ loves you and me? So let us pray. Let us pray that each family becomes another Nazareth where prayer, joy, love, peace come and if there is peace, joy, love, prayer in the family, there will be holiness.
 
 Nothing Will Separate Us
The Mother of Jesus, she loves us tenderly. Because she knows that we belong to her Son, that He has chosen us for Himself. Let us [recall] the words of Isaiah number 43 and where he says, "I have called you by your name, you are mine. Water will not drown you, fire will not burn you. I will give up nations for you. You are precious to me. I love you." This is what God says to each one of us. We are precious to Him. He loves us. And because He has carved us in the palm of His hand, nothing will separate us from the love of Christ, because we are precious to Him. He loves us.
 
Love Is a Giving
For God so loved the world, so much, that He gave his Son.44 Love is a one-way street. It always moves away from self in the direction of the other. Love is the ultimate gift of our selves to others. When we stop giving we stop loving, when we stop loving we stop growing, and unless we grow we will never attain personal fulfillment; we will never open out to receive the life of God. It is through love that we encounter God.
 
A Giving
Charity is love, it's a giving: like God loved the world, He gave His Son; Jesus loved the world, He gave His life and He said, "Love one another as I have loved you,"45 so if we really love one another, we must give until it hurts. It's a giving. It's an understanding love, understanding the human weakness, the human misery, the human joy, the human happiness and accepting it . . . very difficult to explain— it's easier to live and to share . . . That's why we need a pure heart to be able to understand it . . . you must be able to love to be able to do. And with God, it is not how much you have given, but how much love you put in the doing, and that love for God in action is the service of the poor or the service in the family. . . . This also can sanctify you if you do it with love.
 
"We Wanted to Share the Joy of Loving"
[A young Hindu couple] came to our house and they gave me lots of money and I asked them, "Where did you get so much money?" And they said, "Two days ago we got married, but before marriage we decided we would not buy wedding clothes, we will not have wedding feast, we will give you the money." And I looked at them and I said, "But how—in our Hindu families that is not done, why did you do [this]?" And the answer they gave me, I can never forget, "Mother, we loved each other so much that we wanted to share the joy of loving with the people you serve." And for rich people like these two people were, she had an ordinary sari, cotton sari like mine. And he had ordinary clothes. The only thing that they had—they had the ring, nothing else.
She could have had a sari of 1,000 rupees and she had a sari of 40 rupees. So you can imagine the sacrifice those young people made to share the joy of loving. That's why your vocation is so great that you can share the joy of loving continually every time you take care of the sick.
 
It's Not the Money
Yesterday a wealthy man from Holland came and said, "I have lots of money." He was shocked to hear me say, "I don't need your money." He just looked at me. He expected me to become all excited and to start listing the places where we need money for this and that. Then he said, "But I want to do something." Then of course I gave him the address of our sisters in Tanzania, where the people are starving. . . . When I gave him that address, you could see the joy in his face. First there had been surprise and then joy. We need to show the people that it's not their money that is important but the "giving." That man who came to see me said, "I have a big house in Holland. Do you want me to give it up?" I said, "No." "Do you want me to live in that house?" I said, "Yes." "I have a big car—do you want me to give that up instead?" I said, "No. But what I want you to do is to go back and see some of the many lonely people that live in Holland. Then every now and then, I want you to bring a few of them at a time and entertain them. Bring them in that big car of yours and let them enjoy a few hours in your beautiful house. Then your big house will become a center of love—full of light, full of joy, full of life."
He smiled and said that he would be so happy to bring the people to his home but that he wanted to give up something in his life. So I suggested that, "When you go to the store to buy a new suit or some clothes, or when someone goes to buy for you, instead of buying the best that would cost fifty-five dollars, buy one for fifty dollars and use that extra money to buy something for someone else, or better still, for the poor." When I finished saying this, he really looked amazed and exclaimed, "Oh, is that the way, Mother? I never thought of it." When he finally left, he looked so happy and full of joy at the thought of helping our sisters, and he was already planning to send things as soon as he reached Holland.
Bestsellers in Christian Living