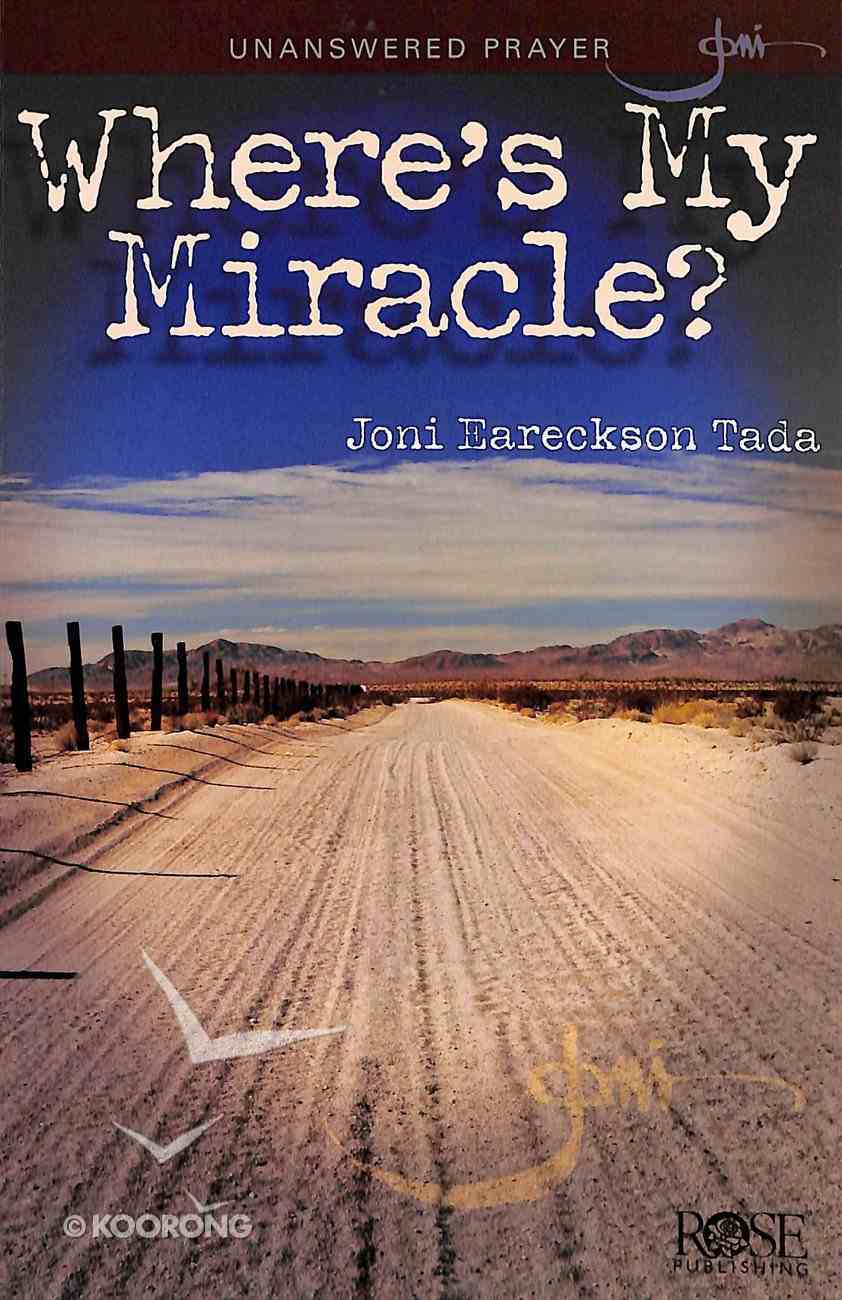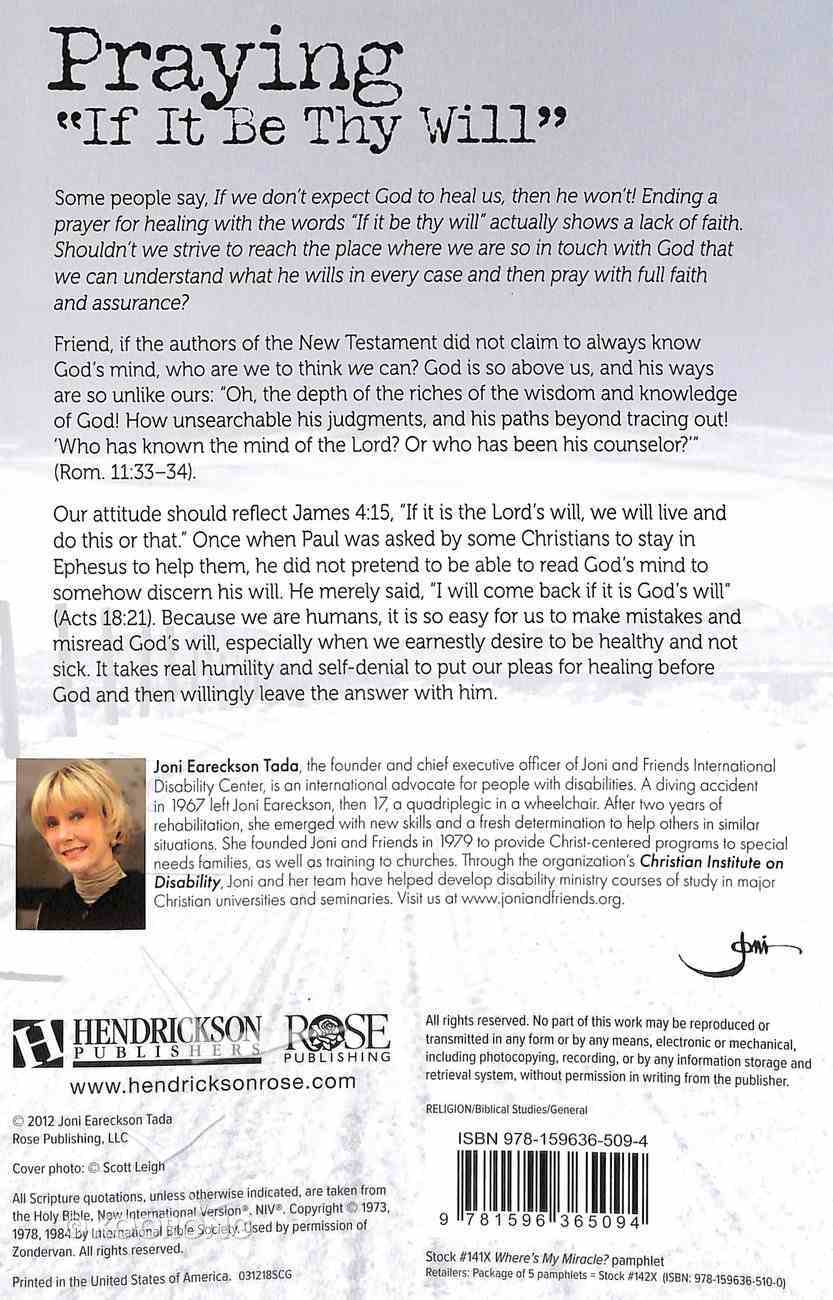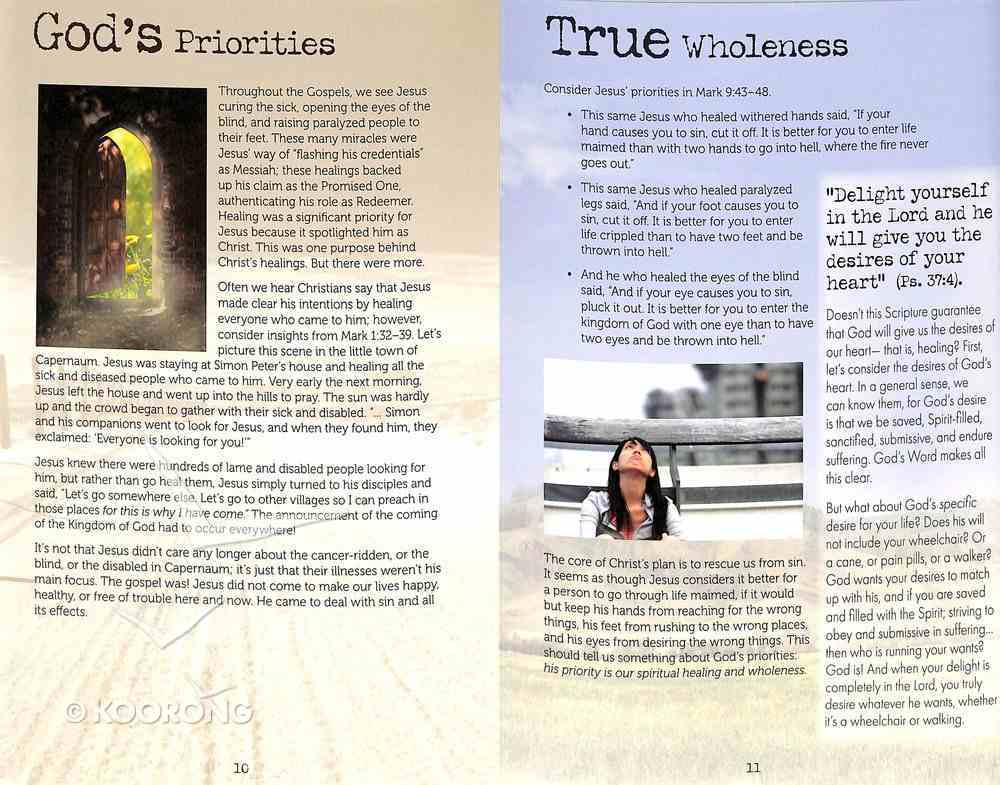 Where's My Miracle?: Unanswered Prayer (Rose Guide Series)
Where's My Miracle? What to do when God doesn't heal you Nothing can describe the horror of hearing doctors say, "You will never walk or use your hands again." Or -- "You have cancer. I'm afraid it's terminal." Like many...
---
Expected to ship within 5 hours from Australia.
---
Free Shipping
for orders over $99.
Where's My Miracle? What to do when God doesn't heal you Nothing can describe the horror of hearing doctors say, "You will never walk or use your hands again." Or -- "You have cancer. I'm afraid it's terminal." Like many people, you look to the Lord and pray for healing. You have friends and the pastor pray for you, but nothing happens. You read Scripture and claim the promises. You even have someone anoint you with oil or go to a healing crusade. But God doesn't give you your miracle. You confess every possible sin and search your heart for any unconfessed sin. Your faith is strong and you tell everyone you will be healed, yet nothing seems to happen. You feel that God is playing a cruel joke or start to blame yourself for a lack of faith. And that's a shame when Christians feel that way... The truth is that God certainly can heal and sometimes does heal people in a miraculous way. But the Bible does not teach that he will always heal those who come to him in faith. The big question is: What does the Bible REALLY teach about healing? The key is to understand God's ultimate goal for your life. You need to-- Find joy in knowing God's priorities for your life. Know the comfort of the biblical promises. Enthusiastically embrace God's will for your life. You can find the joy of serving God despite unanswered prayer in this 14-page pamphlet. In just 30 minutes or less, you will unlock the door to a new attitude toward life. The topic of unanswered prayer is an issue that author, Joni Eareckson Tada, can speak to personally: A diving accident in 1967, when she was 17, left her a quadriplegic. She has lived 45 years in a wheelchair and she has experienced her share of ups and downs. "But," she says, "oh, the difference the grace of God has made in my life." Let Joni tell you her secrets to peace and joy, despite her wheelchair. She has spent decades studying the Word of God. She knows that God does not enjoy seeing your pain and frustration. He has compassion for you and gives you many ways to deal with life so that you can have peace. She has taken her most important insights on turning unanswered prayer into a life of joy (not anxiety) and has encapsulated them into this 14-page pamphlet. Whether you or a loved one is suffering. This pamphlet will bring you some help to break free from the strangle hold of fear and worry when God doesn't seem to answer. In this pamphlet, you will find hope. Joni tells her story of facing the news of being paralyzed the rest of her life. Joni shows you the right way and the wrong way of coming to the Lord for healing. She tells how she dealt with unanswered prayer and passes her tips onto others. You can find freedom from wondering if God is rejecting you. Joni has been there and she shows you the way to peace and joy using biblical principles. 14 pages, full color, glossy plastic coating for durability, 8.5 x 5.5 inches, fits inside a Bible cover. About the Author Joni Eareckson Tada offers hope to people struggling with health and emotional challenges. After a 1967 diving accident left Joni Eareckson Tada a spinal cord-injured quadriplegic, she embarked on a lifelong study to make sense of suffering from God's perspective. Joni Eareckson Tada is now an international advocate for individuals with disabilities, and the founder of the non-profit organization, Joni & Friends. When Joni Eareckson Tada writes about hardship, it's real. When she says good can come from suffering, I wanted to know how....I wanted to gain a deeper understanding of the adverse circumstance I'm in. I was surprised that such a small pamphlet could offer such a large portion of hope and courage. Carol WitteI love how the pamphlets get to the point, saying exactly what I needed to hear in an easy-to-understand way. Plus, they are light weight and can fit in my purse, making them easy to take to the doctors' office or to my chemo appointments. If you know someone fighting a terminal illness or even their family members who need encouragement as well, I highly recommend you check out these pamphlets. Cindy CurranThe new pamphlets from Rose Publishing by Joni Eareckson Tada are a treasure for both Pastors and Chaplains. Joni has the ability to answer so many hard asked questions by her experience. Her love of God and her knowledge of His Word linked with her genuine empathy for people that are suffering and questioning God is uncanny. Dr. Skip Lewis, Director of Chaplaincy, Heart of FloridaThis pamphlet ministered to me as I pray for my miracle. I know God can heal instantaneously if He so chooses. I also realize that He can use doctors. He may even possibly provide no healing at all to my physical ailments. If I trust God then I must trust him completely to know what best for me and those around me. Like Joni, I've learned to pray Lord use this time to bring my walk closer to you and use me to show your love to others. I want to be His vessel no matter what comes my way. Bonnie BruderJoni is at once a student and a teacher. She searches for answers, and then ably guides those who are seeking to understand some of the same difficult questions she has asked about suffering, anger, God's sovereignty and prayer. She is candid about her personal struggles, but addresses each of them by providing biblical illustrations of how God is always present and in control. Through her practical counsel, Joni empowers anyone who has endured painful experiences in life to trust and turn toward God. Jean Driscoll, Assistant Dean for Advancement, University of IL, College of Applied Health Sciences Jean was born with spina bifida (an open spine). She began using a wheelchair at the age of 15 and after learning about wheelchair sports, she started pursuing athletic opportunities. During her career, Jean was the first eight time winner of the Boston Marathon. She also won two Olympic medals, 12 Paralympic medals, and still holds the world record in the 10,000 meters set during the 1996 Paralympic Games in Atlanta. Jean remains the only 12-time champion of the Lilac Bloomsday 12K Road Race held in Spokane, Washington. Jean retired from her successful racing career following the 2000 Paralympic Games in Sydney, Australia. Study Questions: Read panels 1-2. Joni tells her own story of being paralyzed and praying for healing without success. She offers several insights as to why God might not heal a broken body or a broken marriage when we pray. Which of these insights speak to you? Read panels 3-4. Why is it important to have a biblical view of the Kingdom of God and the kingdom view toward healing? If Jesus taught that the Kingdom of God is now at hand, why doesn't that mean healing for everyone right now? What are some reasons that God might not heal a person? Read panel 5-7. Joni discusses several claims that people make that she believes are not biblical. Do you agree? Look at the verses on page 6. These appear to be absolute promises, but are they? What do you believe about these verses and why? Why is it important to pray, "If it be thy will"? Read panels 8-9. How could it be God's will to deny a Christian's request for healing? What good can come out of suffering emotionally and/or physically? What does it mean to pray in Jesus' name? What do we learn about becoming more like Christ? Read panels 10-11. What are God's true priorities? What, in your opinion, is true wholeness? Read panels 12-13. What will happen at the end of the age? Joni says, "I have discovered that there are more important things in life than walking." What would you say is the most important thing God is doing through your life? How is it possible to give thanks in all circumstance, even in the midst of heart breaking physical or emotional pain?
-Publisher
Joni Eareckson Tada has known the grace of God for 30 years after being paralysed from the neck down in a diving accident. Joni is president of JAF Ministries, an organization that accelerates Christian ministry among people with disabilities. She is also host of 'Joni and Friends', a daily radio program in the USA operating out of the International Disability Centre and a sought after conference speaker.


She is the author of more than 30 books, including the bestsellers Diamonds in the Dust, Heaven, and More Precious Than Silver.


In 2003 she was given the Gold Medallion Award for her book When God Weeps and in 2004 for co-authoring Hymns for a Kid's Heart, Volume 1. Her award winning and best-selling autobiography, Joni, was adapted as a full-length feature film. Tada also serves in an advisory capacity to many Institutes concerned with disability, writing and evangelism worldwide. She has been given many awards and holds several honourary doctorates. Joni and her husband, Ken, live in Southern California.


Bestsellers in Tracts/booklets