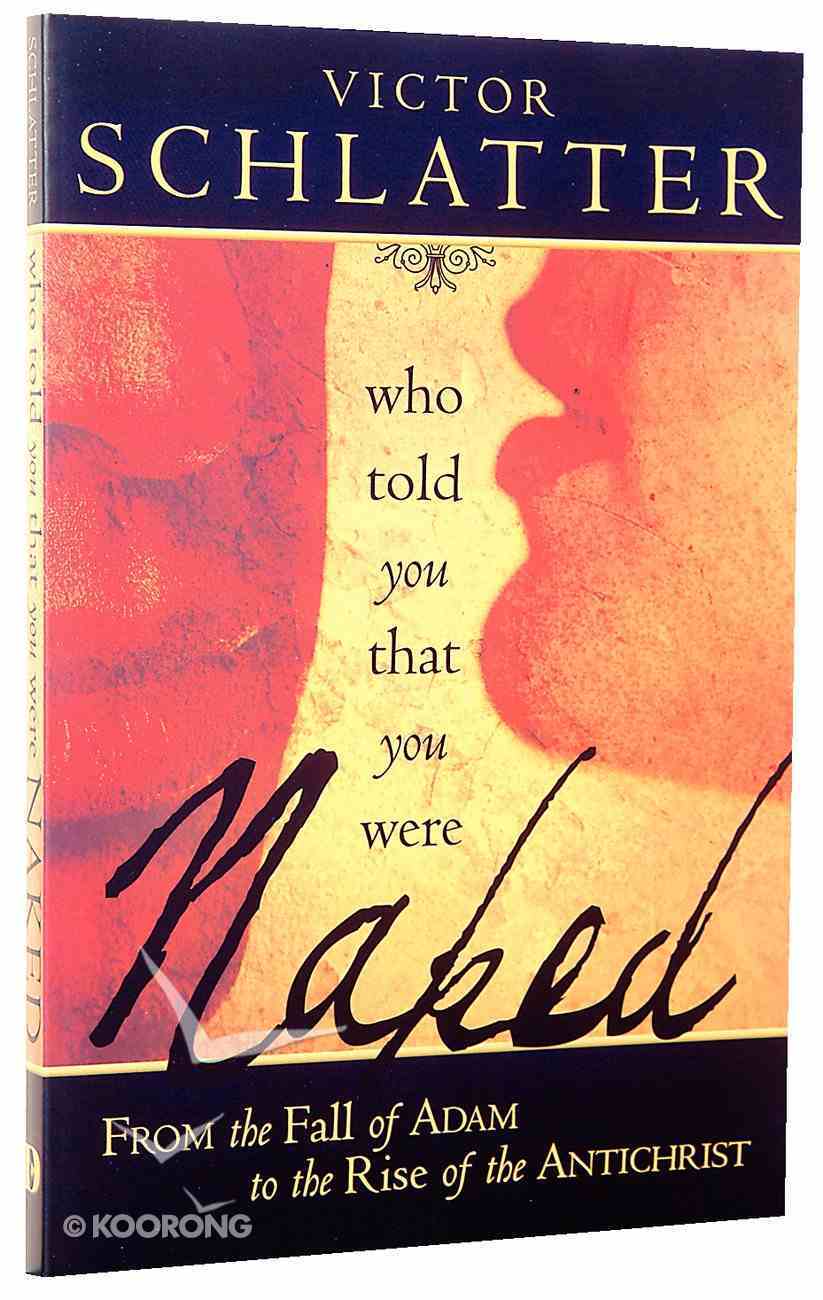 Who Told You That You Were Naked?
"Who told you that you were naked?" God is still asking same question. Rigor mortis has set into today's organised religion and there seems to be little understanding of the ramifications. Although Adam and Eve ran quickly to...
---
Free Shipping
for orders over $99.
"Who told you that you were naked?"

God is still asking same question. Rigor mortis has set into today's organised religion and there seems to be little understanding of the ramifications.

Although Adam and Eve ran quickly to hide themselves when they realised they were naked, the Church remains exposed to evil that replaces commitment to the Creator.

In Who Told You That You Were Naked? Victor Sclatter uncovers the naked truth about the issues in which the Church should be fully engaged. You will gain new understanding and be challenged to action concerning:

- Media Bias
- Organised Religion
- Humanism
- Feminism
- Political Correctness
- New World Order

From the Garden of Eden to ancient Greece and Jerusalem, through 9-11 America to our post-modern world, Pastor Schlatter presents a biblically sound look at the serpent's continued deception. With a sprinkling of humour, he brings to these serious issues an unprecedented sense of perspective and historical relevance.

Find out what you can do to change your corner of the world as you read this powerful and timely book!
- Author


Reviews and input:

"Victor Schlatter has written an excellent book. His handling of the Bible is skilful, profound, and responsible. He has a take on the 666 prophecy which is original and brilliant! I've never read this opinion in any other Eschatology. He avoids the faddish pitfalls and comes up with reasoning that the individual can apply immediately. One does not have to wait on others, or future time; grasping what to do about the end times is available now, and clearly spelled out in this wonderful book."
- Paul L. Weingartner, Author, Educational Psychologist, Councilor, and Church Publication Editor, Mansfield, Ohio, USA.

"This is another excellent book by Victor Schlatter. It is a book one must read to understand what is happening in the world around us, and in particular, his unique insights on the 666 imperfection of man are quite on target. This is a must read for the serious Bible student as well as the rest of us interested in what the Bible has to say about our world today."
- Michael J. Kray II, Pastor and Church Administrator, Columbus, Ohio, USA.

"(Schlatter's) book gave me awareness that the things I was taught not only by (academic) teachers but actually by everyone else around me, was largely influenced by the minds of (merely) a few Greek philosophers... This is an amazing fact, and this (new) awareness really frees my mind, and opens my eyes and ears to a whole new (non-Hellenistic) world... In my journey as a follower of God it is certainly encouraging to hear someone else put together and present neatly what was (stirring) in my mind."
- Peter Koszo, Computer Technician and Programmer, Brisbane, Australia

"Really love (Schlatter's) insights on how Yahweh (i.e. Hebraic bedrock) views women!"
- Jeanette Linville, a reader from USA.

- Author


Author information:
Victor Schlatter spent years as a nuclear scientist before choosing to study linguistics and translate the Bible. He has planted more than 100 churches in the South Pacific Islands serving 10,000 believers. Pastor Schlatter travels annually to Jerusalem, lectures worldwide, and has authored several book including Showdown of the Gods and Where Is the Body?.
-Publisher
Victor Schlatter spent 7 years as a nuclear scientist before hearing to a Higher call to upgrade his career to Linguistic Analysis and Bible translation. In a South Pacific Stone Age scenario, he translated the Waola Scriptures now in their 6th printing. He found that there is no such thing as a 'primitive' language, since Stone Age Waola has over 100 endings on every verb! His translation has since generated over 130 tribal congregations with some 15,000 believers across Papua New Guinea.

The Schlatters then reached out in a Pacific-wide ministry tying Isaiah's oft repeated 'Islands of the Sea' to a long-prophesied Israel reborn. Having made annual trips to Jerusalem since 1988, he has maintained in-depth research on the ever-escalating, never-ending Middle East countdown, especially as it reflects biblical prophecy. He is founder and Director of South Pacific Island Ministries, represents the International Christian Embassy Jerusalem to the South Pacific Islands and lectures globally.

He was awarded the Queen's Papua New Guinea Independence Medal in 1975 for recognised service to the Southern Highlands, and was selected for Who's Who in Queensland, Australia in 2007. He is author of Where Is the Body? (translated into Russian, Finnish and Dutch); Showdown of the Gods; Who Told You that You Were Naked?; Nineveh: A Parody of the Present - Biblical Clues to the Rise and Fall of America; and Genetically Modified Prophecies; Whatever Happened to all the Sand and Stars God promised to Abraham?

He and his wife, Elsie, reside in Australia.
Bestsellers in Spirit-filled Living