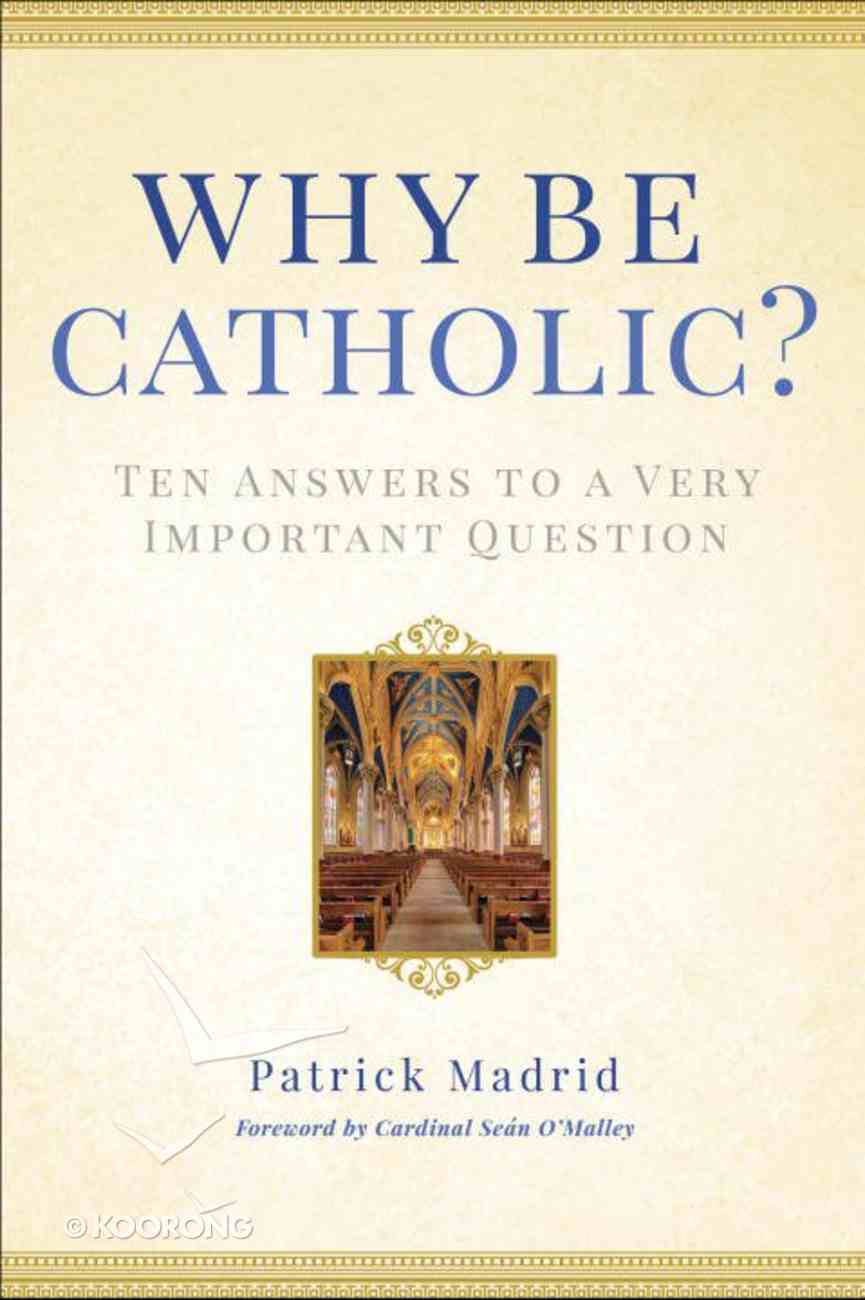 The popular blogger and publisher of Envoy magazine offers 10 key reasons why he loves being Catholic (and you should too). Drawing heavily on poignant anecdotes from his own experience as a life-long Catholic born in 1960s, Madrid offers readers...
Out of Stock
Available to Order
---
Expected to ship in 5 to 6 weeks from Australia.
---
Free Shipping
for orders over $99.
The popular blogger and publisher of Envoy magazine offers 10 key reasons why he loves being Catholic (and you should too). Drawing heavily on poignant anecdotes from his own experience as a life-long Catholic born in 1960s, Madrid offers readers a way of looking at the Church--its members, teachings, customs, and history--from perspectives many may have never considered.

Growing up Catholic during a time of great social and theological upheaval and transition, a time in which countless Catholics abandoned their religion in search of something else, Patrick Madrid learned a great deal about why people leave Catholicism and why others stay. This experience helped him gain many insights into what it is about the Catholic Church that some people reject, as well as those things that others treasure. Drawing upon Madrid's personal experiences, Why Be Catholic? offers a deeply personal, fact-based, rationale for why everyone should be Catholic or at least consider the Catholic Church in a new light.
-Publisher
PRODUCT DETAIL
Catalogue Code 

389162

Product Code 

9780307986436

ISBN 

0307986438

EAN 

9780307986436

Pages 

240

Department Academic
Category Theology
Sub-Category Roman Catholicism
Publisher Image
Publication Date 

Jun 2014

Dimensions 

217 x 147 x 22

mm

Weight 

0.357

kg
Patrick Madrid is a noted apologist who has written many books. He is also the editor of Envoy magazine.
:1

Catholics

THE GOOD, THE BAD, AND THE UGLY

The Catholic Church is a lot like Noah's Ark. Immense and capacious, it is also ungainly and lumbering, not built for speed but for endurance. It causes everyone to stop and stare. Some scoff, thinking it bizarre or comical. Others find themselves drawn to it, longing to get on board. It is freighted with an incredibly diverse array of unruly passengers, some of whom do not get along well with one another. It is also very messy.

Try to imagine getting a good night's sleep on the Ark! Try to imagine what the Ark smelled like inside by the time the Flood waters receded. And yet, if you could go back in time to that fateful day, just as the floodgates opened and the rain really started to come down hard--knowing what you know now about what happened next--you surely would waste no time scrambling aboard, regardless of the noise, stench, messiness, and commotion.

This is the Catholic Church I'd like to tell you about.

In view of the recent abuse scandals that have convulsed the Church and scandalized the world, it seems right and just to me to begin my case for the Catholic Church here, amid the uproar and confusion these scandals have wrought.

The question, "Why be Catholic?" demands an answer now, more than ever.

Scandal has shown its hideous face among believers in every generation of salvation history. This strange, counterintuitive reality is as mysterious as it is disconcerting. The Catholic Church is reeling right now under an avalanche of grave sexual crimes against children, teens, and young adults perpetrated by its own priests and bishops. The only honorable and honest choice is to admit these transgressions and squarely face the consequences.

Given the cascade of heinous sex crimes committed by the clergy and moral corruption among the laity of recent decades, how can the Catholic Church possibly claim to be the "One, True Church." As Cardinal Joseph Ratzinger wrote in 2005, just before he was elected Pope Benedict XVI, "How much filth there is in the Church, and even among those who, in the priesthood, ought to belong entirely to Him." He compared the Catholic Church to "a boat about to sink, a boat taking in water on every side."1 The old adage is true: "A rising tide lifts all boats." The converse is also true: "An ebbing tide lowers all boats." In the ruinous aftermath of the sexual abuse scandals, it is a fact that respect for the Catholic Church is dramatically ebbing away. What's more, a steady stream of media revelations of negligence, worldliness, and even criminal financial malfeasance and similar delinquencies on the part of priests and bishops has made the situation even more intolerable.

The grave effects of these scandals, in particular the sexual ones, are incalculable. First and foremost, of course, is the tragic toll taken on the innocent victims who were devastated by the crimes committed against them. As we now know, some Catholic bishops, who were in authority over these men, stonewalled, covered up, and hid behind weasel-word pretexts about how they were "just following the advice of the mental-health professionals" who assured them that it was A-okay to allow offenders back into parish ministry, in contact again with children.

The Archdiocese of Boston became "Ground Zero" for the eruption of the priest sex scandals in the United States. It was there, in 2002, that five Catholic clergymen were arrested, charged, and eventually imprisoned for their depredations against adolescents and children. No one realized then just how far the rot extended.

In his sermon preached at his 2003 installation Mass, the new Archbishop of Boston, Sean Patrick O'Malley, O.F.M., Cap., addressed this crisis head on:

The whole Catholic community is ashamed and anguished because of the pain and the damage inflicted on so many young people, and because of our inability or unwillingness to deal with the crime of sexual abuse of minors. To those victims and to their families, we beg forgiveness and we assure them that the Catholic Church is working to create a safe environment for young people. It must never be business as usual, but rather a firm commitment on the part of every diocese, parish, and school to do all we can to avoid the mistakes of the past and create safeguards for the future. . . . How, ultimately, we deal with this present crisis in our Church will do much to define us as Catholics of the future. We must not flee from the cross of pain and humiliation. If we stand firm in who we are, in what we believe, if we work together--hierarchy, clergy, religious, laity--to live our faith and fulfill our mission, then we will be a stronger and a holier Church. This should be of some consolation to those victims who have opened old wounds in their hearts by coming forward. Your pain will not be in vain. Our Church and our nation will become a safer place for children.2

There is no way to undo the horrendous damage done to the victims of these scandals. The general goodwill, respect, and trust that had previously been extended toward the Catholic Church has now largely evaporated. The scandals have fueled an increasingly cynical attitude toward Catholics that at times rises to the level of active hostility. Several faithful and virtuous Catholic priests I know personally have confided to me their own shock, embarrassment, and discouragement at having been the innocent targets of animosity from total strangers in public places. One described how, in an airport terminal, he sat down on a chair across from a young mother and her child. When the woman looked up and saw him, she pulled the toddler close to her, glared at the priest, and hissed loudly enough for everyone around to hear, "You stay away from my child!" Gathering the child into her arms, she stalked off, leaving him stunned and humiliated. This man had done nothing to violate his vows, but thanks to the Judas priests who did betray them so grotesquely, he and many other good and innocent priests have become "collateral damage."

So, considering the enormous black cloud hanging over the Catholic Church, society's increasingly cynical and hostile attitude toward the Church, and the fact that fewer and fewer Catholics devoutly practice the faith, why would anyone in his right mind write a book whose purpose is to encourage people to become Catholic? Acknowledging the tragic reality of scandals in the Catholic Church is the only appropriate first step toward providing an adequate and meaningful context (not excuses)to show that, in spite of these scandals, there remains a solid and compelling case for why people should be Catholic. Because I believe a solid foundation for Catholicism remains beneath the phenomenon of disgusting Church scandals, and through analysis I will provide context (not excuses) to show that this is the case.

In spite of the scandals, the Catholic Church has the answer to all of life's most urgent problems and challenges. In fact, the very fact that we are justifiably shocked and horrified by terrible deeds done by Catholics underscores what happens when Catholic moral teachings, for example, are ignored and contravened, especially by clergy, given the general perception that these men have in some sense been "called to a higher, stricter standard of behavior."

The Catholic Church's answer to the myriad of life's problems we all must face in some form or another is simply the gospel of Jesus Christ. It is the Catholic Church's response to the world's easy, glittery enticements to pursue a life of unfettered pleasure, power, and pride. These carnal enticements, the Holy Bible refers to as the "world, the flesh, and the devil":

[Y]ou were dead through the trespasses and sins in which you once walked, following the course of this world, following the prince of the power of the air, the spirit that is now at work in the sons of disobedience. Among these we all once lived in the passions of our flesh, following the desires of body and mind, and so we were by nature children of wrath, like the rest of mankind. (Eph. 2:1–3)

The Catholic Church speaks the words of the Lord Jesus Christ in response to the glitzy blandishments of the world:

And behold, one came up to him, saying, "Teacher, what good deed must I do, to have eternal life?" And he said to him, "Why do you ask me about what is good? One there is who is good. If you would enter life, keep the commandments." He said to him, "Which?" And Jesus said, "You shall not kill, You shall not commit adultery, You shall not steal, You shall not bear false witness, Honor your father and mother, and, You shall love your neighbor as yourself." The young man said to him, "All these I have observed; what do I still lack?" Jesus said to him, "If you would be perfect, go, sell what you possess and give to the poor, and you will have treasure in heaven; and come, follow me." When the young man heard this he went away sorrowful; for he had great possessions. And Jesus said to his disciples, "Truly, I say to you, it will be hard for a rich man to enter the kingdom of heaven. Again I tell you, it is easier for a camel to go through the eye of a needle than for a rich man to enter the kingdom of God." When the disciples heard this they were greatly astonished, saying, "Who then can be saved?" But Jesus looked at them and said to them, "With men this is impossible, but with God all things are possible." (Matt. 19:16–26)

Many times, I've imagined myself as that young man. How would I have responded to Jesus? What would I have done with my wealth? I know from experience, as I'm sure you do, how powerful the lure of worldly things and attitudes and appetites can be, and I look back, as I'm sure you do, with a certain measure of sorrow and regret for the times when I gave in to them.

The Catholic Church itself is the ark of salvation, because the head of the Church is Christ, not its sinful members. And there have always been and always will be times when it appears that he is asleep when the wind and waves of life toss the Church so violently that it seems it will founder and sink. "Teacher, do you not care if we perish?" his apostles asked him during a storm when he was asleep on a cushion (Mark 4:38). Christ arose and calmed the wind and the waves and then said to them, "Why are you so afraid? Have you no faith?"

I can say that I have faith in Christ and in his promises to be with the Church always, no matter what, no matter how bad some of the members of the Church may be. The measure by which one should rightly judge the Catholic Church, at least on historical grounds, cannot be reduced merely to a weighing up of the sum total of good and bad deeds performed by Catholics. After all, Jesus himself described the Church's circumstances as being situated in a "field of wheat and weeds":

The kingdom of heaven may be compared to a man who sowed good seed in his field; but while men were sleeping, his enemy came and sowed weeds among the wheat, and went away. So when the plants came up and bore grain, then the weeds appeared also. And the servants of the householder came and said to him, "Sir, did you not sow good seed in your field? How then has it weeds?" He said to them, "An enemy has done this." The servants said to him, "Then do you want us to go and gather them?" But he said, "No; lest in gathering the weeds you root up the wheat along with them. Let both grow together until the harvest; and at harvest time I will tell the reapers, Gather the weeds first and bind them in bundles to be burned, but gather the wheat into my barn." (Matt. 13:24–30)

Christ then explains the meaning of this parable:

Then he left the crowds and went into the house. And his disciples came to him, saying, "Explain to us the parable of the weeds of the field." He answered, "He who sows the good seed is the Son of man; the field is the world, and the good seed means the sons of the kingdom; the weeds are the sons of the evil one, and the enemy who sowed them is the devil; the harvest is the close of the age, and the reapers are angels. Just as the weeds are gathered and burned with fire, so will it be at the close of the age. The Son of man will send his angels, and they will gather out of his kingdom all causes of sin and all evildoers, and throw them into the furnace of fire; there men will weep and gnash their teeth. Then the righteous will shine like the sun in the kingdom of their Father. He who has ears, let him hear." (Matt. 13:36–43)

The uncomfortable and even confusing circumstances his Church would perennially find itself in could be likened to a "field of wheat and weeds," the field being the world and the wheat and weeds being analogous to good and bad Christians (i.e., those who are his genuine followers and those who simply have an outward appearance of fidelity to him). In other words, according to Christ's own will, the Church has always existed in a state of weeds among the wheat. One subtlety in this parable is that the weeds (tare, darnel) look nearly identical to wheat, making them practically indistinguishable from each other. In fact, as any wheat farmer will tell you, it is very difficult for the untrained eye to tell them apart, and it would therefore be quite easy to mistakenly tear up the good wheat along with the weeds. One other important little detail is that the head of the darnel weed stands straight up, not unlike stiff-necked Christians who are proud of their virtue (see the story of the Pharisee and the poor Publican in Luke 18:9–14 for a refresher on this), while the head of wheat droops slightly, reminiscent of true humility.

Why did Christ arrange things such that the Church would always be populated by great sinners as well as great saints and everyone in between? I don't know why, but this unlikely game plan has always been the case. Let's consider a few lowlights from the hit parade of scandals that snakes its way through the biblical narrative.

At the very beginning of human history, the diabolical Serpent slithered into Adam and Eve's pristine Garden. Rather than laugh and spurn his devilish wheedling, they fell for his lies, disobeyed God, and forfeited (for themselves and for the rest of us) eternal life and liberty, and found themselves naked and ashamed and stumbling in a now-confused pursuit of happiness (Gen. 3).



1. http://www.vatican.va/news_services/liturgy/2005/via_crucis/en/station_09.html.

2. Archbishop Sean Patrick O'Malley, 07/30/2003 homily text at his installation Mass, "To those victims . . . we beg forgiveness" (Boston Globe, http://www.boston.com/news/packages/omalley/stories/073103_text.htm).