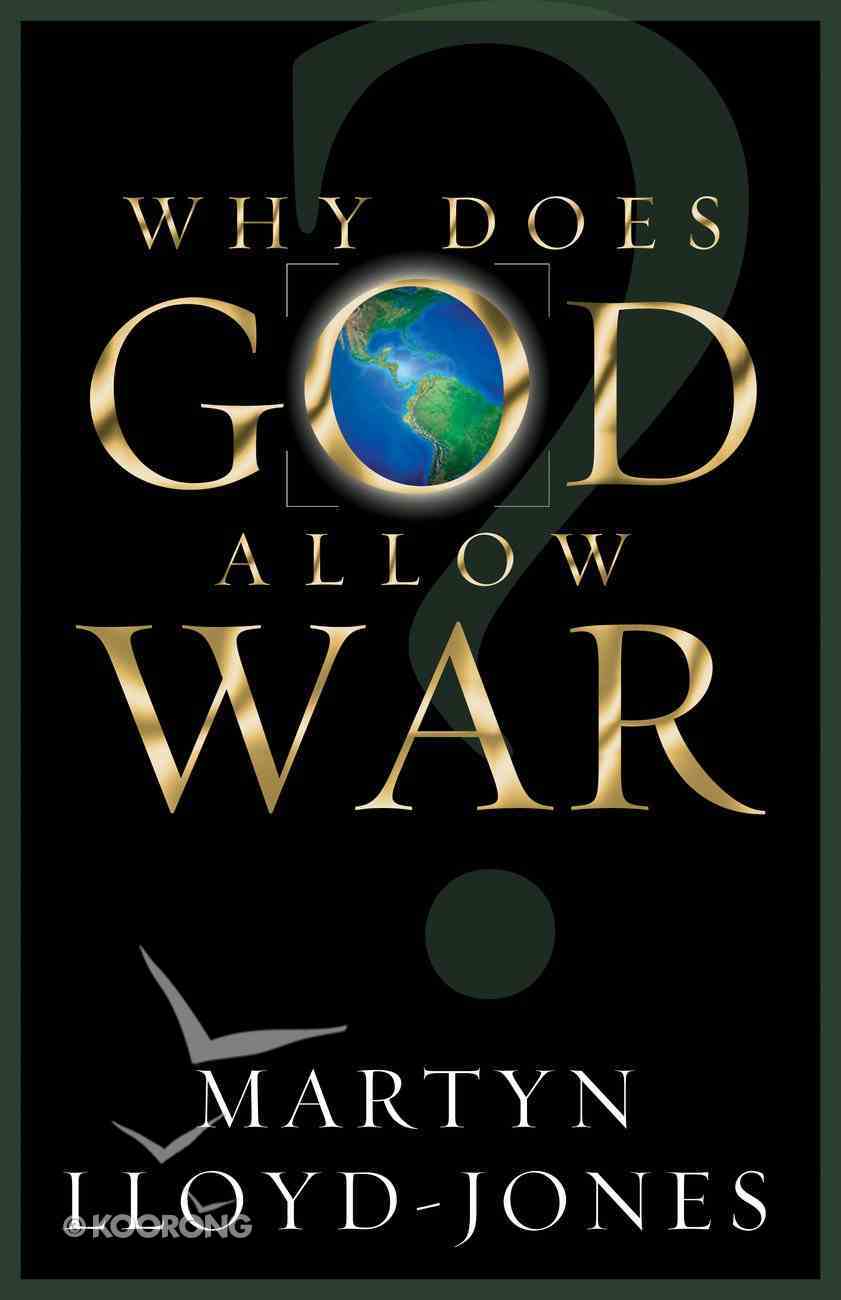 Why does God allow war? Confronted as we are today with the reality of war, there is a disturbing urgency to this question. This classic volume turns to the foundational truths of God's Word to answer not only the question...
Out of Stock
Available to Order
---
Expected to ship in 4 to 5 weeks from Australia.
---
Free Shipping
for orders over $99.
Why does God allow war? Confronted as we are today with the reality of war, there is a disturbing urgency to this question. This classic volume turns to the foundational truths of God's Word to answer not only the question of war but also the wider questions of human tragedy and suffering that every one of us will face at some point in life.

Does God care about the sin and suffering in the world today? Why doesn't he bring an end to war and violence?

When our lives seem shattered by personal tragedy, is there any answer? Is there any place to which we can turn to find hope and peace and true happiness whatever our circumstances?

The ringing affirmation of this book is that there is indeed an answer - an answer that is rooted in the reality of God himself, and in what he has done and will do for those who know and love him.

Dr. Lloyd-Jones wrote this book at the outbreak of the Second World War to a people on the brink of despair. It's message, however, is universal and remarkably relevant today as we seek to understand the crises of our own times. Yet readers will find that the truth it contains is a help for those in the midst of any tragedy, whether personal or national.

-Publisher
Unusual delivery!Now the birth of Jesus Christ was as follows: when His mother Mary had been betrothed to Joseph, before they came together she was found to be with child by the Holy Spirit. And Joseph her husband, being a righteous man and not wanting to disgrace her, planned to send her away secretly. But when he had considered this, behold, an angel of the Lord appeared to him in a dream, saying, "Joseph, son of David, do not be afraid to take Mary as your wife; for the Child who has been conceived in her is of the Holy Spirit. She will bear a Son; and you shall call His name Jesus, for He will save His people from their sins."And Joseph awoke from his sleep and did as the angel of the Lord commanded him, and took Mary as his wife, but kept her a virgin until she gave birth to a Son; and he called His name Jesus. bull; Matthew 1:18-21, 24-25In those days a decree went out from Caesar Augustus that all the world should be registered.... And all went to be registered, each to his own town. And Joseph also went up from Galilee, from the town of Nazareth, to Judea, to the city of David, which is called Bethlehem, because he was of the house and lineage of David, to be registered with Mary, his betrothed, who was with child. And while they were there, the time came for her to give birth. And she gave birth to her firstborn son and wrapped him in swaddling cloths and laid him in a manger, because there was no place for them in the inn.And in the same region there were shepherds out in the field, keeping watch over their flock by night. And an angel of the Lord appeared to them, and the glory of the Lord shone around them, and they were filled with fear. And the angel said to them, "Fear not, for behold, I bring you good news of a great joy that will be for all the people. For unto you is born this day in the city of David a Savior, who is Christ the Lord. And this will be a sign for you: you will find a baby wrapped in
-Publisher
PRODUCT DETAIL
Catalogue Code 

195477

Product Code 

1581344694

EAN 

9781581344691

Pages 

128

Department Academic
Category Classic
Sub-Category Martyn Lloyd-jones
Publisher Crossway
Publication Date 

Apr 2003

Dimensions 

215 x 139 x 9

mm

Weight 

0.156

kg
Born in Cardiff, Dr Martyn Lloyd-Jones (1899-1981) was a practicing physician until leaving medicine to become the minister of a Welsh Presbyterian Church.
Minister of Westminster Chapel and co-founder of both InterVarsity Fellowship and the Banner of Truth Trust, this brilliant Welshman was arguably the greatest evangelical preacher of the 20th century.


Best remembered for the power of his sermons in an age of spiritual decline and apathy, Dr Lloyd-Jones exercised his formidable intellect in the service of a thoroughly biblical faith, inspiring his contemporaries to think through the implications of their beliefs for both Church and world.


Dr Lloyd-Jones never tired of calling the Church to revival, to foundational doctrines and to a prayerful zeal for authentic apostolic experience. His rich legacy of recorded and published sermons continues to be used by God to transform lives today.