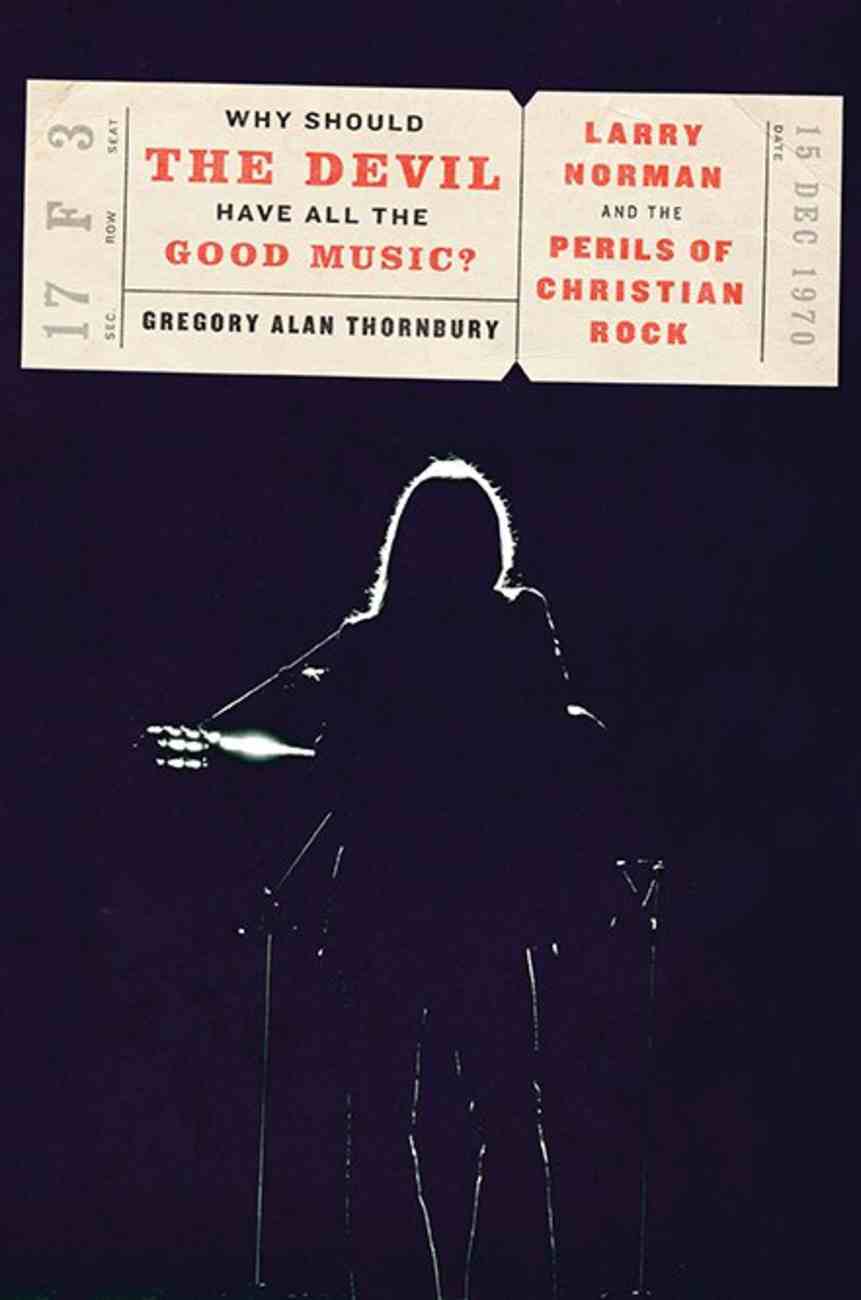 Why Should the Devil Have All the Good Music?
:The riveting, untold story of the "Father of Christian Rock" and the conflicts that launched a billion-dollar industry at the dawn of America's culture wars. In 1969, in Capitol Records' Hollywood studio, a blonde-haired troubadour named Larry Norman...
Out of Stock
Available to Order
---
Expected to ship in 4 to 5 weeks from Australia.
---
Free Shipping
for orders over $99.
:The riveting, untold story of the "Father of Christian Rock" and the conflicts that launched a billion-dollar industry at the dawn of America's culture wars.

In 1969, in Capitol Records' Hollywood studio, a blonde-haired troubadour named Larry Norman laid track for an album that would launch a new genre of music and one of the strangest, most interesting careers in modern rock. Having spent the bulk of the 1960s playing on bills with acts like the Who, Janis Joplin, and the Doors, Norman decided that he wanted to sing about the most countercultural subject of all: Jesus.

Billboard called Norman "the most important songwriter since Paul Simon," and his music would go on to inspire members of bands as diverse as U2, The Pixies, Guns 'N Roses, and more. To a young generation of Christians who wanted a way to be different in the American cultural scene, Larry was a godsend-spinning songs about one's eternal soul as deftly as he did ones critiquing consumerism, middle-class values, and the Vietnam War. To the religious establishment, however, he was a thorn in the side; and to secular music fans, he was an enigma, constantly offering up Jesus to problems they didn't think were problems. Paul McCartney himself once told Larry, "You could be famous if you'd just drop the God stuff," a statement that would foreshadow Norman's ultimate demise.

In Why Should the Devil Have all the Good Music?, Gregory Alan Thornbury draws on unparalleled access to Norman's personal papers and archives to narrate the conflicts that defined the singer's life, as he crisscrossed the developing fault lines between Evangelicals and mainstream American culture-friction that continues to this day. What emerges is a twisting, engrossing story about ambition, art, friendship, betrayal, and the turns one's life can take when you believe God is on your side.
-Publisher
PRODUCT DETAIL
Catalogue Code 

532186

Product Code 

9781101907078

ISBN 

110190707X

EAN 

9781101907078

Pages 

304

Department General Books
Category Biography
Sub-Category General
Publisher Convergent
Publication Date 

Mar 2018

Sales Rank 

66686

Dimensions 

241 x 161 x 26

mm

Weight 

0.566

kg
Thornbury is Instructor of Christian Studies at Union University in Jackson, Tennessee.
:1

Jesus Versus Superman

Larry's grandmother gave him a toy piano when he was two years old. He remembers noticing sounds and trying to reproduce them: "the wood crackling in the stove, the boiling of water, the dripping of the faucet. [I] was absorbed in the music that noise made."1

Kids at school teased Larry for singing for his classmates on the playground instead of playing sports. A sensitive youngster, he felt alien, and had a hard time seeing himself as a peer in the midst of other children. One day, in order to bolster his courage against a neighborhood bully nicknamed "Caesar," he took his mother's sewing machine and made for himself a Superman costume that he could secretly wear underneath his school clothes. According to Margaret, his mother, "He bought a piece of [blue] fabric, lay down on it, and traced his body onto the pattern."2 He was ten years old at the time, grasping for strength in his favorite television hero.

But heroes have a way of disappointing their followers' hopes. On June 16, 1959, a then twelve-year-old Larry woke up at his home just a block from Haight-Ashbury Street in San Francisco, ran down the stairs, greeted Mom, Dad, and little sisters, and downed his bowl of cereal. His usual morning routine included going out to deliver newspapers with his grandfather to the convalescing patients at Southern Pacific Hospital, but this particular day proved different. He picked up the morning edition—incredibly, a moment captured by the family's 8mm camera—and looked down at the headline: superman kills self.3

The article had to do with the mysterious death of George Reeves, who famously played "The Man of Steel" on the 1950s television series. But to a child, all of this seemed quite literal, begging the question: how can Superman die? Larry grew up ten inches from the family television set, and Superman was his favorite show—it was an invitation to believe in "truth, justice, and the American way." Margaret Norman recalled her son being devastated by the news: "He had to deliver every single paper that day" with Superman's reported suicide as the headline. But by the afternoon, Larry had rallied. He came down to the kitchen to announce to his parents and grandparents the good news. "I'm not Superman," he reassured them. "I'm Batman."

For the rest of his life, Larry Norman would, in fact, play the role of the vigilante pursuing his own notions of justice. In later interviews he would ascribe his productivity to a desire for balance. He wanted to force those who enjoyed a monopoly—be it on an idea, image, or place of grace—to share the space with others, especially if those "others" weren't exactly their kind of people.

In the meantime, he had to survive a misfit childhood. Another of Larry's lifelong obsessions began at the age of five, when, in his later recollection, he "accepted Jesus without benefit of clergy." For a boy who often felt alone both at school and at home, often lost in his thoughts and feelings, Jesus was a solution to loneliness. "My father worked all night at the [Southern Pacific] railroad," he remembered, "and during the day studied at a small college nearby hoping to pull us out of poverty. My mother stayed home with my two sisters and myself hoping to fill in the hole left by the absence of my father. . . . [So] I liked Jesus immediately."4 Larry felt the Son of God was the friend he never had, and consequently, "I didn't feel so alone after that, and I loved him."

As for the clergy in his life, they just got in the way, or couldn't appreciate the depth of his enthusiasm. He remembers being spanked for dancing in the aisles in his "hellfire and brimstone" Southern Baptist congregation—First Baptist in Corpus Christi, Texas. Was church the sort of place where Jesus would want to spend time? It did not seem that way to Larry, looking at the stern faces that populated his parents' church. "I felt that church was boring and the street-corner preachers were no more happy than the people they were preaching to."5

School was no haven either. Larry experienced intense boredom and loneliness in the classroom. He would take "alternative routes to school . . . ​a mile away," to avoid getting teased or hit. "They would stomp on my sandwiches, break my thermos, and knock my books into the gutter."6 He was also cheeky, once telling an elementary school teacher that if he ever needed arithmetic to complete his income taxes, he would hire an accountant. The teacher sent him to the principal's office for the rest of the afternoon.7

So unhappy was he with school, Larry faked illness to stay home to listen to the radio: Red Ryder, The Great Gildersleeve, Mystery Theatre, The Romance of Helen Trent, and others. He used whatever free time he had in the library and participating in whatever musical or theatrical productions would have him. In third grade, his teacher asked him to choose a story for the class play. He selected "The Tragic Story of Doctor Faustus." When Satan arrived to claim Faustus's soul, Larry fell backward, and his skull hit the riser—creating a terrible sound in the cavernous school gym. When another child rushed over to see if he was "okay," Larry hissed at him because the boy had broken character during this momentous scene.

Larry possessed a taste for the theatrical—to put it mildly. He came by it honestly, through both sides of his family. His maternal grandfather, the rumbustious Burl Stout, came from Irish stock and plied his trade as a vaudeville performer. Burl turned to the stage after being honorably discharged from the US Army during World War I, due to asthma, after serving in the European theater. "As an actor," remembered Larry, "he had 'trod the boards' all over America, performing on the same bills with the likes of Buster Keaton, Smith and Dale, and Bert Lahr."8 But once Hollywood movies became the main form of popular entertainment in America, vaudeville effectively died. Grandpa Burl and his wife, Lena, took up an itinerant life, moving from Missouri via covered wagon to the cold prairie of Minnesota, before finally settling in Nebraska, where Larry's mother, Margaret, was born in 1925. When President Franklin D. Roosevelt formed Subsistence Homesteading under the provisions of the New Deal in 1933, the Stouts made their way to Baxter County, Arkansas, where they settled—first in a tent, next in a shed, until they built a log cabin of their own.9

Larry's paternal side of the family was Native American (Choctaw and Pawnee). Their origin story was just as colorful as the Stouts': as a baby, Larry's great-great-grandfather was abandoned in a shoebox on a doorstep somewhere in Oklahoma, where a family named Norman took him in and raised him. The next male in the Norman line would grow up to be a circuit-riding evangelist, and the evangelist's son—Larry's grandfather Joseph—would settle in Corpus Christi, Texas, near the Gulf of Mexico, where he became the town barber, married a hearty, stout woman named Rubie Hendrex, and took to music. Soon, guitar and harmonica lessons would become part of growing up Norman.

Rubie gave birth to "Joe Billy," a rough-and-tumble boy. "As red and brown as Joseph Porter Norman was, Joe Billy contrasted it by being white-skinned and a 'towhead' with a shock of white hair," Larry wrote, describing his father. He "was a wild, territorial boy by nature, hunting and fishing and gambling for marbles, bottle caps and 'conkers' without much supervision—as though he was answerable to no one." Determined to flee the shame of his father's reputation as the town drunk, "Joe Billy" left Corpus Christi and joined the US Army Air Force (before it was its own independent branch of the military service) as a private first class. Shortly before his platoon was deployed, Joe injured his leg in a swimming accident, and therefore did not ship out with the rest of his band of brothers. The whole platoon died in battle at D-Day a few weeks later. While Joe was convalescing, his commanding officer noticed he was an excellent typist, and he was summarily assigned to the Communications Office, or as Joe said, he "flew desk" for the remainder of the war.

Meanwhile the Stouts had moved west to California to look for work in the shipyards. It was there that a young Margaret Stout met Joe, now stationed at the Santa Rosa Army Air Field, at a USO dance at the Rio Nido summer resort. That first night, Joe brought two other young women to the event and Margaret danced with two other guys. By the second night, however, Joe asked "Marge" to dance, and the two were smitten. They married on November 1, 1945, at the Seventh Avenue Presbyterian Church near Golden Gate Park—a congregation that would become a refuge for hippies and sexual minorities in the '60s and '70s. Joe was honorably discharged from the service in 1946, and the couple rented an apartment near Buena Vista Park. Thinking they could better afford Texas, they moved to Joe's hometown of Corpus Christi. Larry was born, their first child, in 1947. He would later write: "God, thank you that I got [to] be born. Even if it was in Texas."10

All across America, 1947 was a year of exploration, freedom, and ongoing testimony of resistance to the high tide of evil and tyranny seen in the war. Howard Hughes flew the massive Spruce Goose as a sign of America's explosion in innovation and industry. Jack Kerouac and his friends set out on their journey across America as free spirits, a trip immortalized a decade later with the publication of On the Road, the manifesto of the coming counterculture and the Beat Generation. Elsewhere, Jackson Pollock made the first of his drip paintings, and The Diary of Anne Frank was published, reminding the world of the courage it had summoned during the horrors of the Second World War.

Joe and Margaret were straightlaced and upstanding Americans. They didn't talk much about family ties to show business. As Larry would later tell interviewers, their experience of being "born again" led them to stop "competition dancing, going to the movies, drinking, and clubbing." Like many evangelicals, they channeled postwar, post-Hiroshima anxiety into what critic Harris Franklin Roll called "a new apocalypticism," meaning of primary concern was not merely when the world would end (soon, it was assumed) but also how one would fare in the brave new afterlife—or as the Rev. Billy Graham put it, "The only question is: Where will you spend eternity?" According to this ethos, it was dangerous to enjoy too much of the things this world had to offer; if indulgence didn't get you sick, diseased, or broke first, you would certainly go to hell.

After their brief stint in Texas, however, Joe and Marge's young family was pulled back to San Francisco. At first they moved in with Larry's grandmother Lena in Haight-Ashbury, but soon Joe's job as a schoolteacher afforded them their own place in Elgin Park, on a street between the Mission District and Hayes Valley, where a combination of working-class whites, immigrants, and minorities lived while trying to get a foothold in life economically and socially.11 Larry's cousin and best friend, Bryce, and cousin Tina lived with Larry and his sisters, Nancy (b. 1950) and Kristy Beth (b. 1951) for several years, forming a strong household dynamic for a young boy. Another move broke up this cozy circle, however, when Joe's decision to switch school districts led them to his next job, and their next home, in the quiet suburb of Pacifica.

Larry had two interests during this time—books and music. He expressed pride that the local librarian had allowed him to check out more than one book at a time. Winning a thirty-volume set of The Encyclopedia Britannica in a raffle he took, at the age of nine, as some kind of affirmation. With respect to music, he had to be sneakier. Larry got a major revelation when he found, tucked away in his closet, a ukulele that Joe had originally bought but never played. Upon discovering the instrument, Larry began sneaking into his parents' bedroom (a forbidden zone for the Norman children) and experimenting with sounds and melodies. Joe caught Larry with the ukulele one day—but instead of getting mad, he asked Larry to play him a song. When the young boy walked out of the room that day with the instrument tucked underneath his arm, he felt like a god.12

Despite such brief moments of encouragement, Larry would struggle with his relationship with his father. Larry felt that Joe never understood him on an emotional level. In an essay he wrote during his freshman—and only—year in college, Larry recalled an exemplary exchange between him and his father:

Our conversations are always incongruous. I will ask him a question on one level and he will answer it on another level. We realize that we're talking about the same thing, but we never understand the other's point of view.

For example, I will comment, "You know, people are so different," and he would retort, "That is true. You see, the origin of all races is endemic to the blood lines of three different people: Ham, Shem, and Japheth. As it is written in the Scriptures . . ."

"No, Dad," I interrupt. "What I mean is people are different from us. I don't fit in with the kids at school. I don't think like they do. None of them seem to care about self-improvement, or about other things that count for so much in life. And you don't fit in with your colleagues either. You are a complete ascetic, for one thing. You don't smoke or even drink."

"Son, every society, no matter how primitive, has had its form of alcoholic beverage, and I don't care to indulge in what they . . ."

"I think I hear Mom calling," I lie, well aware that he is about to enlarge on a theme of constant subculture similarities. I can't talk to my Dad. He knows all of the rules but none of the reasons. We're worlds apart.13

For Joe, the world was structured, built upon eternal law and principle. For Larry, the world was fueled by gray areas, intuitions, and analogies, prompting him to say to his more concrete sequential friends over the years: "Metaphors be with you."

Margaret, on the other hand, could do no wrong in Larry's sight. In 2002 she wrote down her memories of Larry's childhood, noting that he was "always a little helper. Even at the age of two he helped momma wash the dishes and taught his momma to sing on tune to 'Jesus Loves Me.' Finally, little Larry took over the job of washing the breakfast dishes. He had a much better way."14

Over time, Larry's personality evolved into a composite of both parents. Like his father, he was driven, righteous, intellectual, and somewhat aloof. Like his mother, he was a dreamer and a poet.