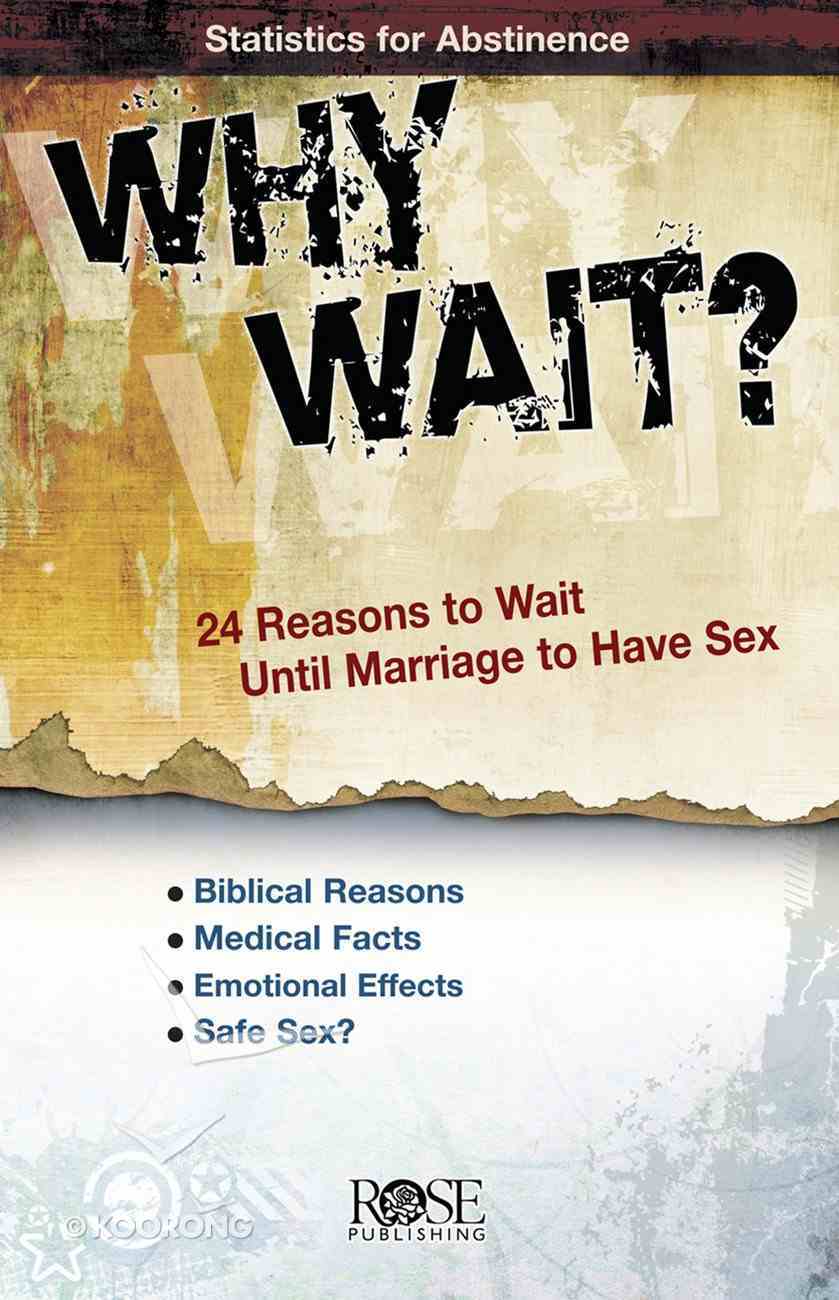 Why Wait? (Rose Guide Series)
Why Wait? is a best-selling abstinence education booklet for Christians. It discusses one of the biggest challenges among teens and singles: pre-marital sexual activity. This bestselling full-color ebook presents 24 reasons-12 biblical and 12 medical and emotional-to think twice...
Instant download
---
Expected to ship within 2 hours from Australia.
---
Read using our free app on your tablet or mobile!
---
Free Shipping
for orders over $99.


Why Wait? is a best-selling abstinence education booklet for Christians. It discusses one of the biggest challenges among teens and singles: pre-marital sexual activity. This bestselling full-color ebook presents 24 reasons-12 biblical and 12 medical and emotional-to think twice before risking health and happiness on sex outside of marriage.


Emphasizing God's plan for marriage and his prohibition of sex outside of marriage, the ebook presents sobering statistics on sexually transmitted diseases (STDs) and offers sensible information that helps people make an educated decision about their lives.

A Basic Abstinence Education Program for Churches, Sunday School Classes, and Youth Groups
Although many public school students receive sex education in school, Christians have a distinct view of the sacredness of sex that is usually not presented in a classroom setting. This Why Wait Pamphlet is a very basic abstinence education overview from a Christian stance that presents a Christian viewpoint on human sexuality in a simple 1-2 hour discussion. Many churches divide the students by gender to discuss these topics once a year, often in April or May, when public school address the issue, but it can be used any time.


The reality is that many students today have experienced sexual contact already. Some have been taken advantage of. Others were pressured or coerced. Some have simply been naive. This grace-filled pamphlet also helps those who want to be assured of God's constant love and good plan no matter what they have experienced. It is never too late to treat yourself with respect and expect others to do the same.


Abstinence Education from a Christian Point of View
Teens and single adults ask themselves, Why Wait? Why does God care if I have sex? Everyone else is doing it. In fact, these many people are often surprised to discover that God does have very good reasons for us to wait for sex until marriage. The pamphlet presents 12 of God's compelling reasons to wait, but also provides ideas for those who have not, as well as an encouraging section on "second-time virginity."

Abstinence Education: Medical Facts
The ebook also offers "Quick Facts from Medical Science." For instance-

Did you know that: STDs (sexually transmitted diseases) cost $8.4 billion each year to treat in the United States alone? Two-thirds of people with STDs are less than 25 years old? God's Design: Sacredness of Sexuality Within Marriage
God's design for sexuality limits it to marriage. While that view might seem extreme these days, his plan is a wise one, allowing time for true love and tenderness to grow and have its appropriate place in life. Sexuality can be misused and abused. It belongs to mature people who are committed to one another through marriage.

24 Reasons to Practice Abstinence Before Marriage 12 Biblical reasons to wait, with verses of Scripture that inspire and encourage 12 health and emotional reasons, including issues of pregnancy, STDs and personal regret Nine ideas for "keeping out of trouble," such as Group dating Staying away from places where "making out" is encouraged Biblical Reasons for Abstinence Before Marriage
3 Examples from the Why Wait Pamphlet

Having sex with a person creates a kind of "oneness" that God intended for marriage only (1 Cor. 6:16). This oneness is not just physical; it is emotional and spiritual, too. God created sensuality in a loving marriage to build intimacy and trust, and to bond the couple. To test the commitment of the other person. Some people promise marriage just to get sex, and then they back out of their commitment. Many people have sex with people they would never marry (Proverbs 5:3-12). The Bible says we should run away from sexually immoral situations (1 Cor. 6:18). When you feel yourself being tempted, get away! Health & Emotional Reasons for Abstinence Before Marriage
3 Examples from the Why Wait Pamphlet

To avoid death by fatal sexually transmitted diseases, such as AIDS, which cause more than 18,000 deaths annually. To increase your chance of a happy, lasting marriage. People who have sex before marriage and those who live with their partners before marriage have a greater chance of getting divorced. To maintain healthier dating relationships. Many couples have reported that having sex ruined their relationship. They stopped getting to know each other and focused on sex instead. Sources for the Medical Information in this Abstinence Education Booklet
All of the medical information on this pamphlet is from nationally known health organizations or researchers, such as the Centers for Disease Control, the Alan Guttmacher Institute, the National Institutes for Health, the Kaiser Family Foundations, and Johns Hopkins Medical School.




-Publisher
Bestsellers in Tracts/booklets