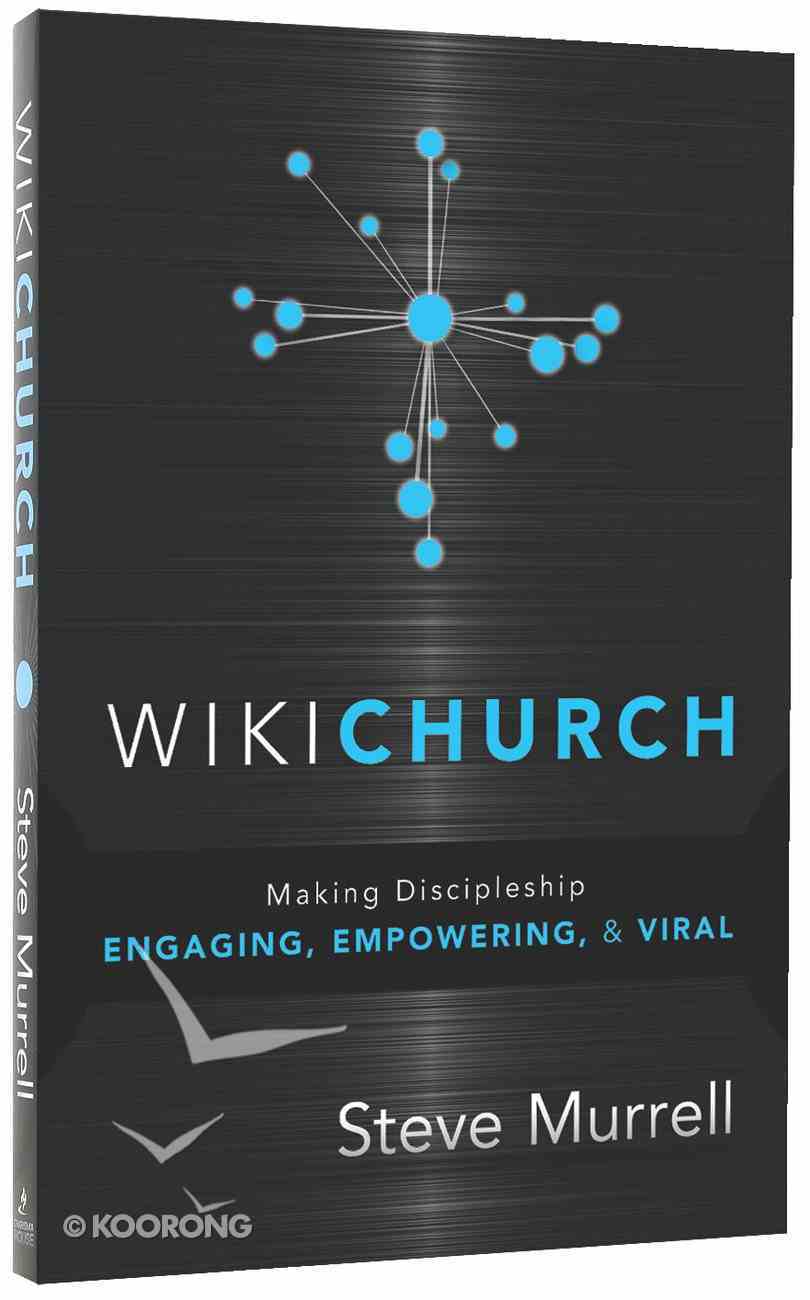 Most Christians agree that discipleship is important, even essential, for Christian maturity; few understand biblical principles and even fewer apply a biblical process when it comes to discipleship. Discipleship isn't complicated, but it can at times be difficult. The difficulty...
Out of Stock
Available to Order
---
Expected to ship March 2021.
---
Free Shipping
for orders over $99.
Most Christians agree that discipleship is important, even essential, for Christian maturity; few understand biblical principles and even fewer apply a biblical process when it comes to discipleship. Discipleship isn't complicated, but it can at times be difficult. The difficulty lies in applying the following four principles to your specific context. Simply put, here's how anyone - young or old, male or female, pastor or entrepreneur - can make disciples.

1. Engage culture and community - When Jesus told His original twelve to go and make disciples, they did not interpret His command to mean, "Find people who are already following Me and help them become better followers." They interpreted His "great commission" to mean that they should go and find people who were not yet followers and help them know and follow Jesus. The starting line of the disciple-making process must be evangelism that engages both our community and culture.

2. Establish spiritual foundations - If we want our disciples to survive the storms of life, we must help them establish strong biblical foundations.

3. Equip believers to minister - The biblical job description for professional ministers is to equip the "non-pros" for ministry, then get out of their way.

4. Empower disciples to make disciples - Jesus expected all of His original disciples to make disciples. He empowered them, knowing they would make mistakes. Because Jesus expects all His disciples to make disciples, we must not only equip them, but we must also empower them.


-Publisher
Steve Murrell is the senior pastor of Victory Metro in Manila, Philippines; a director of the Real Life Foundation; and the cofounder and president of Every Nation, a worldwide family of churches and ministries. Victory Metro Manila meets in thirteen different locations and has planted churches in forty other Philippine cities and a dozen nations. Real Life Foundation is a social and educational advocacy organization that exists to serve the poor and improve their lives through educational assistance, character development, and community service. Steve and his wife, Deborah, first went to the
<div><p>table Of Contents</p><p>foreword By Rice Broocks</p><p>introduction: Same Ole Boring Strokes</p><p>like The Successful Sports Coach, The Author Teaches Believers To Become Master Disciplers Who Never Stray From The Basics: Engage, Establish, Equip, Empower&hellip;same Ole Boring Strokes.</p><p>1 The Reluctant Leader</p><p>in This Chapter, The Author Tells The Story Of How He Became An Accidental Missionary In The Philippines. He Shares The Importance Of Two Important Lessons He Learned: Honor God, And Make Disciples.</p><p>2 One-armed Judo</p><p>illustrating With The Story Of A One-armed Boy Who Became A Judo Master, The Author Reveals Two Reasons: He Mastered One Of The Most Difficult Moves, And The Only Defense Against That Move Was To Grab The Opponent&rsquo;s Left Arm&mdash;which He Did Not Have. He Tells How He Became Committed To Mastering One Thing: A Simple, Biblical, Transferable Discipleship Process That Is Unstoppable And Indefensible, Even If You Are Missing Your Left Arm (anything That Seems Impossible To Overcome).</p><p>3 Hitting The Wrong Target</p><p>this Chapter Warns Against Aiming At The Wrong Targets Because You Have Wrongly Defined Discipleship. These Would At Times Include Doing Traditional Church Activities, Running The Latest Slick Programs, And Generally Doing Everything In The Name Of God Except Making Disciples. The Author Defines The Characteristics Of Discipleship That Works.</p><p>4 The Power Of Process</p><p>the Author Discusses The Principles And Process That Create A Healthy Discipleship Culture And Are Much More Important Than Materials, Models, Or Methods. Using His Own Experience To Illustrate, He Stresses The Importance Of Leading By Example, Recognizing That Nothing Works Without Commitment And Consistency, The Need To Integrate Everything Around Your Primary Objective, And Leading With Clarity And Definition.</p><p>5 Catchin&rsquo; Birds, Fishing For Men, And Astray Evangelism</p><p>in This Chapter We Learn The Power Of Authentic Friendship For Engaging Culture And Community. The Author Cites Examples From The Ministries Of Jesus And Paul And The Importance Of Leaving The Ninety-nine To Go After The One Lost Sheep. He Ends The Chapter With The Important Question: What Will It Take To Make Disciples In Your Community? Are You Willing To Go And Make Disciples, No Matter The Cost?</p><p>6 Good Facade; Bad Foundations</p><p>this Chapter Highlights The Pitfall Of Building On Sinking Sand. Building The Foundation Is The First Step. It Stresses The Need To Understand That Storms Are Inevitable, There Are Different Starting Points, And Foundations Must Be Established By Obedience To God&rsquo;s Word.</p><p>7 The Myth Of Maturity</p><p>this Chapter Reveals Three Discipleship Myths: 1) The Myth Of Mentoring&mdash;my Pastor&rsquo;s Job Is To Minister To Me; 2) The Myth Of Ministry&mdash;i Am Not Yet Ready To Be Used By God; And 3) The Myth Of Maturity&mdash;no One Should Minister Until They Are Mature. He Also Teaches The Three Discipleship Truths: 1) My Pastor&rsquo;s Job Is To Equip Me To Minister To Others; 2) God Is Ready To Use Me Now; And 3) Don&rsquo;t Wait Until You&rsquo;re Mature To Minister Because No One Will Mature Until They Minister.</p><p>8 The Man Of God Syndrome</p><p>this Chapter Introduces Jesus As The Most Empowering Leader Ever. It Explains The Man Of God Syndrome&mdash;the One Thing That Haunts And Hinders Much Of The Church In The Western World. Every Christian Leader Must Answer The Question: Am I Called To Build A Ministry Or Called To Make Disciples?</p><p>9 Leading With The Next Generation</p><p>this Chapter Talks About The Risky Business Of Empowering People. It Reveals Leadership Lessons From King Saul&mdash;ways Not To Be An Effective Leader. It Teaches The Top Five Lessons The Author Has Learned In Ministering To The Next Generation: Security, Respect, Humility, Unity, And Trust.</p><p>10. Making Disciples And Discipling Nations</p><p>using Examples From Recent History, This Chapter Shows How To Overcome Our Tendency To Make Disciples But Rarely Disciple Nations. It Ends With The Words Of Jesus: &ldquo;go And Make Disciples Of All Nations.&rdquo; It Motivates Readers To Learn The Principles In This Book, And Begin To Engage Our Communities, Establish Biblical Foundations, Equip Believers To Minister, And Empower Them To Make Disciples&mdash;thus Impacting The World For The Honor And Glory Of God.</p><p>afterword: His Last Command; Our First Priority</p><p>as We Move Forward, Remember: 1) Principles, Not Models, 2) Process, Not Events, 3) Culture, Not Methods, 4) Consistency, Not Creativity, And 5) Relationship, Not Programs.</p><p>&#160;</p></div>
Bestsellers in Spiritual Growth