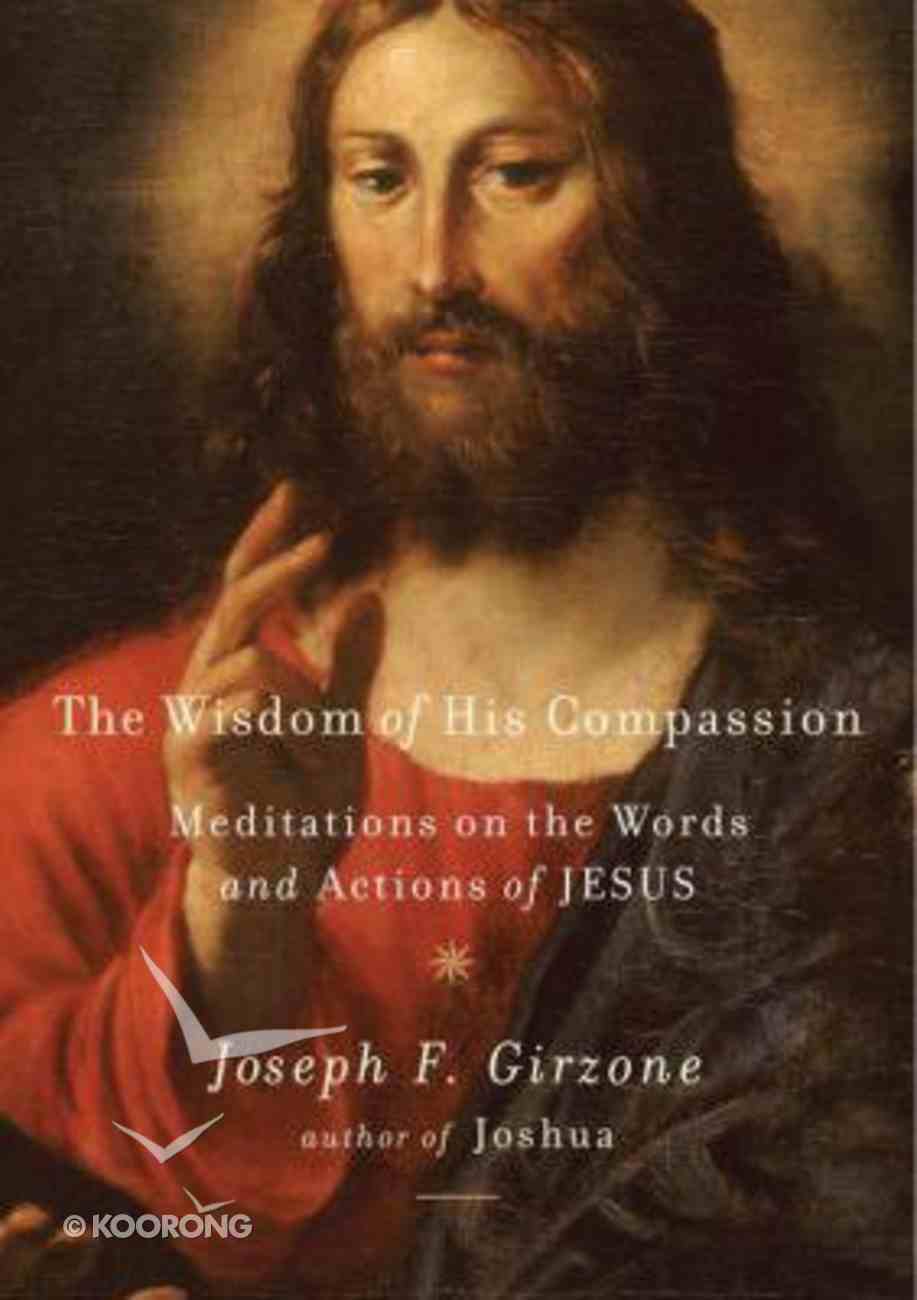 This beautiful set of meditations illuminates the many facets of Jesus' nature and offers a deeper understanding of His wisdom and his compassion for humanity. In The Wisdom of His Compassion , bestselling author Joseph Girzone reflects on the...
Unavailable. We are unsure when this item will be available to ship.
0 Available.
---
Free Shipping
for orders over $99.

This beautiful set of meditations illuminates the many facets of Jesus' nature and offers a deeper understanding of His wisdom and his compassion for humanity.

In The Wisdom of His Compassion, bestselling author Joseph Girzone reflects on the character and mind of Jesus in more than forty meditations. Each meditation is based on an episode related in the Gospel and focuses on a particular aspect of Jesus' life and its significance to contemporary Christians. Some of the meditations bring to life Jesus' humor, others His penetrating insights into human frailties. Together they create a portrait of a warm, compassionate divinity who relates to each person as an individual.
As he recounts and interprets the lessons of the Gospel, Girzone shows that compassion for our fellow human beings is the most profound expression of God's love and wisdom. His thoughtful, incisive meditations will help readers turn away from thoughts of retribution or punishment, and will inspire them to embrace God's message of help and healing.


-Publisher
Joseph Girzone retired from the active priesthood in 1981 and embarked on a second career as a writer and speaker. In 1995 he established the Joshua Foundation, an organization dedicated to making Jesus better known throughout the world. His bestselling books include Joshua; A Portrait of Jesus; Never Alone and most recently The Wisdom of His Compassion:Meditations on the Words and Actions of Jesus and Jesus. He lives in Altamont, New York.

The Annunciation:


A Visitor from Heaven





[The angel Gabriel] said to Mary, "Hail, full of grace. The Lord is with you." But she was greatly troubled and was trying to understand the meaning of such a greeting. And the angel said to her, "Do not be afraid, Mary, for you have found favor with God. And I tell you, you are to conceive in your womb and bear a son, and you are to name him Jesus. He will be great and will be called Son of the Most High. The Lord God will give him the throne of David his ancestor. He will rule over the House of Jacob forever and his kingdom will have no end." Mary said to the angel, "How can this be since I have no knowledge of a man?" The angel answered, "The Holy Spirit will come upon you, and the power of the Most High will cast his shadow around you. And the child will be holy and will be called Son of God. And I tell you further, your cousin Elizabeth, now in her old age, has conceived a son, and she who was considered barren is now in her sixth month, for nothing is impossible to God." Mary said, "Behold, I am the handmaid of the Lord. Let it be done to me according to your word." Lk 1:28-38





Cynical people will read this passage and either laugh at it or shrug it off as a mere mimicry of Greek or Roman mythology. If a person with faith who believes the story tells it to a person without faith, it is not hard to imagine the response. I wonder if Saint Luke, who was an educated Greek doctor, had any difficulty with the story when Jesus' mother first related it to him--and she is the only one who could have told him. It seems he accepted it and believed it sufficiently to make it part of his Gospel. The simplicity of Mary, as well as her humility, is impressive. The angel's prophecy about Mary's cousin Elizabeth is a stunning revelation. Elizabeth and her husband, Zachariah, lived over ninety miles away, and it seems there is no way Mary could have had any knowledge of Elizabeth's condition without the angel telling her the secret.


Mary's concern for her elderly cousin shows her humility. Her remarkable eagerness to go and offer help to someone in need demonstrates her willingness to serve others. A less humble person would have expected others to wait on her. But there is none of that in Mary. She is surprisingly self-effacing, and seemingly unaware of the honor that has been bestowed on her. Indeed, it was her humility that gave her the strength to live with the cruel cynicism of neighbors and even relatives who could in no way look upon Mary's predicament as an extraordinary blessing from God.


If cynics still think that the story is fabricated, they need only look at the later life of Mary's Child, and if they have an open mind Jesus' public life should dispel any doubt that God was mysteriously and powerfully involved from the very beginning in His life on this earth. No other being in the history of the human race could work the miracles and raise the dead, or equal in any way the sublimity of Jesus' whole existence here on earth, including His ideas, which far transcended anything ever taught in all of recorded history. Why should the beginning of His life here on earth be any less sublime, and how could it not be touched in an extraordinary way by God?


Saint Augustine, as did many of the Fathers of the Church, referred to Mary as the second Eve. God offered some very special gifts to our first parents, gifts that they were to have passed on to us. But Eve and Adam rejected God's offer and lost all the treasures we should have inherited. Because God has such respect for the free will He gave us, He does not demand things of us; He asks us. Love cannot be demanded. It must always be a free choice. So God sent a messenger to ask Mary if she would consent to become the mother of His divine Son. Saint Augustine, in commenting on this scene, said that at that moment the destiny of the human race hung in the balance. If Mary had said no, we might not have had a savior and might not have been saved.


There is a mystery here. God asks something special of each of us. He has special things planned for us if we are willing to cooperate with His love. We can say yes or no. He wants us to touch the lives of others, many others. If we respond to God's call the lives of many others will be deeply touched and changed in ways we could never imagine. If we say no, I would rather not think of what might follow. Adam and Eve said no and lost for their descendants the precious heritage God had planned. As for Mary, we all owe a great debt to her for having consented to bring to us our Savior. It is a shame that so many Christians choose to shun her. I wonder what her Son thinks of that. If my friends were to treat my mother that way, I would find it hard to consider them my friends.


The meeting between Mary and Elizabeth is fascinating to contemplate. Their relationship seemed most cordial. How closely related they were is not mentioned in the Gospels. The angel was aware that Mary knew Elizabeth and Zachariah, and that she would be impressed to find out that her cousin was pregnant--an interesting piece of gossip coming from an angel! Forgetting all about herself, Mary made preparations to go and spend time with her elderly cousin, knowing she would be needing help. From the joy and thrill of their seeing each other it is clear they were already very dear friends. When they hugged and their bodies touched, Elizabeth felt a powerful sensation in her womb. The baby did not just move. He "leapt," as if touched by God's Spirit, as the Scripture says, to recognize the presence of his Savior. And Elizabeth herself said under the inspiration of God, "Who am I that the mother of my Lord should come to visit me?" How profoundly moving to see the intimacy of God so powerfully present at that moment as these two saintly women embraced! Perhaps the angel also told Elizabeth about Mary or perhaps God revealed it at that moment. Whatever, under the inspiration of God, Elizabeth recognized that Mary's little embryo, only weeks old, was already the living Son of God.





Sorry, No Room





And Joseph also went up from Galilee, from the city of Nazareth, to Judea, to Bethlehem the city of David, because he was of the house and lineage of David to be enrolled with Mary, his wife, who was with child. And while they were there, she gave birth to her firstborn son and wrapped him in swaddling clothes and laid him in a manger, because there was no room for them in the inn._Lk 2:4-7





This is the famous census whose existence historians used to question until over fifty years ago a tablet was excavated that stated that a census was to be taken up all throughout the Roman province of Syria. Joseph and Mary traveled by caravan the ninety miles to their ancestral home. It can be presumed that there were still some relatives of Joseph's living in Bethlehem. There surely were relatives who had returned there to register for the census. Whatever the situation, Mary and Joseph were unfamiliar to any of them. One would expect that somebody with an ounce of human kindness would pity the poor young mother about to give birth. No one seemed to care. The manager of the caravansary, a stranger, was decent enough to realize that this open-air motel filled with animals and rough travelers was no place for a young mother to have her baby. He kindly suggested that there would be more privacy in a cave down on the hillside. There the couple could at least be alone and safe from the prying eyes of crude strangers.


And that was where the child was born, in a damp, chilly, and smelly cave. His crib was a feeding trough from which animals ate their grain and hay. The warm breath of the donkey may have provided a few degrees of warmth. His mother's embrace gave Him His real warmth and security. I got a brief hint of an infant's insecurity recently when I had hurt my back and the pain left me totally helpless. Being alone that one night I could feel how insecure and helpless a baby feels when separated from his mother, whose body provides warmth and food and security for nine months. Being away from his mother's womb and on his own is a terrible experience; he craves his mother's warmth and embrace yet can do nothing to obtain it. The feeling of being alone and disconnected can be terrifying. Childhood fears begin at that early age and have to be soothed away to help the infant to know security.


Fortunately, one of my sisters and her husband stayed with me the next night and for a number of nights until I could fend for myself. Just knowing that there was someone nearby was such a comforting feeling.


Even as an infant Jesus had His first experiences of the insecurity and helplessness we experience, the anxiety that goes along with being separated from one's mother's body, and for the first time being alone. It was His first experience of being human, His first experience of the fear humans sometimes feel. Some may doubt this, but when one of my brothers was being born he fought so hard not to be born that even the doctor was shocked that a baby could be so frightened at the prospect of leaving the security of his mother's womb.


Lying in the manger was the first time Jesus felt what it is like to be cold. What a shock, to learn what life is like for us. He would have many more shocking experiences so He could learn what it is that drives us to do the things we do, including the often strange and evil behavior we engage in. It was His own experiences that made it possible for Him to have compassion for us.


How long did the holy family stay in Bethlehem? It is not certain, but in the story of the Magi the Gospel mentions that when they came to pay respects to the newborn King, they found the family in a house, and not in a cave. Based on the information the Magi gave Herod, he ordered his soldiers to kill all the baby boys under two years old. The holy family could have been living there for a year or more. The trip back to Nazareth would have been a long way for a newly born child to travel, so an extended stay in Bethlehem makes sense.





Angels Appear to Social Outcasts





And in that region there were shepherds keeping watch over their flocks at night out in the field. An angel of the Lord appeared to them, and the glory of the Lord shone around them, and they were struck with fear. The angel said to them, "Do not be afraid. I bring you tidings of great joy for all the people, for to you is born this day in the city of David a Savior who is Christ the Lord. And this will be a sign for you: You will find a baby wrapped in swaddling clothes and lying in a manger." And suddenly there was with the angel a multitude of the heavenly host praising God and saying, "Glory to God in the highest and on earth peace to men of good will."


When the angels left, the shepherds said to one another, "Let us go over to Bethlehem and see this thing that has happened, which the Lord has made known to us." And they found Mary and Joseph and the baby lying in the manger. When they saw this they told everyone what had been told them concerning this child, and all who heard it wondered at what the shepherds told them.


But Mary kept all these things in her heart. The shepherds in the meantime returned, glorifying and praising God for all that they had heard and seen, just as it had been told them. Lk 2:8-19





Again there is no outside evidence of this occurrence other than the story as related by Mary to Luke when he was writing his Gospel. We believe it based on our acceptance of the honesty and integrity of Jesus' mother. If we cannot believe her, then no historian could ever be accepted as credible. Some Scripture commentators may debunk this story as concocted by the evangelists, but these commentators promote their theories without ever offering solid evidence that a particular Gospel story is not historically true. In time many of their theories are proven wrong. So, until someone comes up with evidence that a particular Gospel event did not occur, the Gospel story still stands.


Jesus' whole life was so intimately tied up with God in such extraordinary ways, and the power of God was so clearly evident throughout His life, why should anybody, much less a scholar of Scripture, be bothered by a simple story about His heavenly Father's announcing to simple shepherds the good news of His Son's birth?


Jesus would later thank His Father for having revealed to the simplest children what He had kept hidden from the proud and the clever. The story of angels announcing Christ's birth to simple shepherds--people who were outcasts from their religion because they lived lives among the animals, and thus were prevented from observing all the rules of their religion--is so much in keeping with the attitude Jesus was to manifest so often later in life. The story fits so perfectly into the spirit that Jesus was to portray during His later life as He cared for the sinners whom the scribes and Pharisees excommunicated from the temple.


The simple shepherds could not contain their joy but had to tell the whole neighborhood what they had just experienced. Their simplicity itself lends to the story's credibility. The story also shows the Father's preference for the poor, simple people whom Jesus also favored. It might seem more logical for God to announce the Messiah's coming to the religious leaders, since they had been prepared to recognize and accept the Son of God when He came. He knew they could not be trusted to believe the revelation, much less handle it as sacred, but these simple, unwashed shepherds He could trust, first of all to believe the message and then to handle the message with reverence and humility as they told the whole world around them.


That simple story of the shepherds coming to visit the Infant Savior is still one of the most moving scenes as we renew the Christmas celebration each year.