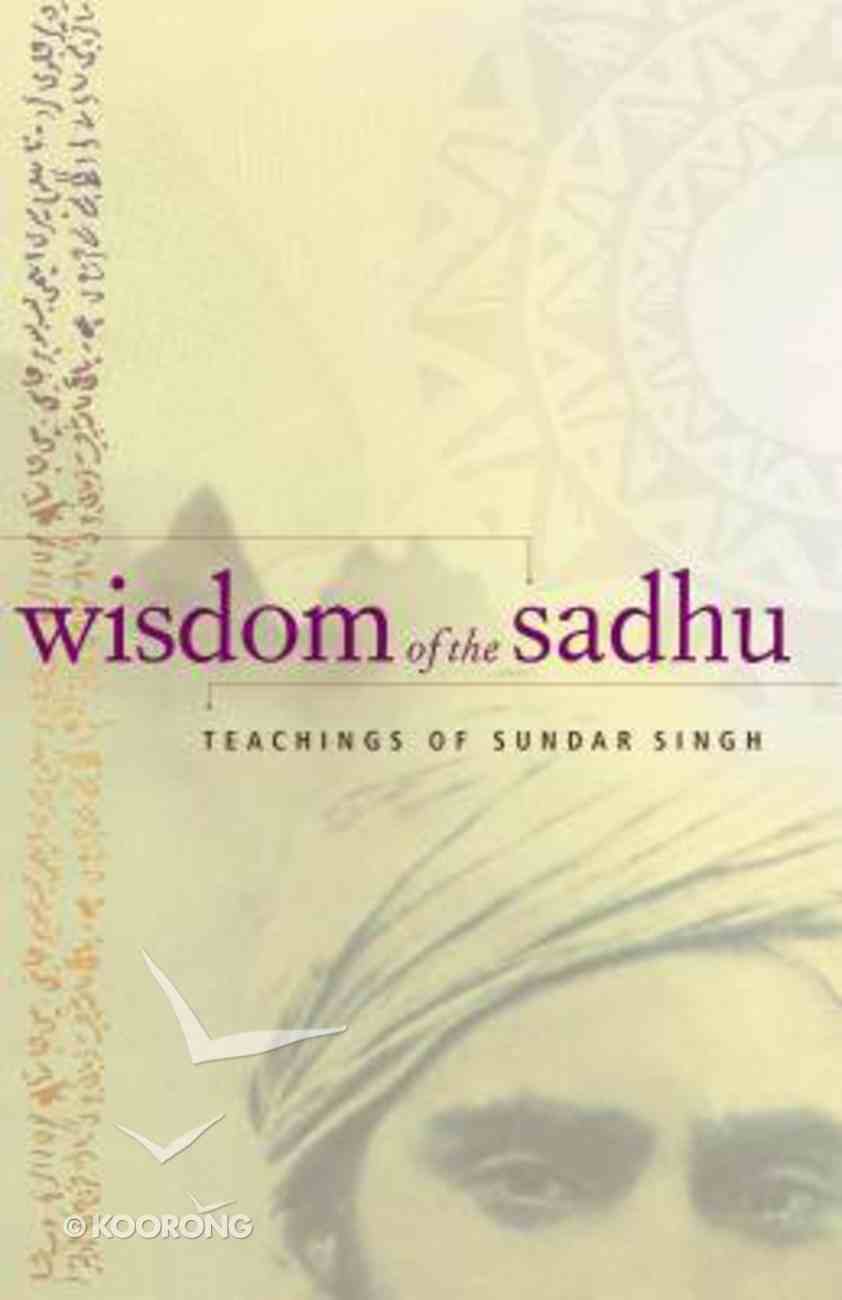 When Sundar Singh disappeared in the Himalayas in 1929, the world mourned. His 23-year pilgrimage as a sadhu had led him through at least 20 countries on four continents. He had profoundly influenced tens of thousands of people.;Though hugely popular...
Unavailable. Out of Print. Only available while stock lasts.
Out of Print
---
Free Shipping
for orders over $99.
When Sundar Singh disappeared in the Himalayas in 1929, the world mourned. His 23-year pilgrimage as a sadhu had led him through at least 20 countries on four continents. He had profoundly influenced tens of thousands of people.;Though hugely popular in India and Europe during his lifetime, Sundar Singh's writings have not been readily available to readers in the English-speaking world for decades. With Wisdom of the Sadhu, a collection of anecdotes, sayings, parables, and meditations, his spirit has been brought alive for a new generation. Couched as they are in a distinctly Indian idiom, his teachings probe the essence of the Gospels with unusual freshness and offer insights of great value.
-Publisher
218 Pages
-Publisher
One of the first Indian Christian teachers to receive worldwide attention in modern times, Sundar Singh (1889-1929) wandered throughout Tibet and the Indian subcontinent as a sadhu, a penniless pilgrim wearing the traditional saffron robe. His distinctly Indian dedication and simple explanations of spiritual truths completely severed the link between Christian faith and western culture - so bringing to life the teachings of Jesus for millions of Indians. Sundar Singh remains an unforgettable figure in the long tradition of religious pilgrims in India. Nearly every aspect of his life has become the stuff of legend for millions of people: his decision at age 16 to leave his wealthy home and live as a sadhu (beggar-saint), his intense bhakti (religious devotion), his miraculous experiences, his mystical encounters with Jesus, his simple yet profound parables, the peace that radiated almost tangiably from his presence. No one who met him was unaffected. The fruits of his spiritual life. The uncompromising intesity of his message is a challenge - or scandal - to those satisfied with conventional Christianity. In simple, readable prose, this brief anthology gives a tantalizing glimpse into the meditations and experiences of this man of God. His teachings are compiled and expressed in a language easily accessible to the modern reader. Interweaving Biographical and metaphysical, mystical and historical, the spirit of the gospel finds hands and feet in the life and words of Sadhu Sundar Singh.
-Publisher
Contentsto The Readeri. Scenesthe Hungry Birdsdharma * Devotionfive Holy Menmaya * Illusionthe Saintsanti * Peacethe Scholarjnana * Knowledgeii. Conversationsthe Pilgrimdarshana * The Divine Presenceavatara * Incarnationthe Loverskarma * Bondagemoksa * Releasethe Prince And The Thiefdyva Vileenam * Oneness With Goddhyanam * Contemplationthree Seekersseva * Servicetapas * Sufferingthe King And The Farmeramrita * Eternitya Warning To The Westseeker And Masterbackground And Contextsources
Bestsellers in Spiritual Growth