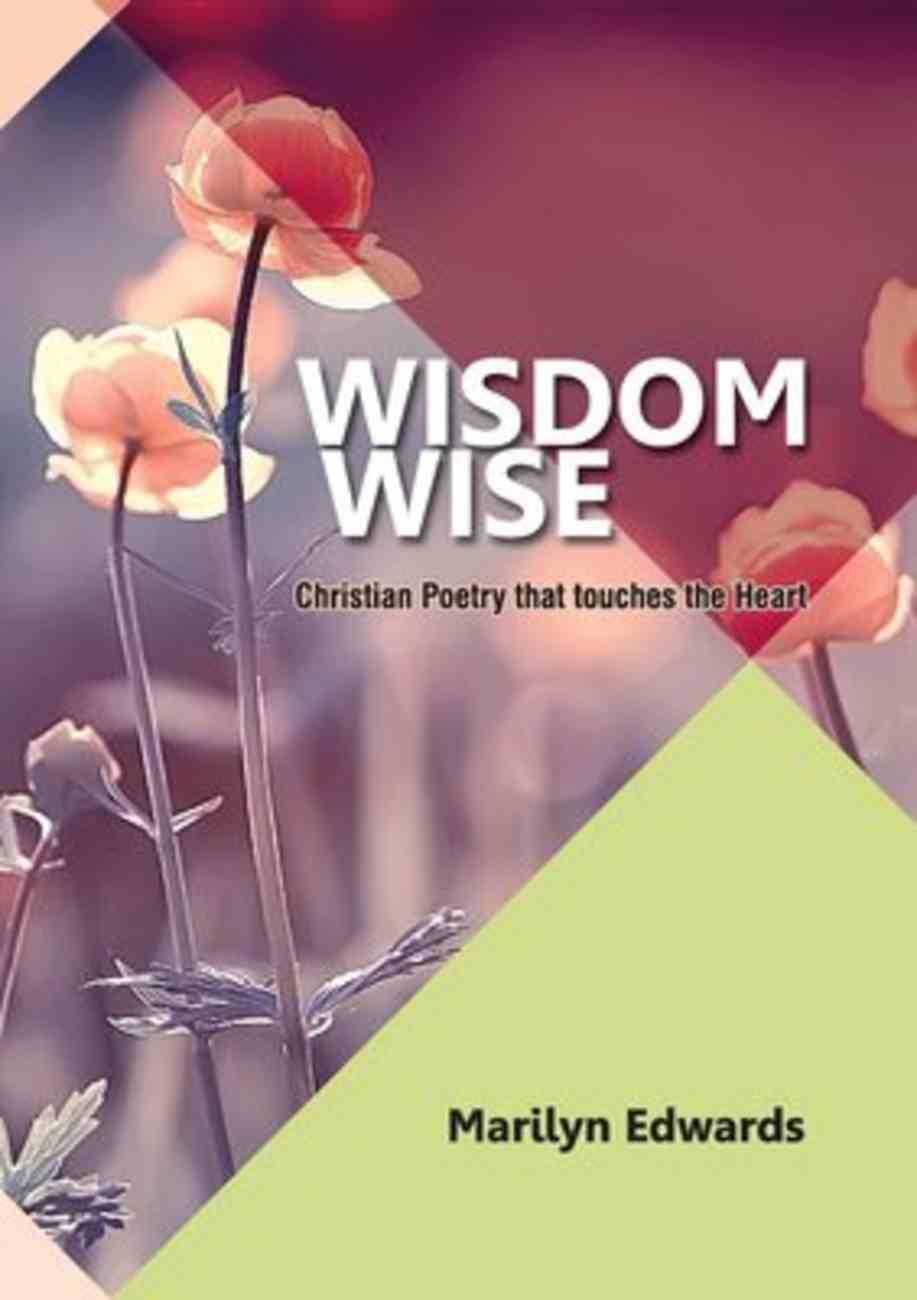 Wisdom Wise: Christian Poetry That Touches the Heart
"Wisdom Wise" is a series of different poems (eg. crucifixion of Jesus, challenges, brokenness, nature and wisdom) that I hope will inspire, empower and draw the reader to a place of connection and reflection.
Out of Stock
Available to Order
---
Expected to ship in 4 to 5 weeks from Australia.
---
Free Shipping
for orders over $99.

"Wisdom Wise" is a series of different poems (eg. crucifixion of Jesus, challenges, brokenness, nature and wisdom) that I hope will inspire, empower and draw the reader to a place of connection and reflection.


-Publisher
<p>chapter One<br />
&amp;bull;&amp;nbsp;&amp;nbsp; &amp;nbsp;why Did The Nation Rage?<br />
&amp;bull;&amp;nbsp;&amp;nbsp; &amp;nbsp;condemned To Die<br />
&amp;bull;&amp;nbsp;&amp;nbsp; &amp;nbsp;freedom<br />
&amp;bull;&amp;nbsp;&amp;nbsp; &amp;nbsp;risen King<br />
Chapter Two<br />
&amp;bull;&amp;nbsp;&amp;nbsp; &amp;nbsp;jehovah God Sees<br />
&amp;bull;&amp;nbsp;&amp;nbsp; &amp;nbsp;god&amp;rsquo;s Will<br />
&amp;bull;&amp;nbsp;&amp;nbsp; &amp;nbsp;return To Me<br />
&amp;bull;&amp;nbsp;&amp;nbsp; &amp;nbsp;unity<br />
Chapter Three<br />
&amp;bull;&amp;nbsp;&amp;nbsp; &amp;nbsp;where Are You Lord?<br />
&amp;bull;&amp;nbsp;&amp;nbsp; &amp;nbsp;hide Me Lord</p><p>chapter Four<br />
&amp;bull;&amp;nbsp;&amp;nbsp; &amp;nbsp;first Fruit<br />
Chapter Five<br />
&amp;bull;&amp;nbsp;&amp;nbsp; &amp;nbsp;dispose<br />
&amp;bull;&amp;nbsp;&amp;nbsp; &amp;nbsp;shadow<br />
&amp;bull;&amp;nbsp;&amp;nbsp; &amp;nbsp;jehovah God I Come<br />
&amp;bull;&amp;nbsp;&amp;nbsp; &amp;nbsp;next Level<br />
&amp;bull;&amp;nbsp;&amp;nbsp; &amp;nbsp;don&amp;rsquo;t Judge Christ By Me<br />
&amp;bull;&amp;nbsp;&amp;nbsp; &amp;nbsp;god&amp;rsquo;s Tabernacle<br />
Chapter Six<br />
&amp;bull;&amp;nbsp;&amp;nbsp; &amp;nbsp;i Hurt Like You<br />
&amp;bull;&amp;nbsp;&amp;nbsp; &amp;nbsp;what&amp;rsquo;s That I Hear<br />
&amp;bull;&amp;nbsp;&amp;nbsp; &amp;nbsp;testimonies<br />
Chapter Seven<br />
&amp;bull;&amp;nbsp;&amp;nbsp; &amp;nbsp;shh<br />
&amp;bull;&amp;nbsp;&amp;nbsp; &amp;nbsp;i Hear Riot<br />
&amp;bull;&amp;nbsp;&amp;nbsp; &amp;nbsp;it&amp;rsquo;s Loud<br />
&amp;bull;&amp;nbsp;&amp;nbsp; &amp;nbsp;stand Strong</p><p>chapter Eight<br />
&amp;bull;&amp;nbsp;&amp;nbsp; &amp;nbsp;god&amp;rsquo;s Word<br />
&amp;bull;&amp;nbsp;&amp;nbsp; &amp;nbsp;worship<br />
Chapter Nine<br />
&amp;bull;&amp;nbsp;&amp;nbsp; &amp;nbsp;listen<br />
&amp;bull;&amp;nbsp;&amp;nbsp; &amp;nbsp;atmospheric Posture<br />
&amp;bull;&amp;nbsp;&amp;nbsp; &amp;nbsp;the Sun<br />
Chapter Ten<br />
&amp;bull;&amp;nbsp;&amp;nbsp; &amp;nbsp;i Wisdom<br />
&amp;bull;&amp;nbsp;&amp;nbsp; &amp;nbsp;calling Wisdom<br />
&amp;bull;&amp;nbsp;&amp;nbsp; &amp;nbsp;wisdom Speaks<br />
&amp;bull;&amp;nbsp;&amp;nbsp; &amp;nbsp;wisdom Wise<br />
&amp;bull;&amp;nbsp;&amp;nbsp; &amp;nbsp;wisdom Here I Am<br />
&amp;nbsp;</p>
Bestsellers in Inspirational