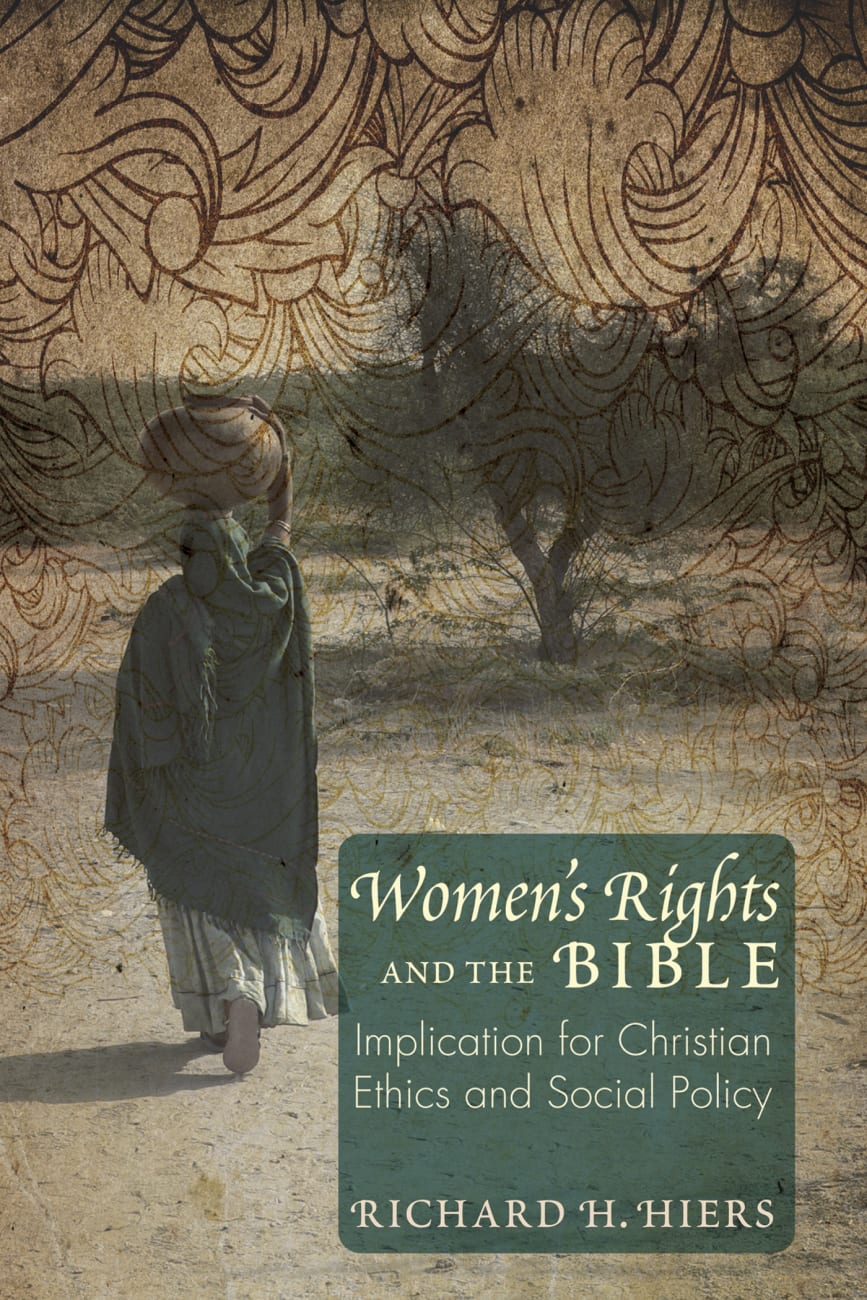 Women's Rights and the Bible
Synopsis: In this volume, Richard Hiers challenges the popular assumption that the Bible has a low view of women and that biblical law either ignores women or requires them to be subject and subservient to men. He does so
...
Out of Stock
Available to Order
---
Expected to ship in 5 to 6 weeks from Australia.
---
Free Shipping
for orders over $99.

Publisher Description


Synopsis: In this volume, Richard Hiers challenges the popular assumption that the Bible has a low view of women and that biblical law either ignores women or requires them to be subject and subservient to men. He does so by identifying and carefully examining hundreds of biblical texts and allowing them to speak for themselves. Among the findings: --that biblical tradition generally represents women positively, as strong and independent persons; --that no text represents wives as subject to their husbands and that no biblical law requires such subjection; --that biblical laws provide many protections for women's rights and interests--in several instances, rights equal to those enjoyed by men. The book focuses particularly on the Old Testament and Old Testament law, and argues that Old Testament laws and their underlying values provide important resources for Christian ethics and social policy today. Endorsements: "Richard Heirs has offered us a persuasive account of the view of women in the Bible, with special attention to the Old Testament. He focuses on the Old Testament because ... the Christian community ... has addressed this issue almost exclusively from a New Testament perspective. He argues that the overarching perspective of the biblical law is that women should be treated equally and fairly. His work is well researched, balanced, and integrative. This volume is timely, given the current discussion of women's rights." --Duncan Ferguson Retired Professor of Religious Studies, Eckerd College, St. Petersburg, Florida author, Exploring the Spirituality of the World Religions(2010) "Using a comprehensive catalogue of biblical evidence ..., Richard Hiers successfully demonstrates that women's role in Old Testament times was more powerful, and their legal rights more secure, than the common wisdom would suggest. Modern advocates for women's rights worldwide should find this text helpful in setting straight the historical record on legal protections for women." --Marie Failinger Editor-in-Chief, Journal of Law and Religion Professor of Law, Hamline University School of Law, St. Paul, Minnesota "Once again, Richard Hiers ... demonstrates the persisting pertinence of biblical writings--specifically the Old Testament--to our times. Drawing on specializations in both biblical studies and American law, he focuses on the precise status of women in these ancient texts. Granting exceptions, he finds the vast preponderance of the evidence portrays women as equal to men in cultural significance and legal standing. His sharp conclusion: we have yet in the modern age to meet that high standard." --Douglas Sturm Presidential Professor Emeritus of Religion and Political Science, Bucknell University, Lewisburg, Pennsylvania Former President, Society of Christian Ethics Author Biography: Richard Hiers is Professor of Religion, emeritus, and Affiliate Professor of Law, emeritus, at the University of Florida. He is the author of more than a dozen books including Justice and Compassion in Biblical Law.



Richard H. Hiers (Ph.D., Yale University and J.D. from the University of Florida in 1983., Professor of Religion, Emeritus, and Affiliate Professor of Law, Emeritus, University of Florida. He is the author of Justice and Compassion in Biblical Law

Koorong -Editorial Review.



Bestsellers in Christian Worldview