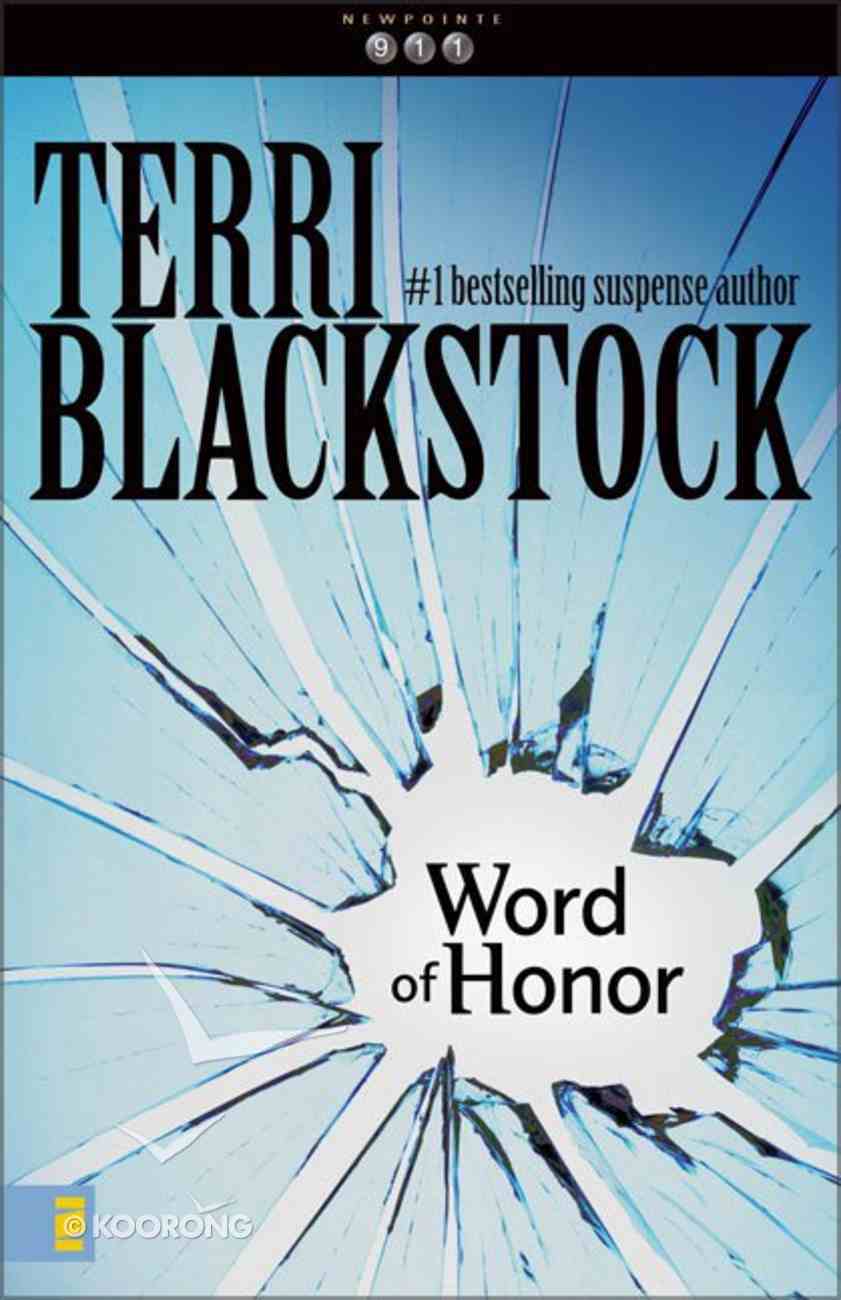 Word of Honor (#03 in Newporte 911 Series)
What will it cost to keep a promise? Of the four people at the Newpointe post office when the bomb went off, three were killed instantly. The fourth, a five-year-old boy, lies comatose in the hospital and might not survive....
Out of Stock
Available to Order
---
Expected to ship in 5 to 6 weeks from Australia.
---
Free Shipping
for orders over $99.
What will it cost to keep a promise? Of the four people at the Newpointe post office when the bomb went off, three were killed instantly. The fourth, a five-year-old boy, lies comatose in the hospital and might not survive. Who would do such a thing? The answer comes in the form of a gunman crashing through the door of the hotel room where Jill Clark is staying. With a rifle barrel pointed at her temple, the young attorney suddenly finds herself the hostage of a desperate man whose actions hardly fit his claim that he's innocent of the bombing. Only later, when the suspect is behind cars, does Jill wonder whether he's as guilty as he appears. Prompted by a terrifying attempt on her life, Jill and old flame Dan Nichols dig deeper into the case. But standing in their way lies an obstacle Jill hasn't counted on: the power of a covenant. It could change her life. Or, with the clock ticking, it could seal her death. Word of Honor it book three in the Newpointe 911 series by award-winning n
-Publisher
PRODUCT DETAIL
Catalogue Code 

138287

Product Code 

0310217598

EAN 

9780310217596

UPC 

025986217594

Pages 

368

Department General Books
Category Fiction
Sub-Category Suspense Mystery
Publisher Zondervan
Publication Date 

Sep 1999

Sales Rank 

29774

Dimensions 

213 x 138 x 24

mm

Weight 

0.353

kg
Terri Blackstock (www.terriblackstock.com), known for her Up All Night Fiction, has sold six million books worldwide. She is the bestselling, award-winning author of Last Light, Night Light, True Light and Dawn's Light of the Restoration Series, as well as the Sun Coast Chronicles, Second Chances, Newpointe 911, and Cape Refuge series.. Her most recent books include Intervention and Double-Minds
Koorong -Editorial Review.
The small, hot post office smelled of mold and dust and hummed with the sound of several air conditioning units placed in windows around the building. Cliff Bertrand, the Newpointe postmaster, held his hand in front of one of the vents, and realized it was blowing hot air. No wonder the building was so warm. He gave the side of it a bang with the heel of his hand, as if that would shock it into spitting out cold air. But he knew it wouldn't work. Sue Ellen will be whining all day, he thought. He looked over his shoulder at Sue Ellen Hanover, his postal clerk, who stood at the counter fanning herself as she waited on a customer. With a fake fingernail, she punched out the amount of postage that Mary Hampton's packages would need. 'You wouldn't know it was July,' she commented as she applied the sticky metered strips to the boxes. 'You'd think it was Christmas, what with all these packages.' 'Just some of Mama's stuff,' Mary said. 'She went to live with my brother over in Waco, so I'm shippin' her some of her things.' 'You two couldn't get along?' Sue Ellen asked sweetly. Mary looked offended. Cliff knew it did little good to scold her, but he gave it a shot, anyway. 'Sue Ellen, that was rude. Everybody knows her mama just went to help with her new grandbaby.' Sue Ellen shot him a look that said his intrusion wasn't appreciated. 'Cliff, you really need to fix that air conditioner. It's hot as blazes in here.' She fanned herself with a manila envelope and turned back to Mary. 'Yep, them babies always do outshine the older grandkids. Where's your youngun, anyways?' 'Out there.' Mary nodded through the glass doors at the child playing on the floor with a toy fire truck. 'Scrawny little thing,' Sue Ellen said, taking Mary's check. 'Can I see some ID, please?' Cliff shook his head at the absurdity of the request, since Sue Ellen knew Mary well enough to wag her tongue all over town every time the single mother stepped outside her house. He heard Sue Ellen tapping her fake fingernails on the counter, as if she had a million better things to do than wait for Mary to dig her driver's license out of her purse. Disgusted, he grabbed his keys and the refills for the stamp machine, and headed out to reload it. As he pushed through the door into the outer room, he saw Mary's sandy-haired five-year-old crawling along the wall, running his fire truck as fast as he could. He smiled, but the boy hardly noticed him. Cliff jangled his keys and opened the machine. Instantly, the boy was on his feet, peering into the machine as if glimpsing something sacred. 'Hey, there,' Cliff said. 'Hey.' The boy watched, fascinated, as he stacked the packages of stamps in the appropriate places. 'Can I do one?' Cliff grinned and handed him a stack. 'Put those right here.' Pete's eyes rounded, and he slid them carefully into their slot. 'Good job. What's your name, son?' Pete looked up at him. 'Peter Jacob Hampton.' Cliff held out his hand. 'Nice to meet you, Peter Jacob Hampton. I'm Clifford Wayne Bertrand. How do you do?' The little boy shook. 'D'you do this everyday?' 'Every single one, except weekends,' he said, closing the machine back. He looked down at the truck lying on the concrete floor. 'Nice truck you got there.' 'Thanks.' Pete fell back to his knees and began making an engine noise as he ran along the wall. Cliff chuckled and picked up his box. 'See you later, Pete.' 'Bye.' As Cliff pushed through the door in the back room, he glanced back and saw the child watching him with awe, as if wondering what treasures lay behind the mailboxes. Pete watched the door close behind the man, and decided on the spot that he was going to be a mailman when he grew up. That, and a fireman. He went back to pushing his truck. The door at the far end of the building opened, and Pete's attention shifted to the man coming in from outside. He was sweating hard and breathing fast, and carrying a box that looked like it held a big present. Pete stopped pushing the truck and sat up, trying to imagine what could be inside. The man stepped past him and set the box down against the wall, then started back to the door. 'That ain't where you put that, Mister,' Pete said. 'It goes over there.' He pointed to the slots in the wall. 'That's right where I want it, kid.' The man hesitated as he looked down at him. Pete noticed that the man was missing some fingers, and he bent some of his own to see how it felt. He started to ask him what had happened to them, but the man spoke first. 'Hey, you know, that truck sure would fly on that half wall outside. Why don't you go out there and try it?' Not waiting for an answer, the man pushed back through the door he'd come in. Pete watched through the glass doors as the man climbed into the passenger seat of the blue pickup. The driver pulled away. Quickly, Pete's attention moved from the blue pickup to the half wall he'd suggested outside the building. He glanced through the glass doors and saw his mother paying for their package. If he went outside, just this once, would he get in trouble? Deciding that the wall's incline was worth the trouble it would cost him, he pushed through the door and hurried to the wall. His throat made a rumbling sound as he set his truck on the wall and gave it a shove. He would never see it hit the bottom of the incline.