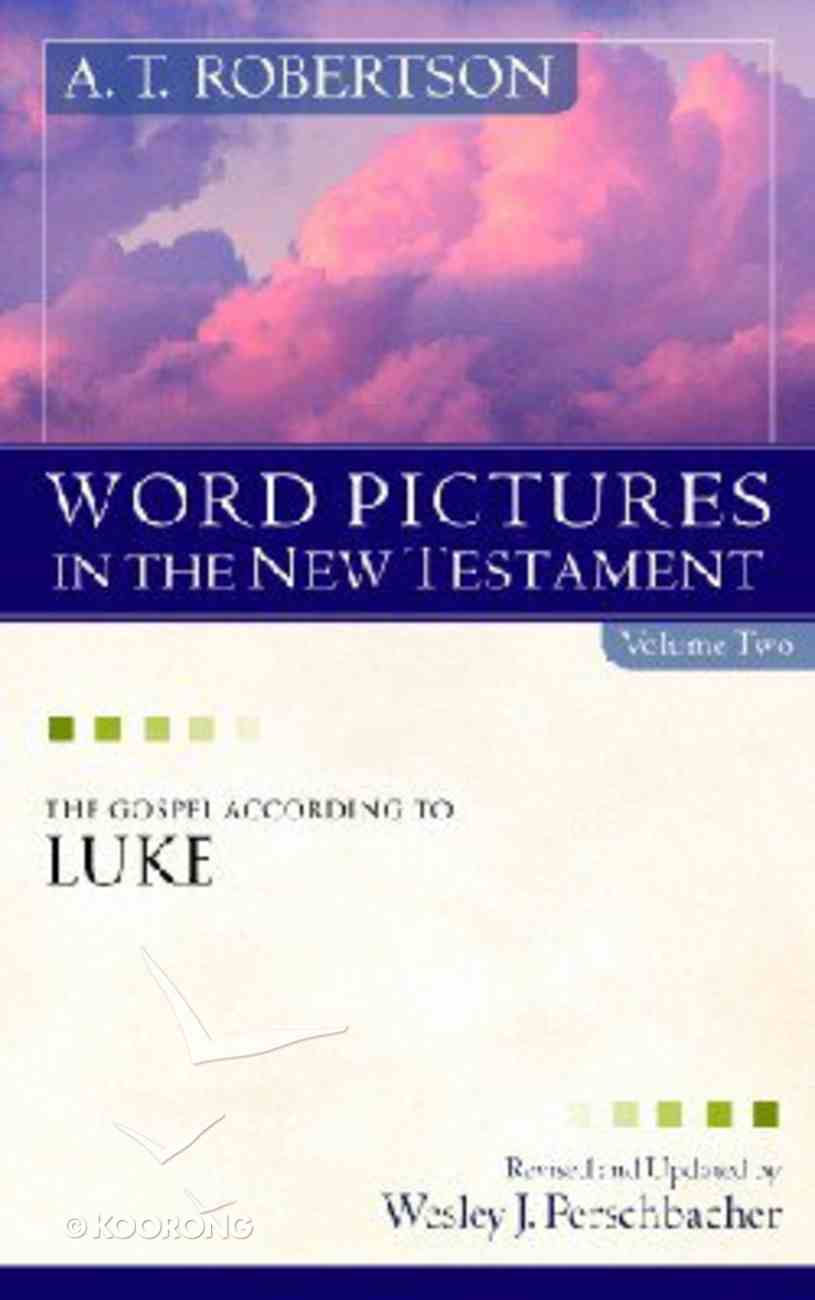 Word Pictures in the New Testament (Volume 2) (Word Pictures In The New Testament Series)
---
Free Shipping
for orders over $99.
320 Pages
-Publisher
A widely referenced, classic tool revised for a new generation of pastors and students of the Bible. A. T. Robertson's "Word Pictures in the New Testament" identifies connotations and pictorial nuances often lost in the translation of New Testament words. Perschbacher's update features a new page header system, true Greek instead of transliterated text, updated translations, minor textual note improvements, Americanized spellings, better footnotes, and Arabic numbers.
-Publisher
Archibald Thomas Robertson (November 6, 1863 - September 24, 1934) was an American biblical scholar born at Cherbury near Chatham, Va. He was educated at Wake Forest College and at the Southern Baptist Theological Seminary, Louisville, Ky. where he was thereafter instructor and professor of New Testament interpretation, and remained in that post until he died of a stroke in September 1934. In all, Robertson published 45 books, some of which are still consulted today, particularly his Word Pictures in the New Testament and his landmark volume A Grammar of the Greek New Testament in Light of Historical Research. Robertson helped found the Baptist World Alliance in 1900. He was an important Southern Baptist and a well-respected scholar in his day. Robertson sought to equip his students with the proper tools for good preaching.
Wesley Perschbacher (D.Min., M.A., Trinity Evangelical Divinity School) is author of Refresh Your Greek-Practical Helps for Reading the New Testament; New Testament Greek Syntax: An Illustrated Manual; and The New Analytical Greek Lexicon. He served as pastor and taught at Moody Bible Institute's Center for External Studies before retiring.
Bestsellers in Biblical Studies