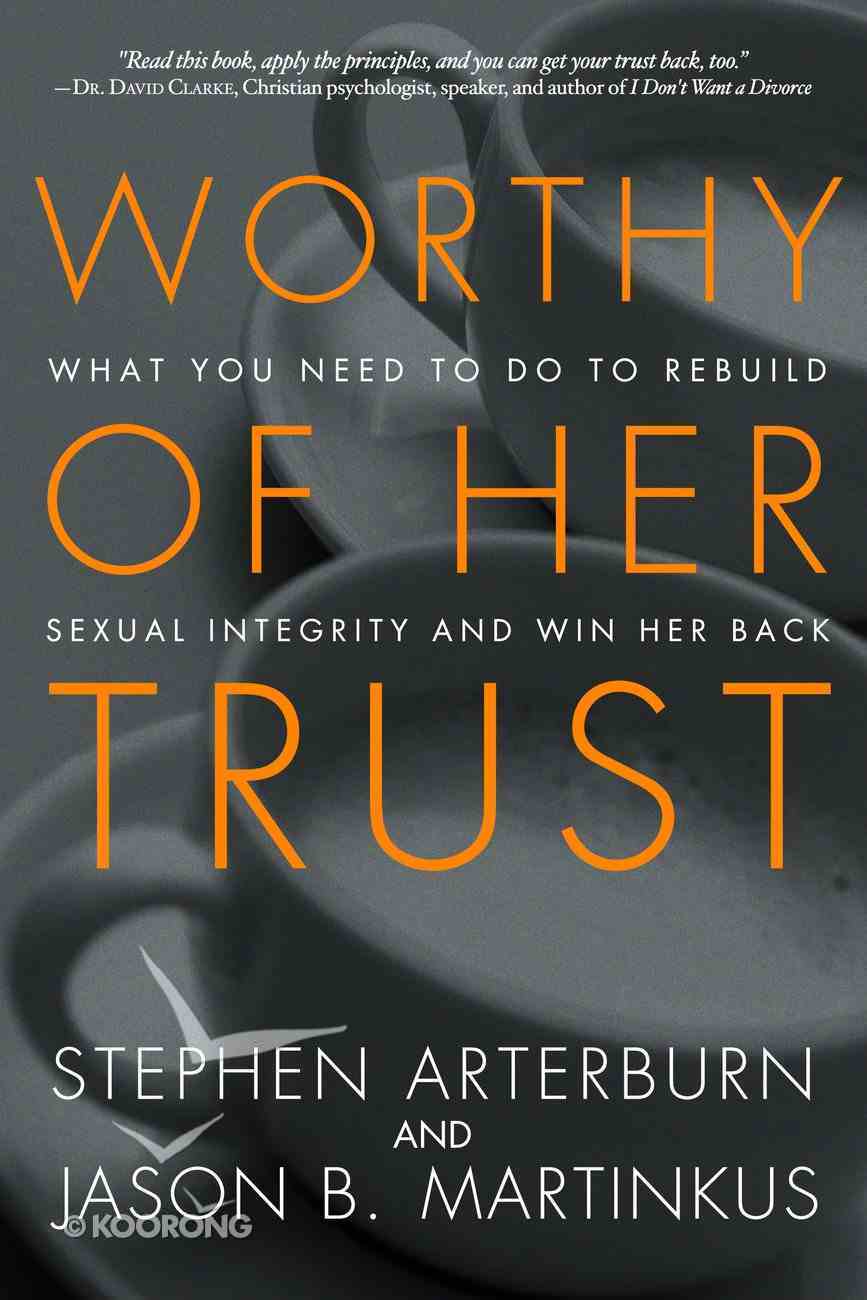 Pairing the wisdom of Martinkus's personal experience with biblical insights and real-world counseling advice from Arterburn, this book provides a unique perspective on what it takes to rebuild trust after sexual betrayal or pornography addiction. You'll learn how to establish...
---
Expected to ship on Monday from Australia.
---
Free Shipping
for orders over $99.
Pairing the wisdom of Martinkus's personal experience with biblical insights and real-world counseling advice from Arterburn, this book provides a unique perspective on what it takes to rebuild trust after sexual betrayal or pornography addiction. You'll learn how to establish transparency and accountability, demonstrate honesty and integrity, make meaningful restitution, and seek forgiveness.
:You Can Win Her Back

Few challenges in life are as difficult as regaining a wife's trust-and few are as ultimately worthwhile. Trust can be rebuilt in your marriage! With patient, loving, self-sacrificing effort, it's possible that one day your wife will risk her heart with you again. And she may even have more respect and love for you than before. .

In Worthy of Her Trust, Jason Martinkus relates how he repaired his own marriage after revelations of sexual addiction. Along with Stephen Arterburn, Jason offers exercises and tools rooted in counseling principles to help your marriage begin again. This comprehensive guide discusses:

· How to be truly and effectively transparent
· Combating the "he must not love me" myth and other untruths
· What to do about the Internet, office temptations, and travel
· Encouragement for wives who wonder if trust can ever be restored
· The "five-minute phone call" and other daily trust-building strategies
· What meaningful forgiveness and restitution look like
· The Amends Matrix-a concrete exercise to admit past wrongs and cast a vision for a faithful future

Including insights from Jason's wife, Shelley, Worthy of Her Trust guides you through the process of rebuilding your relationship so it is stronger than ever.
-Publisher
PRODUCT DETAIL
Catalogue Code 

389155

Product Code 

9781601425362

ISBN 

1601425368

EAN 

9781601425362

Pages 

224

Department General Books
Category Men
Sub-Category General
Publisher Waterbrook Press
Publication Date 

Aug 2014

Sales Rank 

8756

Dimensions 

227 x 152 x 14

mm

Weight 

0.240

kg
Jason B. Martinkus worked in the corporate world for years before becoming a national speaker for the Every Man's Battle Workshops and president of Redemptive Living, a Denver-based counseling ministry dedicated to helping men with sexual integrity issues. He has a master's degree in counseling from Denver Seminary.
Stephen Arterburn is the founder and chairman of New Life Ministries, America's largest faith-based broadcast, counselling, and treatment ministry, and is the host of New Life Live!- a daily radio program heard on more than 180 radio stations nationwide. He has been featured in publications such as The New York Times, USA Today, and TIME magazine. Arterburn is also the founder of the 'Women of Faith' conferences and has written over 60 books, including the best-selling Every Man's series.
He has been nominated for writing awards and has won three Gold Medallion awards. Arterburn is a well-known public speaker and in August 2000 was inducted into the National Speakers Association's Hall of Fame. He lives with his family in Laguna Beach, California. Some of his published works include Transformation, Finding Mr Right, Control what is controlling you, Boiling Point and NLT Every Man's Bible.
Koorong -Editorial Review.


:
1
"How Can I Ever Trust You Again?"
 
 
There is no response sufficient to answer the question posed above, no
response that quite matches the gravity of a question originating from a
place so deep within that it seems almost unanswerable.
 
What elements might the answer contain? Time? Space? Specific tasks?
Counseling? Prayer? Words? Actions? Only God?
 
The answer can feel beyond reach. And restoration may seem unattainable.
Unfortunately, amid the stress and hopeless feelings of a trustless relationship,
many men hit the Eject button. The odds appear so stacked against
them, they write off the relationship regardless of how many years have been
invested.
 
In my counseling office, many men tell me they feel so behind the eightball
when it comes to restoring trust that they don't see the point of even
trying. In these cases, divorce occurs prematurely. There is very little attempt
at restoration, much less the full investment of time and energy required for
such a venture. It is terribly sad, because truth be told, these men don't really
know if divorce has to be the final outcome.
 
In the shameful wake of their disclosure of a sexual failure (or, more
commonly, being found out), many men can't muster the courage to look
beyond the carnage of the present and glimpse the horizon of what could be
a hopeful future. If these men could only see that trust building is possible. If
only a man could see that someday his wife would risk her heart with him
again. Someday it would be possible that she'd have more respect and adoration
for him than ever before.
 
Building trust back in a relationship damaged by sexual integrity issues
is a culmination of all the aforementioned things—and then some. It is like
building a sculpture out of Legos. Some of the pieces include time, energy,
planning, vision, willingness, creativity, persistence, patience, intentionality,
hope, failure, and commitment. That's a lot of Legos!
 
Trust building is an ongoing process that consists of multiple intentional
factors divinely pieced together over the course of time with a heart attitude
of humility and commitment.
 
In reality, there is no formula for rebuilding trust. The process cannot be
precisely prescribed or predicted. Trust building happens when it happens.
What is required of the trust builder is to continue to faithfully place pieces
into the structure, not haphazardly, but methodically. Not carelessly, but
carefully.
 
My wife, Shelley, and I gave a talk at a MOPS (mothers of preschoolers)
group recently, and one of the women asked Shelley how she knew she could
trust me again. Shelley's response was simple yet incredibly complex. "I just
knew," she stated.
 
Not rocket science, huh!
 
To explain, she gave an example of one of our trust-building tools: the
five-minute phone call rule. This rule is a mutual agreement between us that
Shelley can call me at any time and expect me to answer the phone. Should
I not answer, I have a five-minute window in which to call her back. Beyond
that time frame, Shelley has the right to immediately think the worst and
assume I am again betraying God, her, and our relationship. Any work I've
done to that point to rebuild trust is in jeopardy—and she can feel that way
without apology.
 
The woman who asked the question looked puzzled. She didn't say anything,
but the look on her face revealed skepticism that it could be that simple.
She looked as if she wanted to say, "That's it? That's all you've got? A
five-minute phone call rule?"
 
Yes—but also no. Every phone call I get from Shelley gives me an opportunity
to place a Lego on our trust sculpture. Every time I pick up her call,
and she verifies my whereabouts, or every time I return her call within the
time window, a small element of trust is built.
 
Over time, combined with many other Lego-placement opportunities,
trust is gradually built and restored. Shelley began to "just know" that she
could trust me, because she could make out the essence and form of the trust
sculpture, which we saw as safe, secure, and verifiable.
 
She could sense it, see it, and experience it.
 
More than anything, though, what enabled Shelley to begin to trust me
was recognizing and accepting her source of security in someone other than
me. Shelley came to terms with the reality that she would be okay even if
everything in life weren't okay. In particular, even if I was not okay. Even if I
was not trustworthy and never placed another Lego on our relational work of
art, she would be okay.
 
Like Shelley, in order to change and engage the process of trust building,
I, too, needed to come to terms with the truth that God was ultimately the
change agent and healer. He is the true trust builder. He is the master architect
and artist shaping any sculpture. If both Shelley and I lean on him for
our journey of rebuilding our relationship, then neither of us must lean
against each other. Because, inevitably, one of us will tire and let the other
down. If we're leaning on each other for our ultimate source of strength and
comfort, we will disappoint each other.
 
Every time.
 
And that can lead to a deep sense of hopelessness that has only one outcome:
calling it quits.
 
This point cannot be overemphasized. If we are counting on our spouse
to ultimately fulfill, complete, and restore us, we will be perpetually disappointed.
We will long for the next relationship, which by chance might be
better, easier, more fulfilling, more exciting, or more secure. But probably
not. The wise King Solomon chased the next thing over and over again and
came up empty. He called this "chasing after the wind" (Ecclesiastes 2:11).
 
If a relationship is to be restored and trust reestablished, it requires the
master artist crafting the sculpture. We are simply responsible for placing the
Legos. I repeat this point because there is so much confusion about what
builds trust.
 
Speaking of confusion about what builds trust, our starting point must
be to clear up some of the confusion. We must deal with some common
misconceptions about trust building. Too often I find that people have a
misinformed idea of how and what builds trust. It's scary to me how often
I hear clients quote (sometimes unwittingly) a random television series line
or a celebrity's theory on relationships, especially as it pertains to sexual
integrity.
 
We're bombarded daily with messages about how fidelity in relationships
should work. These are sitcom snapshots of how forgiveness and trust should
look, and we are coached on how to respond to our spouse when things don't
go well. In the unreal entertainment world, any relational damage is quickly
patched up in an episode or two. If that's what you think, let me tell you
straight that real life and real healing are nothing like that.
 
Part of the motivation for writing this book is to give husbands and wives
a more accurate idea of what the process of healing trust looks like. It is long,
arduous, messy, absolutely not formulaic, sometimes comical, often depressing,
and always mysterious. It is a process of trial and error. Certainly there
are similarities in the way people experience the rebuilding of trust, but at the
end of the day, the process is your process.
 
As you embark on the journey of trust building, my hope is that this
book will help you with insights and tools. I want you to understand how
trust is built after it's been shattered by sexual integrity issues. I also want you
to have specific examples of how to employ these tools to maximize their effectiveness. What good are tools if you don't know how to use them?
 
In addition, there are two other features of this book that I hope you find
useful. At various points, you'll find reflection and encouragement from my
wife in sections labeled "Shelley's Thoughts." These sections are designed to
give you a different angle on what's required for effective trust building. I
urge you to carefully read Shelley's insights and allow her input to be a voice
representing your wife.
 
Finally, my coauthor, Stephen Arterburn—respected author, counselor,
and host of the radio program New Life Live—offers his wisdom on the topic
of rebuilding trust in a foreword, afterword, and a series of comments
throughout the text that are set off as "Insight from Stephen Arterburn." You
will find his thoughts both challenging and encouraging as you journey
through this book.
 
So let's dive in. But before we begin, I want to tell you the story of a man
who totally destroyed his wife's trust and then, by God's grace, slowly won it
back.
 
That man is me.