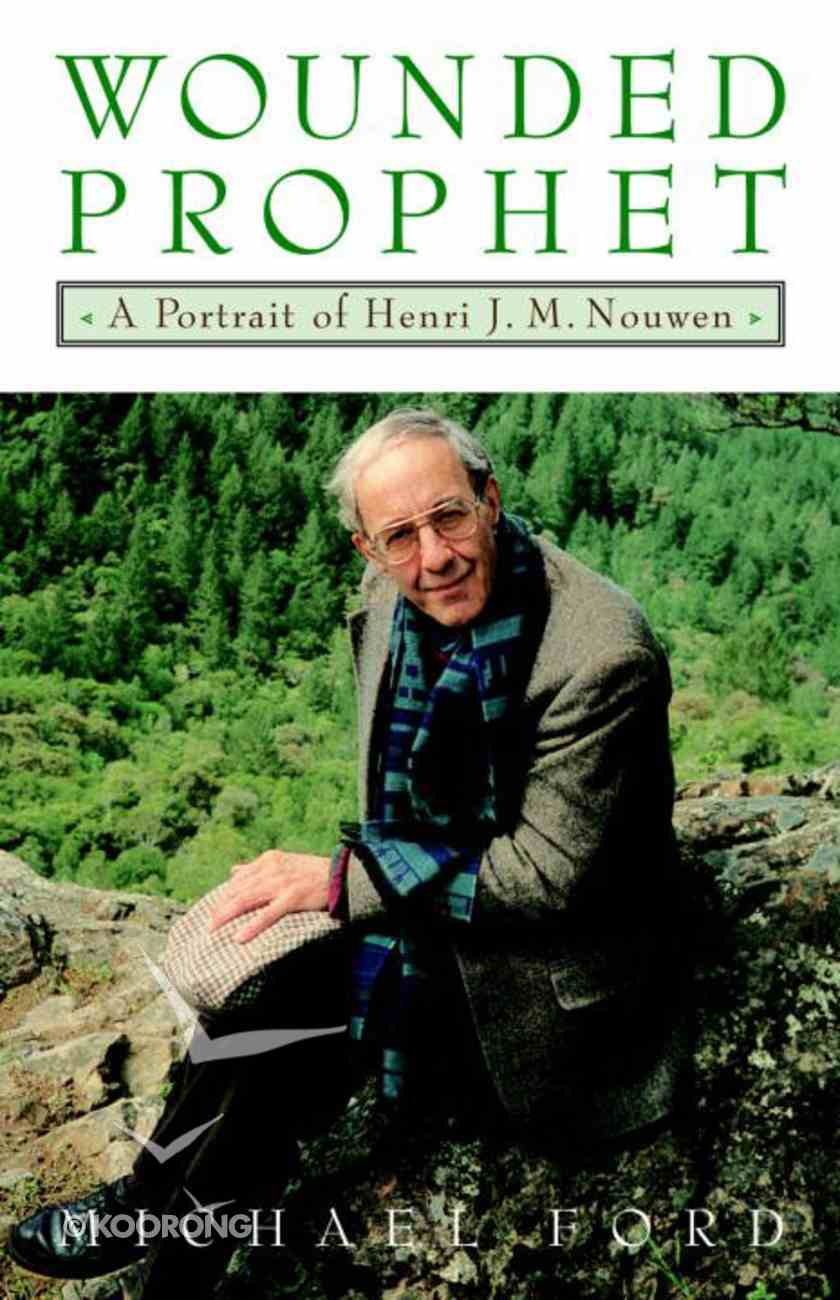 Henri Nouwen, a Dutch Roman Catholic priest, was one of the most beloved and important spiritual writers of the twentieth century. Since his death in 1996, his stature has only increased; and his books, including "The Inner Voice of Love,"...
Out of Stock
Available to Order
---
Expected to ship in 4 to 5 weeks from Australia.
---
Free Shipping
for orders over $99.
Henri Nouwen, a Dutch Roman Catholic priest, was one of the most beloved and important spiritual writers of the twentieth century. Since his death in 1996, his stature has only increased; and his books, including "The Inner Voice of Love," "The Wounded Healer," and "The Return of the Prodigal Son," ""have become cherished classics. For thousands of readers around the world, Nouwen's influence as a teacher and author is considered equal to, or greater than, that of the century's great spiritual writers, C. S. Lewis and Thomas Merton.
Although Nouwen could be radically revealing about his personal thoughts and struggles, there are nonetheless gaps in our understanding of who he was.
With" Wounded Prophet," readers are given the first extensive look into this man who touched so many, not only through his own words but, most powerfully, through the eyes of those around the world who knew Nouwen best. While researching this compelling biography, BBC producer Michael Ford conducted wide-ranging interviews with Nouwen's friends, colleagues, and family members. What he discovered was far more compelling than what he had imagined: Though Nouwen was indeed the generous and loving man many thought he was, he was also never able to find consistent peace in his own life. Tormenting him were profound feelings of anxiety, insecurity, and loneliness. This portrait gives an honest and well-balanced account of Nouwen's life that leaves no stone unturned, investigating his childhood, his family, his sexuality, and his life as a priest and member of the L'Arche Daybreak community in Toronto.
-Publisher
PRODUCT DETAIL
Catalogue Code 

395986

Product Code 

9780385493734

ISBN 

0385493738

EAN 

9780385493734

Pages 

264

Department General Books
Category Biography
Sub-Category General
Publisher Image
Publication Date 

Feb 2002

Sales Rank 

51407

Dimensions 

217 x 141 x 12

mm

Weight 

0.326

kg
Michael Ford is BBC journalist who reported on the aftermath of September 11th. A broadcaster specializing in religious affairs, he has recently completed a doctoral thesis in Christian spirituality.
:1

Mystical Path

HENRI NOUWEN was a priest whose identity was rooted in what he always referred to as "God's first love." Praying before the Blessed Sacrament every day, sometimes lying prostrate, he believed in theology's original meaning--union with God in prayer--and nothing would keep him from this encounter. Even if he had been awake all night, as he often was, compulsively telephoning friends around the world, offering as well as receiving support, he would still get up at six a.m. to say the divine office. When staying with his family in Holland, his brother would hear him pacing around the attic bedroom at dawn, following the Liturgy of the Hours before going off to Mass in a local church. But wherever his reveille with the Lord, it was rarely without its own chaotic chorus.

His primary need for prayer meant he was completely oblivious of more mundane things. He would dash to the bathroom wherever he was staying and shower without closing the curtain, soaking the whole place in water. Then without looking in the mirror he would shave as quickly as possible so he could get downstairs and be with God. As a result, he often ended up with a one-inch patch of old whiskers on his neck and fresh soap in an ear.

Nouwen was, in fact, a sensuous man whose massive hands, alive with nerve endings, were drawn to the smooth contours of aromatic soap as intensely as they were to the shiny gray rosary beads he always carried around in his pocket. During prayer he could become transfixed by the size and weight of the stones as well as by the distinctive sounds they made. In his room, often aglow with candles and icons, he would rub the beads over the surface of his hands as if they were braille and, with the same sensory touch when celebrating Mass, he would sometimes lift the glass chalice with one hand and caress its curvature with the other. Although rarely seen in his Roman collar, he loved to wear long, coarsely woven stoles made of soft pastel fabrics. As he walked around, the big, weighty tassels hit his legs and back, reminding him of his responsibility to the priesthood into which he had been ordained in Utrecht Cathedral in 1957 and to whose archdiocese he was ultimately answerable.

Contemplation was at the heart of everything for Henri Nouwen. It was a discipline of dwelling in the presence of God. Through fidelity in prayer, he could awaken himself to the God within him and let God enter into his heartbeat and his breathing, into his thoughts and emotions, into his hearing, seeing, touching, and tasting. Nouwen was convinced that Christian leaders need to reclaim the mystical so that every word they speak, each suggestion they make, and every strategy they develop will emerge from a heart that knows God intimately. He wrote:

I have the impression that many of the debates within the Church around such issues as the papacy, the ordination of women, the marriage of priests, homosexuality, birth control, abortion and euthanasia take place on a primarily moral level. On that level, different parties battle about right or wrong. But that battle is often removed from the experience of God's first love which lies at the base of all human relationships. Words like right-wing, reactionary, conservative, liberal, and left-wing are used to describe people's opinions, and many discussions then seem more like political battles for power than spiritual searches for the truth.

Through acts of devotion and adoration, Christian ministers had to learn to keep listening to the divine voice of love and find within it the wisdom and courage to address contemporary issues. Only then would it be possible for them to remain flexible without being relativistic, convinced without being rigid, willing to confront without being offensive, gentle and forgiving without being soft, true witnesses without being manipulators.

Such thinking underpinned the whole of Nouwen's theology and was never more evident than in his relationships with other people, especially in a sacramental context. Every Mass at the L'Arche Daybreak community in Toronto, where he spent the last ten years of his life, was an artistic event. He would involve children and adults, handicapped and able-bodied, asking them to act out what he was saying. No one was excluded and it had to be alive. "There was a kind of living artistic sensibility in Henri's way of being, in his way of structuring worship and in his way of celebrating," said his friend Carolyn Whitney-Brown, herself an artist. "L'Arche celebrates diversity and eccentricity, and that was one of Henri's fundamental beauties: his absolute delight in eccentricity, peculiarities and the uniqueness of people. He had very good eyes to see that, and for me that was a profoundly artistic sensibility."

But for Nouwen the practice of prayer was never easy. While many readers might have imagined their favorite author to have been a serene guru figure praying in a contemplative posture, they could not have been more mistaken: He could rarely sit still for long. When he was in prayer, he fidgeted, coughed, and moved but seemed to have no awareness he was doing it. His apparently restless prayer nurtured him. While his body was twitching, his spirit was elsewhere.

It was all the more surprising, then, that a man of such distracted temperament should have decided to accept an invitation to join the still world of the Quakers. The writer Parker Palmer has never forgotten the first time Nouwen turned up at a retreat center where the traditional gathering in silence was practiced for forty-five minutes every morning.

I was conscious of being in the company of a world-class contemplative and I was expecting to have an extraordinary experience sitting next to him during worship. But as we sat in this plain, unadorned room and settled into the silence, I realized that the bench was jiggling. I opened my eyes, glanced to my left, and saw Henri's leg working furiously. He was anxiously trying to settle but without much success. As time went on, the fidgeting got worse. I opened my eyes again, only to find him checking his watch to see what time it was.

This incident introduced Parker Palmer to a person of paradox who indeed had a profoundly contemplative heart but who needed to be constantly on the move, a man filled with immense energies that were difficult to harness. But did such tensions collaborate to form a certain kind of genius? As a spiritual author himself, Palmer believes that Nouwen's books were deeply engrossing and engaging precisely because they came out of this ongoing wrestling match between the paradoxes in his own life. He practiced what he preached--and he preached the struggles, sometimes the anguish, sometimes the joy, that he himself wasliving.

Wherever he was in the world, Nouwen celebrated Mass every day, in churches, chapels, or hotel suites. If he was staying with friends, he would ask them to join him for a celebration around the dining room table, usually at five p.m. He welcomed anyone, Catholic and non-Catholic alike, to receive the sacrament. He was sufficiently secure in his belief that the Eucharist was a gift to humanity that he was able to sit loosely to the official Roman position that only Catholics in full communion with the church should be allowed to receive. Nouwen was even prepared to give the sacrament to nonbaptized members of his own family--although, if they received regularly from him, he would suggest that they might like to think about joining the church officially; but he would neverinsist.

In the setting of L'Arche, where community members came from many traditions, Henri Nouwen was sensitive to the difficulties surrounding intercommunion. But in the context of small community gatherings, he was pastorally concerned for non-Catholics, who always found him welcoming if they wished to receive Holy Communion: People and their relationship with God mattered much more than strict adherence to ecclesiastical law. What was harder for him was getting to Mass on time. The congregation at Daybreak grew accustomed to their pastor rushing in at the eleventh hour--the art of genuflecting on the run became a liturgical gesture in itself--yet the impact of his eucharistic services was always profound and remembered long afterward.

His Masses were never divorced from the immediate needs and concerns of the particular community he was serving and were celebrated with reverence, passion, and joy. For Father Nouwen, the Eucharist, or thanksgiving, came from above. It was freely offered and therefore could be freely received. A eucharistic life was one lived with gratitude, and the celebration itself prompted "a crying out to God for mercy, to listen to the words of Jesus, to invite him into our home, to enter into communion with him and proclaim good news to the world; it opens the possibility of gradually letting go of our many resentments and choosing to be grateful."

At the Protestant-founded Yale Divinity School in the 1970s and early 1980s, the Catholic professor's daily Masses were packed every evening, seminarians squeezing into the octagonal basement chapel where the gray stone walls, wicker chairs, and icons gave a sense of prayer and intimacy. Michael Christensen, now assistant professor of spirituality at Drew University in New Jersey, was one of the many who attended. This evangelical student soon found himself entering a bewildering new liturgical world with Father Nouwen as a mentor.

Every day I would go to his Mass with the Catholics and the Protestants in that cave-of-the-heart room. On Monday nights I would join the group in his house, where we talked and chanted psalms, and I took one of his courses on contemplative spirituality every semester. When I graduated, Henri advised me to take a retreat in a Trappist monastery, so I went for thirty days as a monastic associate. I emerged from that month-long experience of spiritual direction with new and profound insights into my vocation. From that day, I have gone on a retreat once a year.

But whatever their religious backgrounds, Nouwen sensed that there was always a danger of Christian leaders becoming tempted by individual heroism and forgetting that ministry should always be a communal and mutual experience. Just as ministers should be steeped in contemplative prayer, so he believed they should always be willing to confess their own brokenness and ask for forgiveness from those to whom they ministered. He believed that the sacrament of confession should be a real encounter "in which the reconciling and healing presence of Jesus can be experienced."

Nouwen himself regularly made and heard confessions. Once, when staying at his father's house in Holland, Henri decided to go to a neighboring village to make his confession to a priest who had (Nouwen believed) a particular gift as a confessor. When he came out, Nouwen expressed not only relief and joy but also distress because he had apparently been the first priest in seven years to go to that man for confession. Here was somebody with a rare charism for helping people experience the mercy of God, and no one wanted it.

As a confessor himself, Nouwen had a special gift. Brother Christian of the Abbey of the Genesee in upstate New York, whom Nouwen got to know during his stays there, has vivid memories of making his confession to Father Nouwen on Holy Saturday, 1979.

I'll never forget it. His voice was low and he embraced my feelings. I walked out of there as if it was really something. It lasted forty-five minutes and it wasn't easy, but it was one of the greatest times that I ever made use of the sacrament of penance. He didn't do a lot of talking but it was a beautiful experience because he had the ability to put you at rest.

But what was so special about Nouwen's approach to spirituality, and how presumptuous is it to call him a mystic? Nouwen clearly had a great gift for articulating what was in his heart and felt that it would profit his fellow Christians if he shared his insights, much in the way that Julian of Norwich felt compelled to share her mystical experiences so as to edify and give pleasure to her fellow Christians. Henri was perhaps a mystic in the making. Some people described him as a "saint with wounds."

Nouwen saw the human heart as the center of being, a sacred space within all people "where God dwells and where we are invited to dwell with God." As the mind descended into the heart, through contemplative meditation (for example, by using the Jesus Prayer), so a person's core identity could progressively conform to the image of Christ. Through spiritual practice that person could enter into the heart of God. For Nouwen the heart was that place where humanity and divinity touched, the intersection of heaven and earth, where the finite heart of humanity was mystically unified with the infinite heart of God. Henri Nouwen tried to look at people and the world with the eyes of God, speaking and writing from the place of divine-human encounter. He called it speaking "from eternity into time." But to stay close to God meant being near the person of Jesus, to whom he was utterly devoted and whose spirit he saw most strikingly at work in the poor, the disadvantaged, and the marginalized. Real theological thinking was thinking with the mind of Christ, not engaging in what he termed pseudopsychology, pseudosociology, and pseudo-social work. Psychology, sociology, and much theology, he argued, asked questions "from below," shedding light only in one realm of reality. Real theology was theo-logia, the personal and prayerful study of God, which could access answers "from above," of the higher, deeper eternal realm. These positions were not literal, but were symbols of divine and human sources of wisdom and understanding. When Nouwen was in Rome experiencing many complicated issues as a priest, he sought advice from Mother Teresa of Calcutta, who was also visiting the city. After he had shared his anxieties with her for ten minutes, Mother Teresa said simply but profoundly, "Well, when you spend one hour a day adoring your Lord, and never do anything which you know is wrong . . . you will be fine!" Nouwen later explained that Mother Teresa had "punctured my big balloon of complex self-complaints and pointed me far beyond myself to the place of real healing." He had raised a question "from below" and she had given him an answer "from above." At first the response had not seemed to fit his question, but then he had begun to see that her answer had come from "God's place and not from the place of my complaints." This convinced Nouwen that most of the time people responded to questions from below with answers from below. The result was more questions and more answers, and often more confusion.