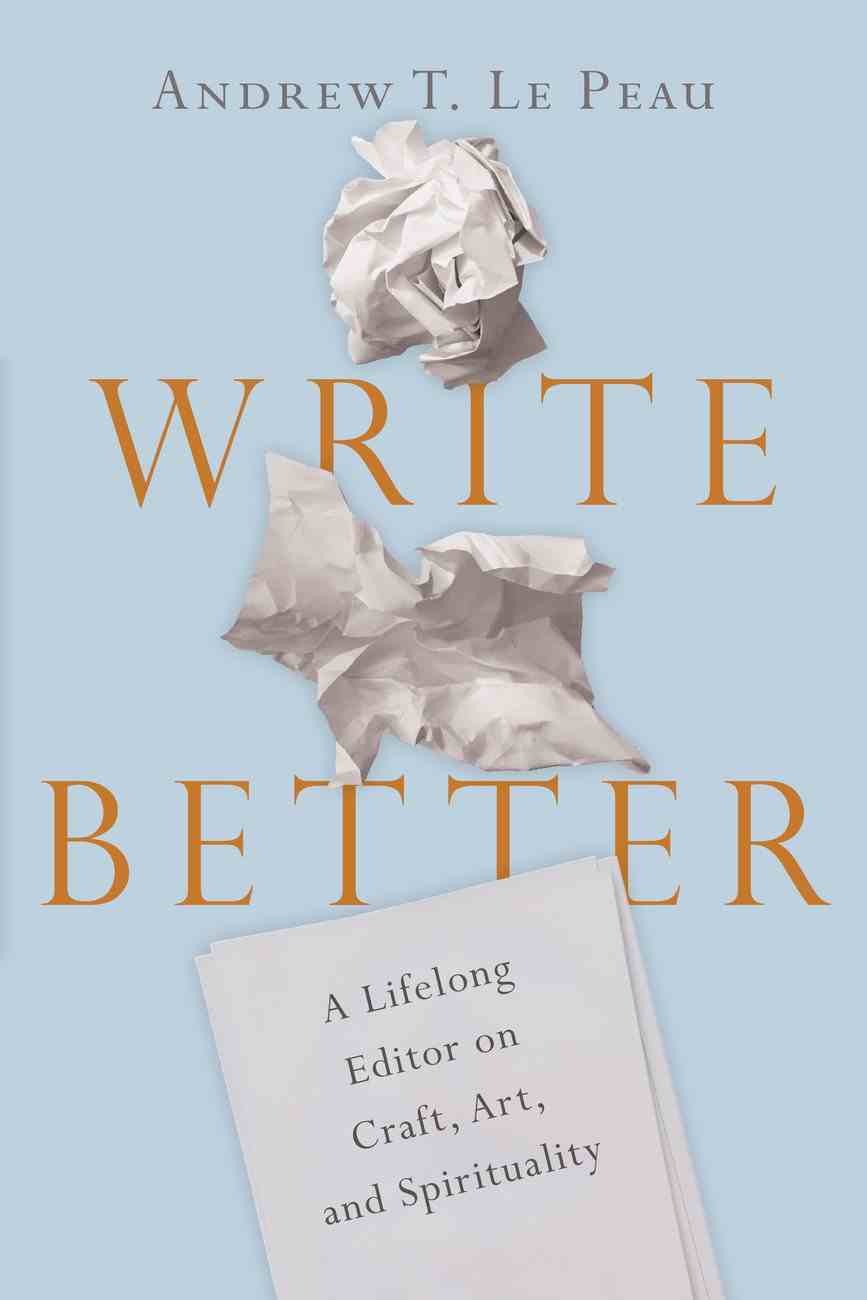 Write Better: A Lifelong Editor on Craft, Art, and Spirituality
:Writing is not easy. But it can get better. In this primer on nonfiction writing, Andrew Le Peau offers insights he has learned as a published author and an editor for over forty years, training, guiding, and cheering on...
---
Expected to ship tomorrow from Australia.
---
Free Shipping
for orders over $99.
:Writing is not easy. But it can get better. In this primer on nonfiction writing, Andrew Le Peau offers insights he has learned as a published author and an editor for over forty years, training, guiding, and cheering on hundreds of writers. Here are skills that writers can master-from finding strong openings and closings, to focusing on an audience, to creating a clear structure, to crafting a persuasive message. With wide-ranging examples from fiction and nonfiction, Le Peau also demystifies aspects of art in writing such as creativity, tone, and metaphor. He considers strategies that can move writers toward fresher, more vital, and perhaps more beautiful expressions of the human condition. One aspect of writing that rarely receives attention is who we are as writers and how writing itself changes us. Self-doubt, fear of criticism, downsides of success, questions of authority, and finding our voice are all a part of the exploration of our spirituality as writers found in these pages. Discover how the act of writing can affect our life in God. Whether you're a veteran writer, an occasional practitioner, a publishing professional, or a student just starting to explore such skills, Le Peau's wit and wisdom can speed you on your way.
-Publisher
Andrew T. Le Peau is editorial director of InterVarsity PresAndrew T. Le Peau is editorial director of InterVarsity Press where he has worked since 1975. Before that he was a campus where he has worked since 1975. Before that he was a campus staff member for InterVarsity Christian Fellowship (IVCF),s staff member for InterVarsity Christian Fellowship (IVCF), serving in the St. Louis area. He is the coauthor of severa serving in the St. Louis area. He is the coauthor of several Bible study guides includingJames and Ephesians in the Lifl Bible study guides includingJames and Ephesians in the LifC
:preface
<strong>part I: The Craft Of Writing</strong>
1. Finding An Opening
2. Knowing Your Audience
3. Giving Structure
4. The Character Of Persuasion
5. The Craft Of Persuasion
6. Creating Dramatic Nonfiction
7. Cracking Our Writer&#x2019;s Block
8. The Nuts, Bolts, Hammers, And Saws Of Good Rewriting
9. We Remember Endings First
10. Titles That Work
<strong>part Ii: The Art Of Writing</strong>
11. Creativity, The Mysterious Muse
12. Breaking The Rules
13. The Key To Powerful Prose&#x2014;tone
14. For The Love Of Metaphor
15. Less Is More
<strong>part Iii: The Spirituality Of Writing</strong>
16. Called To Write
17. The Quest For Voice
18. The Spirituality Of Writing About Yourself
19. Spiritual Authority And Writing
20. The Courage To Create And Let Go
21. Stewards With A Message
Appendix A: Get Thee To A Platform
Appendix B: Editors And Agents Do Make Cowards Of Us All
Appendix C: The Coauthor Doth Protest Too Much, Methinks
Appendix D: To Self-publish Or Not To Self-publish
Appendix E: The Copyright&#x2019;s The Thing
Online Resources From Andrew T. Le Peau
Recommended Reading
Notes
Index