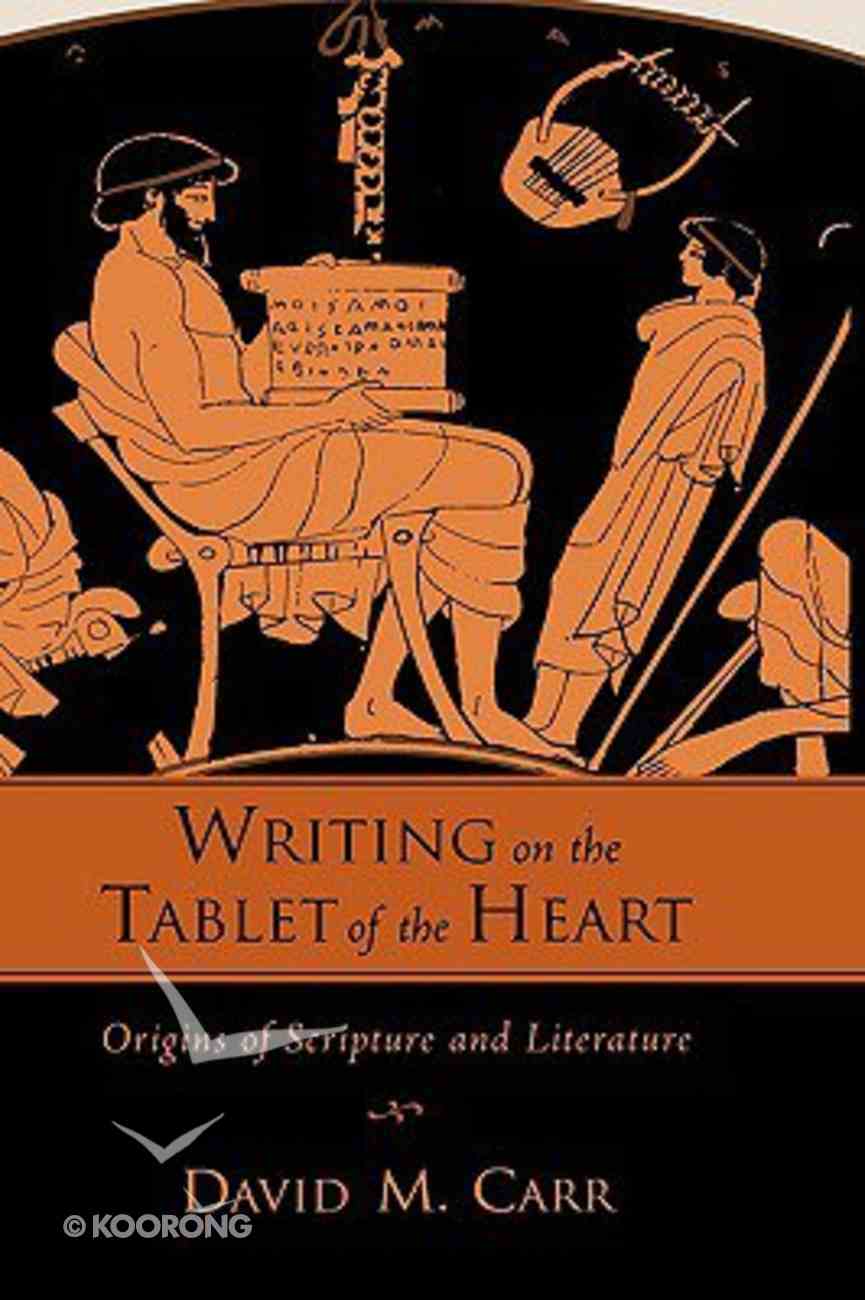 Writing on the Tablet of the Heart
"[Carr] integrates so many good ideas together into a coherent synthesis that this will become a classic text worth quoting. His arguments are compelling. The author has brought old insights into a comprehensive synthesis and given us new perspectives, or...
Special Order
Payment is by credit card only. Orders for this item cannot be cancelled or returned.
---
Free Shipping
for orders over $99.
"[Carr] integrates so many good ideas together into a coherent synthesis that this will become a classic text worth quoting. His arguments are compelling. The author has brought old insights into a comprehensive synthesis and given us new perspectives, or "handles," by which to focus our attention on the greater picture of writing, literacy, scribes, and literary texts in the ancient world." --Cathoic Biblical Quarterly "Exceptionally erudite and readable. Biblical scholars will need to seriously consider this well laid out challenge to the generally accepted theories of documentary sources." --Review of Biblical Literature "Writing on the Tablet of the Heart is a stimulating analysis of classical religious texts that were essential to the enculturation of elite transmitters of tradition. Its adept handling of the data implicit in comparative texts from ancient Mesopotamia, Egypt, and Greece, together with those from Qumran, illuminates the emergence of the Bible and suggests a way to revitalize Scripture today."--James L. Crenshaw, Robert L. Flowers Professor of Old Testament, Duke University "In Writing on the Tablet of the Heart David Carr draws on a vast range of evidence to explore writing and the socialization of elites in the ancient Near East and the Hellenistic world. This impressive work contributes vitally to breaking down the distinction between literacy and orality which has often clouded discussions of cultural and administrative institutions in the ancient world, and reaches significant conclusions that will have an impact far beyond its core area of Biblical Studies."--John Baines, Professor of Egyptology, University of Oxford "Carr spans the ancient Near East with enviable ease, bringing together scholars and debates from diverse disciplines. His cross-cultural analysis will stimulate new insights into areas which readers know well, while it also offers intriguing glimpses into new territory." --Teresa Morgan, Fellow in Ancient History, Oriel College, Oxford "David Carr's Writing on the Tablet of the Heart provides a fresh and highly readable account of the contexts and conditions which progressively shaped ancient Israel's textual heritage as scripture. Carr adroitly employs an impressively broad range of comparative and theoretical perspectives to argue for the centrality of an oral-written textual practice in the educational process of cultural formation and socialization in elite Israelite circles. While this book is must reading for students and scholars of the Hebrew Bible, both in its literary formation and social reception, Carr's reach extends to other cultural fields in which orality and textuality are performatively bound."--Steven D. Fraade, Mark Taper Professor of the History of Judaism, Yale University "David Carr has given us an extremely thorough study of the modes of textual transmission that has far-reaching implications for our study of the Pentateuch and the composition of biblical literature. Using a comparative and anthropological approach, Writing on the Tablet of the Heart breaks new ground in understanding the implications of orality and literacy in the formation of Scripture. This well-written and carefully researched book deserves to be a standard work for anyone interested in the Bible." --William Schniedewind, author of How the Bible Became a Book
-Publisher
This book explores a new model for the production, revision, and reception of Biblical texts as Scripture. Building on recent studies of the oral/written interface in medieval, Greco-Roman and ancinet Near Eastern contexts, David Carr argues that in ancient Israel Biblical texts and other texts emerged as a support for an educational process in which written and oral dimensions were integrally intertwined. The point was not incising and reading texts on parchment or papyrus. The point was to enculturate ancient Israelites - particularly Israelite elites - by training them to memorize and recite a wide range of traditional literature that was seen as the cultural bedorck of the people: narrative, prophecy, prayer, and wisdom.
-Publisher