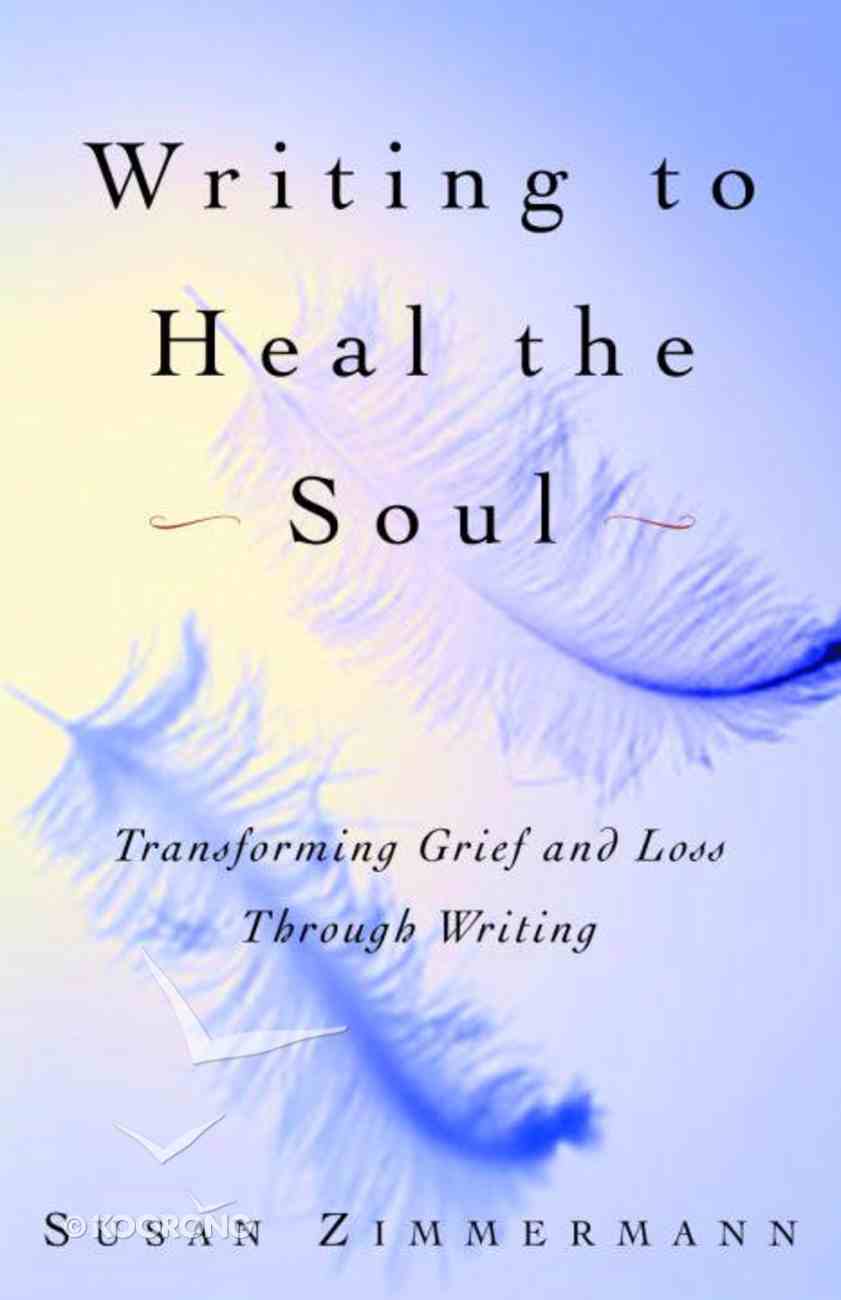 :Susan Zimmermann experienced a devastating loss when her first child, Katherine, developed a neurological disorder that left her unable to walk or talk. Faced with her daughter's disability, Susan struggled with fear, denial, guilt, bitterness, and despair. She began to...
Out of Stock
Available to Order
---
Expected to ship in 6 to 7 weeks from Australia.
---
Free Shipping
for orders over $99.
:Susan Zimmermann experienced a devastating loss when her first child, Katherine, developed a neurological disorder that left her unable to walk or talk. Faced with her daughter's disability, Susan struggled with fear, denial, guilt, bitterness, and despair. She began to heal only through writing. Working through conflicting emotions with paper and pen enabled her to transform her sadness into acceptance and even joy.

Writing to Heal the Soul is Susan's gift to others-everyone, not just writers-who are suffering any kind of grief or loss, whether the injury, disability, or death of a loved one, the loss of a job, or the end of a relationship. Lyrically illustrated with true stories from the author and others, the book offers simple yet inspiring writing exercises to help you resolve your pain as you transform your grief into words of hope and healing.
-Publisher
:Chapter 1

Going Through Pain

Writing is a long process of introspection; it is a voyage toward the darkest caverns of consciousness, a long, slow meditation. I write feeling my way in silence, and along the way discover particles of truth, small crystals that fit in the palm of one hand and justify my passage through this world.
--Isabel Allende, Paula

We skied higher than I'd ever skied before, up the backbone of the Rockies to the top of Elk Mountain, my first winter ascent. Not a breath of wind stirred, though crisp waves of snow lay crusted around us, a testament to the wind's usual howling force. The blue of the sky blinded us. We had left our house in a storm the day before, sure that the skiing at Janet's Hut would be in a blizzard.

It was midafternoon when we set out to bag Elk Mountain, an easy climb of rhythmic traverses up the mountain's broad north flank to its 12,800-foot peak. At the summit, a 360-degree panorama unfolded, stretching from Capitol Peak near Aspen to the Mount Zirkel wilderness area near Steamboat Springs to the peaks of the Gore and Ten-Mile Ranges. Paul and I were flying high, proud of making it to the summit with more experienced mountaineers.

On the way down, we relaxed. Paul and I glided down a long ridge. Geoff and David, expert skiers, stopped higher on the crest, searching for a steep pitch for some good telemark turns. They dallied as Paul and I skied on to the lowest point on the ridge and a less precipitous descent. We had begun wide turns when we heard a sound I'd never heard before, a muffled roar reminiscent of an oncoming train. I saw a cloud of white a couple hundred feet away. The snow shifted so fast and effortlessly that it took me several seconds to realize it was an avalanche and several seconds more to realize that I didn't know where Geoff and David were. I skied toward Paul, looking down to where the snow had already piled deep at the base of the mountain. Then I saw Geoff skiing toward us and spotted David at the top of the slope, above the slide, safe and heading slowly down to where we waited.

"God, that was amazing!" Geoff said as he joined us.

"What happened?" I asked.

"I started down, then fell. Something told me I had to get up real fast."

I looked up to the bare mountainside and saw Geoff's tracks. He had skied across the path of the avalanche to safety. Had he stayed down another second, he would have been swept away.

We gathered at the bottom of the slope and looked up the hillside--now scarred with a one-hundred-foot-wide swath of exposed dirt--and down to where the snow lay like huge concrete slabs thrown together in a haphazard pile at an abandoned construction site. We jabbered about how unexpected it was, how fast it happened, the angle of the slope, the early winter-snow conditions. We all knew how close it had been, but we couldn't talk about how lucky we were to be standing there, instead of desperately shoveling, searching for buried friends.

After a while, my knees started shaking, and I couldn't feel my toes. I had to start moving to keep from freezing. I headed back to the hut, skiing as fast as I've ever skied, looking back every now and then at the marred hillside.

Crises hit like avalanches. Everything is going fine. Then all of a sudden, the earth shifts. It can be a cancer diagnosis, a car accident, the complications of childbirth, the death of a friend, the arrest of a child, the loss of a job, the end of a marriage. Dreams shatter, and we fear the pieces of our lives can never be glued together again. We cry out, but no one can hear us. We fall deeper into darkness and have no idea if we'll ever see light again.

Geoff is alive today because instinct told him he had to get up and ski on. He literally had to move through the avalanche. He couldn't turn back. He couldn't even hesitate. He had to keep going.

Sometimes we have no choice but to pick ourselves up and ski through the avalanches of our lives. We have to keep moving, or we'll be swept away. We can't stop and reflect, or we'll find ourselves buried under the weight of the tragedy.

Yet we need to understand that what is functional at one point may be dysfunctional at another. After the initial shock, we have to move from surviving to thriving. That can only be done when we acknowledge, and ultimately embrace, the full extent of the loss; when we go through our grief. If we don't, we die, or something in us dies.

But how do we go through grief? How do we set out on that path when we don't know what it looks like or where it begins? How do we start when we have no idea of the distance and no clue when we'll be done? We know what it means to "go through" school, or "go through" a car wash, or "go through" a maze, but what does it mean to go through grief?

I thought I was going through grief for many years. I thought I was doing exactly what I needed to do to "get on with it." In fact, getting on with it was part of my problem. I had not slowed down enough to allow myself to enter into the full scope and depth of the loss. My belief that I could "fix" Katherine ruled my life for the first five years. The next seven were spent in an upheaval of creation--three more children, a new organization--to avoid dealing with the loss of my first, deeply precious creation. During those years, I told myself, Kat won't change me. Kat won't slow me down. I could handle it all, or so I believed.

How naive I was to think that having a handicapped child who depended upon others for all of her needs wouldn't dramatically change my life. Kat's presence and the daily task of caring for her has permeated every fiber of my being. I wish I had admitted that sooner. I wish I had recognized and embraced the full magnitude of my loss. I realize now that part of going through grief involves entering fully into the tragedy, acknowledging the enormity of what has happened, and understanding that something profound has been taken away forever.

Isak Dinesen once said, "Any sorrow can be borne, if you can turn it into a story." With our writing, we honor the extent of our losses. We give details, we exaggerate, we express our pain, we share our greatest fears. Through writing, we discover unexpected particles of truth that light our path; we move through our grief mindfully, in a way that allows us to comprehend and integrate the experience into our lives, not just rush frantically on as the avalanche thunders around us. By going deep within to a place of honesty untainted by society's "shoulds," our vision is enlarged. We gain perspective on our lives.

Your Sacred Healing Journal

Start at the very beginning. You need a notebook, the simpler the better. A bright-colored spiral notebook--like the kind you had in school--is perfect, or one of those composition notebooks with the black-and-white marbled covers. Your notebook must not intimidate you. It can't be too elegant, because then you will feel that you can only write "finished" work in it. You'll be uncomfortable with scribbles and meanderings. You'll feel like you can't write sentimental junk (we all do) or that you can't rant and rave (we all do). You'll search too carefully for words, and in this notebook your words need to flow unchecked like a mountain stream. So make it cheap. Choose a size that feels comfortable to you. I use a 9 1*2-by-6-inch size because it fits into my big leather purse, and I can carry it wherever I go and jot thoughts as they come.

Each exercise in this book is a starting place only. Don't feel constrained by it. The important thing is to write about your deepest thoughts and feelings. If an exercise spurs that, use it. If it doesn't, move on. If you find yourself going back to certain exercises, fine. Writing about the same thing repeatedly from slightly different angles is a healthy part of the process. You create new dimensions. You gain distance and clarity.

All of the exercises are designed so that you can write them in less than an hour, but it isn't necessary to carve out that much time. It works very well to do "short writes": Set aside fifteen to thirty minutes a day and "let 'er rip." The important thing is to keep writing and to write frequently. To give yourself the gift of a quiet place where you won't be interrupted. To avoid the excuses "I'm too tired today, too busy, too this, or too that." The slogan "Just do it" applies here. Go for it. Spill your guts.

You'll need to do some exercises numerous times as you explore different avenues. You'll finish others after one "write." You will discover what works best for you. One tip: Always write as quickly as your hand will allow. You are searching for first thoughts. Don't be concerned about spelling or grammar. Don't worry if you're not saying it exactly right. You can edit later if you wish. The point is to get your uncensored voice onto the page.

This writing is for you and you alone. It is for your heart and your health. It is your sacred healing journal. Use it only for this journey. It is not meant to be revealed.

At wedding receptions of members of my large extended family, we have the FHB rule. Whenever anyone whispers, "FHB," we know exactly what it means: "Family Hold Back" (such as on the shrimp!). In your journal, use the DHB rule: "Don't Hold Back." Don't be constrained. Down the road, you may want to burn your journal or share parts of it with someone you love, or possibly with the world. But right now, it is for you only. Think of it as a sculpture that you are creating with the most precious stones of your life.

Honor the Magnitude of Your Loss

You have a story--a very important story, a story that rests at the core of your being--to tell. It is a story that has torn your heart into pieces, and it is a story of beauty, because your heart couldn't have been torn without your having first loved and somehow lost something that you loved. Now is the time to begin honoring your story. A friend sent me a note that said simply, "Blessed are the cracked, for they shall let the light in." Remember that as you write.

Put all distractions aside--no phone, no children, no television. Light a candle or set a cup of tea by your side. Play soothing music. Create a safe and comforting place. Get in a comfortable position. To clear your head and calm your nerves, spend several minutes breathing deeply. You need to be centered to begin, and you need to breathe away your fears. You are going back to the beginning.

Exercise: The Turning Point

Some losses happen at a specific moment: the car accident, HIV diagnosis, stillbirth. Others occur over time: the unraveling of a marriage, chronic illness, bankruptcy. There is a point when you realize your life will be forever changed. When did you get the phone call, the diagnosis, the pink slip? When did the severity of the prognosis sink in? When did the inability to salvage the relationship become appallingly clear? Go back to that time and place. It seems impossibly difficult. But it is where we must start. Shakespeare said, "Give sorrow words." That is what we are doing. Capture the scene. Where were you? How were you dressed? Who else was there? What did the place look like? How did you feel? What did you do? When did the fear set in? Did someone let you down? Who? How? Write down all the details. Let your hand, not your head, be your guide. Be specific. Don't strive for perfection. Be as negative, angry, frustrated, aggravated, whiny, ornery, disgusted, disdainful, despairing as you wish. DHB. Begin with "I remember. . . ." Keep your hand moving for fifteen minutes. Cry. It's okay. It's good. Tears release our pent-up emotions. They bring them to the surface of our lives and let them flow out. They are healing waters. Write through the tears.

You took the plunge. You have begun your sacred journal. You are brave. Celebrate your new adventure. And write again tomorrow.
Bestsellers in Grief, Comfort & Consolation