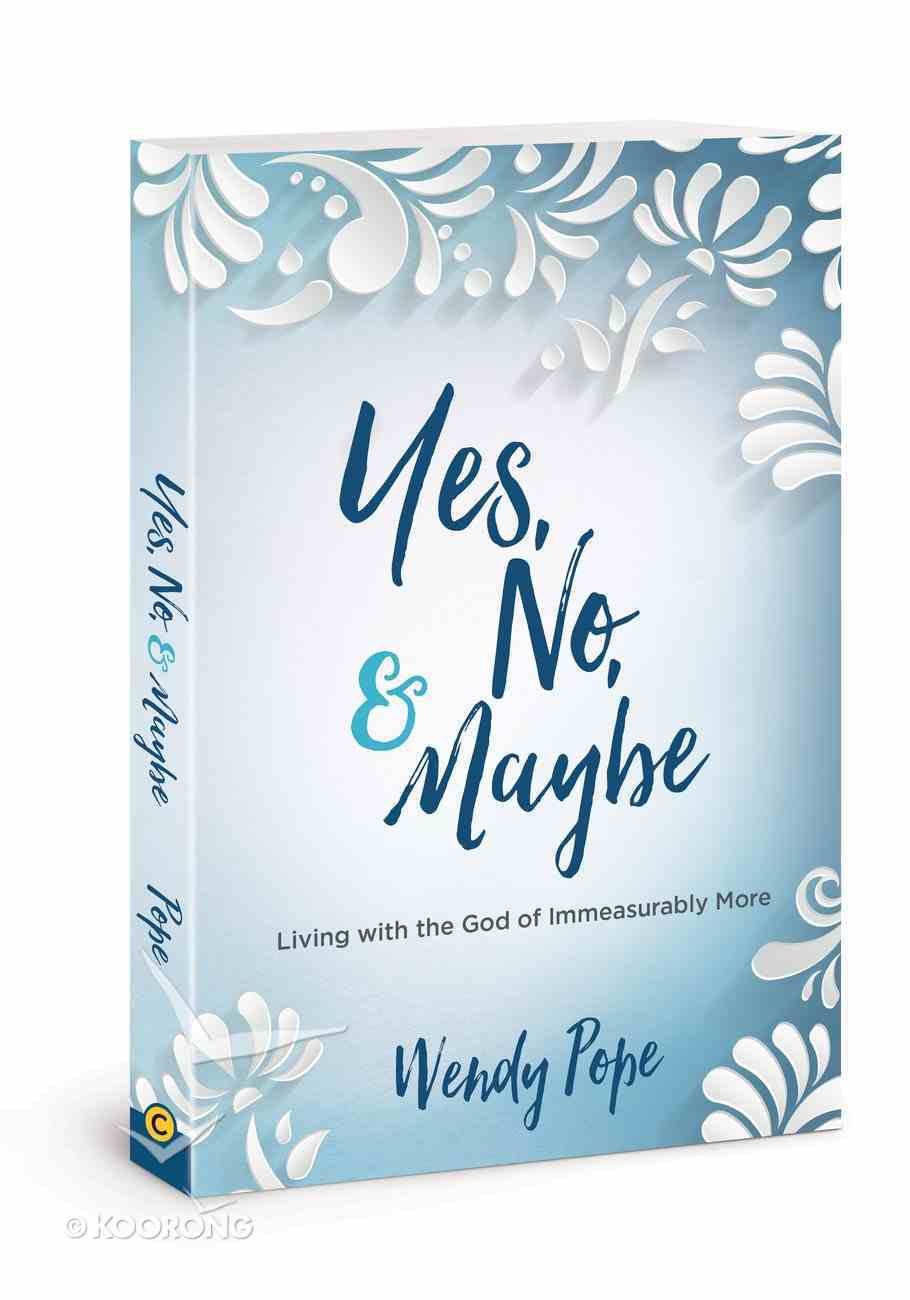 Yes, No, and Maybe: Living With the God of Immeasurably More
: Sometimes when life feels routine, women succumb to the weariness of every unfulfilled dream and unanswered prayer. In Yes, No, & Maybe , Wendy Pope invites readers to discover anew the call to live the life Jesus died to...
---
Expected to ship tomorrow from Australia.
---
Free Shipping
for orders over $99.
:
Sometimes when life feels routine, women succumb to the weariness of every unfulfilled dream and unanswered prayer. In Yes, No, & Maybe, Wendy Pope invites readers to discover anew the call to live the life Jesus died to give-the immeasurably more life. Along the way, they'll discover three words that can revitalize their relationship with Christ: yes, no, and maybe.

As Pope writes, a woman's heartfelt

• Yes cultivates trust with God.
• No invites revelation into who God designed her to be.
• Maybe welcomes the freedom to confidently love, give, and serve in God's kingdom.


-Publisher
PRODUCT DETAIL
Catalogue Code 

514941

Product Code 

9780781413565

ISBN 

0781413567

EAN 

9780781413565

Pages 

272

Department General Books
Category Women
Sub-Category General
Publisher David C Cook
Publication Date 

Oct 2018

Sales Rank 

58063

Dimensions 

209 x 139 x 20

mm

Weight 

0.272

kg
:<div><div><div><div><div>acknowledgments. . . . . . . . . . . . . . . . . . . . .13</div><div>foreword By Wendy Blight. . . . . . . . . . . . . . . . . .15</div><div>introduction. . . . . . . . . . . . . . . . . . . . . . .19</div><div>yes Cultivates Trust<br /> 1. Obedience: Our First Yes. . . . . . . . . . . . . .33</div><div>2. Obstacles To Yes. . . . . . . . . . . . . . . . . .55</div><div>3. Obsession Of Yes. . . . . . . . . . . . . . . . . .79</div><div>no Invites Revelation</div><div>4. No To Self: Accepting My New Image. . . . . . . . . .103</div><div>5. No To Self: Analyzing What Conceals My Image. . . . . .127</div><div>6. No To Self: Adjusting To My New Image. . . . . . . . .151</div><div>maybe Welcomes Freedom</div><div>7. Maybe Celebrates Freedom For. . . . . . . . . . . .177</div><div>8. Maybe Considers Before Committing. . . . . . . . . .197</div><div>9. Maybe Confronts What Ifs And A Warning. . . . . . . .213</div><div>10. My Immeasurably More Life. . . . . . . . . . . . .235</div><div>epilogue. . . . . . . . . . . . . . . . . . . . . . . .245</div><div>appendix: Spiritual Gifts Assessment. . . . . . . . . . . . .251</div><div>notes. . . . . . . . . . . . . . . . . . . . . . . . .259</div><div>about The Author. . . . . . . . . . . . . . . . . . . .265</div><div>bible Credits. . . . . . . . . . . . . . . . . . . . . .269</div></div></div><div><div><div>&amp;#160;</div></div></div><div><div><div>&amp;#160;</div></div></div><div><div><div>&amp;#160;</div></div></div><div><div><div>&amp;#160;</div></div></div><div><div><div>&amp;#160;</div></div></div><div><div><div>&amp;#160;</div></div></div><div><div><div>&amp;#160;</div></div></div><div><div><div>&amp;#160;</div></div></div><div><div><div>&amp;#160;</div></div></div><div><div><div>&amp;#160;</div></div></div><div><div><div>&amp;#160;</div></div></div><div><div><div>&amp;#160;</div></div></div><div><div><div>&amp;#160;</div></div></div><div><div><div>&amp;#160;</div></div></div><div><div><div>&amp;#160;</div></div></div><div><div><div>&amp;#160;</div></div></div><div><div><div>&amp;#160;</div></div></div><div><div><div>&amp;#160;</div></div></div><div><div><div>&amp;#160;</div></div></div><div><div><div>&amp;#160;</div></div></div><div><div><div>&amp;#160;</div></div></div><div><div><div>&amp;#160;</div></div></div><div><div><div>&amp;#160;</div></div></div><div><div><div>&amp;#160;</div></div></div><div><div><div>&amp;#160;</div></div></div><div><div><div>&amp;#160;</div></div></div><div><div><div>&amp;#160;</div></div></div><div><div><div>&amp;#160;</div></div></div><div><div><div>&amp;#160;</div></div></div><div><div><div>&amp;#160;</div></div></div><div><div><div>&amp;#160;</div></div></div><div><div><div>&amp;#160;</div></div></div><div><div><div>&amp;#160;</div></div></div><div><div><div>&amp;#160;</div></div></div><div><div><div>&amp;#160;</div></div></div><div><div><div>&amp;#160;</div></div></div><div><div><div>&amp;#160;</div></div></div><div><div><div>&amp;#160;</div></div></div><div><div><div>&amp;#160;</div></div></div><div><div><div>&amp;#160;</div></div></div><div><div><div>&amp;#160;</div></div></div><div><div><div>&amp;#160;</div></div></div><div><div><div>&amp;#160;</div></div></div><div><div><div>&amp;#160;</div></div></div><div><div><div>&amp;#160;</div></div></div><div><div><div>&amp;#160;</div></div></div><div><div><div>&amp;#160;</div></div></div><div><div><div>&amp;#160;</div></div></div><div><div><div>&amp;#160;</div></div></div><div><div><div>&amp;#160;</div></div></div><div><div><div>&amp;#160;</div></div></div><div><div><div>&amp;#160;</div></div></div><div><div><div>&amp;#160;</div></div></div><div><div><div>&amp;#160;</div></div></div><div><div><div>&amp;#160;</div></div></div><div><div><div>&amp;#160;</div></div></div><div><div><div>&amp;#160;</div></div></div><div><div><div>&amp;#160;</div></div></div><div><div><div>&amp;#160;</div></div></div><div><div><div>&amp;#160;</div></div></div><div><div><div>&amp;#160;</div></div></div><div><div><div>&amp;#160;</div></div></div><div><div><div>&amp;#160;</div></div></div><div><div><div>&amp;#160;</div></div></div><div><div><div>&amp;#160;</div></div></div><div><div><div>&amp;#160;</div></div></div><div><div><div>&amp;#160;</div></div></div><div><div><div>&amp;#160;</div></div></div><div><div><div>&amp;#160;</div></div></div><div><div><div>&amp;#160;</div></div></div><div><div><div>&amp;#160;</div></div></div><div><div><div>&amp;#160;</div></div></div><div><div><div>&amp;#160;</div></div></div><div><div><div>&amp;#160;</div></div></div><div><div><div>&amp;#160;</div></div></div><div><div><div>&amp;#160;</div></div></div><div><div><div>&amp;#160;</div></div></div><div><div><div>&amp;#160;</div></div></div><div><div><div>&amp;#160;</div></div></div><div><div><div>&amp;#160;</div></div></div><div><div><div>&amp;#160;</div></div></div><div><div><div>&amp;#160;</div></div></div><div><div><div>&amp;#160;</div></div></div><div><div><div>&amp;#160;</div></div></div><div><div><div>&amp;#160;</div></div></div><div><div><div>&amp;#160;</div></div></div><div><div><div>&amp;#160;</div></div></div><div><div><div>&amp;#160;</div></div></div><div><div><div>&amp;#160;</div></div></div><div><div><div>&amp;#160;</div></div></div><div><div><div>&amp;#160;</div></div></div><div><div><div>&amp;#160;</div></div></div><div><div><div>&amp;#160;</div></div></div><div><div><div>&amp;#160;</div></div></div><div><div><div>&amp;#160;</div></div></div><div><div><div>&amp;#160;</div></div></div><div><div><div>&amp;#160;</div></div></div><div><div><div>&amp;#160;</div></div></div><div><div><div>&amp;#160;</div></div></div><div><div><div>&amp;#160;</div></div></div><div><div><div>&amp;#160;</div></div></div><div><div><div>&amp;#160;</div></div></div><div><div><div>&amp;#160;</div></div></div><div><div><div>&amp;#160;</div></div></div><div><div><div>&amp;#160;</div></div></div><div><div><div>&amp;#160;</div></div></div><div><div><div>&amp;#160;</div></div></div><div><div><div>&amp;#160;</div></div></div><div><div><div>&amp;#160;</div></div></div><div><div><div>&amp;#160;</div></div></div><div><div><div>&amp;#160;</div></div></div><div><div><div>&amp;#160;</div></div></div><div><div><div>&amp;#160;</div></div></div><div><div><div>&amp;#160;</div></div></div><div><div><div>&amp;#160;</div></div></div><div><div><div>&amp;#160;</div></div></div><div><div><div>&amp;#160;</div></div></div><div><div><div>&amp;#160;</div></div></div><div><div><div>&amp;#160;</div></div></div><div><div><div>&amp;#160;</div></div></div><div><div><div>&amp;#160;</div></div></div><div><div><div>&amp;#160;</div></div></div><div><div><div>&amp;#160;</div></div></div><div><div><div>&amp;#160;</div></div></div><div><div><div>&amp;#160;</div></div></div><div><div><div>&amp;#160;</div></div></div><div><div><div>&amp;#160;</div></div></div><div><div><div>&amp;#160;</div></div></div><div><div><div>&amp;#160;</div></div></div><div><div><div>&amp;#160;</div></div></div><div><div><div>&amp;#160;</div></div></div><div><div><div>&amp;#160;</div></div></div><div><div><div>&amp;#160;</div></div></div><div><div><div>&amp;#160;</div></div></div><div><div><div>&amp;#160;</div></div></div><div><div><div>&amp;#160;</div></div></div><div><div><div>&amp;#160;</div></div></div><div><div><div>&amp;#160;</div></div></div><div><div><div>&amp;#160;</div></div></div><div><div><div>&amp;#160;</div></div></div><div><div><div>&amp;#160;</div></div></div><div><div><div>&amp;#160;</div></div></div><div><div><div>&amp;#160;</div></div></div><div><div><div>&amp;#160;</div></div></div><div><div><div>&amp;#160;</div></div></div><div><div><div>&amp;#160;</div></div></div><div><div><div>&amp;#160;</div></div></div><div><div><div>&amp;#160;</div></div></div><div><div><div>&amp;#160;</div></div></div><div><div><div>&amp;#160;</div></div></div><div><div><div>&amp;#160;</div></div></div><div><div><div>&amp;#160;</div></div></div><div><div><div>&amp;#160;</div></div></div><div><div><div>&amp;#160;</div></div></div><div><div><div>&amp;#160;</div></div></div><div><div><div>&amp;#160;</div></div></div><div><div><div>&amp;#160;</div></div></div><div><div><div>&amp;#160;</div></div></div><div><div><div>&amp;#160;</div></div></div><div><div><div>&amp;#160;</div></div></div><div><div><div>&amp;#160;</div></div></div><div><div><div>&amp;#160;</div></div></div><div><div><div>&amp;#160;</div></div></div><div><div><div>&amp;#160;</div></div></div><div><div><div>&amp;#160;</div></div></div><div><div><div>&amp;#160;</div></div></div><div><div><div>&amp;#160;</div></div></div><div><div><div>&amp;#160;</div></div></div><div><div><div>&amp;#160;</div></div></div><div><div><div>&amp;#160;</div></div></div><div><div><div>&amp;#160;</div></div></div><div><div><div>&amp;#160;</div></div></div><div><div><div>&amp;#160;</div></div></div><div><div><div>&amp;#160;</div></div></div><div><div><div>&amp;#160;</div></div></div><div><div><div>&amp;#160;</div></div></div><div><div><div>&amp;#160;</div></div></div><div><div><div>&amp;#160;</div></div></div><div><div><div>&amp;#160;</div></div></div><div><div><div>&amp;#160;</div></div></div><div><div><div>&amp;#160;</div></div></div><div><div><div>&amp;#160;</div></div></div><div><div><div>&amp;#160;</div></div></div><div><div><div>&amp;#160;</div></div></div><div><div><div>&amp;#160;</div></div></div><div><div><div>&amp;#160;</div></div></div><div><div><div>&amp;#160;</div></div></div><div><div><div>&amp;#160;</div></div></div><div><div><div>&amp;#160;</div></div></div><div><div><div>&amp;#160;</div></div></div><div><div><div>&amp;#160;</div></div></div><div><div><div>&amp;#160;</div></div></div><div><div><div>&amp;#160;</div></div></div><div><div><div>&amp;#160;</div></div></div><div><div><div>&amp;#160;</div></div></div><div><div><div>&amp;#160;</div></div></div><div><div><div>&amp;#160;</div></div></div><div><div><div>&amp;#160;</div></div></div><div><div><div>&amp;#160;</div></div></div><div><div><div>&amp;#160;</div></div></div><div><div><div>&amp;#160;</div></div></div><div><div><div>&amp;#160;</div></div></div><div><div><div>&amp;#160;</div></div></div><div><div><div>&amp;#160;</div></div></div><div><div><div>&amp;#160;</div></div></div><div><div><div>&amp;#160;</div></div></div><div><div><div>&amp;#160;</div></div></div><div><div><div>&amp;#160;</div></div></div><div><div><div>&amp;#160;</div></div></div><div><div><div>&amp;#160;</div></div></div><div><div><div>&amp;#160;</div></div></div><div><div><div>&amp;#160;</div></div></div><div><div><div>&amp;#160;</div></div></div><div><div><div>&amp;#160;</div></div></div><div><div><div>&amp;#160;</div></div></div><div><div><div>&amp;#160;</div></div></div><div><div><div>&amp;#160;</div></div></div><div><div><div>&amp;#160;</div></div></div><div><div><div>&amp;#160;</div></div></div><div><div><div>&amp;#160;</div></div></div><div><div><div>&amp;#160;</div></div></div><div><div><div>&amp;#160;</div></div></div><div><div><div>&amp;#160;</div></div></div><div><div><div>&amp;#160;</div></div></div><div><div><div>&amp;#160;</div></div></div><div><div><div>&amp;#160;</div></div></div><div><div><div>&amp;#160;</div></div></div><div><div><div>&amp;#160;</div></div></div><div><div><div>&amp;#160;</div></div></div><div><div><div>&amp;#160;</div></div></div><div><div><div>&amp;#160;</div></div></div><div><div><div>&amp;#160;</div></div></div><div><div><div>&amp;#160;</div></div></div><div><div><div>&amp;#160;</div></div></div><div><div><div>&amp;#160;</div></div></div><div><div><div>&amp;#160;</div></div></div><div><div><div>&amp;#160;</div></div></div><div><div><div>&amp;#160;</div></div></div><div><div><div>&amp;#160;</div></div></div><div><div><div>&amp;#160;</div></div></div><div><div><div>&amp;#160;</div></div></div><div><div><div>&amp;#160;</div></div></div><div><div><div>&amp;#160;</div></div></div><div><div><div>&amp;#160;</div></div></div><div><div><div>&amp;#160;</div></div></div><div><div><div>&amp;#160;</div></div></div><div><div><div>&amp;#160;</div></div></div><div><div><div>&amp;#160;</div></div></div><div><div><div>&amp;#160;</div></div></div><div><div><div>&amp;#160;</div></div></div><div><div><div>&amp;#160;</div></div></div><div><div><div>&amp;#160;</div></div></div><div><div><div>&amp;#160;</div></div></div><div><div><div>&amp;#160;</div></div></div><div><div><div>&amp;#160;</div></div></div><div><div><div>&amp;#160;</div></div></div><div><div><div>&amp;#160;</div></div></div><div><div><div>&amp;#160;</div></div></div><div><div><div>&amp;#160;</div></div></div><div><div><div>&amp;#160;</div></div></div></div></div><div>&amp;#160;</div><div><div><div>&amp;#160;</div><div>&amp;#160;</div><div>&amp;#160;</div><div><div>&amp;#160;</div></div><div>&amp;#160;</div><div>&amp;#160;</div><div>&amp;#160;</div></div></div>