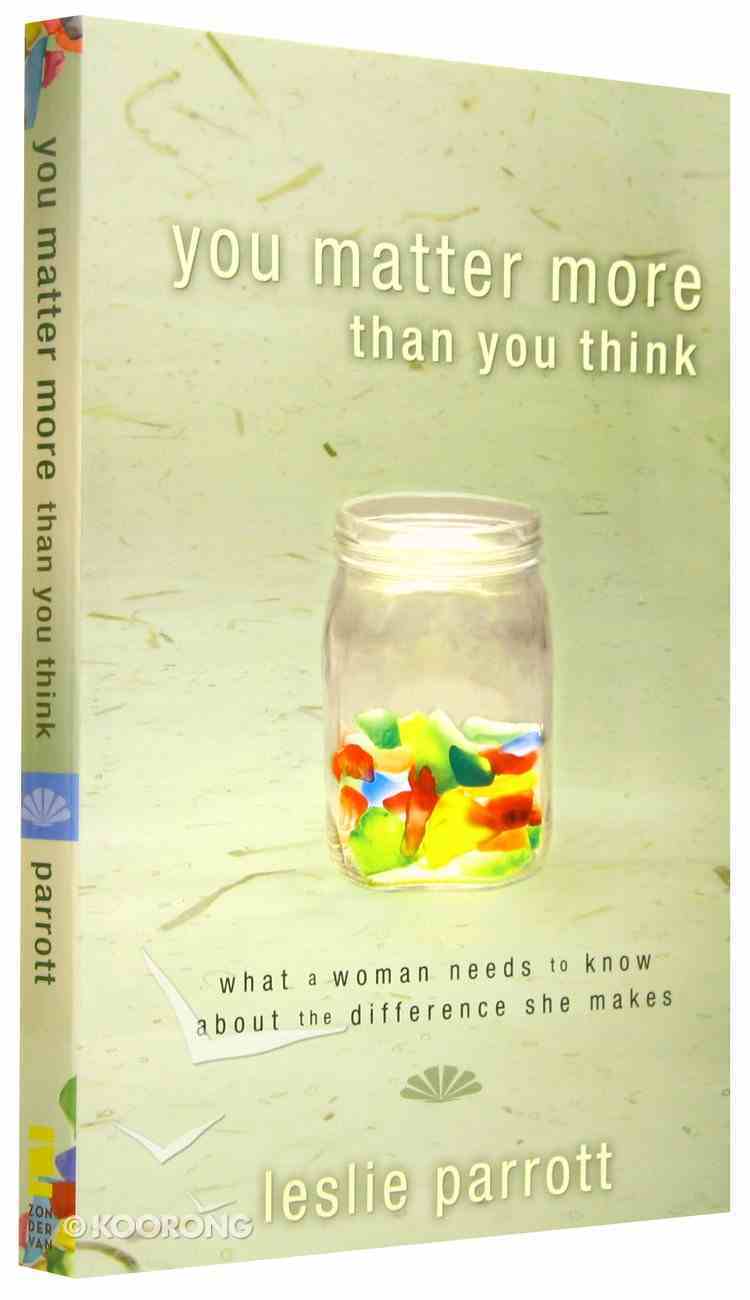 You Matter More Than You Think
Are you longing to make a difference? A season of soul-searching walks along Discovery Beach in Seattle revealed a secret far too many women never find. In this heartfelt book, Leslie Parrott reveals a personal message sure to keep you...
Order now to secure your copy when our stock arrives. eBook is Available.
0 Available. Expected to ship in 6 to 7 weeks from Australia.
---
Expected to ship in 6 to 7 weeks from Australia.
---
Free Shipping
for orders over $99.
Are you longing to make a difference? A season of soul-searching walks along Discovery Beach in Seattle revealed a secret far too many women never find. In this heartfelt book, Leslie Parrott reveals a personal message sure to keep you from looking at the pieces of your life as mere fragments scattered to and fro by any impulsive tide. Rather, you will soon see that the random fragments of your life---whether it's doing laundry, dashing to the store, tending to either your kids or a full-time job (or both)---mean something. The random pieces of your life hold great potential for making a profound difference. With the help of her Band of Sisters, Leslie shows you how to take the improvised moments of your own life and create a worthy composition of more value than you imagined. You're already making a difference, and the more you understand this difference, the bigger that difference will be. Whether you are married or single, restless or content, wounded or strong, this book, designed for every woman who longs to be more than part of the mainstream, is for you.
-Publisher
PRODUCT DETAIL
Catalogue Code 

294566

Product Code 

9780310324973

ISBN 

0310324971

EAN 

9780310324973

Pages 

240

Department General Books
Category Women
Sub-Category General
Publisher Zondervan
Publication Date 

Dec 2009

Dimensions 

215 x 139 x 16

mm

Weight 

0.235

kg
Dr. Leslie Parrott is a marriage and family therapist and codirector with her husband, Dr. Les Parrott, of the Center for Relationship Development at Seattle Pacific University. She is the author of God Made You Nose to Toes and The First Drop of Rain, and co-author with her husband of several bestselling books, including The Complete Guide to Marriage Mentoring, Relationships, Love Talk, and the Gold Medallion Award-winner, Saving Your Marriage before It Starts. Leslie is a columnist for Today's Christian Woman and has been featured on Oprah, CBS Morning, CNN, and The View, and in USA Today and the New York Times. www.RealRelationships.com
Koorong -Editorial Review.
Contents
Acknowledgments 9
Prelude 11
A Narrow Path 15
Discovery Beach 25
The Grinding Stone 33
My Head Is In The Dirt 45
Squashed Cabbage Leaves 57
Dream Venti 67
Interlude 83
Sea Glass 85
Band Of Sisters 93
Star And Starfish 103
Web Of Connection 115
Playing Games 127
Martha Clay 137
0310245982_youmater.indd 7 2/28/06 9:40:06 Am
Interlude 145
Human Touch 147
Ultimate Good 155
Whisper Test 163
Too Late? 173
Anyway 183
Interlude 197
Compassionate Witnesses 199
Only Seeds 211
Barking Pig 219
A Rare Road 229
Postlude 235
Notes 237
one a narrow path I took the road less traveled by, and that has made all the difference. Robert Frost Let's clear this up right at the beginning. I'm no Mother Teresa, and chances are, neither are you. I used to think joining the Sisters of Charity or some other compassionate group and devoting my life to the poor and suffering was the only real way to make a difference. For a time, I bought nearly all my clothes at secondhand thrift shops and volunteered at a nursing home and a downtown soup kitchen. With the little money I had, I gave all I could to worthy causes. I even spent a night on the streets of the inner city, all by myself, in an 'urban plunge' to get a glimpse of what it was like to be homeless. I was dead set on finding my way on the road less traveled --- and on making a difference. 'The road less traveled.' It's a simple phrase of poetry penned by Robert Frost, one of the most quoted poets of our time. This line of poetry is quoted often for good reason, and I could not resist its pull. Something deep inside me still resonates with these words, even after hearing them time and again. For who, when faced with options, doesn't want to take the road that makes a difference? All the difference! Being a poet myself, it's a phrase I've identified with since I was a girl --- about the time I began looking up to significant women. Catherine Booth, the cofounder of the Salvation Army, became one of my heroes. Like Mother Teresa, she wasn't consumed by convention and was determined to do whatever it took to make a difference in her eighteenth-century England --- even if it was 'not the job of a woman' to do so. I've always loved her response to an uptight, pious man who held up his Bible and argued, 'Paul said to the Corinthians it is a shame for women to speak in the church.' 'Oh yes, so he did,' said Catherine. 'But in the first place this is not a church, and in the second place, I am not a Corinthian; besides,' she continued, looking at the man's wife, 'Paul said in the same epistle that it was good for the unmarried to remain so.'1 You've got to admire that kind of spunk in a woman. At least I do. But I've got to confess, I'm no Catherine Booth either. In fact, my life these days is ensconced with all the typical trappings of a modern married woman with two children living in the mainstream. These days, you're far more likely to find me browsing at Baby Gap for my toddler than searching the racks of a thrift store. And you're more likely to find me sipping a latte at Starbucks than feeding the homeless with soup at a shelter. Maybe the same is true for you, whatever your situation. You long to make a difference but feel you don't measure up to many other women. Somewhere between the idealism of my college years and the pragmatism of real life, I've wondered if I've forsaken the road less traveled altogether. After all, how can I make a difference when some days I can't even find my keys? We all have those days where things go wrong. Like the day I was on my way to the grocery store when I glanced in the rearview mirror and saw that my five-year-old had fallen fast asleep. My mind sifted through the possibilities . . . I could wake John up when we get to the grocery store . . . but then he' ll be really crabby, and once he's awake, he won't go back to sleep. Or I could just turn around, take him home, and tuck him into bed since Les is working there. I could grocery shop just that much faster. I knew Les was hard at work on a deadline, but it was more likely that John would sleep at home than in the grocery cart. So I returned home, carried John into the house, tucked him into bed, and alerted Les to the fact that he'd be in charge of our little one for a while. I sped back to the car with the kind of urgency that only a mom trying to fit in multiple tasks during a child's naptime can entirely identify with. Jumping into the driver's seat, I shifted the car into reverse, backed out of the garage . . . and promptly ripped the door off the car. The door I'd forgotten to close when I'd carried John into the house. The ripping and tearing sound sent Les bolting out of his study, which is directly above the garage.