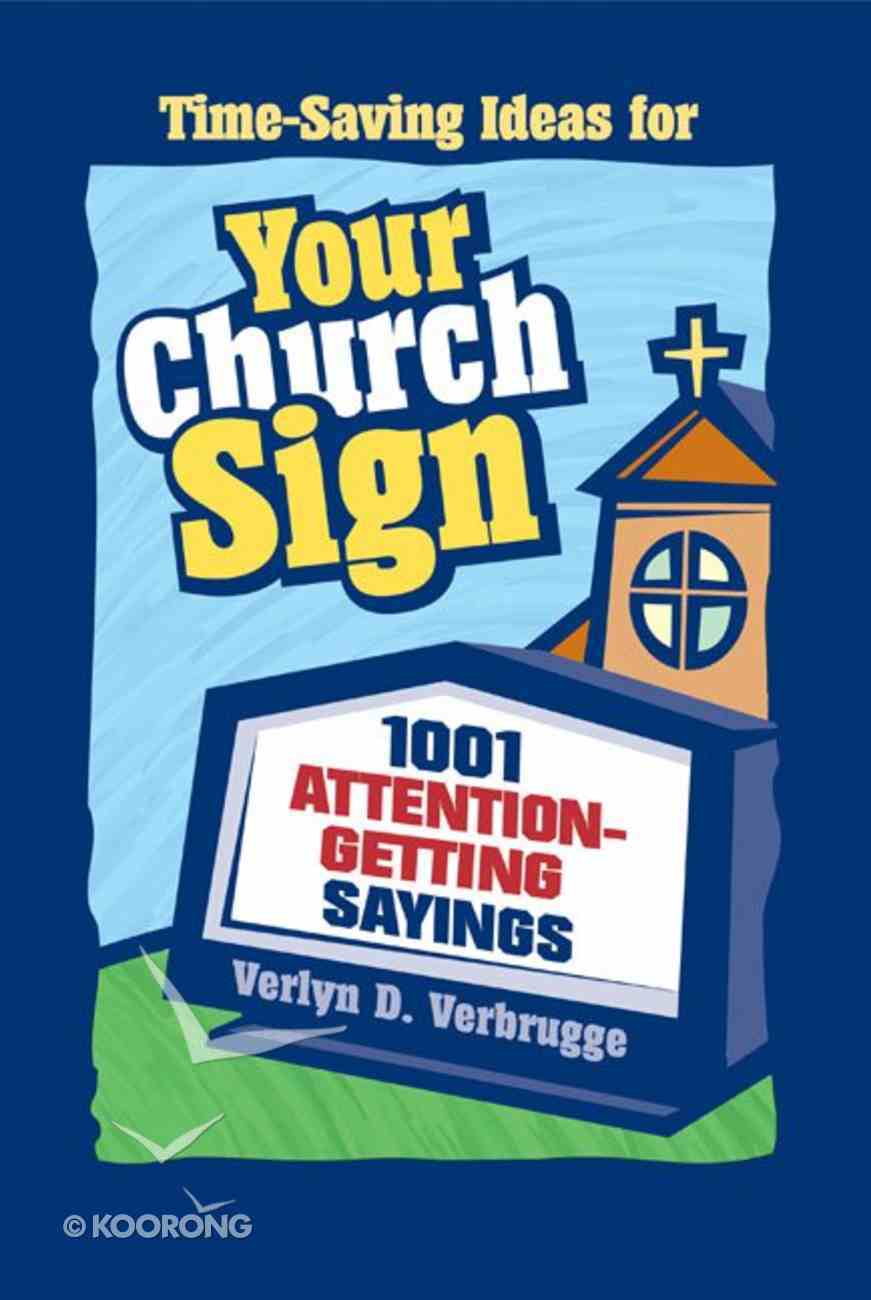 Signs have been almost as much a part of the modern church as the front doors. For that matter, they've been the entry into church life for countless people who have responded to their brief but cogent message. Your church...
---
Expected to ship within 5 hours from Australia.
---
Free Shipping
for orders over $99.
Signs have been almost as much a part of the modern church as the front doors. For that matter, they've been the entry into church life for countless people who have responded to their brief but cogent message. Your church sign has more potential than you may imagine -- if you're smart in using it. Your Church Sign offers you sound pointers on signage. You'll find tips on impactful sign placement, captions, themes, and how to write effective messages. And you'll get more than one thousand ready-made, eye-catching sayings. Some are humorous, some are encouraging, some are wise, some are convicting. All are designed to turn scant seconds of drive-by time into active spiritual awareness. Arranged by theme, Your Church Sign offers captions on: -Marriage and the Family - Prayer - Going to Church - Seasonal Themes - Christian Living - God in Charge - Evangelism - The Bible - Speech . . . and more. Turn to this practical, easy-to-use book for fast ideas and proven advice for helping your chu
-Publisher
PRODUCT DETAIL
Catalogue Code 

138300

Product Code 

0310228026

EAN 

9780310228028

UPC 

025986228026

Pages 

128

Department Ministry
Category Ministry Resources
Sub-Category General
Publisher Zondervan
Publication Date 

Sep 1999

Sales Rank 

30481

Dimensions 

214 x 139 x 10

mm

Weight 

0.172

kg
Verlyn D. Verbrugge (PhD, Notre Dame) is senior editor of academic and professional books at Zondervan. He has authored several books, including Early Church History and Your Church Sign.
Contents
Preface
Part One: The Concept Of The Church Sign
1. The Purpose Of The Church Sign
2. The Caption
Part Two: Captions For The Church Sign
Introduction
Seasonal Captions
Adaptations Of Proverbs, Slogans, Sayings, And Songs
Captions On Marriage And The Family
Captions Related To Prayer
Captions Of Encouragement
Captions Of Going To Church
Evangelistic Captions
Captions Of God In Charge
Captions On The Bible
Captions On Living A Christian Life
Unclassified Christian Captions
General Captions Relating To Proper Human Activity
General Captions Relating To Proper Human Attitudes
General Captions Relating To Proper Human Speech
Other General Captions
Additional Captions
Chapter 1 The Purpose of the Church Sign For most, if not all, of the twentieth century, churches have proudly indicated who they were by the use of specially built signs, often standing a few feet in front of and off to the side of their front doors. As automobiles became more and more popular, the sign moved to a place where it would be visible to passing vehicles, even if the church itself was set much farther from the road. At the beginning, the sign was generally used to indicate the name of the church, the time of its worship services and Sunday school, and sometimes the name of its pastor. More recently, as we will see, churches have found more creative uses for their signs. The Advertising Philosophy of Outdoor Signs The church sign falls within the area of promotion known as outdoor advertising. Included in this field of advertising are billboards, posters, and transit advertising (e.g., the signs on buses). The main goal of outdoor advertising is to reach people traveling by in their vehicles quickly with a catchy message that they will remember. 'The job of the billboard is to create a quick impression and to remind a viewer that a product, a service, or a nearby business exists.' In general, the maximum amount of time an advertiser has to communicate a message is seven seconds. But since drivers need to keep their eyes attuned to other traffic, for the majority of cars (those without passengers) the time allotted is more likely between three and five seconds. Only if traffic happens to be stalled or if a sign is visible to cars stopped at a traffic signal will a business get longer than a few seconds of examination by a potential consumer. Obviously, therefore, anything an advertiser wants to communicate has to be done with a minimum number of words. If the message can be communicated by a picture, so much the better; in advertising the adage is indeed true: A picture is worth a thousand words. If the sign is lighted, its value increases, for then advertising can occur twenty-four hours a day rather than just during the daylight hours. Another important issue concerning the billboard is the angle at which the sign is placed to the road. In most cases, the sign should be placed at right angles to the road or perhaps at sixty degrees; this allows the maximum amount of time to digest the sign's message. True, a sign placed parallel to a road can be read by traffic going in both directions, but in general the amount of time those in a vehicle have to read what the sign says (if they even see it) drops to a maximum of two seconds. Usually signs that are parallel to the road simply indicate the business located on a particular piece of property. Another truism concerning outdoor advertising is that 'familiarity breeds contempt.' That is, the more often one drives by a certain sign that remains the same, the less one sees it or remembers it. Just as you become immune to hearing a clock in your house chime every fifteen minutes (though visitors always notice), you also become immune to the message on a sign that never changes. This is one of the main reasons why billboard space is sold by the month or at the most three months; after that, its advertising value decreases unless the message is changed or moved to a new location. The Church Sign How do these principles of the outdoor sign apply to the church sign? Few churches advertise via the billboard. Such advertising is expensive (especially if the sign is in a prime location), and there is no good mechanism to figure out a 'return on the investment.' Rather, most church signs are located somewhere on church property, usually at a place where they are visible to people driving by. Local zoning ordinances in most cases regulate the size of signs---often they are allowed to be not much larger than a standard sheet of plywood. Thus, with a permanent location and a relatively small size, a sign's chances of being noticed on a regular basis decrease significantly. Most church leaders want people to become aware of the name and location of their church. People who offer advice on where churches should be located suggest streets that have a relatively high volume of traffic. Unless the congregation has an aggressive evangelism program, a church building located on a cul-de-sac has little opportunity of attracting visitors except from that particular neighborhood plat and from people who are loyal to its specific denomination. Only if the church has something like a high steeple visible to vehicles driving on a main artery will casual passersby even become aware of its existence. A few towns and cities do permit signs several blocks away, pointing to the church and identifying it. Obviously, the busier the street on which a church is located, the more likely it is to be noticed. It is important for a church sign to be placed at right angles to the street. Recently I was talking with a colleague at work, who mentioned that she attended Church A. 'Oh,' I replied, 'the church on Street X close to the bridge?' 'No,' she responded. 'That's Church B. This one is Street Y.' Now, I drive down both streets X and Y two or three times a week, and for some reason I had only a vague idea of where Church A was. The next time I drove that route, I looked for it, and sure enough, there it was. Guess what? Its sign was parallel to the road, whereas Church B had a sign that was at right angles. In addition, be sure that the sign is as close to the road as local laws will allow. I have been trying to read the caption on one church I go past regularly, but I usually cannot since it is about fifty feet back from the road. If I cannot read it, what about people who aren't looking for the caption? But even if the church sign is at right angles to the road, there still is the problem of its familiarity. For people traveling that same road every day, the sign becomes part of the landscape, seen only in the periphery of one's vision but not really noticed. How can a church continue to draw attention to its existence at that location? The best way---and perhaps the only way---is by having a sign that allows for movable type to be placed on it.
Bestsellers in Ministry Resources