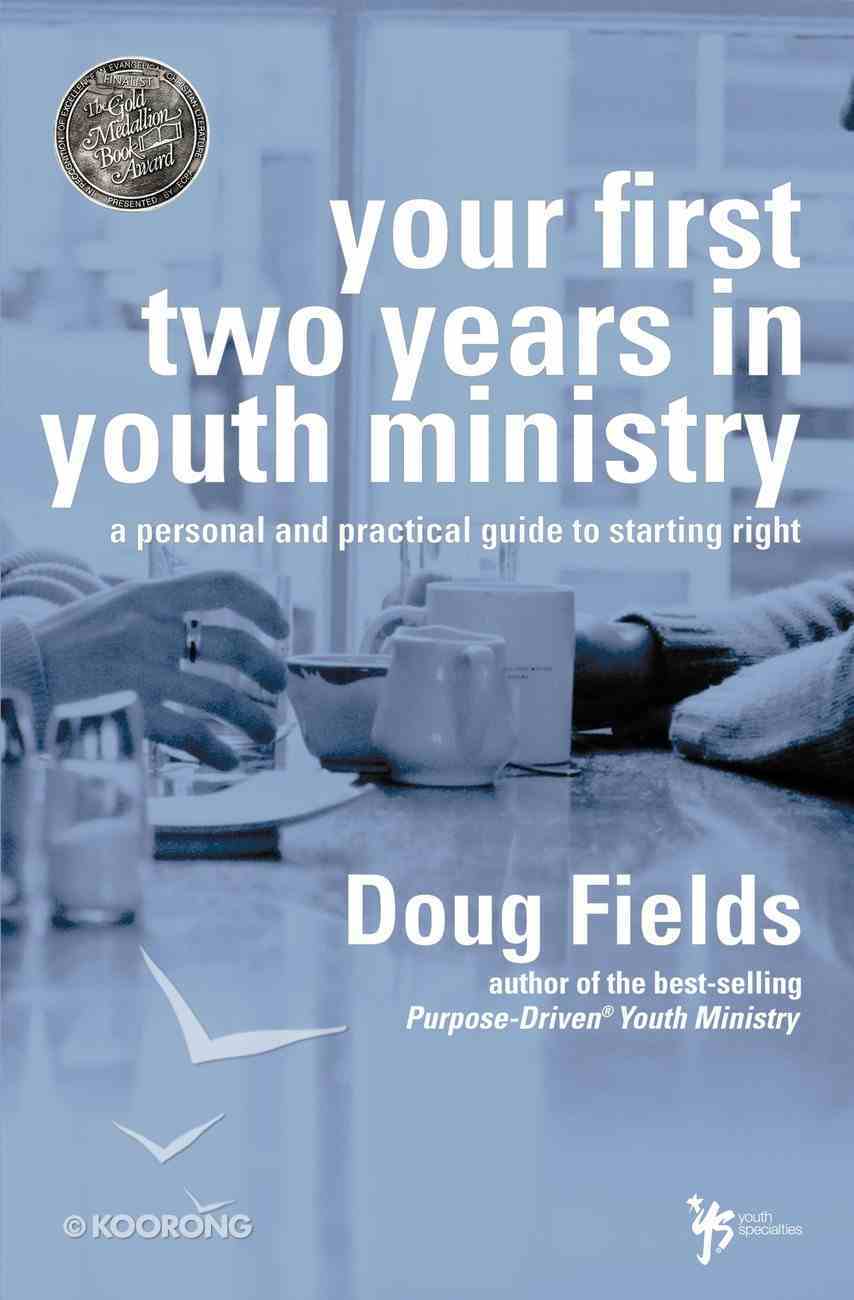 Your First Two Years in Youth Ministry
In this sequel to his bestseller Purpose-Driven Youth Ministry , Doug Fields offers 10 valuable steps to beginning a successful program. You'll learn the importance of going before God, focusing on relationships, communicating your desires, identifying your personal values, developing...
---
Expected to ship within 12 hours from Australia.
---
Free Shipping
for orders over $99.
In this sequel to his bestseller Purpose-Driven Youth Ministry, Doug Fields offers 10 valuable steps to beginning a successful program. You'll learn the importance of going before God, focusing on relationships, communicating your desires, identifying your personal values, developing and teaching your purpose, pursuing leaders, evaluating and creating programs, and more. Ideal for veterans or first-timers.


-Publisher
Since forever altering the course of the youth ministry world with his best-selling, groundbreaking book, Purpose-Driven(R) Youth Ministry, Doug Fields' mind--but especially his heart--has been focused on the many unique needs of new youth workers.Doug translated his passion, insight, and vision for his beloved "rookies" into what you're now reading, Your Fist Two Years in Youth Ministry--hands-down the most comprehensive companion to not only surviving, but also thriving, during the most crucial phase of youth ministry. Employing his renowned wisdom and humor--as if you and Doug were chatting over a long, relaxing meal--the author disarmingly relates stories and principles from his own successes and failures over 20-plus years in youth ministry. In the end, he offers treasure troves of practical advice, all in the hope that new youth workers can travel a smoother path and achieve real longevity in a church culture that all too often chews them and spits them out.Doug covers all-impor
-Publisher
PRODUCT DETAIL
Catalogue Code 

181216

Product Code 

031024045X

EAN 

9780310240457

UPC 

025986240455

Pages 

290

Department Ministry
Category Youth Ministry
Sub-Category Youth Leaders
Publisher Emergent Ys
Publication Date 

Jul 2002

Sales Rank 

16518

Dimensions 

228 x 152 x 22

mm

Weight 

0.331

kg
Founder of Simply Youth Ministry, Doug Fields has been in youth ministry since 1979 and is currently on staff at Saddleback Church in Southern California. He's the director of Purpose Driven Youth Ministry, and the author and co-author of more than 50 books, including the bestsellers Speaking to Teenagers and Your First Two Years in Youth Ministry. SPANISH BIO: Doug Fields es el pastor de ensenanza de la Iglesia Saddleback, una iglesia de 25,000 miembros. Como pastor de jovenes por mas de veinticinco anos, Doug realiza su actual funcion desde 1992. Ha sido autor y coauthor de mas de cincuenta
Acknowledgments
Essay Writer Profiles
Before You Dig In [13]
1. Where Do I Start? Committing To The Essentials [19]
'in 1979 I Was A Rookie Youth Worker With No Idea What I Was Doing. I Took Teenagers To R-rated
Movies; I Had A Jacuzzi Party In The Baptismal Because A 12-year-old Thought It Would
Be Fun...thankfully, A Lot Has Changed...'
2. Why Do I Feel This Way? Dealing With Discouragement [41]
'discouragement May Be The Single Most Powerful Feeling That Entices Great Women And
Men To Exit Prematurely From Youth Ministry.'
3. How Do I Stay Spiritually Fresh? Establishing A Heart Foundation [63]
'being Connected To God On A Daily Basis Is More Important Than Any Youth Ministry Semi-nar
You Attend Or Any Book You Read.'
4. What's Most Important To Students? Being With Them [81]
'as You Begin Your Youth Ministry, Please Keep In Mind That Programs Only Exist To Build
And Strengthen Relationships With God And With One Another! Relationships Are Key To A
Healthy Ministry!'
5. How Do I Work With Parents? Becoming Family Friendly [103]
'this Is An Important Chapter Conceived Through Struggle And Pain. I'd Love To Save You
From Some Of The Hurt I've Caused And Experienced.'
6. Why All The Conflict? Dealing With Difficult People [127]
'during My Years Of Leadership, I've Experienced Enough Tension To Fill An Entire Book. I've
Shed Tears, Caused Tears, Avoided Conflict, Started Conflict, Confronted Conflict, Confronted
Loudly, Made Enemies, Gained Supporters. Sometimes I've Been Right, But Often I've Been
Wrong.'
7. Who's The Leader? Understanding Submission And Supervision [149]
'when I Struggle In My Relationships With Those In Authority Over Me, It's Often Because I'm
Criticizing Others When I Should Be Critical Of Myself. I Need To Consider The Log In My Own
Eye Before I Point Out The Speck In Another Person's Eye. (have You Read That Somewhere?)'
8. Where Do I Get Help? Working With A Team Of Leaders [171]
'my Greatest Joy And Most Difficult Task Is Building A Team Of Other Adults Who Will Love
Students And Disciple Them...if You Find, Develop, And Empower Leaders, You' Ll Be A Valuable
Asset To Your Church And Set Yourself Up For Success In Future Youth Ministry.'
9. Can Students Handle Responsibility? Investing In Student Leaders [195]
'if You Allow Students To Lead, You' Ll Have The Privilege Of Encouraging, Validating, And Shap-ing
Their Faith.'
10. Are We Doing The Right Thing? Evaluating Youth Ministry Programs [213]
'you May Be Thinking, 'why Evaluate? I've Barely Started My Ministry?' The Earlier You Get
In The Habit Of Performing Regular Check-ups, The Healthier Your Ministry Will Be. You Don't
Want To Wait For Major Decay To Appear In Your Ministry Before You Act.'
11. How Do I Make Changes? Navigating The Phases Of Change [235]
'change Has A Way Of Making Or Breaking Youth Ministry Leaders, Especially Within Their
First Two Years...you Have No Easy, Magic-formula, Works-every-time Procedure To Imple-ment
Change, But You Can Take Some Definitive Actions To Minimize Conflict.'
12. What Do I Do Now? Defining A Realistic Job Description For Your First Two Years [255]
'if You Don't Know What's Expected, You're Doomed To Fail. Expectations Exist, Whether
Spoken Or Not, And You Need To Discover Them To Be Effective And Stay Healthy.'
Epilogue [277]
Appendix A - Youth Ministry Staff Commitment Form [279]
Appendix B - 10 Frequently Asked Questions [281]
where do i start? committing to the essentials In 1979 I was a rookie youth worker with no idea what I was doing. I took teenagers to R-rated movies; I had a Jacuzzi party in the baptismal because a 12-year-old thought it would be fun; I yelled at a group of parents; I taught a 15-year-old to drive using the church van, and I almost got arrested for having underage students in an over-21 club. Thankfully, a lot has changed, but it's been an eventful ride ever since. As I write this, I'm still working with students in the church, and I love to talk about youth ministry, especially with new youth workers! Every day that I worked on this book, I thought and prayed especially for you. If you're just starting out, you're my favorite type of youth worker to help! (If you've been in the trenches for a few---or many---years, I love you too, and I'm confident you' ll find help and encouragement in these pages.) I'm thrilled to play a role in your youth ministry journey. Whether you're a paid staff member or a volunteer, the principles and ideas in this book are written to help you survive and thrive as you work with teenagers. Youth Ministry as a Marathon One of my life goals (that I haven't accomplished yet) is to run a marathon. I've run several shorter races, but the 26.2 mile monster has eluded me so far. I watch them on TV, eagerly antici-pating the day I finish a marathon. Have you ever watched a marathon? They're inspiring. When I look into the eyes of the runners, I see two types of expressions. Standing behind the starting line, the seasoned marathoners are focused, mentally preparing for the task before them. They know what it takes to complete a race of this caliber, so they stretch to prepare their bodies, run in place to warm their muscles, and close their eyes to visualize the race's hills and mile markers. The vets know what's ahead. This isn't a party; it's abuse. And since they have to endure pain over the next several hours, the task is to run efficiently. Their bodies have even instructed their faces not to smile or to express any form of joy. Veteran runners know what they're doing. The other runners are rookies. This is a fun group to watch. They typically stick together, taking in all the action from the free race T-shirts to the vendors selling running gear to the maps locating the portable toilets on the route. The rookies are excited, feeling good, smiling, bantering with others, enjoying the pre-race hype. Little do they know that their valuable adrenaline is being wasted long before the one-mile mark. Their actions are to be expected; after all, this is an exciting time, but it's also deceptive. How so? Watch the race from an elevated viewpoint. At the start, a mass of humanity moves forward as one group, bunched closely together, seemingly inseparable, until the second or third mile when the crowd begins to thin. By mile 10, some have decided to walk and are tempted to stop and watch a matinee. By mile 15, many are eating lunch early. After mile 20, only those who are the most prepared have a realistic chance of finishing well. Finishing is not only a matter of the body, but the emotions and the mind. Running a marathon is a fitting picture of youth ministry. It's not an easy task within the church. If it were, we'd have more youth workers than ushers. Youth ministry is filled with long, tiring, often unrewarding, complex, unique, intense, humorous, joy-filled, and painful experiences. Many within the body of Christ have entered the youth ministry marathon, but many quit before long, having lost joy and satisfaction. They're wounded and weary. The Race before Us I desperately want you to last in your ministry to students. Longevity in our field is uncommon. This is both unfortunate for the individuals who leave and tragic for the health of the church. The longer you work in youth ministry, the easier it becomes, and the better you minister to students. Quick departures have a lot to do with inadequate preparation and unrealistic expectations. But, like running, setting the proper pace assures long-term results and your ability to finish strong. As I wrote this book, I kept two verses taped to my computer that served as the foundation for my writing. I want to share them with you. 'And let us run with endurance the race that God has set before us.' (Hebrews 12:1) Youth ministry---like the Christian life---is a race that requires both training and endurance. Fortunately, our endurance and strength increase as we run the race and follow the course God has set out for us. Our success in the youth ministry race has a lot to do with developing a big-picture perspective. Check out the second verse: 'Because of you I will weep and wail; I will go about barefoot and naked. I will howl like a jackal and moan like an owl.' (Micah 1:8) Oh wait...that's not the right verse. Here it is: 'But I will not do this all in one year because the land would become a wilderness, and the wild animals would become too many to control. I will drive them out a little at a time until your population has increased enough to fill the land.' (Exodus 23:29-30) The wild animal reference shouldn't be viewed as synonymous with the students in your group, but this verse accurately portrays a youth worker's world. The Exodus passage describes God's plan for the gradual conquest of Canaan. God didn't want to overwhelm Israel by giving them the Promised Land in one day. Besides, knowing Israel wasn't completely prepared, God put together a journey that allowed them to develop their faith and confidence as they learned to depend on him. I can't believe I just admitted that I watch marathons on TV!
Bestsellers in Youth Ministry