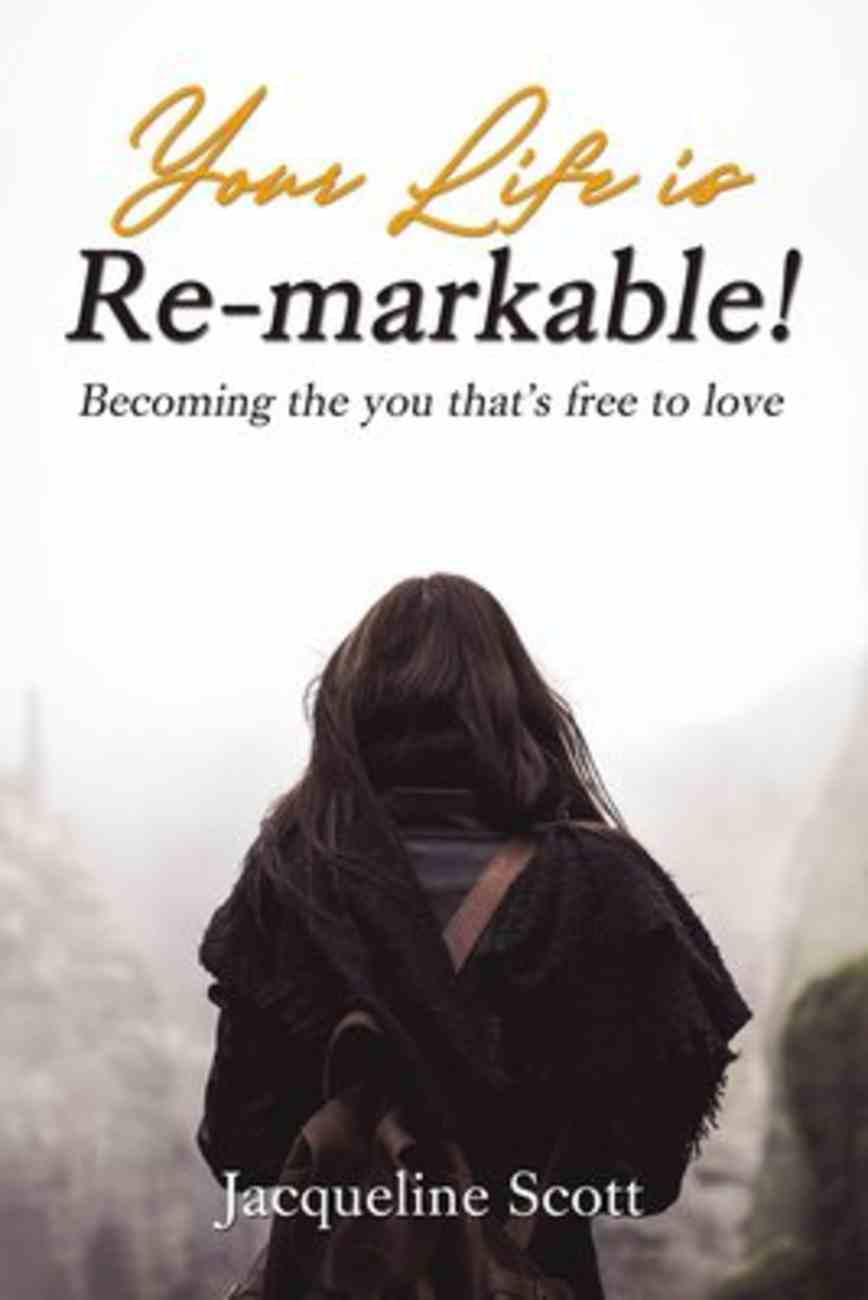 Your Life is Re-Markable!
You know the you that you dream about being; the better version of who you are, the one your Maker intended? Why doesn't that just happen? How do we become the person we were made to be? Busy-ness, distraction...
Instant download
---
Expected to ship within 9 hours from Australia.
---
Read using our free app on your tablet or mobile!
---
Free Shipping
for orders over $99.

You know the you that you dream about being; the better version of who you are, the one your Maker intended? Why doesn't that just happen? How do we become the person we were made to be?


Busy-ness, distraction and lack of direction keep us from growth. If we don't slow down and get some focus, we'll stay as we are. We'll miss out on who we were supposed to be. Our souls need nurturing to grow. My heart is small, but it is grow-able, "re-markable"! Though our lives are marked with sorrow, disappointment and confusion, we can be re-marked.


With the flurry in our world, who has time to pause to consider life, where they're going and what they're becoming? This memoir is an invitation to listen in on my inner discovery as I face my life and invite you to do the same. The August 2015 Huffington Post reported that many mid-lifers feel dismissed by society by age 50, yet that's when all the wisdom is kicking in! We have to harness the wealth of our lives.


My own growth seemed painfully slow. I was thrust into the disorientation and grind of cross-cultural life that pushed me to searching. I join many others on this quest of soul growth. Our past can inform us and launch us into a desired future. Our Creator calls us to examine our ways and test them. (Lamentations 3:40)


Many of the subjects in this book echo parts of everyone's story. Yet there are myriad ways of dealing with our lives. We work hard to make money, stay healthy, arrange meals or choose a car. We plan our travels and our grocery lists, but how about our souls? What do we want to become? What do we want to accomplish by the end of our days?


Foraging into this kind of journey takes time, thought and perseverance. Many abandon the effort leaving pieces scattered. Others attempt to assemble themselves and make good progress then leave it because of the dark uneasy parts where everything muddles. Some actually get to a point of seeing a coherent, meaningful picture of why they are stuck or what their life is for but lack a way forward.


When we moved to our second overseas assignment, I wanted to be there, but my heart wasn't. I hoped to help the people there where God had supposedly been dead for decades. I had to take a deep look at where I'd come from, what were the major influencing factors for good and bad and what conclusions I came to that may have set the course for bad patterns of thinking or relating.


It was often the questions and accusations in the wee hours that urged me to bring my groanings to God; the ones I didn't really want to face. I wrestled with God trying to put words to my introversion. Books and friends, little by little, mentored me through. I began revisiting past influences and moments of my life that impacted me and noticed a connection between past and present struggles. Through redeemed life events and questions that boomeranged into new perspectives, I found myself being lifted to freedom, joy and inner growth. I hope to add to the soul-discovery conversation an angle that inspires longing and courage to face your life. With your cooperation, your Designer will newly mark the way you see yourself, your past, your relationships and your future.


The journey guide at the end was crafted to help others walk through their journey to grasp more fully the story God wants to tell with their life.


Reading this book should:


Whet your appetite for adventuring with God into deeper heart transformation.


Free you to courageously take an objective look at your life.


Offer firm hope that there is more to your walk with God.


Plunge you into piercing questions that cause reflection and communion with God and others.




-Publisher
Fascination with life came partly from my dad, born into a Ukrainian family during the Depression. I love things beyond sight, new places that expand soul. No wonder I was captivated by the Author of the fascination. After studies and meeting the man, my journey took me from security to delving into the rigors of cross-cultural living in South America, then Asia. Four kids and 33 years later we're still overseas with a faith-based organization doing life, leader and business development.
Bestsellers in Christian Living