(#01 in Mandie Series)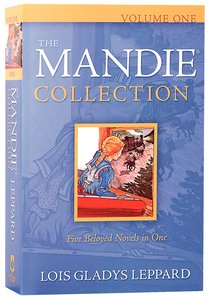 $

21.99

$

17.59
You Save: $4.40 (20%)
Paperback
Also Available In
Relive exciting mysteries and learn important life lessons with Mandie and Snowball and the whole gang. Be part of the adventurous series that has sold over six million!

Mandie and the Secret Tunnel
When Mandie's father dies, his Cherokee friend provides comfort, and a secret tunnel reveals Mandie's family's history.

Mandie and the Cherokee Legend
Mandie investigates a Cherokee legend about long-lost gold and whether it will bring a curse to the men who find it.

Mandie and the Ghost Bandits
Mandie and her friends unravel the mystery of missing gold after a late-night train wreck and some "ghostly" robbers.

Mandie and the Forbidden Attic
Mandie explores the mysterious noises in the school attic, and the outcome is a surprise to everyone!

Mandie and the Trunk's Secret
An old trunk containing potentially dangerous papers from the past intrigues Mandie and her friends.
- Publisher
Also Available In
You May Also Be Interested In
About "(#01 in Mandie Series)"
Relive exciting mysteries and learn important life lessons with Mandie and Snowball and the whole gang. Be part of the adventurous series that has sold over six million!

Mandie and the Secret Tunnel
When Mandie's father dies, his Cherokee friend provides comfort, and a secret tunnel reveals Mandie's family's history.

Mandie and the Cherokee Legend
Mandie investigates a Cherokee legend about long-lost gold and whether it will bring a curse to the men who find it.

Mandie and the Ghost Bandits
Mandie and her friends unravel the mystery of missing gold after a late-night train wreck and some "ghostly" robbers.

Mandie and the Forbidden Attic
Mandie explores the mysterious noises in the school attic, and the outcome is a surprise to everyone!

Mandie and the Trunk's Secret
An old trunk containing potentially dangerous papers from the past intrigues Mandie and her friends.
- Publisher
- Koorong

This five-in-one volume brings Mandie fans--new and old alike--back to where it all began. Readers will discover anew the charms of the impulsive Mandie Shaw as she faces the ups and downs of first losing her father and then finding her long-lost family in Mandie and the Secret Tunnel. Many more mysteries and adventures follow for Mandie and her friends in Mandie and the Cherokee Legend, Mandie and the Ghost Bandits, Mandie and the Forbidden Attic, and Mandie and the Trunk's Secret.
- Publisher


Meet the Author
Lois Gladys Leppard
Lois began her first Mandie story when she was only 11 years old. But eventually the manuscript was tucked away in a drawer and forgotten. Lois went on to attend Furman University and studied music for several years in New York City where she and her sister sang professionally. Some years ago, Lois was prompted to pull that old manuscript out and began to work on Mandie's story - of her childhood in the South at the turn of the century and her Cherokee heritage. The rest is history - and now the Mandie books series have sales nearing six million copies! Lois writes from her home in South Carolina. Enthusiastic young fans fill her mailbox with their insightful responses to her stories. - Publisher.
Customer Reviews For "(#01 in Mandie Series)"
Write Your Own Review
10 year old really enjoyed this collection
By Naomi,

Dec 13 2018
We've always been big Secret Seven and Famous Five fans in our house, and my daughter likened these stories to that genre - fun, adventurous and always a good lesson learned.  My 12 year old son secretly enjoyed reading these stories too, although he did say they were very predictable, which is really part of the joy of these childhood adventure tales anyway!
---
Excellent Books
By Kirrily,

Dec 30 2016
I loved reading Mandie books as a girl and it's excellent value to now be able to buy 5 in 1 volumes for my 8yo daughter to read - she's starting to enjoy them just as much as I did. Every individual Mandie story is a great read. I've often gifted Mandie books over the years to friends and nieces and they are always loved by all. 
---
Great Series
By Bollosm,

Nov 03 2016
Hola !
Mandie # 1

by Lois Gladys Leppard 
 
#1 "Mandie": The books in this volume are about 11 year old Mandie who lives in North Carolina, America. These stories are set in 1900  1901.  The character of Mandie is based on the life of the author's mother. She loves to find out the answers to mysteries and all of the books in the series are about solving mysteries. Mysteries: 'Mandie and the Secret Tunnel', What secrets has she not been told about her family? 'Mandie and the Cherokee Legend', What is this legend all about and why does uncle Ned not like to talk about it? 'Mandie and the Ghost Bandits', was it a good idea to unhook the train cars? 'Mandie and the Forbidden Attic', what are the noises Mandie hears in the attic  why won't Miss Prudence let her go up there? 'Mandie and the Trunk's Secret', why was Hilda touching the trunk  why is it locked?! 
So if you are a historical fiction and mystery fan then these books are for you! I recommend this volume to girls and maybe boys aged nine to fourteen. I really enjoyed these books! My sister and I are still reading this series to each other (she's twenty three and I'm fifteen)!

Your reviewer, Shekanah 

---
Great books!
By Emily,

Aug 25 2016
I love all of the amandine books and it is great to have a 5 in 1 volume. It is great value. All five books in this set are great. The first, Mandie and the Secret Tunnel, is about Mandie's search for her lost relatives. The third, Mandie and the Ghost Bandits, is about Mandie and her friends adventures when they were kidnapped by bandits on a train. Fantastic books for girls aged 8-14. 
---
Classic
By Trudy,

Nov 30 2015
I purchased these for my daughter in the hopes that it would increase her love of reading. Needless to say she loved them so much that I can barely keep up with buying them all for her!! She loves following Mandie on her adventures and we even got a white cat just like the one Mandie has in the books!
{{review.title}}
By {{review.author.name}},

{{review.reviewCreatedDate | date:'MMM dd yyyy'}}

{{reviewdescription}}
{{review.text}}
---
Other Titles In The "Mandie" Series View All