1 & 2 Timothy (Niv Application Commentary Series)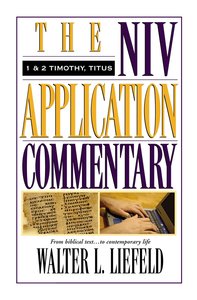 As he established churches, the Apostle Paul dealt with many challenges that were not unlike those facing pastors today. This down-to-earth yet incisive commentary reveals how Paul dealt with such matters, including the role of women, ethics, repentance and false teaching. In his superb analysis, Liefeld illuminates Paul's original meaning in his pastoral letters, as well as providing invaluable contemporary application. From Zondervan
You May Also Be Interested In
About "1 & 2 Timothy (Niv Application Commentary Series)"
As he established churches, the Apostle Paul dealt with many challenges that were not unlike those facing pastors today. This down-to-earth yet incisive commentary reveals how Paul dealt with such matters, including the role of women, ethics, repentance and false teaching. In his superb analysis, Liefeld illuminates Paul's original meaning in his pastoral letters, as well as providing invaluable contemporary application. From Zondervan
- Koorong


Most Bible commentaries take us on a one-way trip from the twentieth century to the first century. But they leave us there, assuming that we can somehow make the return journey on our own. In other words, they focus on the original meaning of the passage but don't discuss its contemporary application. The information they offer is valuable -- but the job is only half done! The NIV Application Commentary Series helps us with both halves of the interpretive task. This new and unique series shows readers how to bring an ancient message into modern context. It explains not only what the Bible means but also how it can speak powerfully today.
- Publisher
Meet the Author
Walter L Liefeld
Walter L. Liefeld (Ph.D., Columbia University) is distinguished professor emeritus of New Testament at Trinity Evangelical Divinity School in Deerfield, Illinois. He has also served as pastor of Christ Church in Lake Forest, Illinois. Among his several books are New Testament Exposition; Interpreting the Book of Acts and (cowritten with Ruth Tucker) Daughters of the Church. He has written Luke (Expositor's Bible Commentary series); Ephesians (IVP New Testament Commentary series) and 1-2 Timothy, Titus (NIV Application Commentary Series).
Koorong -Editorial Review.
Other Titles In The "Niv Application Commentary" Series View All