1 and 2 Samuel (Understanding The Bible Commentary Series)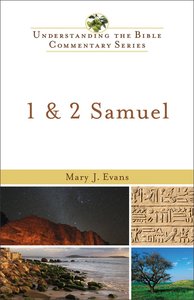 Each volume in the New International Bible Commentary Series breaks down the barriers between the ancient and modern worlds so that the power and meaning of the biblical texts become transparent to contemporary readers. The contributors tackle the task of interpretation using the full range of critical methodologies and practices, yet they do so as people of faith who hold the text in the highest regard. They present a careful section-by-section exposition of the biblical books with key terms and phrases highlighted and all Hebrew and Greek transliterated. Notes at the close of each chapter provide additional textual and technical comments for those who want to dig deeper. A bibliography as well as Scripture and subject indexes are also included. Pastors, students, and Bible teachers will find in this series a commitment to accessibility without sacrificing serious scholarship.

- Publisher
You May Also Be Interested In
About "1 and 2 Samuel (Understanding The Bible Commentary Series)"
Each volume in the New International Bible Commentary Series breaks down the barriers between the ancient and modern worlds so that the power and meaning of the biblical texts become transparent to contemporary readers. The contributors tackle the task of interpretation using the full range of critical methodologies and practices, yet they do so as people of faith who hold the text in the highest regard. They present a careful section-by-section exposition of the biblical books with key terms and phrases highlighted and all Hebrew and Greek transliterated. Notes at the close of each chapter provide additional textual and technical comments for those who want to dig deeper. A bibliography as well as Scripture and subject indexes are also included. Pastors, students, and Bible teachers will find in this series a commitment to accessibility without sacrificing serious scholarship.

- Publisher
- Koorong

Identifying three streams of concern in the books of Samuel (politics, people, and preaching), Mary Evans demonstrates how each of these manifests itself in the underlying and unifying theme of power-and powerlessness. She then uses this concept of power as a fascinating matrix for interpreting the events God ordains and the characters God uses in biblical history. Evans defends her case for the unity of the books that we divide into 1 and 2 Samuel with a sensitivity to the composition of the text and the intentionality of the various "writers" who had a hand in bringing the different accounts together. The discussion interacts with the parallel material in Chronicles and Kings and recognizes the importance of the themes of covenant and law, especially from the Deuteronomic perspective. The commentary, with its additional notes, also includes a good breadth of references to scholarly debate and discussion on various issues. Evans brings the often theologically difficult text of Samuel and the complex characters of Samuel, Saul, David, and others into sharp focus for the contemporary reader while offering fresh insights and perspectives on the ancient text.
- Publisher


Meet the Author
Mary Evans
Evans teaches Old Testament at London Bible College. She is the author of 1 and 2 Samuel in the New International Bible Commentary and Woman in the Bible, and she is a coeditor of The IVP Women's Bible Commentary.
Other Titles In The "Understanding The Bible Commentary" Series View All