1 Corinthians (#28 in New American Commentary Series)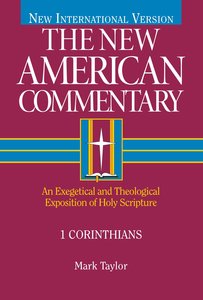 &"For no one can lay any foundation other than the one already laid, which is Jesus Christ." -1 Corinthians 3:11

The New American Commentary series is an exceptionally acclaimed resource for ministers and Bible students who want to understand and expound the Scriptures. Each volume includes:

• Commentary based on the New International Version.
• NIV text printed in the body of the commentary.
• Sound scholarly methodology reflecting capable research in the original languages.
• Interpretation emphasizing the theological unity of each book and Scripture as a whole.
• Readable and applicable exposition.

Mark Taylor's commentary on 1 Corinthians looks at Paul's missionary journey to Corinth where he planted a church and nurtured the new believers for approximately eighteen months. Taylor pays careful attention to the nuances of the English translation (NIV), the Greek text, and the units of mea
- Publisher
You May Also Be Interested In
About "1 Corinthians (#28 in New American Commentary Series)"
&"For no one can lay any foundation other than the one already laid, which is Jesus Christ." -1 Corinthians 3:11

The New American Commentary series is an exceptionally acclaimed resource for ministers and Bible students who want to understand and expound the Scriptures. Each volume includes:

• Commentary based on the New International Version.
• NIV text printed in the body of the commentary.
• Sound scholarly methodology reflecting capable research in the original languages.
• Interpretation emphasizing the theological unity of each book and Scripture as a whole.
• Readable and applicable exposition.

Mark Taylor's commentary on 1 Corinthians looks at Paul's missionary journey to Corinth where he planted a church and nurtured the new believers for approximately eighteen months. Taylor pays careful attention to the nuances of the English translation (NIV), the Greek text, and the units of mea
- Publisher
Meet the Author
Mark Taylor
<P> Dr Mark Taylor is a lecturer in the School of<P> Business and Humanities, Institute of<P> Technology, Sligo.<P> Dr Mark Taylor is a lecturer in the School of Business and Humanities, Institute of Technology, Sligo.
Other Titles In The "New American Commentary" Series View All