1 Enoch (Hermeneia Series)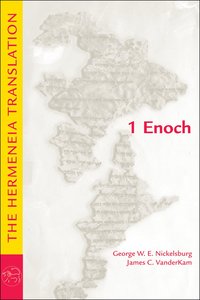 1 Enoch was an important and popular text in ancient Judaism, well attested among the manuscripts at Qumran, and a key piece of the puzzle of Jewish origins. George W. E. Nickelsburg and James C. VanderKam have now revised their translation in conjunction with their publication of the complete two volumes on 1 Enoch in the Hermeneia commentary series. This is the only English translation of 1 Enoch that takes into consideration all of the textual data now available in the Ethiopic version, the Greek texts, and the Dead Sea Aramaic fragmentstexts not available, for example, in standard editions of the Dead Sea Scrolls.

- Publisher
You May Also Be Interested In
About "1 Enoch (Hermeneia Series)"
1 Enoch was an important and popular text in ancient Judaism, well attested among the manuscripts at Qumran, and a key piece of the puzzle of Jewish origins. George W. E. Nickelsburg and James C. VanderKam have now revised their translation in conjunction with their publication of the complete two volumes on 1 Enoch in the Hermeneia commentary series. This is the only English translation of 1 Enoch that takes into consideration all of the textual data now available in the Ethiopic version, the Greek texts, and the Dead Sea Aramaic fragmentstexts not available, for example, in standard editions of the Dead Sea Scrolls.
- Publisher


Meet the Authors
George W E Nickelsburg
George W.E. Nickelsburg is Emeritus Professor of Religion at the University of Iowa, where he taught for more than three decades. His many works include 1 Enoch 1 (Hermeneia, 2001) and Jewish Literature between the Bible and the Mishnah (1981), both from Fortress Press.
James C Vanderkam
James C. VanderKam (Ph.D., Harvard University) is the John A. OBrien Professor of Hebrew Scriptures at the University of Notre Dame and a member of the international team charged with editing and translating the unpublished Dead Sea Scrolls. Some of his published works include The Dead Sea Scrolls Today; An Introduction to Early Judaism; The Meaning of the Dead Sea Scrolls, and From Joshua to Caiaphas: High Priests after the Exile
He has edited twelve volumes in the official series Discoveries in the Judaean Desert and another is in process. He is one of the two editors in chief of the Encyclopedia of the Dead Sea Scrolls.
Koorong -Editorial Review.
Table Of Contents
Preface Vii Abbreviations And Sigla Ix Introduction 1 Contents Of 1 Enoch 1 Translation 13 Bibliography 14 The Book Of The Watchers (chapters 1 - 36) 19 The Book Of Parables (chapters 37 - 71) 50 The Book Of The Luminaries (chapters 72 - 82) 96 Enoch's Dream Visions (chapters 83 - 90) 116 Enoch's First Dream Vision: The Flood (chapters 83 - 84) 116 Enoch's Second Dream Vision: The History Of Humanity (chapters 85 - 90) 119 A Narrative Bridge (chapter 91:1-9, 18-19) 136 The Epistle Of Enoch (chapters 92 - 105) 138 The Birth Of Noah (chapters 106 - 107) 163 A Final Book By Enoch (chapter 108) 167
Other Titles In The "Hermeneia" Series View All