1 Timothy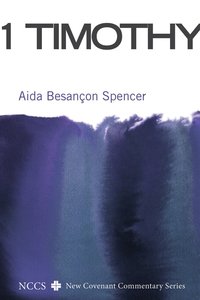 "A thorough and insightful commentary on Paul's letter to his coworker Timothy, which the Apostle wrote before and during Nero's persecution. Spencer carefully examines each part of the letter and relates it to the overall flow of the argument and in light of the larger biblical, historical, social, and cultural contexts. How Paul's writing related to the ancient communities is highlighted in the light of original data gleaned from her explorations on location in Ephesus and throughout Greece. In addition, Paul's rhetorical and ministry strategies, especially as they relate to women and their role in the church, are explored. Throughout, Spencer presents an in-depth exegesis in a readable format enhanced by forty years of ministry."

- Publisher
You May Also Be Interested In
About "1 Timothy"
"A thorough and insightful commentary on Paul's letter to his coworker Timothy, which the Apostle wrote before and during Nero's persecution. Spencer carefully examines each part of the letter and relates it to the overall flow of the argument and in light of the larger biblical, historical, social, and cultural contexts. How Paul's writing related to the ancient communities is highlighted in the light of original data gleaned from her explorations on location in Ephesus and throughout Greece. In addition, Paul's rhetorical and ministry strategies, especially as they relate to women and their role in the church, are explored. Throughout, Spencer presents an in-depth exegesis in a readable format enhanced by forty years of ministry."
- Publisher


Meet the Author
Aida Besancon Spencer
Aida Besancon Spencer (Ph.D. Southern Baptist Theological Seminary) is an ordained minister in the Presbyterian Church, U.S.A, and professor of New Testament at Gordon-Conwell Theological Seminary. She is the author of numerous books Paul's Literary Style, The Prayer Life of Jesus: Shout of Agony, Revelation of Love; 2 Corinthians ( for both The People's Bible Commentary and Bible Study Commentary), The Pastoral Epistles (New Covenant Commentary) and Beyond the Curse: Women Called to Ministry.
-Editorial Review.