10 Hot Date Night Ideas For Married Couples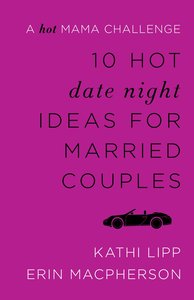 Remember back when you were first married? The romance, the candlelit dinners, the anticipation of that good night kiss ... and then you had kids. Let's be blunt: kids, while adorable and lovable and a gift from God, are romance killers. Suddenly come-hither looks are replaced with bleary-eyed glances accompanied by the vague notion that the guy across the dinner table looks familiar, but you just can't quite place him.

Well, that guy is your husband and the two of you deserve more! It's time to put your marriage first, to commit to intentional (and intense!) romance. We all have budgets and packed schedules, so inside this short ebook you'll find tips and tricks that fit your lifestyle.

If you're ready to fall in love all over again, you're ready for this Hot Mama Challenge!

- Publisher
You May Also Be Interested In
About "10 Hot Date Night Ideas For Married Couples"
Remember back when you were first married? The romance, the candlelit dinners, the anticipation of that good night kiss ... and then you had kids. Let's be blunt: kids, while adorable and lovable and a gift from God, are romance killers. Suddenly come-hither looks are replaced with bleary-eyed glances accompanied by the vague notion that the guy across the dinner table looks familiar, but you just can't quite place him.

Well, that guy is your husband and the two of you deserve more! It's time to put your marriage first, to commit to intentional (and intense!) romance. We all have budgets and packed schedules, so inside this short ebook you'll find tips and tricks that fit your lifestyle.

If you're ready to fall in love all over again, you're ready for this Hot Mama Challenge!
- Publisher


Meet the Authors
Kathi Lipp
Kathi Lipp is a busy conference and retreat speaker, currently speaking each year to thousands of women throughout the United States. She is the author of The Husband Project and The Marriage Project and has had articles published in several magazines, including Today's Christian Woman and Discipleship Journal. Kathi and her husband, Roger, live in California and are the parents of four teenagers and young adults.
Erin Macpherson
Erin MacPherson is a mom of three who never does anything halfway. When she discovered she was pregnant she decided to write about it--but then kept writing. A former staff writer and editor for Nickelodeon, Erin now entertains parents on her personal blog as well as through freelance magazine articles, devotionals and speaking. She wants to come beside her readers not only as a confidant and Christian sister, but also as a best girlfriend who understands what daily life is all about. A