11 Innovations in the Local Church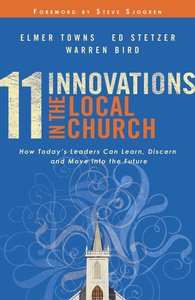 Join three seasoned church-ministry experts on an insider's tour of the most innovative churches today! Discover a dozen types of innovation, each with profiles of congregations that have implemented that innovation. This is more than a show-and-tell tour, however. Each chapter offers a solid take-away for church leaders on how to learn and apply the appropriate innovation profiled. The authors also offer scripturally based assessments of both the positive and negatives implications of implementing each innovation, providing guidance and wisdom. There are many ways to present the gospel, and this timely book will serve as a springboard for church leaders scratching their heads and asking themselves, "What should we do next?" By learning from a dozen different church types, church leaders can become more intentional about exploring new directions and reaching more of the world for Christ.

- Publisher
You May Also Be Interested In
About "11 Innovations in the Local Church"
Join three seasoned church-ministry experts on an insider's tour of the most innovative churches today! Discover a dozen types of innovation, each with profiles of congregations that have implemented that innovation. This is more than a show-and-tell tour, however. Each chapter offers a solid take-away for church leaders on how to learn and apply the appropriate innovation profiled. The authors also offer scripturally based assessments of both the positive and negatives implications of implementing each innovation, providing guidance and wisdom. There are many ways to present the gospel, and this timely book will serve as a springboard for church leaders scratching their heads and asking themselves, "What should we do next?" By learning from a dozen different church types, church leaders can become more intentional about exploring new directions and reaching more of the world for Christ.
- Publisher


Meet the Authors
Elmer L Towns
Elmer L. Towns (D.Min., Fuller Theological Seminary) is co-founder of Liberty University, with Jerry Falwell, in 1971, and was the only full-time teacher in the first year of Liberty's existence. Today, the University has over 11,400 students on campus with 39,000 in the Distance Learning Program (now Liberty University Online), and he is the Dean of the School of Religion.
Towns has published over a hundred books including My Father's Names; 10 Sunday Schools That Dared to Change; 10 of Today's Most Innovative Churches; Towns' Sunday School Encyclopedia and the Gold Medallion Award awarded by the Christian Booksellers Association for writing the Book of the Year, The Names of the Holy Spirit. The multi-volume Praying through..... series has been received by a wide readership.
Koorong -Editorial Review.
Stetzer (Ed)
Ed Stetzer (D.Min., Beeson Divinity School; Ph.D., Southern Baptist Theological Seminary) has planted churches in New York, Pennsylvania, and Georgia and transitioned declining churches in Indiana and Georgia. He has trained pastors and church planters on five continents. Ed served for three years as a seminary professor at the Southern Seminary in Louisville, Kentucky and has taught at fifteen other seminaries. He is currently the Director of Lifeway Research and Lifeway's Missiologist in Residence.
He has written the following books: Planting New Churches in a Postmodern Age (2003), Perimeters of Light: Biblical Boundaries for the Emerging Church (with Elmer Towns, 2004),Strategic Outreach (with Eric Ramsey, 2005),Breaking the Missional Code (with David Putman, 2006), Planting Missional Churches (2006), Comeback Churches (with Mike Dodson, 2007), 11 Innovations in the Local Church (with Elmer Towns and Warren Bird, 2007), and most recently Lost and Found (Broadman), 2009).
Koorong -Editorial Review.
Warren Bird
Warren Bird (Ph.D., Fordham University) has collaboratively authored nineteen books (including two 100,000 bestsellers, one Gold Medallion winner, and one runner up for the Gold Medallion), served as associate pastor for eleven years and senior pastor for four years, taught as regularly contributing faculty at Alliance Theological Seminary for twelve years, and served on the senior leadership team of three organizations that provide training to pastors - Charles E. Fuller Institute, Canadian Centre for Leadership Development, and the Beeson Institute for Advanced Church Leadership.