14 Secrets to a Better Marriage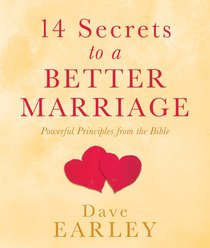 Good marriages take wisdom. The Bible offers plenty. From the ancient wisdom book of Proverbs, through the New Testament letters of Paul, God's Word provides divine direction for good marriages. And now, popular author Dave Earley (The 21 Most Effective Prayers of the Bible) distills the Bible's teaching into 14 secrets you can use in your own relationship including: Put God First; Celebrate Your Differences; Ignite the Romance; Resolve Conflict; Love When It Is Difficult. It's never too early or too late to implement these biblical marriage secrets. Why not start now?

'Even though I have a degree in counseling and have done my share of marriage counseling, I do not consider myself an expert on marriage. . . . There is only one true expert on marriage - God. He has generously shared His knowledge with us in a book that we refer to as the Bible.'
You May Also Be Interested In
About "14 Secrets to a Better Marriage"
Good marriages take wisdom. The Bible offers plenty. From the ancient wisdom book of Proverbs, through the New Testament letters of Paul, God's Word provides divine direction for good marriages. And now, popular author Dave Earley (The 21 Most Effective Prayers of the Bible) distills the Bible's teaching into 14 secrets you can use in your own relationship including: Put God First; Celebrate Your Differences; Ignite the Romance; Resolve Conflict; Love When It Is Difficult. It's never too early or too late to implement these biblical marriage secrets. Why not start now?

'Even though I have a degree in counseling and have done my share of marriage counseling, I do not consider myself an expert on marriage. . . . There is only one true expert on marriage - God. He has generously shared His knowledge with us in a book that we refer to as the Bible.'
- Koorong


The Bible's book of Proverbs says "whoso findeth a wife findeth a good thing" (18:22)-and author Dave Earley drew many of his 14 Secrets to a Better Marriage from the Bible's beloved wisdom book. From "Put God First" to "Love When It Is Difficult", these principles will help readers build a lasting marriage.
- Publisher
Meet the Author
Dave Earley
Dave Earley has served as a church planter and sr. pastor for over twenty years. He currently is chairman of the Department of Pastoral Ministries and Church Expansion as well as director of both the Center for Ministry Training and Center for Church Planting at Liberty Baptist Theological Seminary in Lynchburg, Virginia.